We often overlook the impact of our mobile devices such as phones and tablets in our daily lives. We rely on our phones for just about every part of our day: from the alarm to wake up, to the GPS to get to work and avoid traffic, to checking emails to stay up to date with work to even social media to stay connected with our friends and loved ones.
Have you ever purchased a new phone and exclaim how life changing having a new phone is? How more convenient that Type C connector is so you don't have to fumble around in the dark? The way you interact with your phones and tablets is crucial to your daily productivity and happiness. The only problem is now you have 2 or 3 different USB cables lying all around the house for all your USB devices. This gets particularly annoying when you're travelling and need to bring a whole tangled mess of cables with you.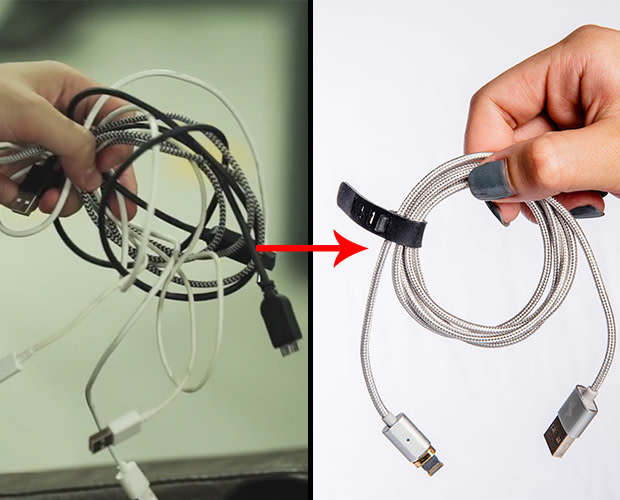 Our mission is to simplify the way you connect to your mobile devices. This is done by decluttering your life with 1 adapter that converts your existing USB cable into a magnetic end to use on all your mobile devices. Safe, simple and convenient, X-Connect will change the way you interact with your mobile devices forever.

The X-Connect Adapter is safe, simple and conveniently connects to all your mobile devices.
1. Insert the tip into the port of your phone, which stays connected securely.
2. Attach the adapter to your existing USB cable
3. The X-Connect adapter will magnetically connect when placed near the tip
Now your 1 cable works for all modern Apple and Android devices!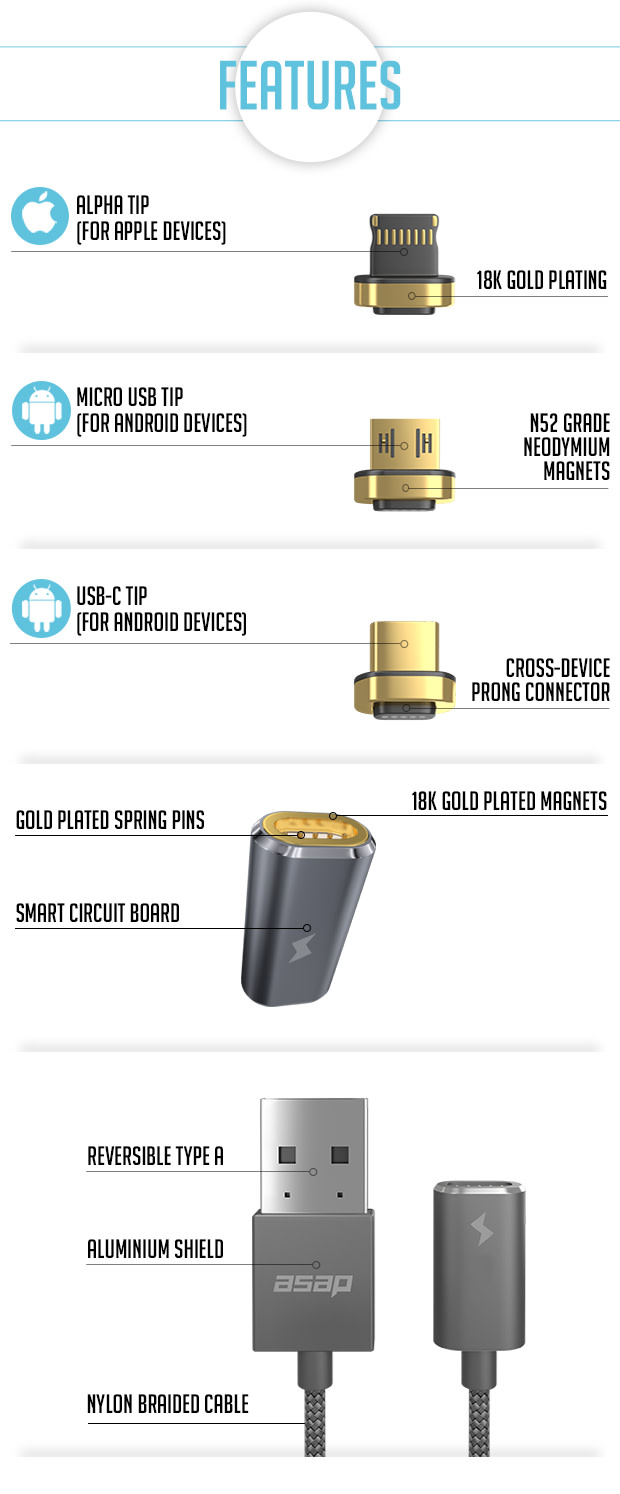 Each X-Connect Adapter features 2x N52 grade neodymium magnets which are the world's strongest commercial grade magnets. For all you oldies who still think magnets will affect your phones function, mobile phones use SSD (solid state drives) which aren't affected by small magnets like ours. In fact your phone itself has over half a dozen magnets inside it to power features such as your speakers. The magnets will also have no impact on your GPS functionality.
The X-Connect adapter is strength tested to hold 350g whilst the cable can hold an impressive 400g . Enough with the technical blah blah, how strong is that in real life? Strong enough to hold an iPhone 7 Plus.

Through the use of our X-Connect adapters, the weak point of your cable which frays easily will be a worry of the past. Our magnetic technology will extend the life of your USB cables.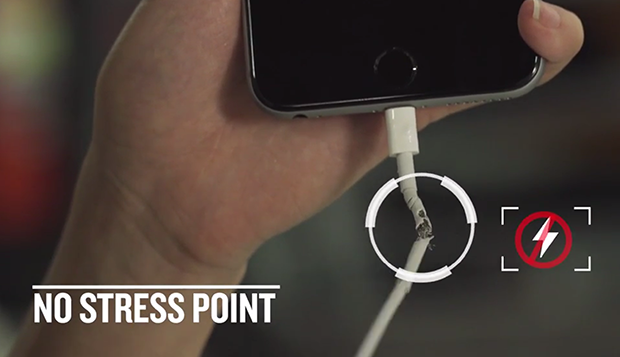 When we mean 1 cable for all your phones, we mean it. We've designed 3 magnetic connector tips to fit all 3 major connector types today for all mobile phones, tablets and USB devices.

The X-Connect Adapter features a reversible magnetic connection which means instant connection every single time. Simple and convenient isn't it? No more having to fumble around.

Another cool feature of X-Connect is that our magnetic tips will protect your phone port from dust and dirt. By leaving the tip inserted in your phone, it will also extend the life of your phone port by preventing the normal wear and tear of cables being inserted in and pulled out of your port on a regular basis.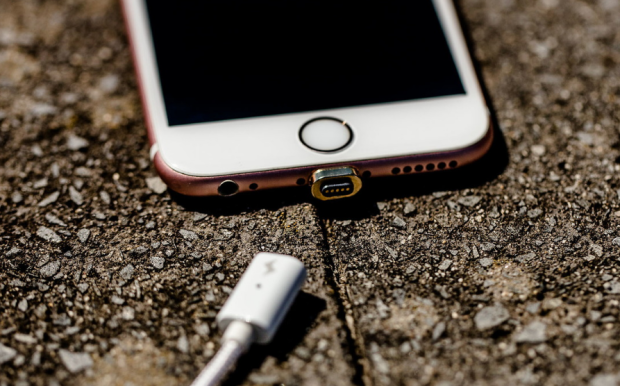 What sets X-Connect ahead of the competition is its unique bevelled and concave magnetic connector design on both ends of the tip and the adapter/cable. Through this carefully engineered 360° exterior positioning of 2x N52 grade neodymium magnets on both ends, the tip only needs to be within 38mm (1.5") of the magnetic field of the cable tip to be attracted and connect seamlessly.
Competitor designs require the tips to be correctly aligned with their opposite end to magnetically attract and connect. Competitor designs also feature weaker strength magnets and require a perfect alignment of both ends for a correct connection unlike X-Connect. Not all magnetic cables are created equal. Don't be fooled by the similar external look of competitor brands, X-Connect will connect seamlessly every time, even if the tip is flipped 180°, due to both the strong neodymium magnets having their polarity perfectly positioned and the unique outward and concave magnetic connector design.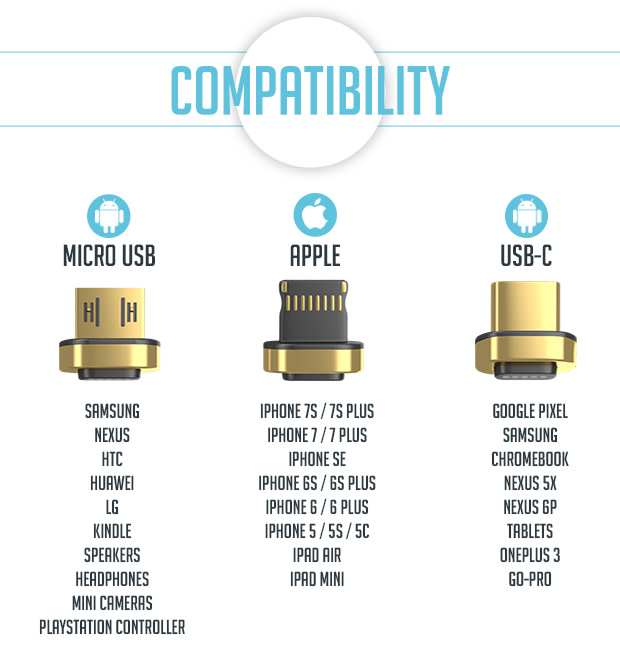 We've tested our adapters and cables on dozens of Apple and Android phone and tablet devices with no compatibility issues. As long as you have any device that requires any of today's modern 3 device types: Lightning connector (Apple), micro USB connector (Android) or a Type C connector (Android) you'll be able to use X-Connect Adapter/cables with all of them.
X-Connect's tip's are designed to fit a variety of major brand phone cases with ease. With our magnetic tip minimal footprint of only 10.5mm you can be comfortable knowing our tips will fit snug in your phone with your phone case. If you're unsure if this is the case, please email Customer Happiness Team on hello@chargeasap.com and we'll advise you if we have tested with that particular phone case and phone.
The most popular compatibility question we received is if our cables are compatible with the Lifeproof Fre case for iPhone 6/6s/7. Here's a video showing you the tip and cable working seamlessly with the Lifeproof Fre case on.

Many of you technology buff's will be aware of Benson Leung the famous Google engineer which has called out many Type C cable brands for not being compliant to the new Type C standards that can damage your accessories and devices. Our Type C tips all feature the 56kΩ which prevents overdrawing of power from your power source to ensure safe use with your Type C devices.
The best feature of asap X-Connect is it's cross-device compatibility. This means you'll only need 1 cable for all phones and USB devices.

We've listened to feedback from thousands of backers from day 1, leading us to re-engineer our X-Connect cables to best suit your daily lifestyle. For those after a whole new cable, our upgraded X-Connect V2.0 cables are the world's fastest charging magnetic cables. We've also removed the LED light for those of you who have a love/hate relationship with it.
The X-Connect V2.0 cable's magnetic strength is even stronger than the adapter, capable of holding 400g (oz). That's strong enough to hold an iPad Air!

No more tangled cables! With a cable tie that comes with every cable, your cable can be wrapped up and transported quickly and neatly every time.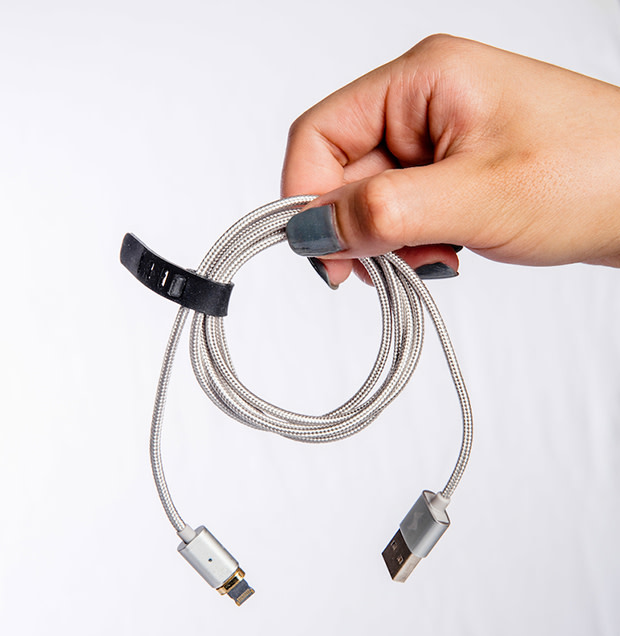 Our X-Connect V2.0 cables continue to feature the reversible Type A. This is an evolution from the traditional Type A connector that are non-reversible. This means first connection every time, no more fiddling around to connect your cable! Check it out in action below.

All our cable cords are reinforced with braided nylon. They are so strong, they can even pull a 2040kg (4500lb) car!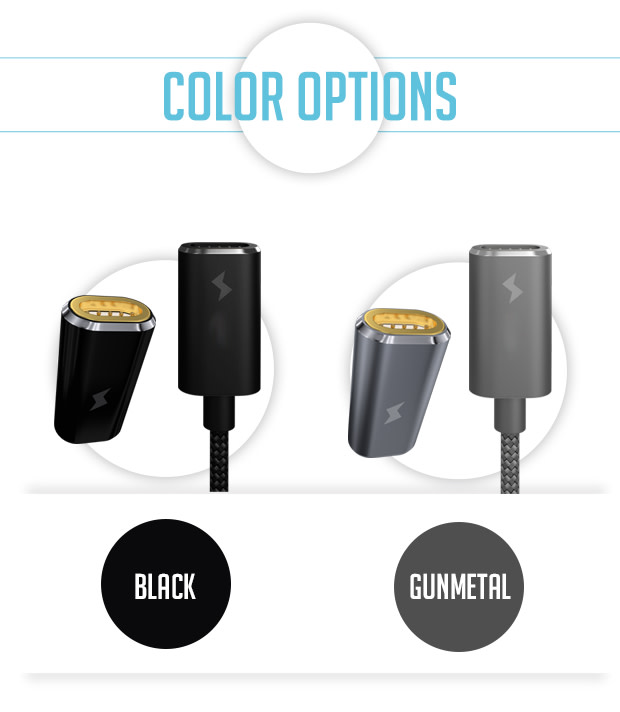 We have developed a replacement for the original Lightning tip for Apple devices to create the "Alpha" tip for 2 main reasons:
REASON 1: If you've been through many Apple phone cables, you've experienced the tip wobbling and sometimes even breaking off. This occurs due to the tip and base being made of 2 different components which eventually break apart over repeated use. Our Alpha tip solves this problem by integrating both the tip and base into 1 unified piece.
REASON 2: To date Apple has not manufactured or released their own magnetic Lightning tips. This means if a company attempts to gain MFi ("Made for iPhone/iPod/iPad") certification from Apple this won't be possible as they will need to purchase the Lightning tips from an Apple MFi certified magnetic Lightning tip manufacturer which does not currently exist as of May 2017.
Without MFi certification many major retailers will not stock a USB lightning cable for Apple devices. The integration of the Alpha tip bypasses this issue process by not using the Lightning tip and allowing X-Connect to be sold in retailers worldwide. We've evolved from the original Alpha (for Apple) tip, to our unique black Alpha tips found exclusively on asap Technologies products.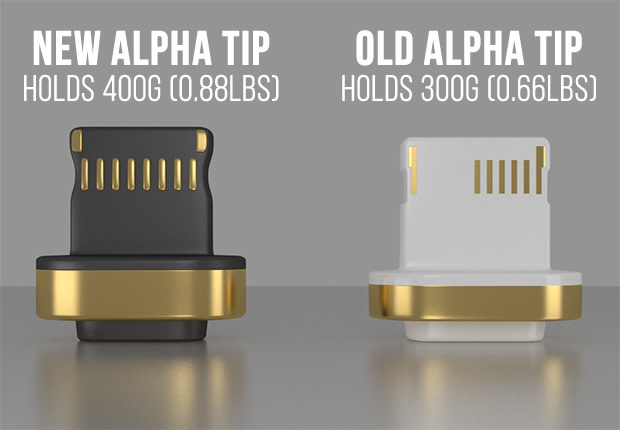 X-Connect has been granted the following international certifications to ensure safe use: