Pro Tip: Have a Nespresso system but love the freshness of coffee grounds? Or love ground coffee but no time in the morning to brew your favorite cup of cuppa and happen to have a Nespresso system lying around? Wondering how to make the two work together? Well, think no further! The Waycap Ez allows you to put your favorite coffee grind into your Nespresso system! Woohoo, now we get to enjoy our favorite coffee in the morning, while saving time, saving money and saving the planet! What an awesome way to start your day, knowing that you've made a difference just with your daily cup of coffee :)
You must be wondering, how much exactly are we saving?
Community review on the compatibility of the WayCap Ez & Minipresso!
Our steady community member, Hongyun has personally tested the compatibility of the Minipresso NS with the WayCap Ez for us after getting them both on a hunt with us! Thanks Hongyun for being so steady and helping the community out here! :)
Looks interesting? Want to find out more? Check out the Minipresso here!
WayCap Basic Kit – 1 Capsule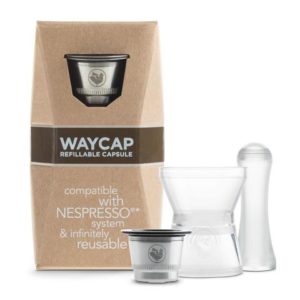 The kit contains 1 WayCap EZ + 1 Manual Dispenser + 3 interchangeable tops
Compatible with: Essenza, Inissia, Pixie, Lattissima, Citiz, U, Prodigio, Maestria and Kitchen Aid.
WayCap Complete Kit – 2 Capsules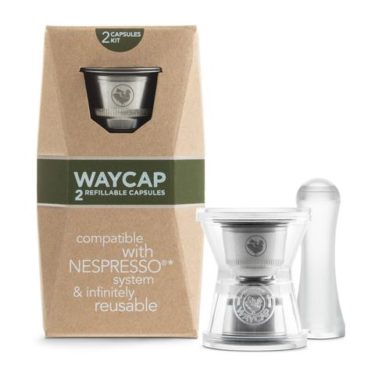 The kit contains 2 WayCap EZ + 1 Manual Dispenser + 3 interchangeable tops for each capsule
Compatible with: Essenza, Inissia, Pixie, Lattissima, Citiz, U, Prodigio, Maestria and Kitchen Aid.
Extra Tops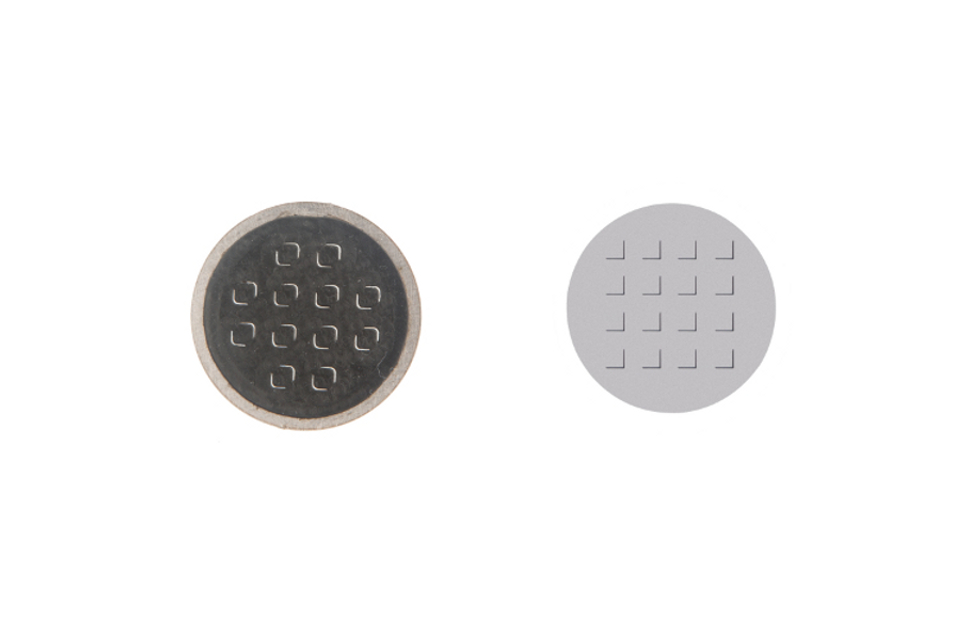 4 extra interchangeable tops to complete your personal barista kit. The tops are:
'Schiumone' if you like an espresso with extra crema
'16 slots' for medium-fine grind
'12 slots' for medium grind
'9 slots' for medium coarse grind
WayCap Ez is a reusable capsule for Nespresso systems that protect the planet, allowing you to stop wasting tons of disposable pods. One that allows you to save up to 1 thousand euros on coffee per year for a family of four. But, most importantly, one that puts you back at the center, allowing you to use most any grind and kind of coffee available on the market, whether it's from your favorite brand or your local coffee shop.

Last year you helped us make WayCap a reality. Today we're back to introduce the result of all the hard work developed thanks to your precious feedback: WayCap Ez.
Waycap Ez widens the grind range to almost any kind of coffee on the market. Here's why we're equipping WayCap Ez with 3 different interchangeable tops, each targeted to a particular kind of coffee grind. The thinner the grind, the bigger amount of slots you should use, and vice versa. By switching them you will easily find the one that best suits your tastes.
Thanks to you, we've also changed the way the capsule opens and closes, to make refilling it even easier and faster. You now simply snap the top, and unsnap it.
Each WayCap is produced entirely in Italy, in timeless stainless steel, and just a bit of FDA compliant high quality silicon in the new external ring, that makes WayCap Ez even more compatible.
Since WayCap Ez works with mostly any bland on the market, the savings can be up to 85% compared to the disposable capsules. A family of 4 can save up to 1000 Euros per year.
WayCap capsules are made of stainless steel. They're designed to last and to be refillable, so they can be reused as many times as you'd like. They don't produce any waste except for the coffee grounds and their environmental impact is minimal in every stage of production.
Now you can finally kiss goodbye to the millions of disposable pods that accumulate in landfills
Every part of the pod, including the seals, is manufactured in the immediate vicinity of the warehouse and makes only one trip before arriving at your home. The packaging is minimal and made entirely of recycled materials.
Moreover, the pods take up a minimal amount of space. This also reduces the environmental impact during storage and transportation. The coffee grounds can also be reused in various ways, especially at home. The most common example is composting, but they are also effective household cleaners. They can also be used to get wrinkles out of furniture, as air freshener, or as a revitalizing scrub for your skin.
WayCap can be refilled in 20 seconds, just enough time for the machine to warm up, using the manual dispenser, that leaves no trace.
The manual dispenser can store up to two caps that you can bring with you anywhere you go, for example at office.