Do note that the estimated delivery date of late Oct 2017 is only for the Copper VEIU. The estimated delivery date for the Champagne VEIU is Mid-Late Nov 2017.
Why stop at household appliances? Its time to give your doorbell an intelligence boost!
Check out who's at your door wherever you are from your phone through a live video on your mobile app.
Speak to visitors in real time with a two-way mic! No more missed deliveries or guests!
Video recordings enhance the safety of your home. Catch those crooks on camera! IR Night VIsion equipped!
Veiu can even give you live alerts when it detects someone on your porch! A watch dog that never sleeps!
Grouphunt Deal includes ONE VEIU Doorbell in your choice of colour finish (Copper or Champagne). Get yours now and smarten up your front door!
Our name, Eques, originated from the Greek word Aegis: it means protection. Since 2016, when we established our home base in the heart of Silicon Valley, our mission has been to protect what is dearest to you.
Over the last year we have been developing and perfecting the VEIU Smart Doorbell. After many iterations and testing we are happy to say that the only thing standing in the way of you making your home smarter and safer is your support of this project.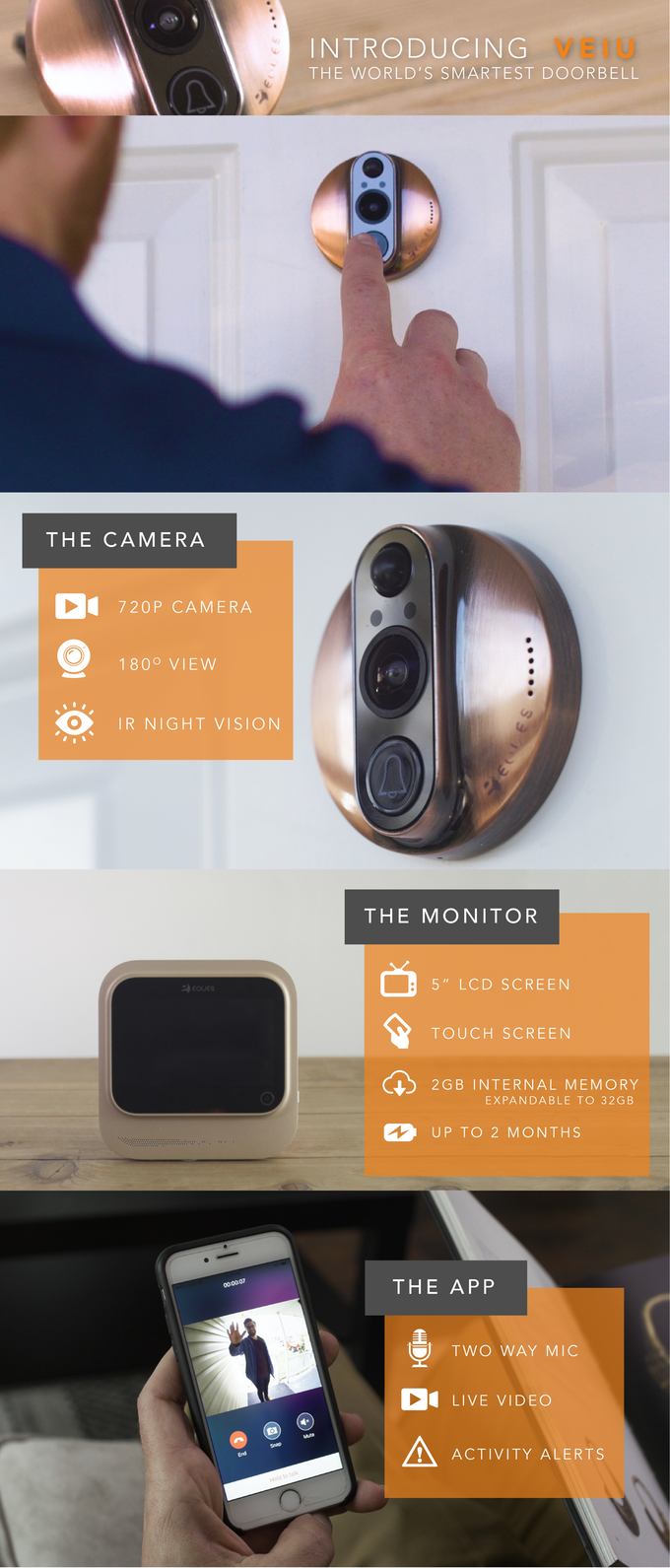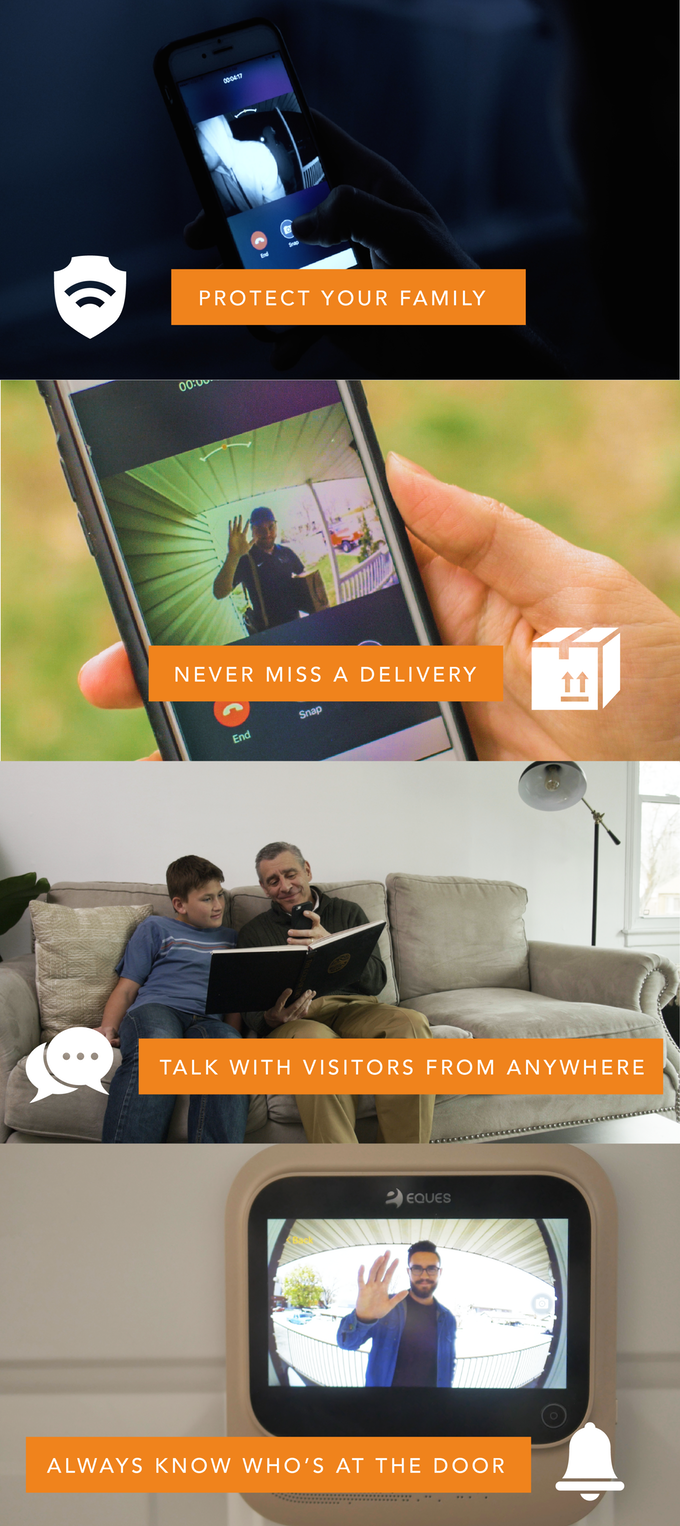 The Eques App puts your front door at your fingertips no matter where you are. Since VEIU runs off your home's Wi-Fi, you have a secure connection from your smartphone to your VEIU anywhere with a network connection.
Many smart home products require expensive monthly subscriptions that can run you hundreds of dollars a year. With VEIU there are no monthly cloud storage fees, your only expense is the hardware. The Eques App is available as a free download from both Google Play and the Apple App Store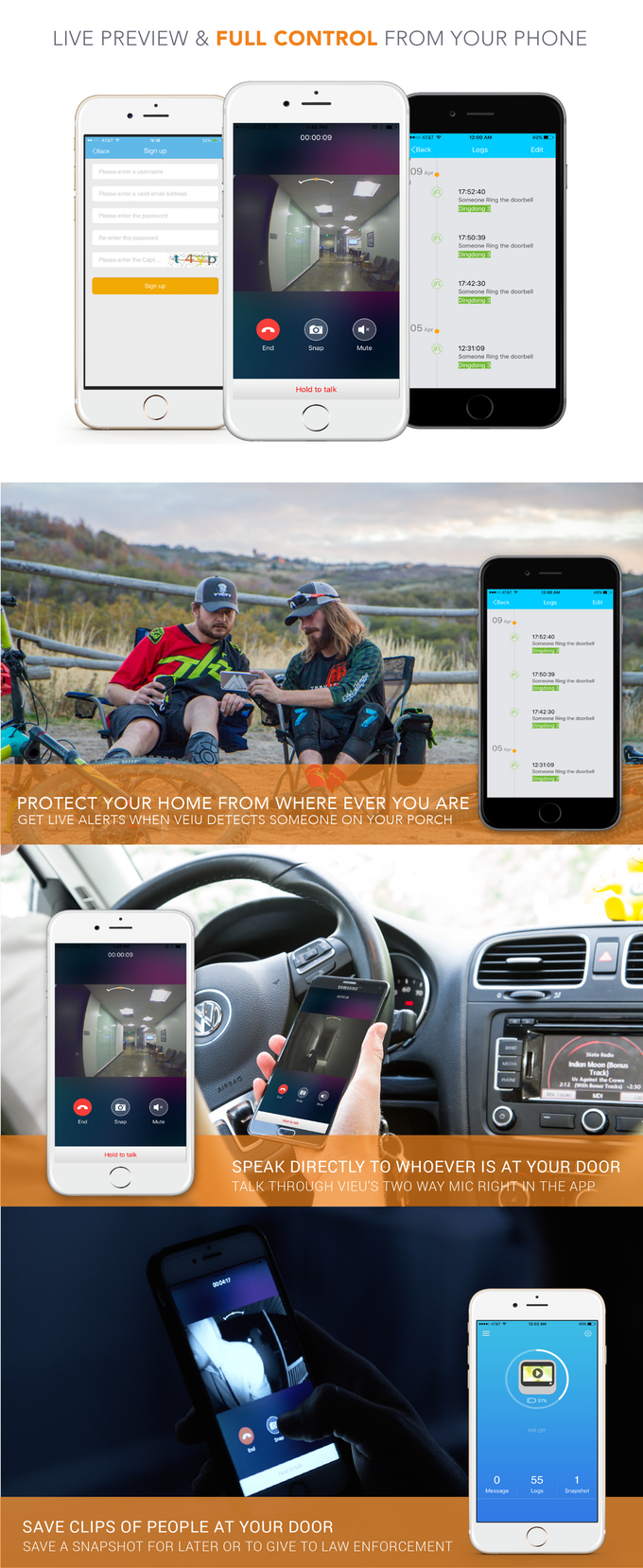 VEIU is compatible with any door (35-110mm thick) and installation is super simple. All it takes is a screw driver and five minutes of your time.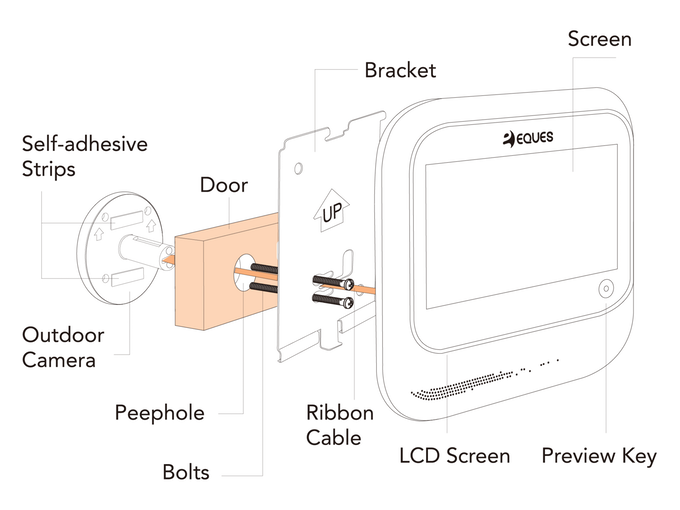 Each VEIU comes with a simple 12 step guide to help you install the smart doorbell quickly and without professional help.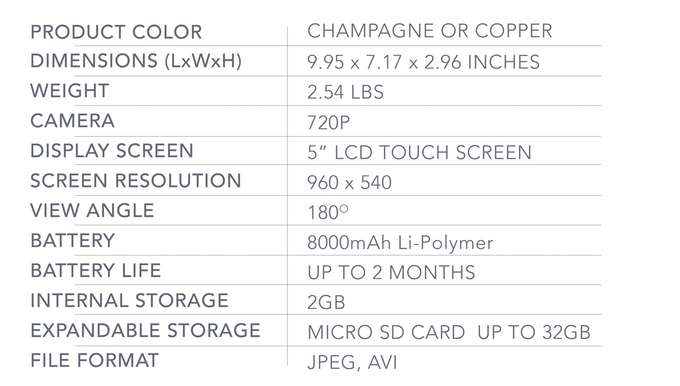 What are the dimensions of the VEIU doorbell?
The package dimensions are 9.95 × 7.17 × 2.96 inches (25.2 x 18.2 x 7.5cm). The product weighs approximately 2.5 lbs (1.15kg).
Do I need a Wi-Fi connection to set up my VEIU?
The VEIU Doorbell can be used with or without WiFi connection. To maximize VEIU's benefits, use a wireless internet connection to enable its smart features, including the ability to send live video and audio straight to your smartphone. VEIU is compatible with wireless routers running on 2.4 GHz.
Does VEIU require direct power lines to function?
No. VEIU operates wirelessly using its built-in battery. The battery lasts an average of 2 months after each complete charge.
Do I need to have an existing peep hole for VEIU to work on my door?
No. If your door does not have a peephole, don't worry at all. Feel free to request a free drill bit to safely drill a hole in your door. Drill bits will be available at the end of our campaign. We will be sure to send it along with your backed product.
How long does it take the for the battery to fully charge?
It takes about 4 to 5 hours for VEIU to fully charge. To preserve your battery's life, we recommend recharging the device when the battery drops to 25%.
Do I need to remove the indoor panel to charge it?
The indoor panel can be easily removed from the door mount for charging. In addition, we also provide a 10 foot (3 meters) charging cable for those who may find it more convenient to plug your product into a nearby outlet. Alternatively, you may use a power bank to charge your device.
Will VEIU notify me when it is time to charge the system?
Yes. The VEIU app features a low-battery warning and a battery level indicator on the indoor touch screen that you can check anytime.
Are there any additional fees?
No. For standard services, VEIU devices operate without any monthly fees. The free cloud based storage will allow you to save up to 15 day's worth of videos or images.
What if someone steals my VIEU Doorbell?
The VEIU Doorbell is equipped with proprietary security screws that keep the device securely mounted, which makes it difficult to take. However, if your VEIU does get stolen, the outdoor camera will not function without the indoor panel, so it'd be useless for the thief. If this happens, please contact us with a police report, and we'll be happy to replace your device for free.
Where can I download the app?
Download our free VEIU App from App Store or Google Play Store -- both under our company name, EQUES. Please note that this App is also compatible with other Eques smart devices. When you install VEIU, make sure that you select the VEIU device option.
What happens if my Wi-Fi goes out?
If you lose wireless internet connection, VEIU will not be able to send audio and video data to your smart devices. However, your device can continue to operate with saved data in its local storage. The 2GB local storage is included in the product and can save up to 20,000 images.
Do I have to replace my existing doorbell?
Replacing your old doorbell is not required. VEIU PIR (Passive Infra-Red) Sensor operates without needing to press your traditional doorbell button. You can still check the live video and chat with your visitors through VEIU App on your smart devices.
My front door is glass. Will I be able to install VEIU?
We do not recommend that you mount it on glass. VIEU works with door thicknesses ranging from 35 mm to 110 mm.
Will there be other color options?
Yes, we offer 2 color options for the exterior doorbell, brass- or champagne- colored. The indoor panel comes in the champagne-color only. Please let us know your color option when you place the order.