Ever wished you spoke another language? Well, you're not alone. There are 7 billion people on this planet and over 6,500 languages, but most of us – 83 percent to be exact – speak maybe one or two. So call us crazy or naive, but here at Travis we think we can bring the world together, by making sure we can all have a chat.
We took 80 of the world's most common languages and put them in a handy device for people to have a casual chat, order a drink, do business or maybe even fall in love. With Travis you can go global and speak local.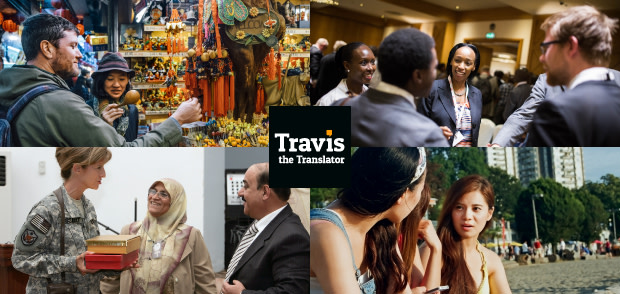 Travis is a pocket-sized smart device that uses artificial intelligence to instantly recognize and translate speech in 80 languages, all in less than two seconds. Travis has some unique features that include: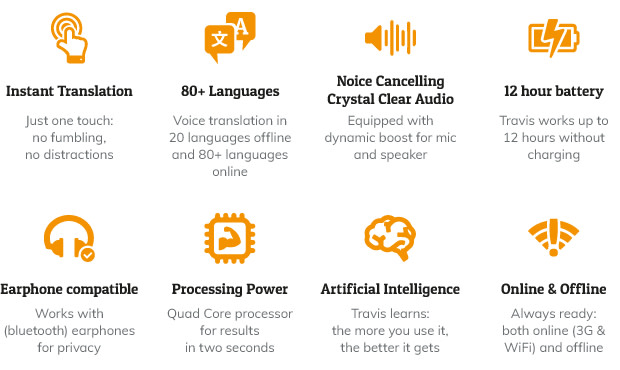 Apps are great and some are doing wonderful work, but when you're using an app on your phone you struggle with things like battery life, speed and most of all, eye contact. Travis is a purpose-built device for face-to-face communication. We integrated the best apps for each language into the device. So when using Travis it seamlessly navigates and selects the best translation app for your chosen languages.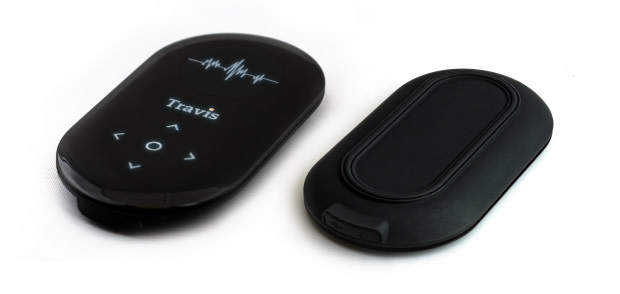 There are three main ways to use your Travis thanks to its built-in dual noise canceling microphones, amplified speakers, and support for wired/wireless earphones or headsets. With just one Travis you can:
1. Use built-in microphone & built-in speakers
This is the most common use for speaking to anyone on the street, at work, or at home. Travis hears what's being said via its microphones, and clearly repeats what is said in another language via its speakers.
2. Use built-in microphones + earphones (wired/wireless)
This is great for meetings. Travis hears what is said via its built-in microphones, and repeats what is said in your ear via the wired/wireless earphones.
3. Use wired headset + wireless headset (standard Bluetooth or Airpods)
The perfect setting for private conversations. One of you has, for example, Travis in your pocket with a wired headset plugged in and the other person uses a wireless headset. Travis hears what is said via the headsets and translates it in the other person's ear.

For travel - Whether in Shanghai or Paris, Travis helps you to speak to locals. You can get a cab, order the food you want, get coffee the way you like it, or simply ask, "How are you? Where are you from? What are your ambitions?"
International business - Have you ever been in a meeting where your local partner is chatting away with the client and all you can do is nod as if you understand. You're not alone, at Travis HQ plenty of us have experienced this too. Just place Travis on the table, put on your earphones and listen in on the meeting.
Want to chip in? Just say it and Travis will repeat what you said in the local language from its built-in speakers.
As expats & international students - Moving to a new country can be stressful - getting the kids into school, arranging health care and figuring out food options at the grocery store or market. Travis can't solve all your challenges, but we can make it easier for you to connect with the locals and feel at home.
For cross-cultural families - Have a girlfriend, wife or husband whose family speaks a whole other language? Many of our backers do, and will be using Travis to communicate with the in-laws.
Contact with refugees - Some of our backers are getting a Travis to communicate with refugees. Not only for social work, but to speak to new neighbours, colleagues and classmates as well. You can also help us support refugees starting a new life and learning local languages. Donate via the BACK IT button on top of the page. All donations will go to OLE Open Learning, an organisation helping to further educational opportunities for refugees around the world.
How will you use Travis? Join the movement with a pledge for Travis or donate to Travis x OLE, and let us know on the comments page. Thanks!

Nick and Lennart are two of Travis' co-founders who are friends that share a love of travel, technology and entrepreneurship. About a year ago Lennart told Nick, "I'd love to work with you, but let's do something that makes a difference." So they came together to create Travis - a business that could also have an impact.
Nowadays Travis is a three continent team working from New York, Rotterdam (The Netherlands) and Shenzhen (China) with decades of management and product development experience, and a history of selling over 10 million mobile devices.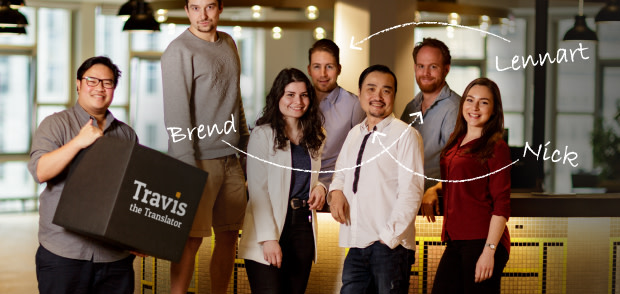 Lennart van der Ziel, CEO - From law school to start-up scene, led multiple international teams in IT consulting, successfully launched various software products, a community builder, loves making road trips.
Nick NM Yap, CPO - Product geek with over 20 years of experience in creating products in three continents, countless trips made, believes travel is all about human connection.
Brend Kouwenhoven, CFO - Combining innovation, entrepreneurship, and finance to improve the world, over 20 years of experience with corporates, governments and ventures and now using it to remove language barriers with Travis.

For Travis to be a success we need your help. By supporting us in our campaign you'll be one of the early adopters and we'll take the data you create to make rapid improvements in the device's software. That's what we love about AI, it only gets smarter the more you use it.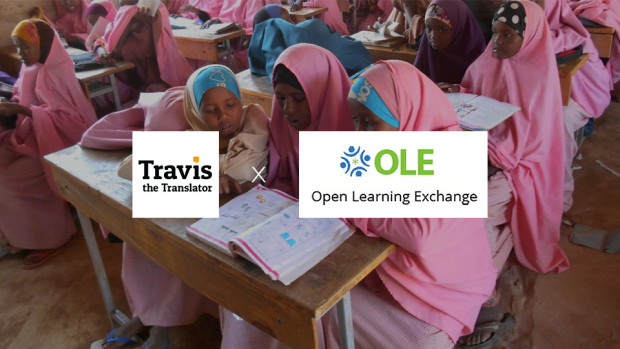 We've also partnered with Open Learning Exchange (OLE) to help refugees starting new lives and learning new languages in foreign places.



The demo shows Travis' inner hardware which is mounted on a box. This includes the circuit board, display screen, touch panel, buttons, and battery. These parts will be assembled into Travis (the small compact one you see in the photos on the page), which of course is the one you'll be receiving.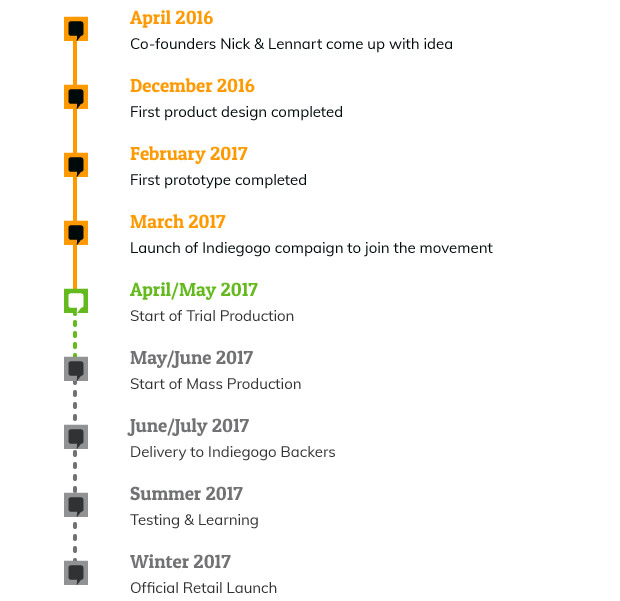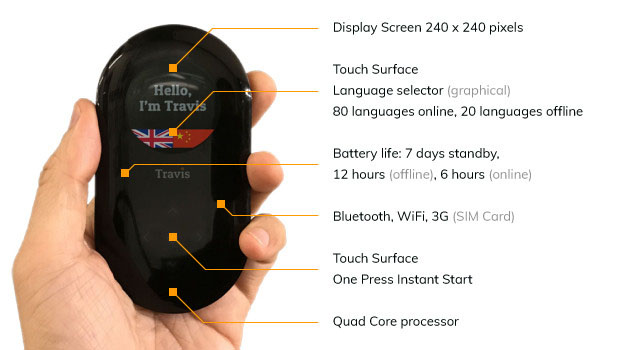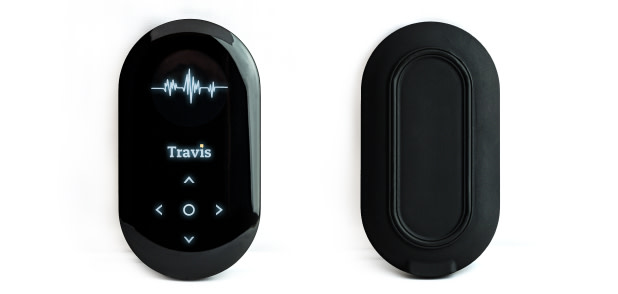 20 Offline : Spanish, German, Chinese (Mandarin), French, Portuguese, Arabic, Italian, Japanese, English, Russian, Dutch, Polish, Greek, Swedish, Korean, Hindi, Hebrew, Thai, Turkish, Indonesian

80 Online : Afrikaans, Albanian, Arabic, Armenian, Basque, Belarusian, Bosnian, Bulgarian, Catalan, Chinese (Mandarin), Chinese (Taiwanese), Chinese (Cantonese), Croatian, Czech, Danish, Dutch, English (UK), English (USA), English (Australia), Esperanto, Estonian, Farsi, Filipino, Finnish, French, French (Canada), Frisian, German, Greek, Haitian Creole, Hawaiian, Hebrew, Hindi, Hungarian, Icelandic, Indonesian, Irish, Italian, Japanese, Javanese, Kazakh, Khmer, Korean, Kurdish, Lao, Latin, Latvian, Lithuanian, Luxembourgish, Macedonian, Malay, Maltese, Mongolian, Myanmar, Nepali, Norwegian, Pashto, Persian, Polish, Portuguese (Portugal), Portuguese (Brazil), Punjabi, Romanian, Russian, Scots Gaelic, Serbian, Sindhi, Slovak, Slovenian, Spanish (Spain), Spanish (USA), Spanish (Mexico), Swedish, Tamil, Telugu, Thai, Turkish, Ukranian, Vietnamese, Welsh

We are constantly listening to how we can enable you to boldly go global and speak local and spread the movement in the coming months. Let us know in the comments page about languages that you want to see in the 80 online or 20 offline languages.

How are you able to translate in so many languages?
Travis make use of translation engines from several companies with advanced translation technology. Because of that we are able to offer far more languages than any single engine, even more than 80. We chose 80 languages out of caution and plan to expand with (free) future updates.

Is your translation better than others and how?
It's as good as the best, because Travis chooses the best translation engines for each language. Since we integrated the best options in one product, you don't have to fuss about which translation software to use.

Does the translation improve over time?
Yes, translation engines use artificial intelligence and machine learning to learn translation patterns which improve over time. We are also building our own neural network to better detect slang and accents. That's why we are starting this movement for early adopters, so you can support us in moving towards a world without language barriers!

Can I use Travis in a conversation with three or more languages?
Yes.

Does Travis automatically detect languages?
For conversations in two languages Travis automatically detects the language according to the language setting. For conversations in three or more languages you'll need to help Travis along by saying "Travis, Spanish" before speaking in Spanish for example. With (free) future software updates, Travis will be able to automatically detect languages no matter how many are being spoken.

Do you ship to my country?
Yes, we ship worldwide.

What are the delivery costs?
After pledging and and selecting your country of delivery, your shipping costs will be shown.

Can I pre-order but indicate a delivery date other than in July?
Yes, please state that in comments section of your pre-order.

Can I pre-order if I'm not sure of my delivery address yet?
Sure, we will always ask you for your address before delivery.

Will there be software updates? Are they free?
Yes, Travis will be frequently updated and all updates are free for Indiegogo backers.

Does Travis come with earphones (wireless/wired) so I can listen privately during meetings or conferences?
Earphones are not included with the product, but Travis supports most wired and wireless earphones, incl. Apple Airpods, so you're free to use whichever brand and type is your favorite.

When will Travis be available in physical shops?
We expect to start some sales trials in the summer. Official launch to retail stores is planned for Winter 2017.