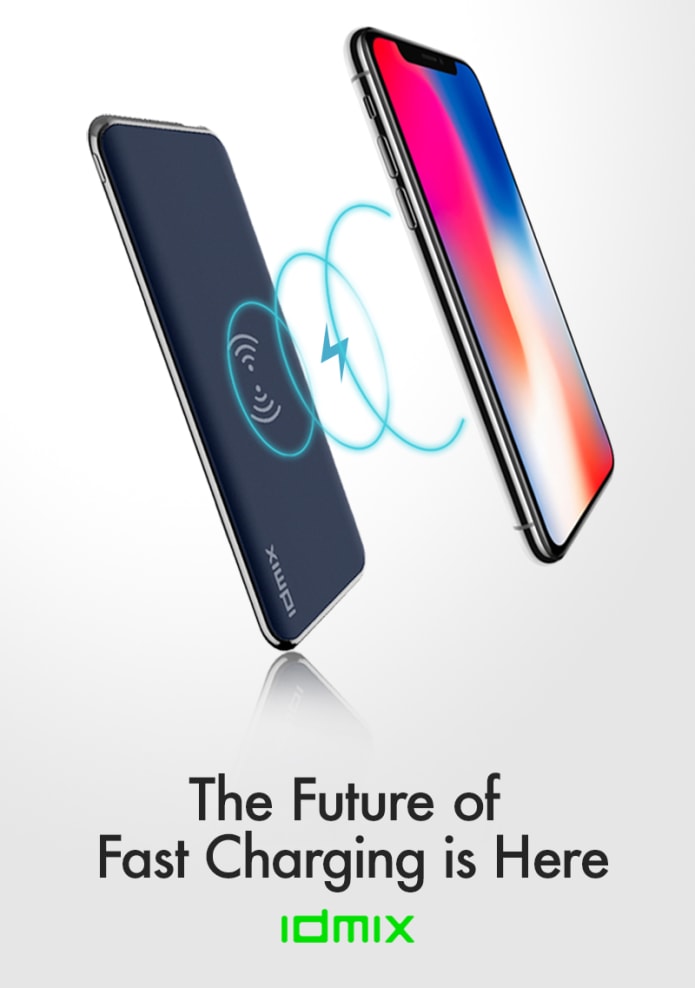 Does seeing "Low Battery" scare you? Enjoy the peace of mind of never having your device reach low power again. IDMIX brings you the world's fastest charging power bank in a thin and lightweight design with a 8000mAh capacity. Made to be both a Fast Charging station as well as a wireless and portable power bank, it is the solution to all of your battery needs.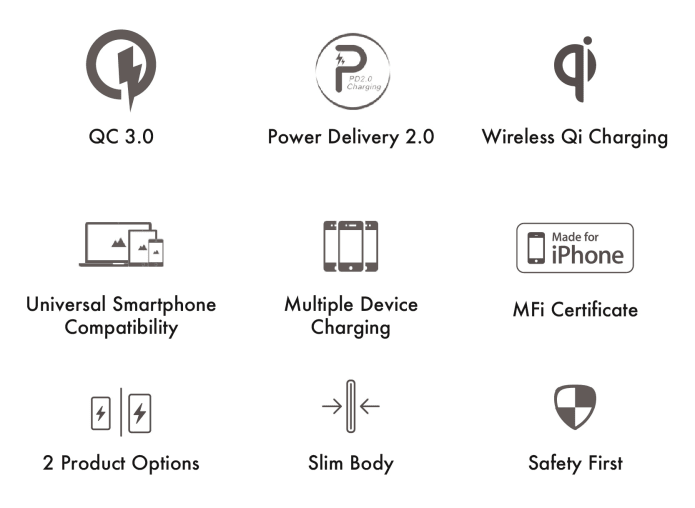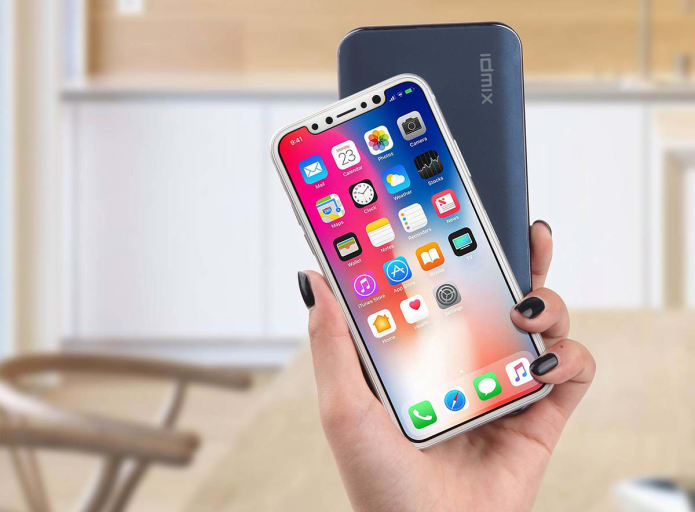 Built with 10W (the highest watt output in a power bank) charging capability and to the WPC Qi standard, IDMIX offers you the fastest wireless charging for Android and iPhone. Just leave your phone on-top IDMIX and it'll do the rest.

iPhone 8s and X will be able to charge 0-50% in just over 1 hour at 7.5W (the maximum Apple allows) while Androids will charge 0-50% in just under 1 hour at 10W.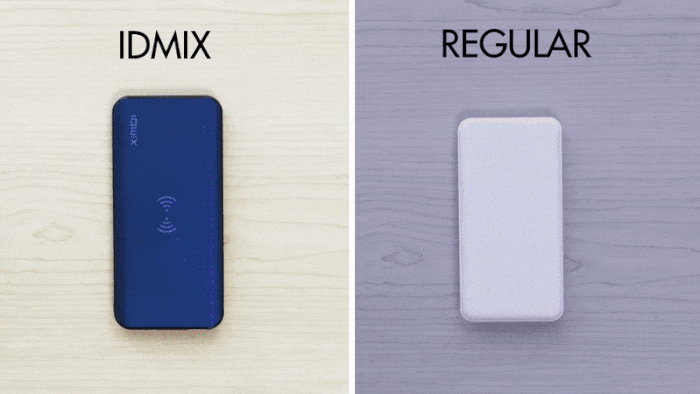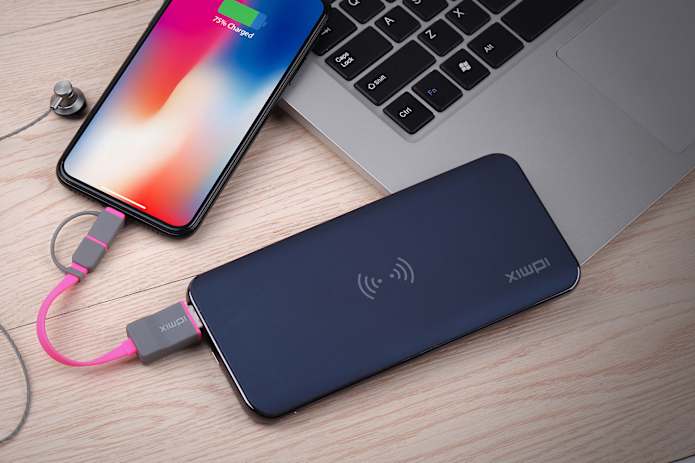 Using QC 3.0 and PD 2.0 wired charging, IDMIX brings your battery from 0 to 50% in 30 minutes. That's more than enough to last you the whole day on a single charge.
2x Faster iPhone Charging with PD 2.0
IDMIX's USB-C PD 2.0 (Power Delivery) capability charges iOS devices at unheard of speeds by providing 2x the performance of your outlet charger.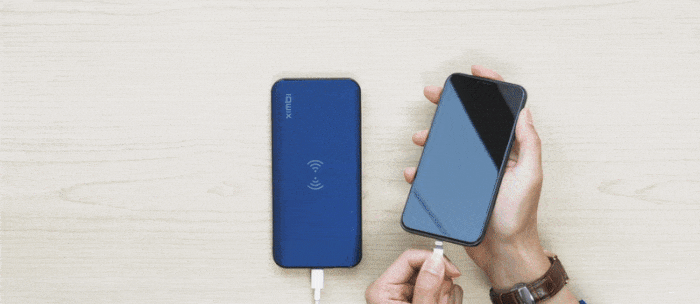 4x Faster Android Charging with QC 3.0
IDMIX uses QC 3.0 (Qualcomm Quick Charging) to charge your Android 4x faster than a conventional charger, bringing your device's battery to 80% in 35 minutes.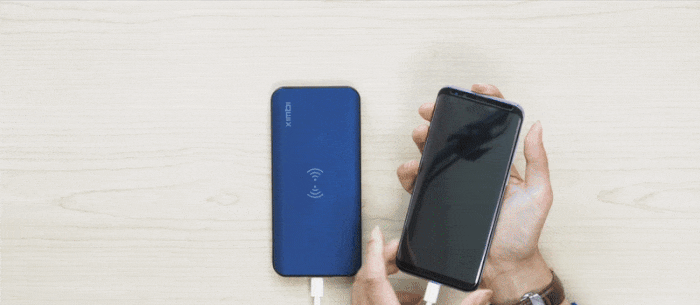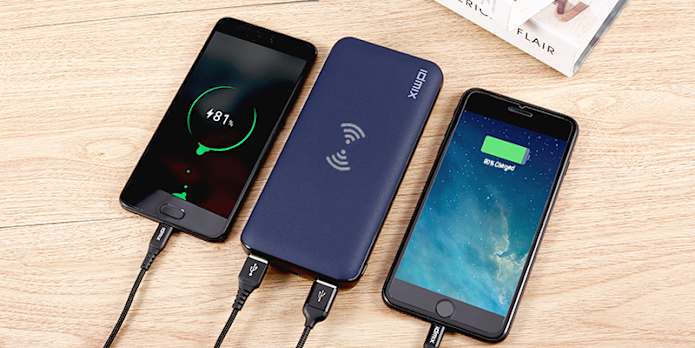 IDMIX bridges the gap between iOS and Android charging by offering wireless and wired PD2.0 charging to both Android devices and the iPhones 8s and X.
Acting as the perfect power bank for all your devices, IDMIX has a 8000mAh capacity (18,000mAh for the Monster Version) allowing you to charge all your devices multiple times before the IDMIX's own battery depletes. And the best thing? It charges at exceptional speeds; it's own battery charging fully in just 2.5 hours!
Extend your phone battery by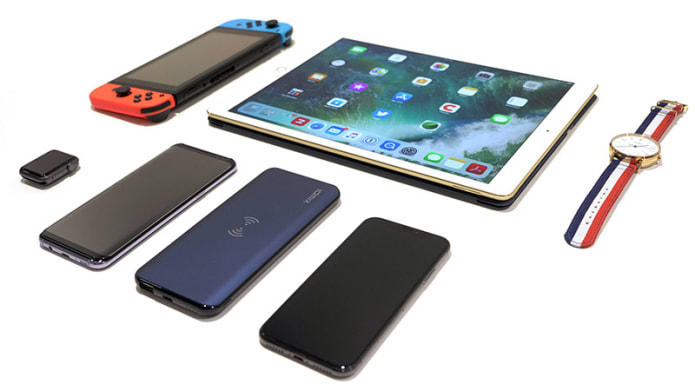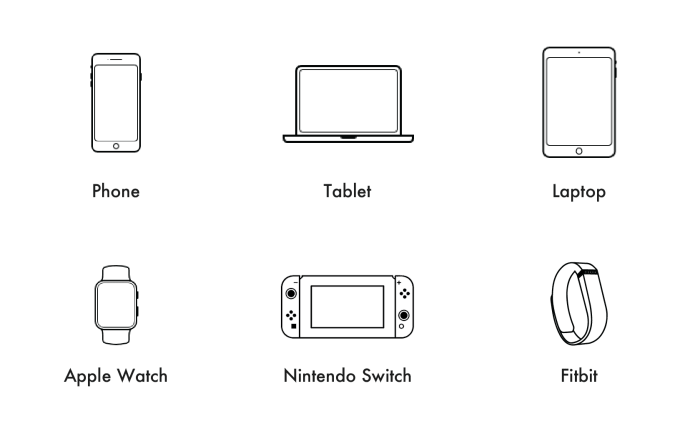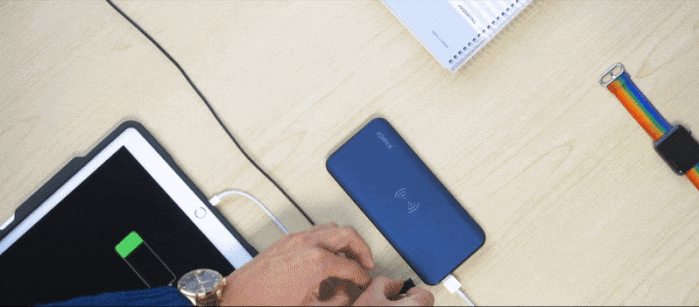 IDMIX Slim's dual USB ports and Qi wireless charging allows you to plug in two devices and charge a third wirelessly at once. The IDMIX Monster lets you charge 4 devices simultaneously, from smartphones to Tablets and Laptops to your Nintendo Switch.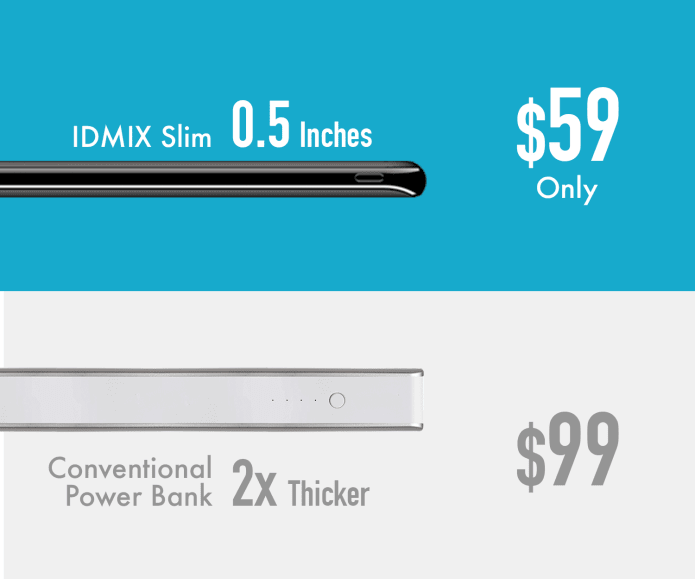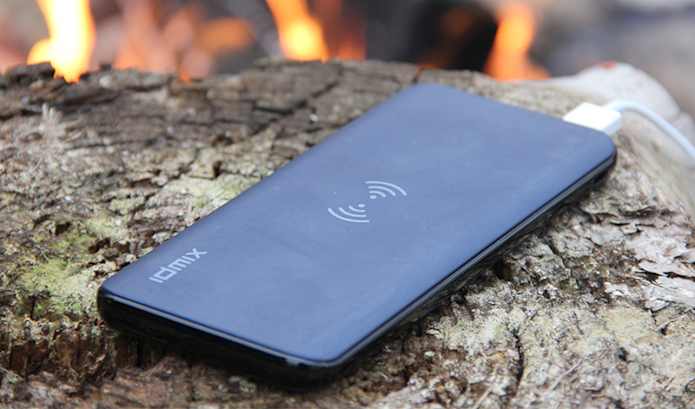 IDMIX is built from V0 ABS and PC Fireproof material to keep you and its battery safe. Furthermore, when using Qi, PD 2.0 and QC 3.0 charging technology you can always depend on IDMIX to deliver the fastest charge without overheating your devices or cables.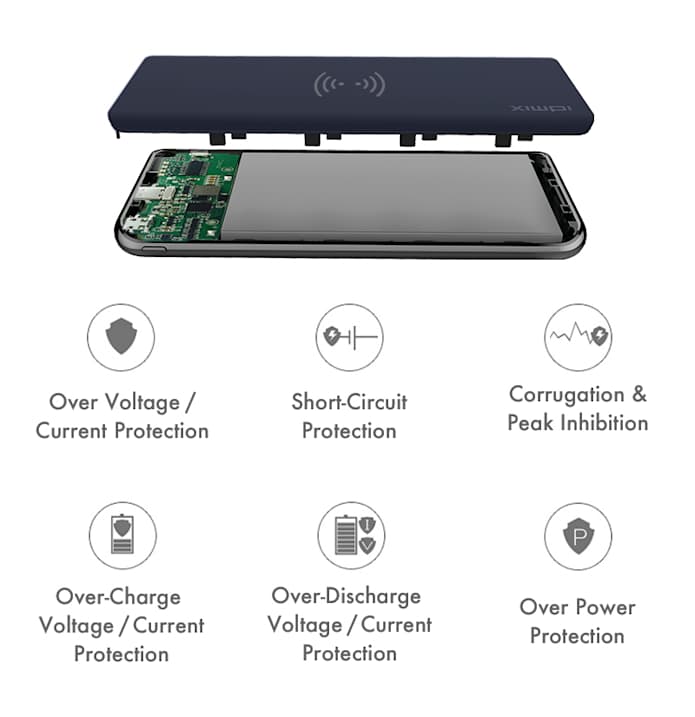 Pass-Through Charging and Overcharging

IDMIX also supports Pass-Through Charging, allowing you to safely charge other devices while IDMIX charges. You also don't have to worry about Overcharging as IDMIX is fitted with an internal control circuit to regulate the flow of electric current to shut the power bank down when it's fully charged.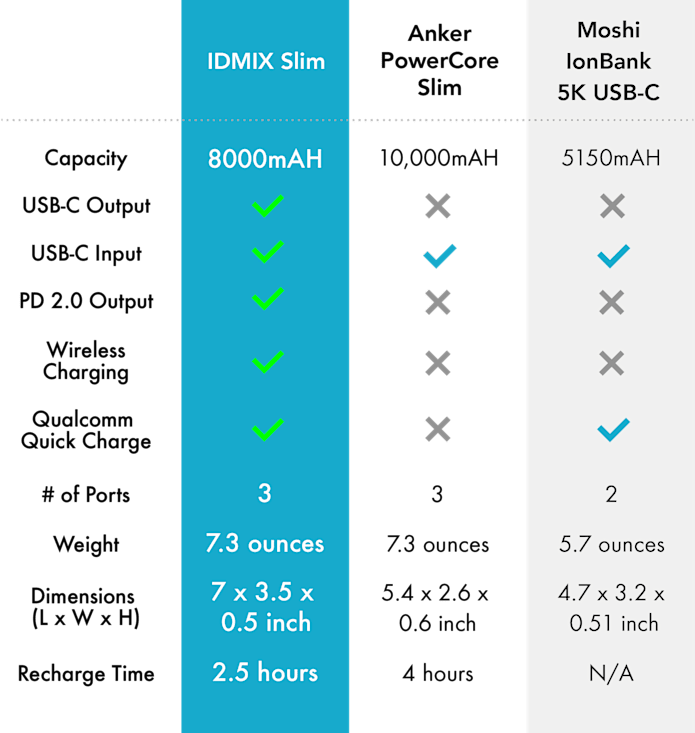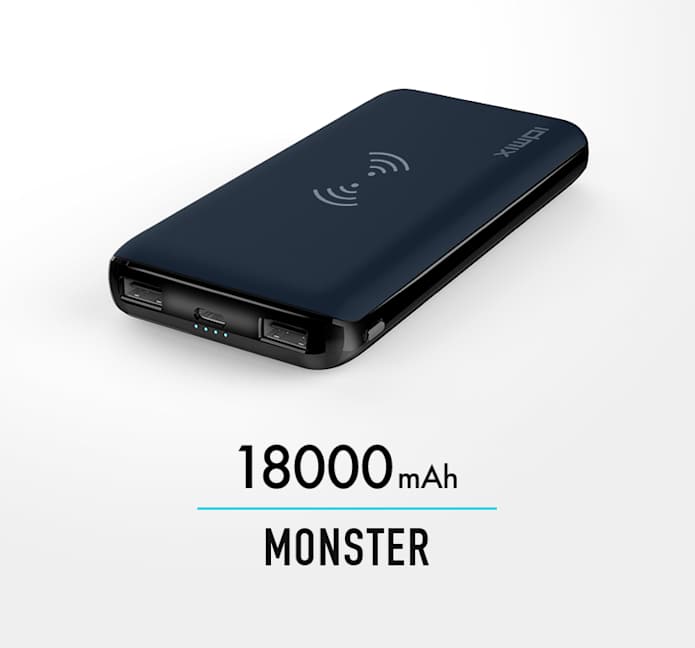 If you think the IDMIX Slim doesn't meet your needs then consider the IDMIX Monster! Bigger and better in every way, the Monster offers a larger battery capacity, additional USB-C ports, and a higher power output for even faster charging.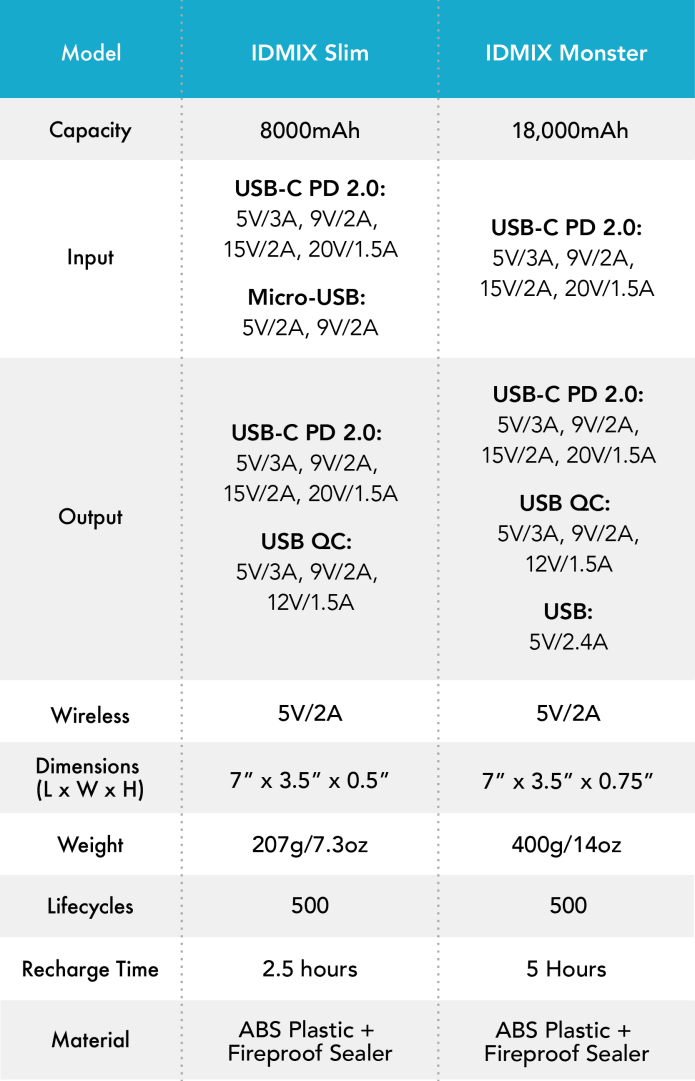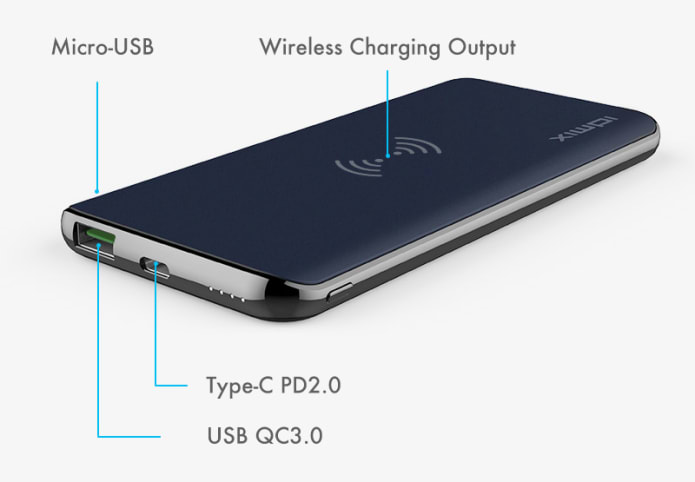 Using up to an 18W USB-C PD output IDMIX is able to charge your device 0-50% in 30 minutes. USB-C PD charging optimizes power management across devices, so each phone or tablet will only draw the power it requires to charge quickly. At 80% the device internally switches from Fast Charging to Normal Charging so as not to overcharge the battery.


IDMIX is built with the latest Qualcomm Quick Charging (QC 3.0) technology allowing it to charge your Android device 4x faster than a conventional charger - it charges your Android phone's battery up to 80% in 35 minutes. QC 3.0 employs an intelligent algorithm to allow your portable device to determine what power level to request at any time to enable optimum power transfer.

The normal energy output for Qi chargers is currently 5W. IDMIX's wireless output is 10W or double the power of competing chargers, for both Android and iPhones. However, Apple's limits the wireless charging of it's devices to 7.5W as the maximum wireless charge.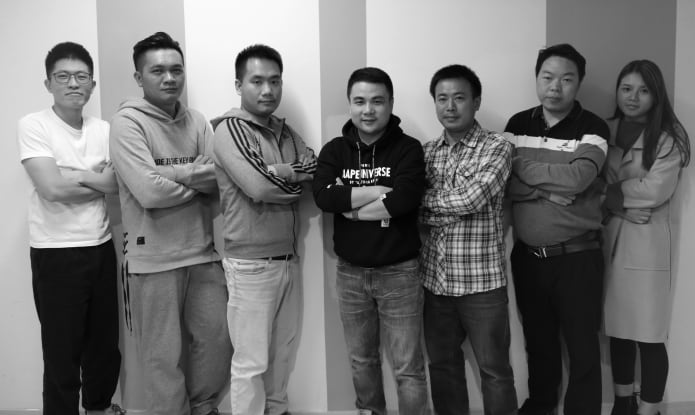 We are an industrial design duo who have won over 5 international design awards over the course of our careers for various projects like the "i-receiver". We established IDMIX 9 years ago to help simplify lives the world over with original designs whose highest priority is the user's experience.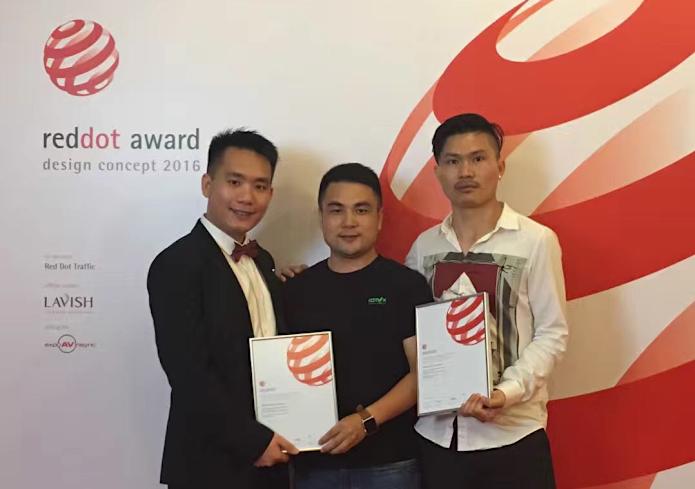 Seaman Duan
Industrial designer with 12 years of experience, 11 of which are as a consumer electronics designer. Winner of the Red Dot Design Award, the International Design Excellence Award, and the International Forum Design Awards.
Liang Zhi Jun
Industrial designer with 10 years of experience (9 of which were as a consumer electronics designer). Winner of the 2014 and the 2016 Red Dot Design Awards.

Is this compatible with iPhone 8?
Yes, it is compatible with iPhone 8, 8s and X.

Is IDMIX compatible older iPhone models like the 6 and 7?
The IDMIX is only compatible for wired charging for older iPhone models. To wirelessly charge models older than the 8 you would need to purchase a case for your iPhone to make it compatible for wireless charging.
Does it have Pass-Through Charging? can I charge this power bank while charging a phone at the same time?
Yes you can. IDMIX is equipped to handle Pass-Through Charging safely without damaging your device's battery or its own.
What cables are included?
It includes two cables, one micro-usb cable and one type-C cable.
Is the micro-usb input that charges the battery a quick-charge 3 input?
The micro-usb input is fast charge, it is 5V 2A/9V 2A.

Will this fast charge an iPhone 8 or X (50% in 30 minutes)?
Yes, IDMIX will charge your iPhone 8 or X in 30 minutes.
When will you be shipping IDMIX?
We will be shipping out our perks in April and May.
Where will you be shipping?
We are offering global shipping.
Can IDMIX charge my laptop?
The IDMIX MONSTER can charge your laptop. The Slim cannot.
Can I take my IDMIX onto a plane?
Yes you can. IDMIX is built with in a fireproof case and is safe for flying. Also all power banks under 100wh can be brought onto planes.
Are the internal batteries replaceable?
No, IDMIX's internal batteries are not replaceable.
What are the safety features of the IDMIX?
IDMIX is built out of a V0 level fireproof material and holds many international certifications like the CE, FCC, R-Hose, UN38.3, and MSDS. Further, its internal circuitry stops it from overcharging (the IDMIX shuts down when it reached 100% charge if still plugged in).
How many charges does IDMIX have?
IDMIX has approximately 500 charges.
Does IDMIX support QC 3.0?
Yes, both IDMIX Slim and Monster support QC 3.0
Does IDMIX support PD 2.0?
Yes, both IDMIX Slim and Monster support PD 2.0
Does IDMIX support Qi charging?
Yes, both IDMIX Slim and Monster support Qi Wireless Charging
Does IDMIX support pass through charging?
Yes, IDMIX does support pass-through charging.