95% of all survival situations are resolved within 72 hours, but the first 72 hours are extremely critical. Having the right gear can mean the difference between life and death.
Our team of world-class doctors, climbers military and first responders set out to create a product that could change a potentially deadly situation in to a minor inconvenience.
The SEVENTY2 comes complete with over 30 high-quality products designed to work together to protect you in hundreds of emergency situations. Each product is categorized by need with clear and simple instructions to help even the most novice person get through a tough situation.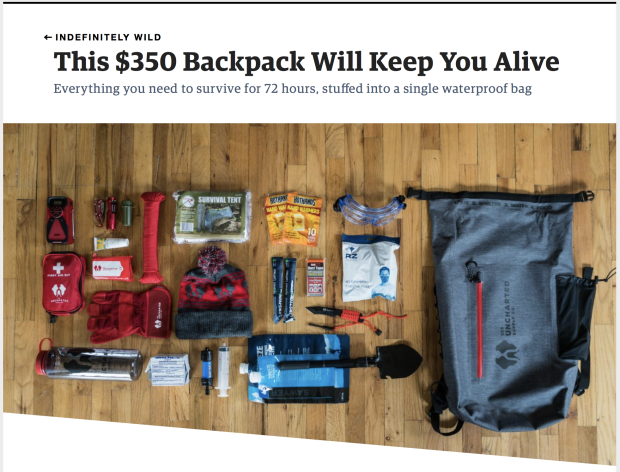 "This $350 bag will keep you alive." - Outside Magazine
"It's the perfect bug-out bag." - Huffington Post
"clear and simple instructions to help even the most novice person get through a tough situation." - BlessThisStuff
"...everything that you could possibly need to live." - The Drive
LEARN MORE WITH THESE VIDEOS FROM UNCHARTED SUPPLY CO
CHECK OUT AN UNBOXING VIDEO ON THE SEVENTY2
CHECK OUT THE ORIGINAL SEVENTY2 INDIEGOGO CAMPAIGN VIDEO (100,000 VIEWS!)
SEE IT ALL PACK UP WITH THIS STOP MOTION VIDEO
The Seventy2 is designed to help you navigate hundreds of situations. From dehydration to natural disasters, this kit features over 30 high-quality tools that work together to make sure you stay safe.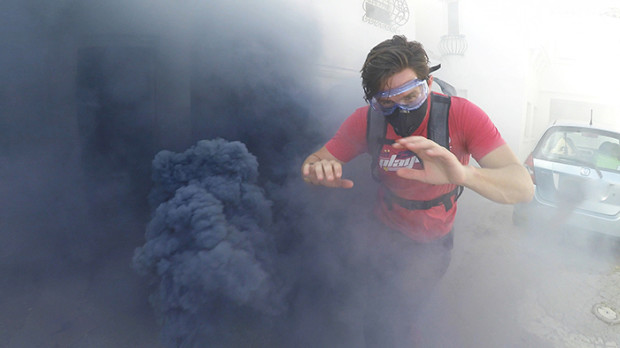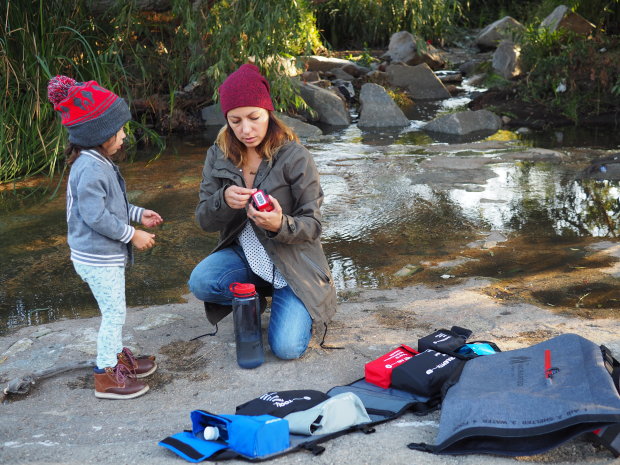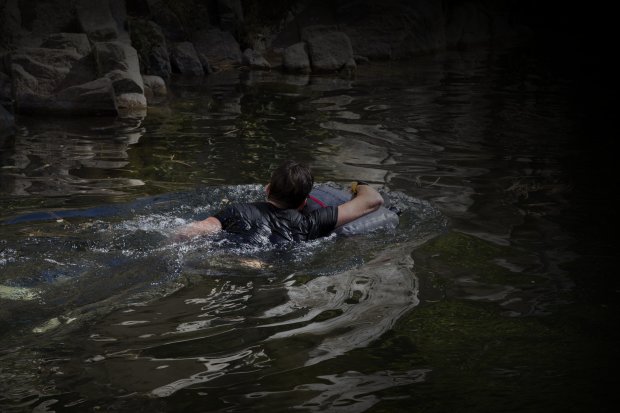 What's Inside
What's included in The SEVENTY2?
Antibacterial Wipes - 25 anti-bacterial wipes for cleaning and sanitizing. Resealable plastic package.
Chem Lights - Used for all sorts of emergency lighting in all conditions. Water and shock resistant. Chem Lights provide a reliable light source in the toughest conditions. Used extensively by the Department of Defense.
Collapsible Water Pouch - Sawyer pouches are collapsible and rip-proof, with a two liter capacity. The pouch can be easily filled in any lake or river, or under a faucet and then attached to the Sawyer filter to purify water for drinking.
Convertible Shovel/Pick-axe - A multi-function tool for digging, sawing, chopping, and cutting. Made of high-carbon steel with a rubber grip handle. Foldable into a compact carrying pouch, and can be easily attached to a belt or backpack. This tool which easily converts between a serrated edge shovel and pick-axe.
Datrex Food Bars - All-natural, high-calorie and delicious. No preservatives and U.S. Coast Guard approved with a 5 year shelf life. These high calorie bars have been trusted by the USCG for years. Vacuum-sealed package of 12 survival bars containing 200 Calories per bar, 2400 Calories per pack, individually wrapped for easy rationing and storage.
Duct Tape - 5 yards of bright orange, fold-flat duct tape ready for use.
First Aid Kit - A 50 piece kit with the essentials for cleaning and dressing wounds, creating a sling, or dealing with other basic injuries.
Flashlight - Compact yet powerful CREE Q5 LED flashlight. It has an adjustable focus from flood light to sharp beam and easily clips into the integrated shoulder mount on the backpack. Waterproof and shockproof, 300 lumens.
Gloves - Tough, leather fingers and palms, insulated.
Goggles - Lightweight with comfortable rubber construction for a snug fit. The goggles will keep you seeing clearly.
Heat Packs - HotHands Hand Warmers are air-activated and will provide up to 10 hours of gentle warmth. Easily placed inside gloves, pockets or anywhere you feel a chill. No shaking or kneading required; just open the package and it will automatically begin to heat as it is exposed to the air.
Insert - Purpose built, ripstop nylon interior insert protects, organizes and clearly identifies the contents of the Seventy2. The insert includes basic survival advice screen printed for easy reference, and two HDPE plastic panels add lightweight rigidity and can be removed to act as snowshoes or splint. Backpack straps on the insert allows it to be carried independently, freeing up the exterior shell to be filled with additional supplies.
Matches and Waterproof Container - 30 Strike Anywhere matches
Magnesium Alloy Fire Starter - Quickly start a fire with magnesium powder or shavings. Highly flammable, the shavings burn extremely hot and will easily light tinder. A very reliable fire source that works even when wet.
Multitool - Compact and versatile, this multifunction tool is a lightweight stainless steel and aluminum construction.
It features mini pliers, wire snips, small knife, file, phillips/flat head screwdriver, bottle opener and a carabiner.
Mylar Thermal Space Blanket - Originally designed by NASA, waterproof and windproof, proven to insulate or reflect heat. The blanket will protect you from heat and cold. Lightweight and compact.
Mylar Thermal Survival Tent - A reflective waterproof Survival Tent provides basic protection from the elements for two adults. The Mylar material helps retain heat and repel water in an emergency situation. The tent is very compact and lightweight.
Nalgene Water Bottle - Secure, light and nearly indestructible. Instructions and measurements on the bottle for staying hydrated when under stress.
Paracord - 100 feet of ultra-strong red polyester paracord with a 7 strand core, 5/32" diameter.
Radio/flashlight/smartphone charger - The Eton FR1 is a combination smartphone charger, flashlight and digital emergency radio. The multifunction digital radio is easily charged by DC power through a mini USB cable, or via a hand crank if no direct power is available. Once charged, the FR1 will charge most smart phones or other devices via a USB cable.
RZ Air Filtration Mask - Lightweight, slim and comfortable, the RZ M2 air mask has active carbon filters, with dual one-way discharge valves. It will filter 99.9% of all particulate matter and will keep you breathing easy. Adjustable Velcro fit.
Sawyer MINI Water Filter - The Sawyer MINI Water Filter is rated to 0.1 micron absolute, weighs only 2 ounces, and filters up to 100,000 gallons. Reliable and easy to use, the MINI can be attached the collapsible pouch or a standard water bottle. The filter can be rinsed to restore 98.5% of the filter's flow rate.
Sunscreen - SPF 30, water resistant and hypoallergenic. Sunscreen will protect your skin from harmful sun exposure.
Survival Knife - Black stainless steel tanto blade, paracord-wrapped handle and a nylon safety sheath.
Uncharted Beanie - A CCS Uncharted Supply Company beanie will keep your head warm.
Water Syringe - The syringe can be used for cleaning your Sawyer water filter, or for helping clean out cuts and wounds.