Please note this is a
Crowdfunding Hunt
. While Grouphunt does not guarantee the promises as advertised by the creator, what we promise is to redistribute the goods to you as soon as we receive them, similar to if you placed the pledge on your own.
Grouphunt deal features ONE Silver Mask in your choice of colors and level of protection and THREE filters.

Silver Mask fights airborne pathogens and pollutants using a washable shell with antibacterial silver mesh and replaceable active carbon filters. Offering three levels of protection, custom colors, and a one-size-fits-all customizable fit, it's easy to make Silver Mask fit your needs.



7 Million people die every year worldwide because of pollution related illnesses. Silver Mask fights four different harmful elements: pollution, dust, pollen and bacteria.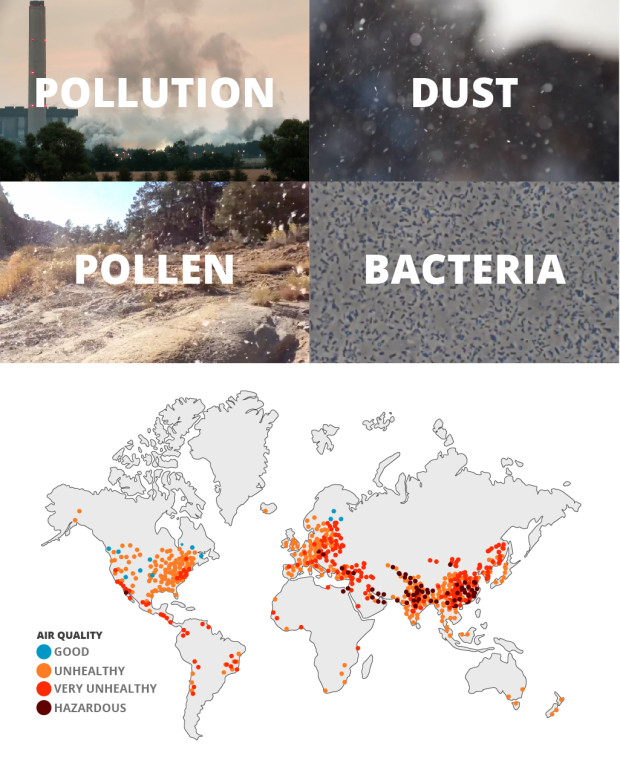 The new WHO model confirms that more than 80% of people living in urban areas are exposed to air quality levels that exceed the WHO limits. And with air quality constantly worsening, people living in densely populated cities need a way to protect themselves.


Silver Mask's filtering technology is composed of five layers to filter out harmful allergens, oxidants, bacteria, and pollutants. It ensures that even the smallest particles, like PM 10 and PM 2.5, will not pass through the mask.


PM 10 and PM 2.5 are released from a wide range of diffuse sources. Vehicles, for example, will generate particulates either from direct emissions from the burning fuels (especially diesel powered vehicles), wear of tires and vehicle-generated air turbulence.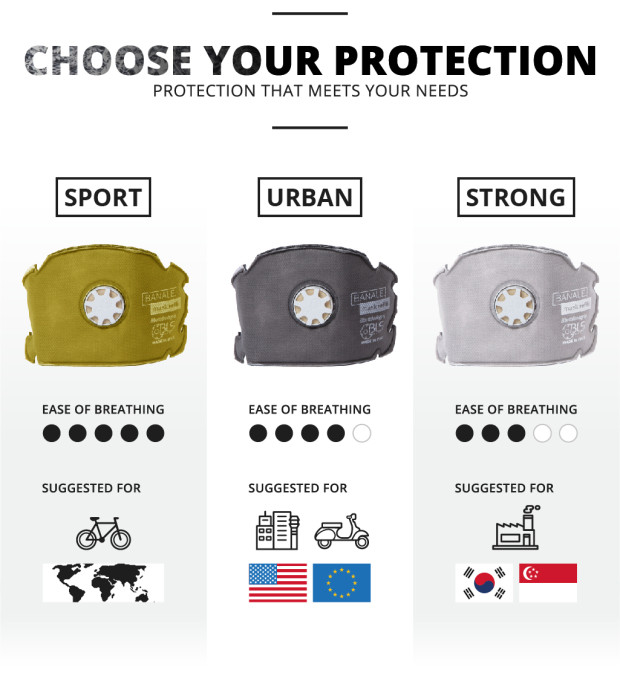 Different locations and activities require numerous filter options.
- Are you a city cyclist? Take the sport filter and take advantage of a low breathing resistance
- Do you live in western city with low air quality? The urban filter perfectly fits your need
- If you frequently face air quality warnings, you better stay fully protected and grab the strong one

Silver Mask has affordable, interchangeable filters so you can extend forever the lifetime of your Silver Mask.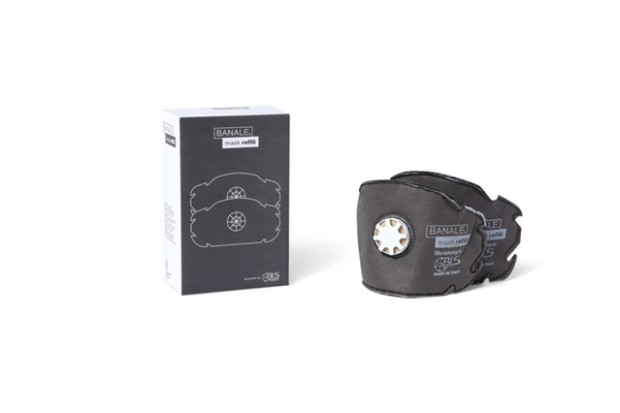 Filters will never stop filtering, they will only get more and more choked, as a vacuum cleaner do. This gradually raises the breathing resistance, and it's the only reason why you should change your filter.
There are many variables to establish a precise filter life, but on a daily use we suggest to change a filter every month or so.


The silver element (Ag) is naturally antibacterial, killing harmful pathogens without any harmful side effects.



It's also antistatic for a comfortable fit and transpirant so that collected moisture can easily evaporate. Moreover, you can hand-wash your shell whenever you want without compromising its antibacterial function.


Our patented design introduces an innovative wearing system. Wearing Silver Mask is quick and easy.
Pull the laces behind your ears or nape, tighten it up and adjust until you reach perfect adherence and stability. Laces are made of premium Lycra to be fully stable and soft on your skin at the same time.
Silver Mask can be adapted to every adult face shape, so that everybody can enjoy an effective protection and ultimate comfort.

Every filters embeds an improved breathing valve projected for professional use.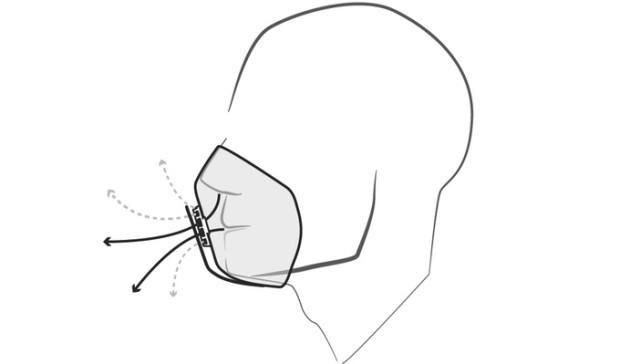 This technical add-on makes it easier to breathe in and out without feeling as if your breath is limited by the mask. The valve also moderates the temperature, keeping it fresh rather than trapping heat and moisture as other masks would.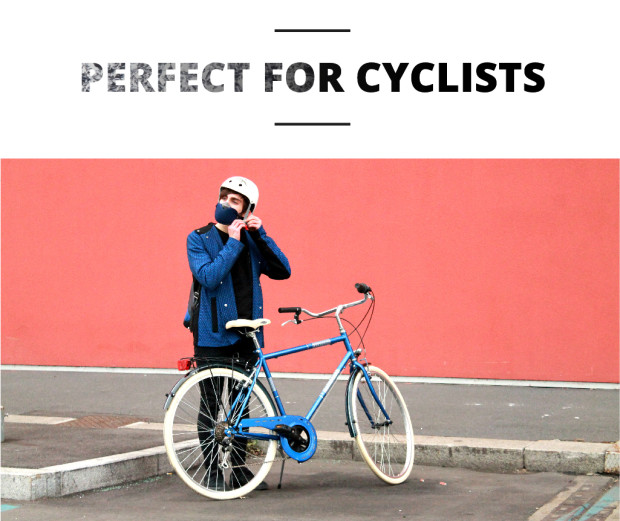 Silver Mask ensures that riders who share the road with polluting vehicles can breathe easily thanks to the active carbon filtration system and improved breathing valve.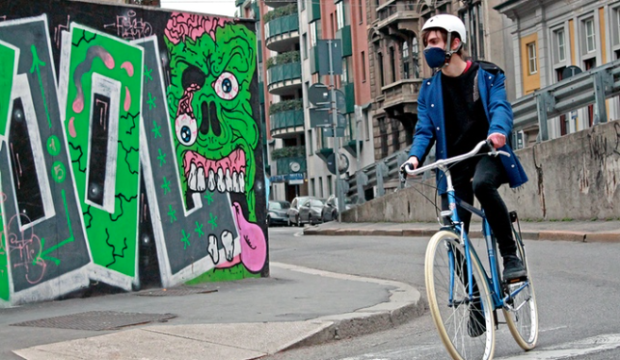 It fits any helmet and accommodates sunglasses with ease. It maintains a stable yet comfortable fit on your face, yet is easy to put on and pull off as needed.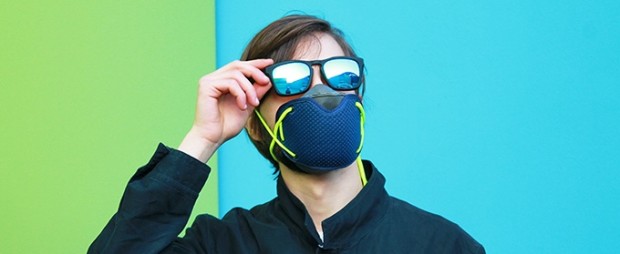 That's not all – Silver Mask also uses reflective cables that are perfect for night use, further improving cyclist safety.




The grey cable light up and reflect in the headlights of cars, so that even if you forget your bike lights or your errands take longer than expected, your safety is not compromised. Pick the grey cable to add this reflective element to your mask! Other colors are not reflective.




Thanks to its patented cables system, Silver Mask fits perfectly with every face shape, no matter if small or large. The one-size-fits-all system is related to adult sizes.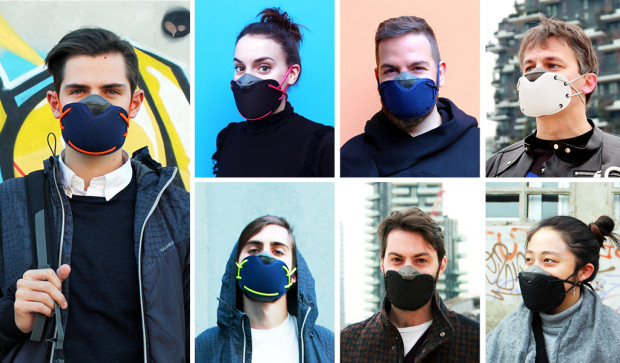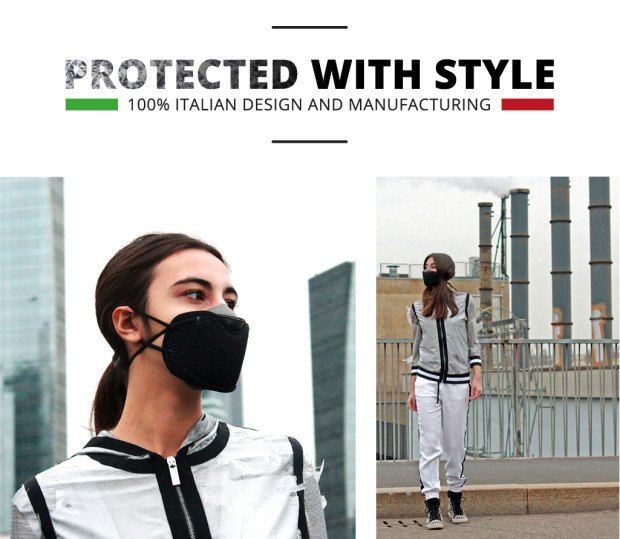 Anti-pollution masks will only work so far as people will wear them. No one wants to look like an off-duty doctor as they're running errands or commuting in the city.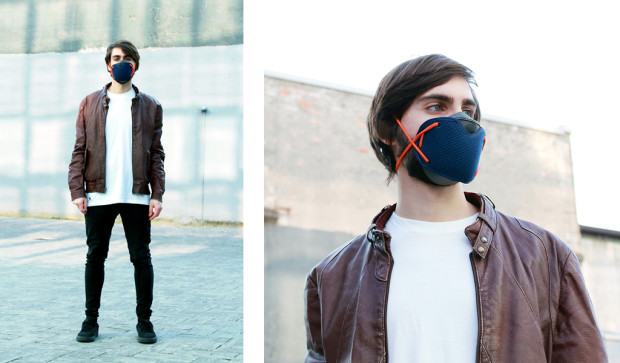 Silver Mask is sleek, streamlined, and comes in a variety of stylish and understated colors so that you can feel confident as you breathe easily.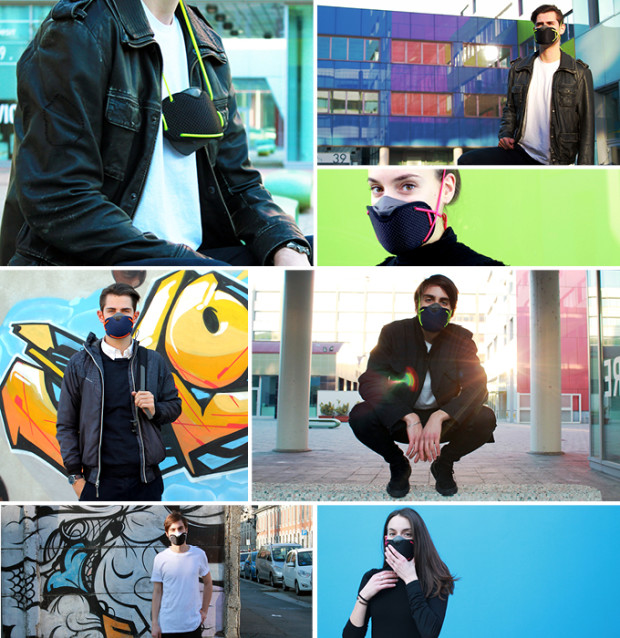 Banale began as two men with a simple idea: in our busy life, there are many ordinary objects that potentially has great utility, but somehow they still suffers from low dignity.

"Banale" means common, ordinary, and our mission is to innovate these daily products and get them closer to the people. We founded Banale in 2014.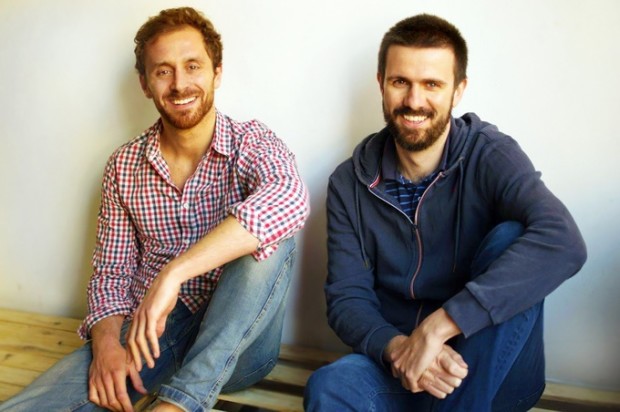 However, it was not until each team member was able to add their individual opinions and personal touches that the dream became a reality.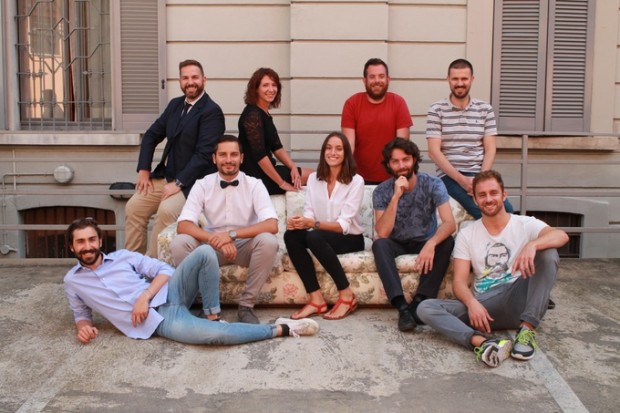 We work hard day by day, supporting each other like a family. The friendly and informal atmosphere that we have built at Banale headquarter, located in Milan, allowed us to deliver on the market some successful products, while still having fun. That's why we feel proud and lucky.