Grouphunt deal features the Betterspot Lifetime :)
Today, all of our data will be censored by the government, ISPs and network managers. Moreover, with the high-risk of public Wi-Fis, hackers' activities, and the security hole existing in routers and IoT devices, you are not able to feel secure. Accordingly, the need for a safe, secure and a fast service becomes essential, so it's a challenge to find a service that works on all your devices. Betterspot can encrypt your online data and helps you have a safer, freerand better internet experience


Betterspot secures your network and enables you to surf the Net anonymously. It also allows you to bypass geo-restricted contents. You can simply replace your home router with Betterspot or place it next to your router. All of your devices can connect to Betterspot with Wi-Fi or cable. Betterspot is portable; which means you can take it with yourself everywhere like public areas such as hotels, coffee shops, airports, etc.
Betterspot Functions!
Betterspot is compatible with:

How does VPN work?
A virtual private network, also known as a VPN, is a private network that extends across a public network or internet.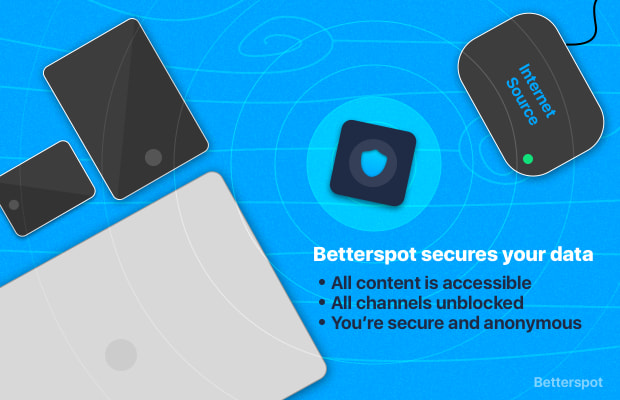 Why do I need Betterspot?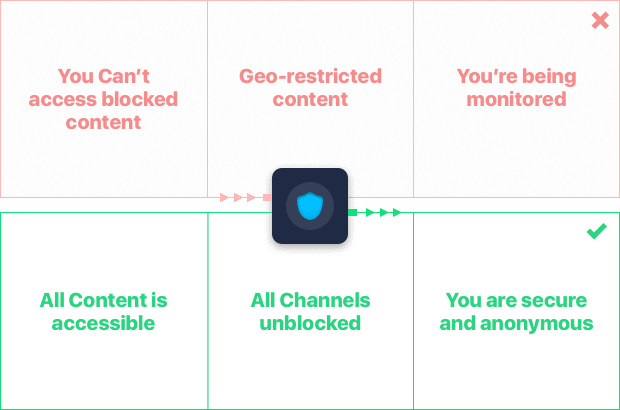 Betterspot Features

History of Betterspot
Everyday VPN services are used by millions of people in countries across the globe. A VPN helps users bypass internet restrictions such as censored or geo-restricted content while providing anonymity by masking their IP address and location. We believe freedom to access information online is a basic right. Betternet Technologies Inc. is the team behind the Betterspot project. We have over 5 years of experience providing secure VPN services for more than 40 million users around the globe. Our team has proven its place as your first VPN choice on the world wide web.
As smart devices and IoT are quickly and inevitably becoming part of our daily lives, the need for a safe, secure and a fast VPN service becomes essential. We noticed it had become a challenge to find a VPN app that works on all your devices, in the home or at the office. To meet this challenge, Betternet decided to create Betterspot, a device which easily connects to your router providing VPN functions to all of your WiFi devices such as tablets, smartphones, laptops, PCs, etc. Betterspot is compatible with various operating systems such as Windows, Ubuntu, OS X, Android, iOS, Blackberry, etc. By supporting Betterspot, you are supporting a device which will provide security, privacy, and freedom of information to millions. By using Betterspot, you yourself may find the internet quite simply better.
Betterspot App
All settings in your hand
Betterspot allows you to control the device easily through your smartphone. You just need to install it on one device and the rest will connect and pair to Betterspot without any need to install apps.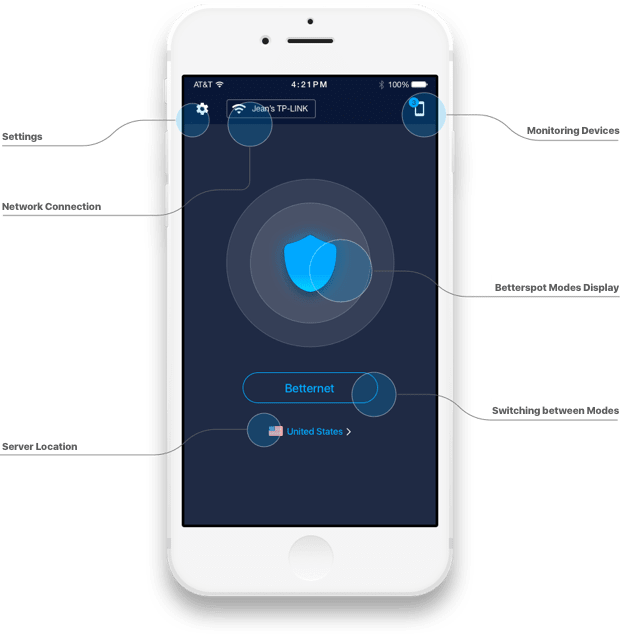 VPN (Betternet)
Connect to Betternet premium service to increase your security and privacy and choose between multiple server locations. Encrypting your data, Betternet secures your connection. It changes your IP address and hides your real locations. It helps you access blocked websites, and bypass internet censorship and firewalls. Betternet lets you access different streaming channels everywhere; even when you are traveling.
Tor
You can switch to Tor anonymity network and surf anonymously. It hides you from the other users on the network, so the more populous and diverse the user base for Tor is, the more your anonymity will be protected. Tor allows you to improve your privacy and security on the Internet. It also lets organizations and individuals share information over public networks without compromising their privacy.
Direct Mode
You can turn the VPN off by choosing this mode. In this mode, Betterspot functions like a normal router. If you only use a secure connection for certain services and prefer to browse the net using your own IP address, we made it easy for you to switch between VPN/TOR and Direct mode. In Direct mode, your router acts like a messenger: it only sends your requests to the internet without any modifications.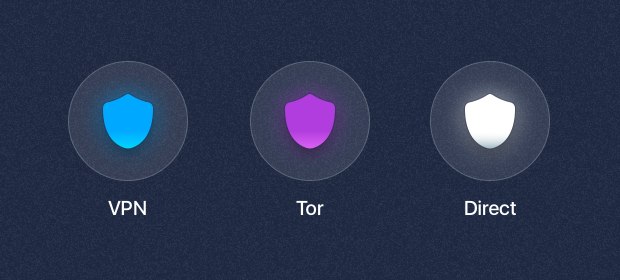 Location selection
Choose your desired server location from the menu. We provide a broad range of dedicated, and premium servers all around the world.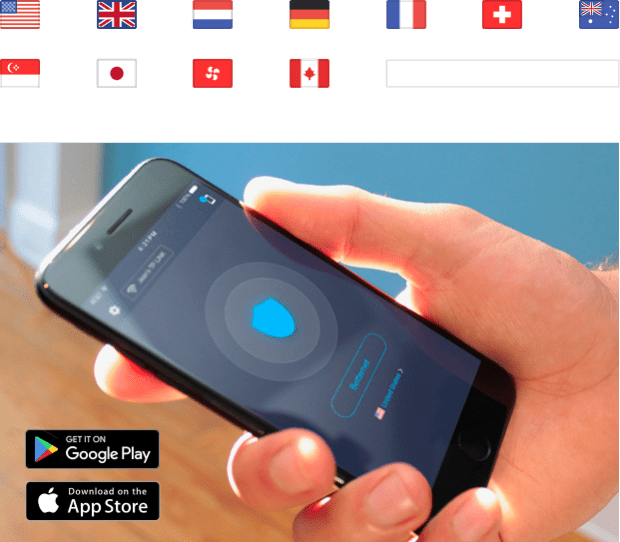 How to use
Connection via cable:
1 Turn on Betterspot.
2 Plug in the input cable to connect Betterspot to the internet source.
3 Now connect your device to Betterspot using Wi-Fi and enter the password. (Default password is betterspot)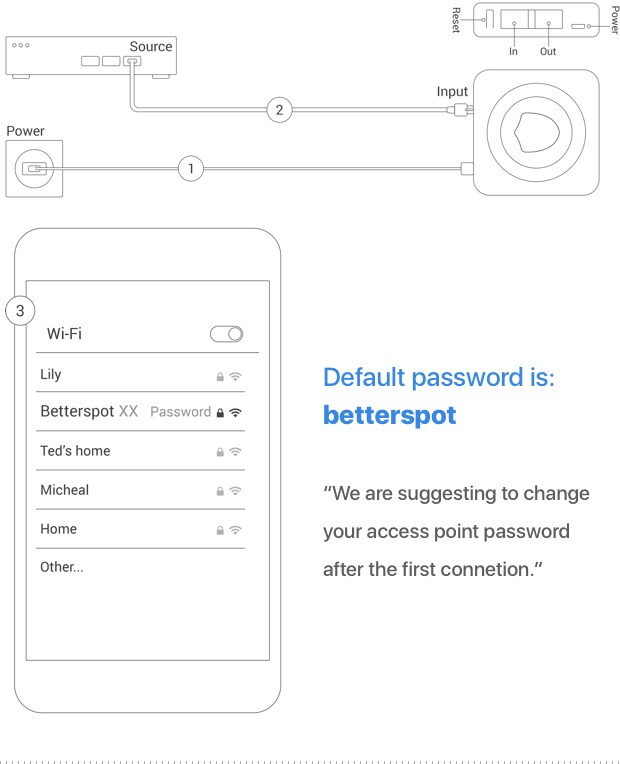 Connecting via Wi-Fi
1 On your device, choose Settings >Wi-Fi>Betterspot XX
2 Enter your access point or router password. (Default password is betterspot)
3 Open admin.betterspot.com on your favorite browser or you can use the app.
4 Choose a password for your admin panel.
5 Click on the button labeled "Cable" on the top left of the panel, then choose your Wi-Fi source from the list.
6 Enter the Wi-Fi source's password.
7 Press Connect button.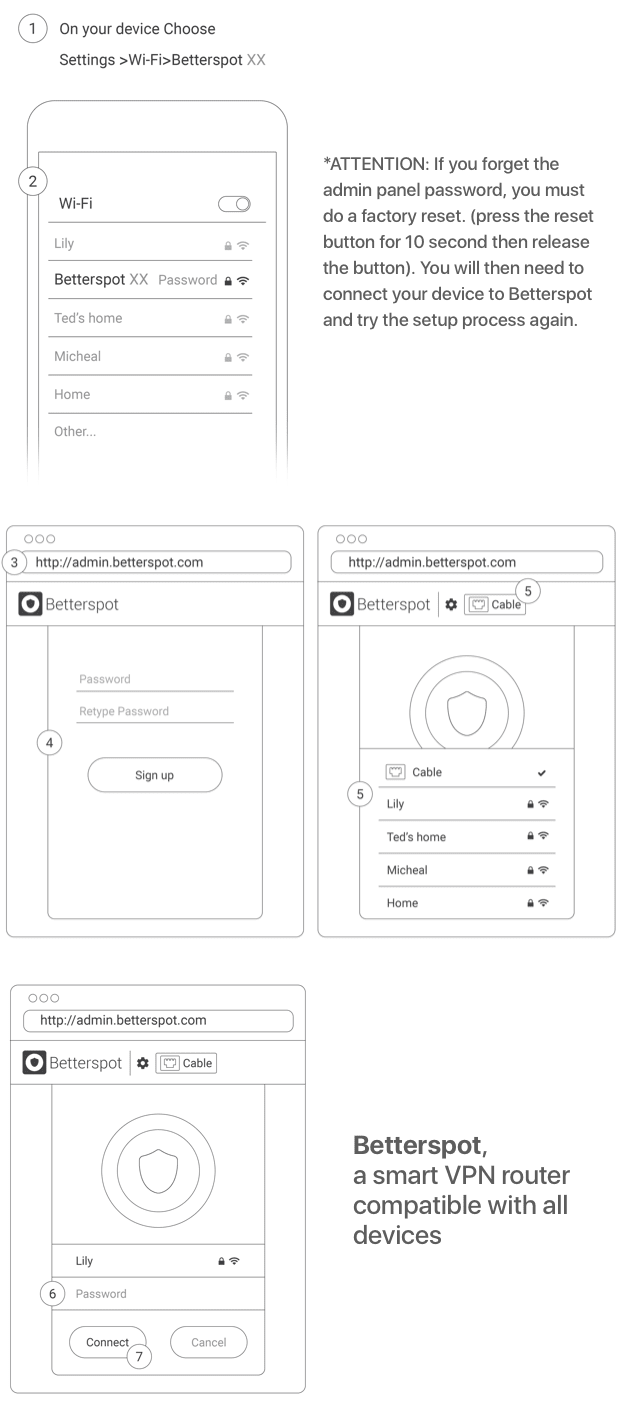 Betterspot Dimension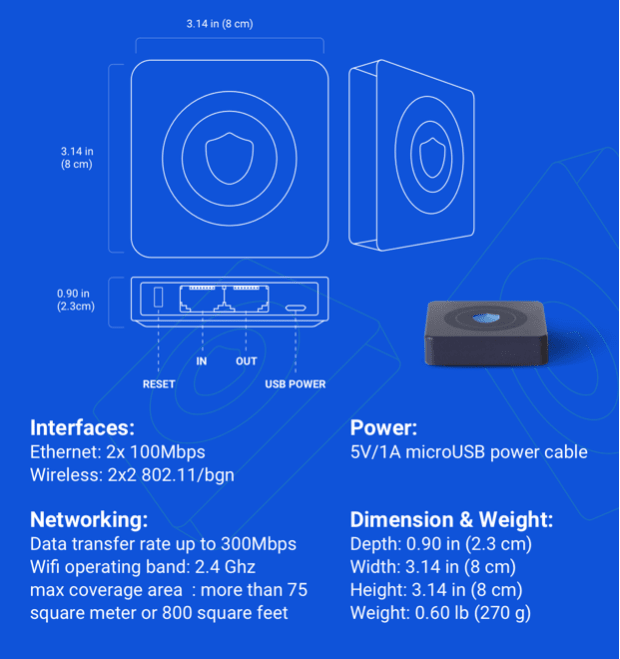 Warranty: We guarantee that in the first month if the device has the hardware problem we will replace the device. In the next 5 months if it encounters a hardware problem, we try to fix the issue and if we fail to do so, we will replace the device.
FAQ
> Is it possible to use Betterpot's premium account on Betternet app?
Unfortunately, that's not possible. The premium services on Betterspot router and Betternet app are two separate things.
Using Betterspot router for multiple devices at the same time requires a considerable amount of bandwidth, so to provide our users with a better browsing and streaming experience we decided to separate Betterspot premium servers from those of Betternet, so that our Betterspot users could enjoy less crowded, and dedicated servers.
> Can I use Betterspot for hard wired desktops? For example, a device I could place inline before my router?
Betterspot can work with wired equipment properly. It has one LAN port which the device can connect to via Ethernet cable, and more than 10 devices can connect to Betterspot at the same time via Wi-Fi.
> What kinds of network protocol do you have?
The network protocol is used for our new product is Hexatech. It is designed to offer an ultra fast speed and reliable security to the users and to connect smartphones to secure servers in an easier way. It is also safe to any blockings.
For more information you can visit: betternet.co/hexatech-vpn
or our Weblog about Hexatech:
https://www.betternet.co/blog/betternet-introduces-hexatech-a-revolutonary-vpn/
> Is Betterspot using the free Betternet VPN, Hexatech, or a dedicated VPN?
Betterspot uses Betternet premium servers. We limit the number of users on each server to provide a high-quality service.
> What are the usage restrictions?
You can visit the link below to be informed about the restrictions.
https://www.betterspot.com/terms#prohibited
> Will there be an Ethernet-in port and also an Ethernet-out (routing) port?
There will be both of them and Betterspot also works via Wi-Fi.
> We have internet in our dorm room through the DSL cable and we don't have a router yet. Would we be able to get Betterspot and use it as a wireless router and be able to connect our phones to it and use it as a router and VPN?
Yes. You just need to connect Betterspot to your DSL router. Betterspot is a router that is compatible with all devices and platforms, and you can simultaneously use it as VPN and a router.
> Can we carry the device so that it functions with cellular data and in return functions as a hotspot?
Betterspot has Wi-Fi to Wi-Fi capability so that you can connect it to your 3G modem via Wi-Fi. Just note that Betterspot has no built-in battery, so you need to use a power bank, or USB adapter.
> Does Betterspot work with a 4G Router?
Yes. Betterspot also works with a 4G Router. As long as your 4G modem provides Wi-Fi hotspot, you can use Betterspot as a gateway for it. It allows you to use a Wi-Fi hotspot as an internet source.
> Can you give me more details about the specifications, capabilities, the future firmware update support and premium access for life time?
Betterspot is a VPN router. Every device will be protected by connecting to it. You don't need to install any VPN app on your device. Betterspot has a mobile app for your ease of use. We do our best to update the firmware and Betterspot app. We also try to add new features.
> Can I use it for my Goobang doo MS8 streambox which is similar to an apple TV device. Would it work for it?
Yes. Every device that works with 802.11 b/g/n (almost all Wi-Fi devices) can connect to Betterspot. As long as it can connect to Wi-Fi hotspot, yes, it would.
> Connecting it to my router, will ALL devices on Wi-Fi and Ethernet including my TV usage (like apple TV and my smart TV internet) be on VPN automatically? Doesn't it need to do anything to activate it. Is that how this is set up?
Yes, exactly! You can connect all your Wi-Fi/wired devices to Betterspot and good news for you is that it needs zero setup! You will be on a secure connection without any extra steps.
> Can you use VPN and TOR together?
No, You will be able to use one at a time by switching between the two modes, using Betterspot app or via its web panel. Since Tor constantly connects you to random servers, you can't be on Betternet Premium servers unless you switch modes.
> Will it be able to transfer 1000mbps as wired or 300mbps?
The transmission speed is 300mbps.
> Can I use Betterspot while I'm travelling?
Yes, you can take Betterspot with you while you are traveling to countries with internet restrictions like China. You can also use it while you are connected to public Wi-Fi networks at the airports, cafes, hotels, etc.
> What benefits will Betterspot give me Vs. using the free service or paying $30 year for premium and using my own router?
There are two matters to consider here:
First: reliability, and quality of a VPN service.
Second: its ease of use.
Maybe you have a router that you can configure a VPN on it. Then you need to find a reliable VPN provider that allows you to set it up on a router. This is technically difficult and it needs technical knowledge too. Considering Betternet, it provides a reliable service that 40 million users trust it, but you cannot set it on your own router because the security protocol we use is not supported by any router. Considering Betterspot, it allows using Betternet's security layer on a router with zero configs. We also provide an app that users can simply change the settings and use it easily. That's what you are paying for.
> Where are Betternet servers located?
Betternet supports the following locations: US, UK, Canada, Netherlands, France, Australia, Germany, Japan, Singapore, and Hong Kong. Our US servers are located in different states of America and you can select among them.
> What encryption protocols does Betterspot use for my data?
We use Betternet's Hexa protocol which uses latest encryption technologies including SALSA algorithm.
> Is there a limit to the number of devices which can connect to Betterspot?
You can use Betterspot for at least 10 to 15 devices at the same time. Betterspot has one LAN port. A device can connect to it via Ethernet cable, and 10 to 15 other devices can connect to Betterspot at the same time via Wi-Fi.
> What type of VPN protocol is used on Betterspot?
Betterspot uses Hexa protocol, a secure communication protocol built from scratch for this new era. This technology has several advantages over old technologies:
The time needed to create a secure tunnel is negligible, it only takes a few milliseconds (compared to several seconds for OpenVPN or IPSec). Hexatech supports both IPv4 and IPv6 so there is no risk of IPv6 leaks. The protocol is designed with no signature so controlling organizations are not able to track or block it. All these features make Hexatech protocol unique and awesome!