ARE YOU READY FOR YOUR NEXT ADVENTURE?
Bluetooth Scale on the Ready App helps avoid surprises of overweight luggage at the counter
Get a notification when you are separated with Ready
Change your luggage game with Ready, which is impact resistant, water resistant, scratch resistant
Grouphunt deal features ONE Ready Smart Luggage in your desired color
Want the packing pouch set or portable battery? Order them with your Ready Luggage at $13 and $27.50 respectively.
Ready Packing Pouch Set - Small Size: 23cm X 16cm X 9cm, for socks/bras/underwares. Medium Size: 35cm X 23cm X 11cm, for shirts/dresses. Large Size: 46cm X 35cm X 11cm, for coats/trousers/shoes. You will get 2 X S, 1 X M, 1 X L. This perk has to be ordered together with Ready Carry-onReady Battery
ONE(1) 10,000mAh Battery. Perk has to be ordered together with Ready Carry-on.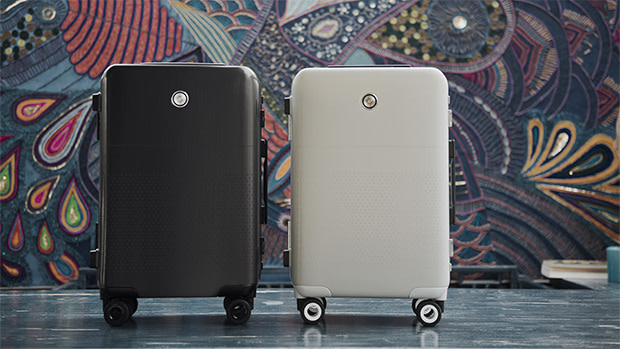 Battery Charger
Bluetooth Scale
Spacious
Water resistant
TSA approved
Lifetime warranty


No one likes to pay for the overweight luggage. There is a weight sensor in the suitcase's handle that lets you weigh your luggage. You just lift up and look at the companion app for the measurement and repack the bag in last minutes.

This is a great feature for the more forgetful among us, especially if you are in a rush to a gate and leaving your bag behind.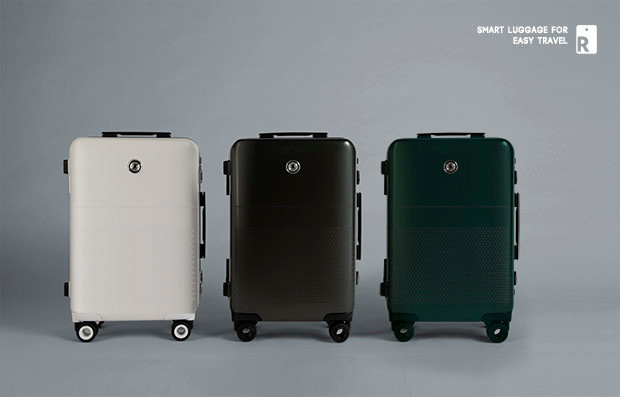 The hard shell exterior is made of 100% Bayer Makrolon polycarbonate, a material unrivaled in strength and impact resistance. If you put weight on it, it bends rather than cracks.

Ready also has rubber gasket seals protecting contents from the harshest weather conditions. The exterior is completely water-resistant, capable of protecting my stuff from wet grass, dirty floors, and sudden summer showers.

Ready is built with advanced technology to keep it always looking good, so you don't have to worry too much about the dents (again using it as a chopping board is not recommended).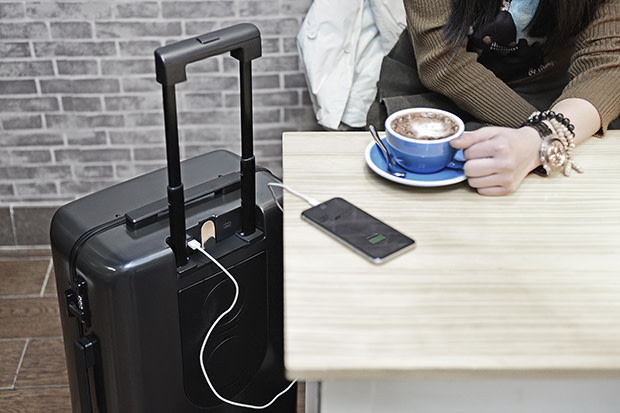 Ready can charge any USB device, so you can find a seat, park Ready next to you, and charge your phone before boarding your flight. You'll always be able to check your email or take a call.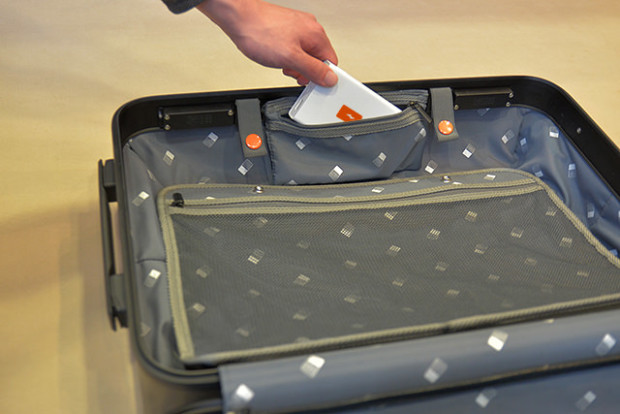 Battery being removable means you can get through the security without problems. It also means you can use the power bank you already have, so you don't have to pay extra for a new one.
For those who don't have an extra power bank, we also offer a 10,000mAh one, please choose the battery perk and place the order.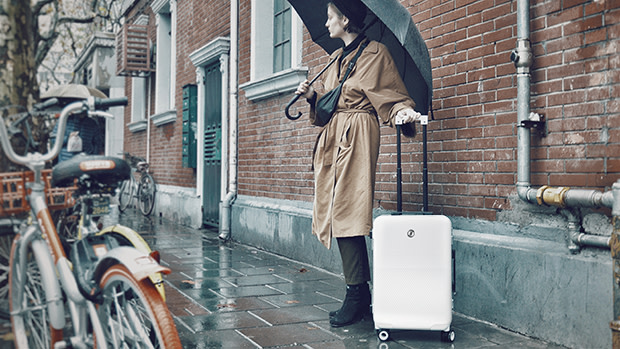 Ready carry-on will be delivered (Free Shipping) to you in June, perfect for your summer break! Time to plan a new journey with Ready luggage.
Ready, Go.

Ready carry-on's body is spacious enough for a week's stuff.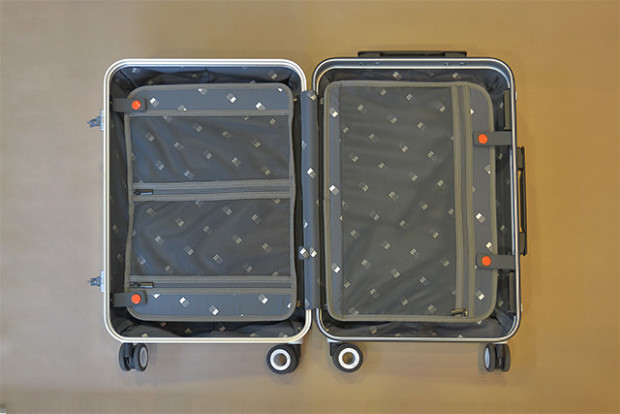 Ready pouches can create protective compartments for your belongings and keeping them tidy and organized throughout your trip.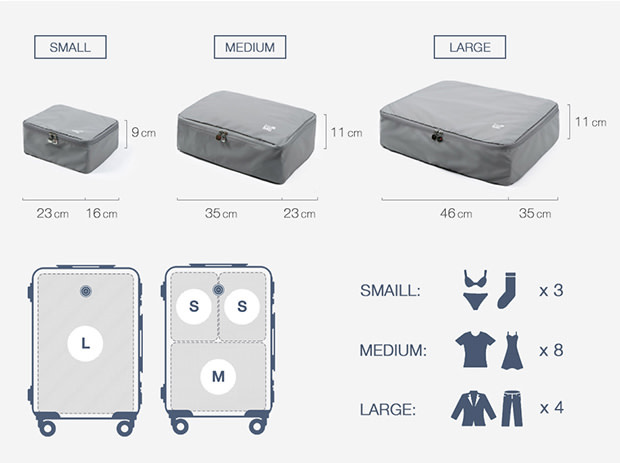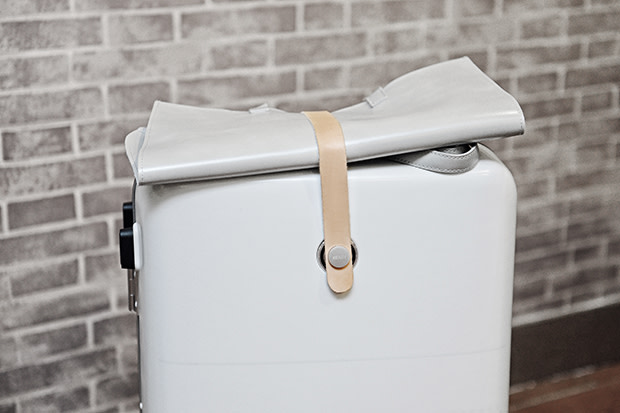 A helpful strap to fasten your handbag, backpack or briefcase securely on top.
After trying several alternatives, we find out one simple and elegant solution to avoid the bag falling off.



Travel could be the beginning of future, the story of present and the memory of past.
Ready shares many design elements of Bauhaus-style electronic products, together with the cross-border material crafting, Ready carry-on stands out through unique design.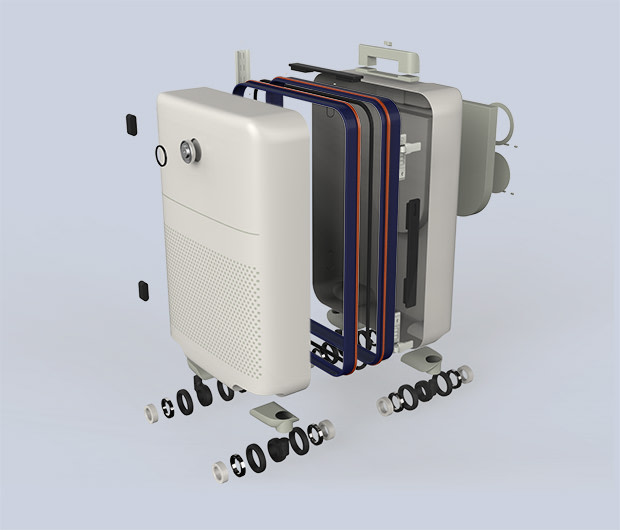 The frame is made of aircraft grade aluminum and can absorbs impact from the outside, thus better protecting your items.
In addition, Ready is produced by molds, then secured together with screws and rivets, which makes Ready more durable and you do not have to worry about annoying zipper failures.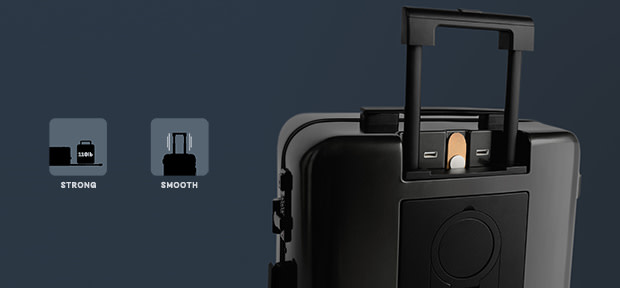 Ready luggage has a multi-stage handle made of Aluminum, it is strong enough to stand on top of it (we won't recommend doing this though).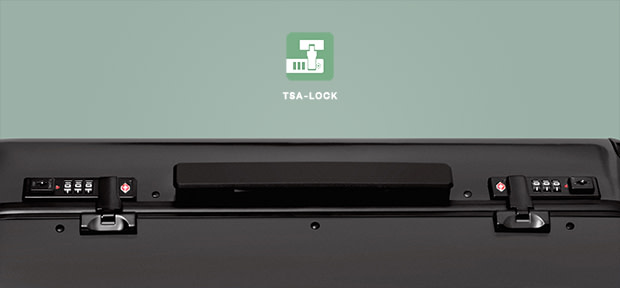 Ready luggage has no zippers, instead there is an integrated TSA combination lock that provides peace of mind when checking cases through security.


Its four 360° spinner wheels make moving around the airport a breeze. The wheels glide extremely smoothly on both carpeted and smooth floor.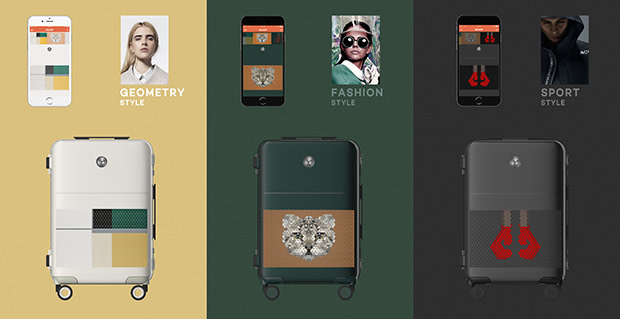 Customizing your luggage, regardless of which kind you prefer, is always a good idea. Show your own style and creation.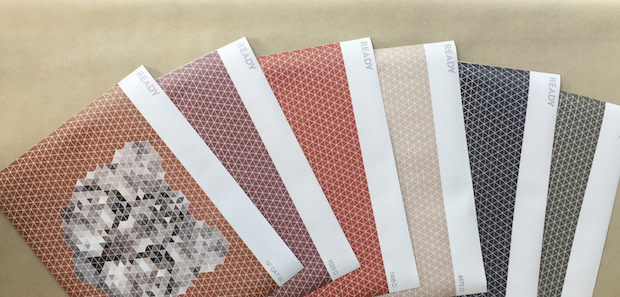 It is super easy to use. We will send you stickers in various colors, and just upload the photo in the app, it will generate a guide for you.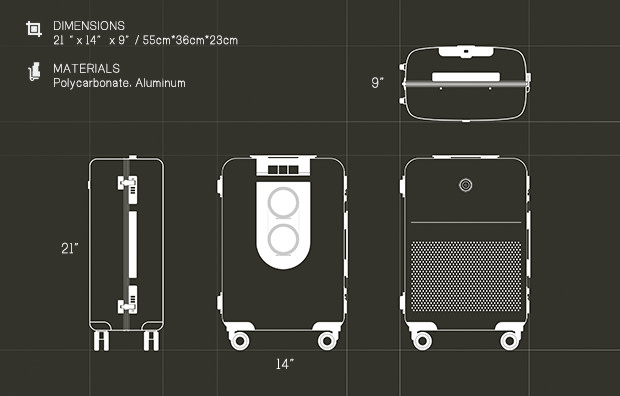 Ready fits within the TSA size regulations and with a hard exterior shell, it will stay within those regulations no matter how much you pack.


Available in Black, White and Green.

We are a team aiming to deliver products that can bring you the best travel experience. Our work on Ready started a year and half ago and now we are already in the mass production stage. Below are some videos taken from the factory.
Polyurethane tires make for one smooth 360 degree ride.
Strong top handle bar is strong enough to hold 30kg weight.
Smooth aluminum handle is undergoing testing.

Ready was thoughtful about its design. The luggage is packed in an easily opened cardboard box. The carry-on suitcase arrives in a high quality bag that you can keep for storage when you're not traveling.