The Quilo™ is an eco-friendly Fan that can transform into an Evaporative Air Cooler and Humidifier. When you add water in the tank, Quilo's evaporative cooling technology rapidly reduces the temperature of incoming warm air, creating a refreshing cool breeze. In the winter, add water and set it to low and it becomes an effective humidifier for treating seasonal dry skin and allergies. Not only does the Quilo™ pack a punch for its size but it's ultra-portable, quiet and energy efficient.
Our mission is to design and manufacture holistic and sustainable products for your home. We are passionate about creating climate friendly products that balance high performance with energy efficiency. The air quality in our homes is fundamental to our family's health. This drives us to create innovative climate control products to enhance and protect the air in our homes.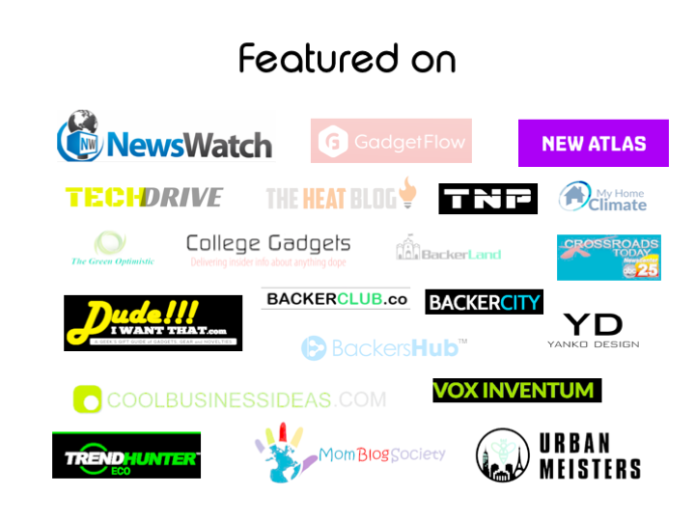 "Quilo puts energy efficient evaporative cooling in a portable package"
- New Atlas
"The perfect solution to year-round weather problems"
- Cool Business Ideas

"I use my Quilo for a room where I record audio for a YouTube show. The whisper mode is incredible and doesn't pick up on my mics at all but still keeps us cool while we're recording! Feel free to quote me if you want! Thank you." - K-Foxx of Grey Loot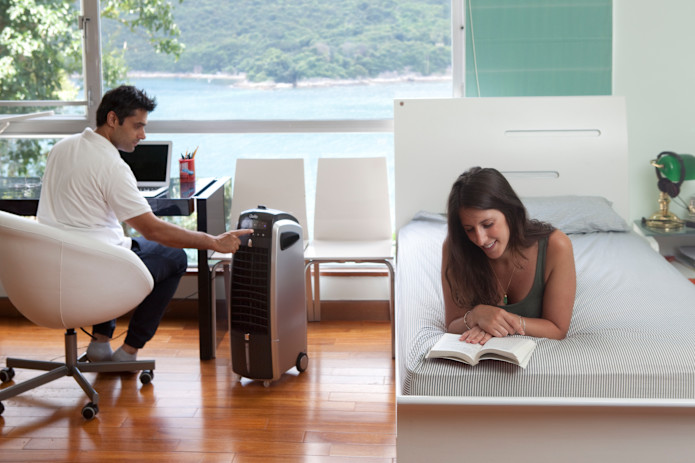 "I am loving my Quilo unit. I have a 2 story home in Houston. Cooling our home is pretty expensive, and our AC is always just barely able to do it. On the really hot days, it can't keep up. So the upstairs gets super hot. My man-cave is upstairs in a spare bedroom. I sit in there to do gaming stuff or just to have "me" time away from the family. I used to sit in there naked just to not be soaked with sweat. Now with Quilo I can stay cool and keep my clothes on. Thanks for making an amazing and useful little gadget!" - John
"We've had a triple-digit heat wave for the last few days and this has helped a lot. Great work on the function. I like the louvers a lot. Even without the evaporative cooling it would be an excellent fan." - Miguel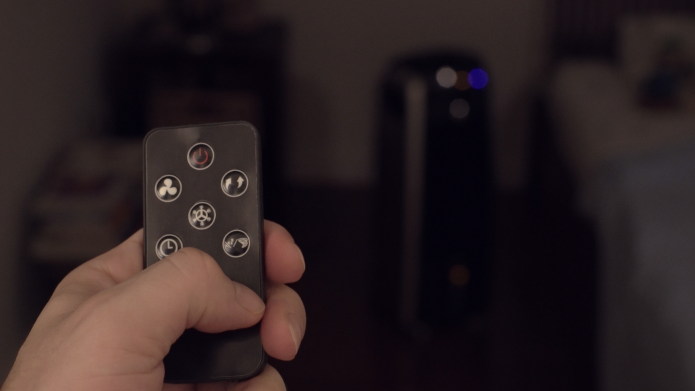 "I live in Fresno which got up to 104 F yesterday. My Quilo made my room comfortable and that was without ice. This is a lifesaver. Thank you!" - Preston
"Fantastic and very effective unit. Works great in our screen porch and basement. Would recommend this to everyone." - Vikas
Features & Specs
Powerful Air Flow up to: 359m3 / hr (211 CFM)*
Advanced Irrigation System: For optimum evaporative cooling
Ice Compartment: Innovative fountain design for faster cooling with ice
Extreme Low Power Consumption - in Quiet Mode: 7.4w* in Turbo Mode: 36w*
Super Quiet Operation - Sound Level on Quiet Mode: 24dB*
Low Water Alarm
Universal Voltage Adapter: Easy to travel, easy to store
LED Control Panel & Remote Control
Water Tank Filter: Helps extend the life of the Honeycomb Cooling Media
Comfort Light: A low-energy comfort light during the night
Product Dimensions (in): 9.8 (W) 12.4 (D) 28.9 (H)
Net Weight: 13.2 lbs / 6 kg
FAQ's
What is the tank size (in volume)? And how long does it take approximately to deplete the tank when in use?
The tank can have 7 litres of water, which lasts 7-10 hours depending on how dry or humid it is.

Do you need to replace the filter? Can the evaporative filters be detachable and cleaned up for regular maintenance like every some months?
Both the water filter and the honeycomb cooling pad are detachable and washable. Regular cleaning will help prevent scale up and keep the Quilo in good condition.

What is the CFM?
Max CFM is 211.

Is it good to use in NYC?
The Quilo works best when humidity levels are less than 60%. Most summer afternoons in NYC humidity is between 50-60% so the Quilo should be effective.

Does the Quilo Home have an automatic start and /or sleep timer?
Yes the Quilo does have a sleep timer - ie for switching off the unit. It does not have a start timer.

What are the different modes on the remote?
The remote buttons are for:
- Power
- Fan Speed
- Swing
- Cool
- Timer
- Quiet/ Turbo Mode

What sized room does it cool? And how much power does it use?
Quilo cools a room / area of 130 square feet and uses a power consumption of 36 watts per hour - less than charging an iPad.

If the "whisper quiet" of 20-40 dB is on low or high? If on low, what is the dB on high?
dB of each setting is 24 (Quiet sleep)/ 32 (Low) / 43 (Med)/ 49(High)/ 53(Turbo).