Please note this is a
Crowdfunding Hunt
. While Grouphunt does not guarantee the promises as advertised by the creator, what we promise is to redistribute the goods to you as soon as we receive them, similar to if you placed the pledge on your own.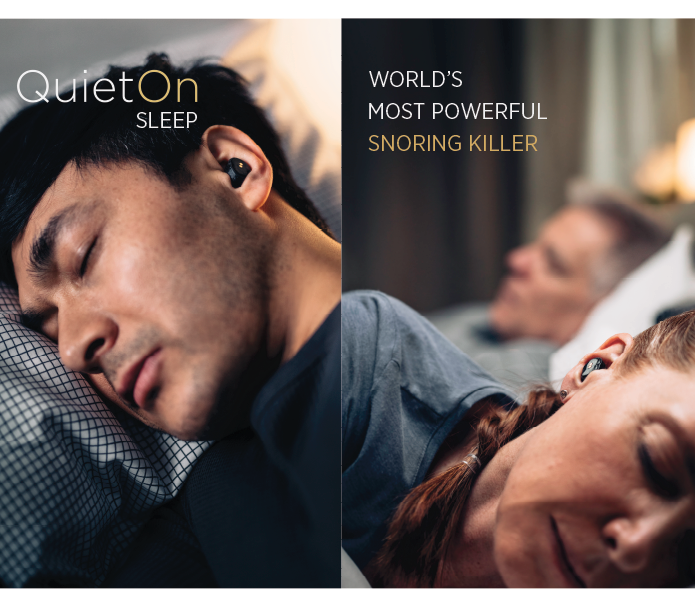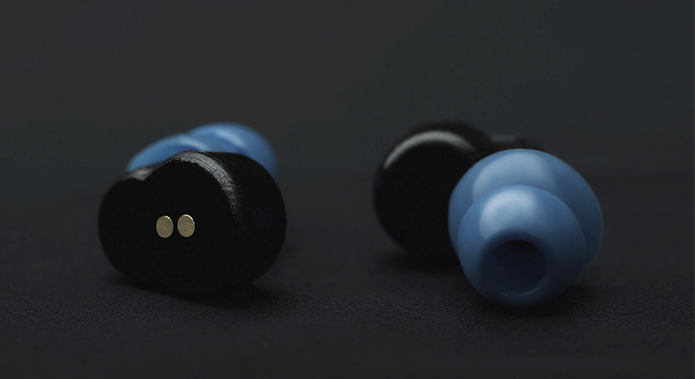 A rebellious innovation developed by Nokia audio veterans. QuietOn Sleep Active Noise Cancelling technology has been optimized to cancel out low frequency sounds, especially snoring. The earplugs have fully in-ear design with ultra soft cushion covering the outside, providing superior comfort for sleepers. You can easily switch between sleeping and hearing modes whenever needed by one tap. QuietOn Sleep has been built of safe and friendly material.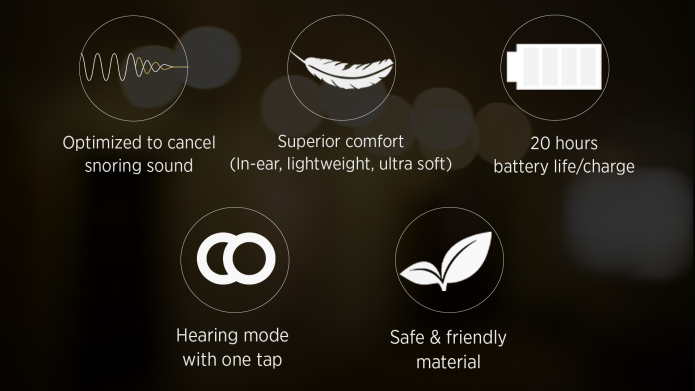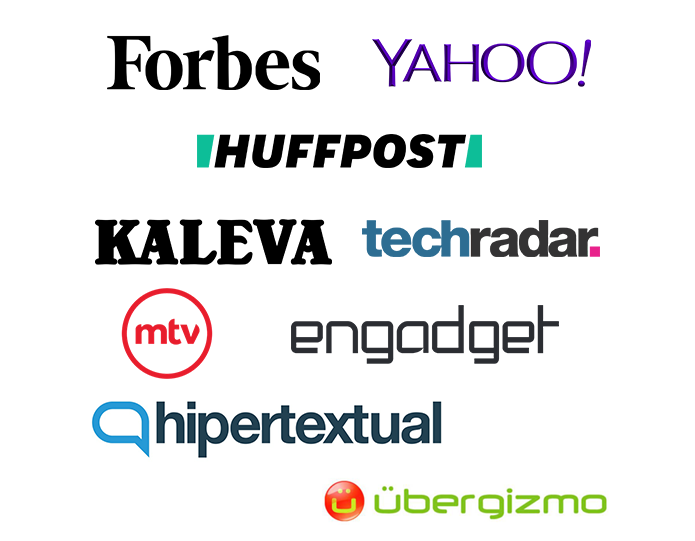 When the husband is an inventor, his wife should be the one who gets to test the product first. Below is the feedback from Kaija - Janne's wife.



The most common reason married couples sleep in separate rooms is due to the fact that one partner snores. Snoring impacts 25% of people in the U.S. on a regular basis and over 50% on an occasional basis. Cancel out the sound of snoring partner with QuietOn Sleep and enjoy the sleep next to your loved one.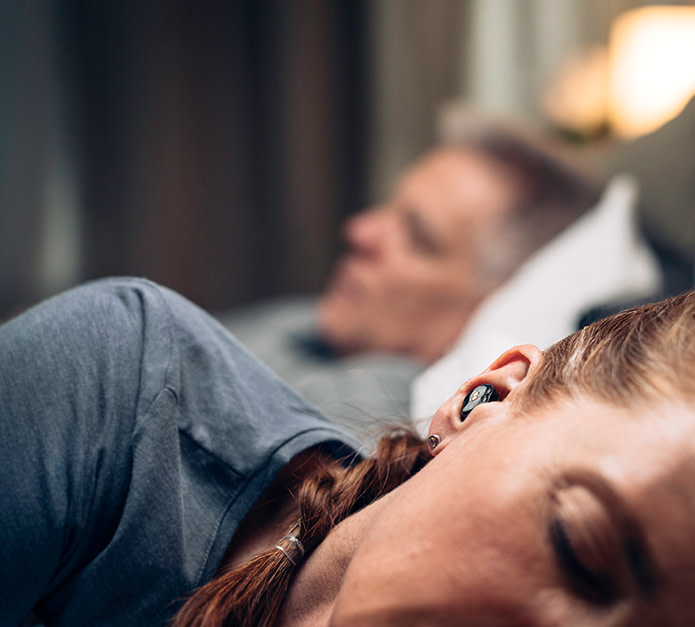 Someone's bliss can be another's annoyance. Loud music from neighbors' parties, lawn mower's sound in early morning, train clanging from nearby traffic, airplane landing... There are millions of reasons to wake us up in the middle of a good night sleep. Shut out the external noise with QuietOn Sleep and enjoy the warm coziness of your own bed.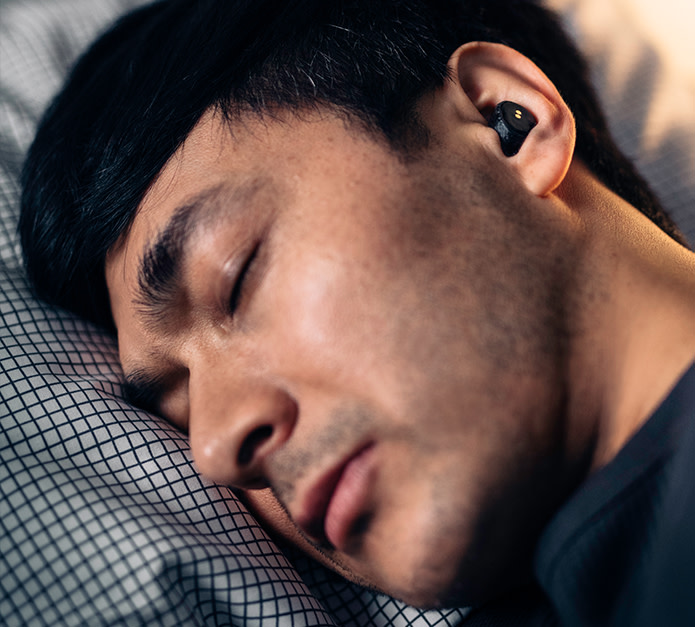 More and more of us spend several hours per day commuting between home and work. That adds up to hundreds of hours per year. Why don't you spend the time well by taking a good rest with QuietOn Sleep and compensate for your sleep debt?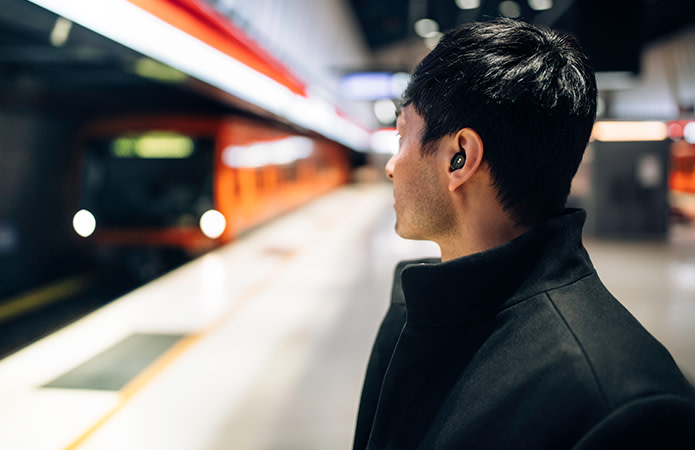 BONUS FEATURE: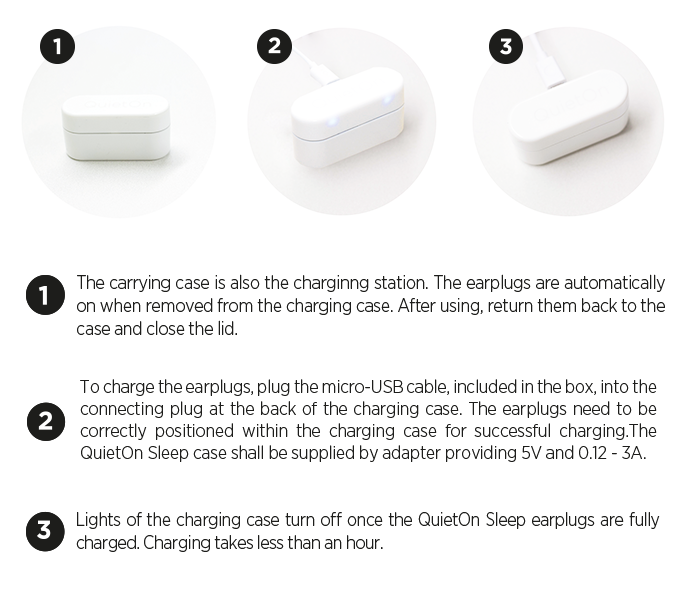 QuietOn Sleep with active noise cancelling technology has been optimized to enhance your good night's sleep. QuietOn Sleep cancels out low frequency noises, which normal earplugs are not able to block.
Our engineering team analyzed hundreds of audio tapes including sounds of snoring, traffic and other noises coming though walls, to create the golden standard of active noise cancellation to suppress the sounds disturbing your sleep.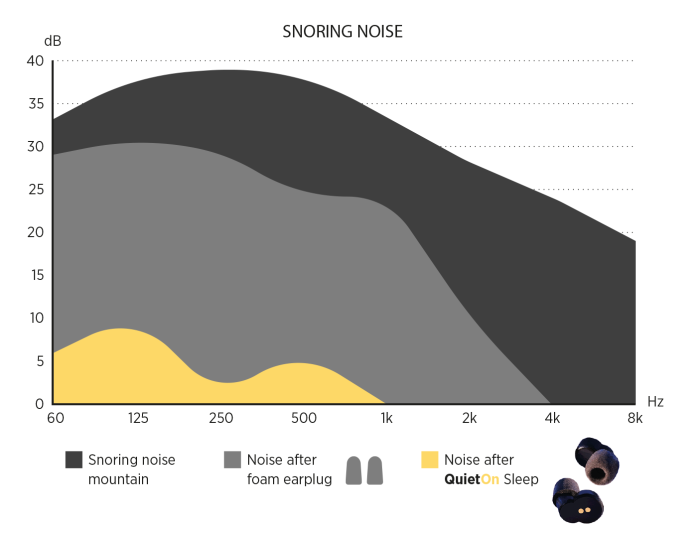 QuietOn Sleep active noise cancellation technology makes a big difference at low frequencies such as snoring sounds, music coming through walls and traffic noise of nearby streets. Structures like walls and building can reduce noises, but not so much with low frequencies.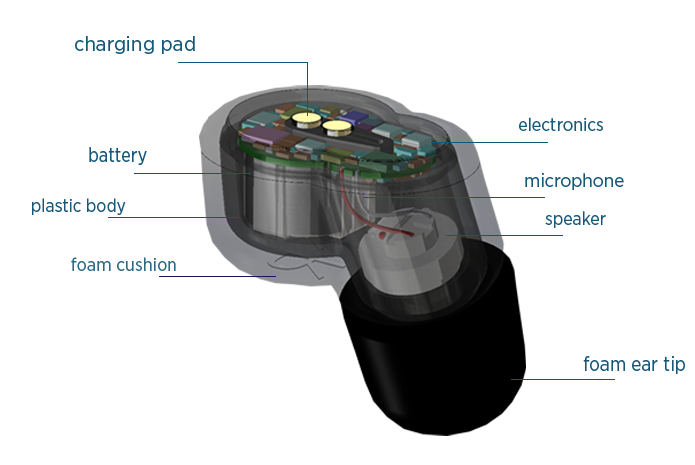 Active noise cancellation uses a microphone to sample the sound, and a speaker to create a phase-shifted sound that cancels the original sound.

Traditional earplugs use passive attenuation to reduce the sound entering the ear. Whilst they are good at blocking high frequency sound, they are quite poor at reducing low frequency sound, especially below 500 Hz.
QuietOn earplugs combine the advantages of in-ear passive earplugs with active noise cancellation, providing optimal noise reduction across the whole audible spectrum. This makes QuietOn ideal for use in a variety of noisy environments.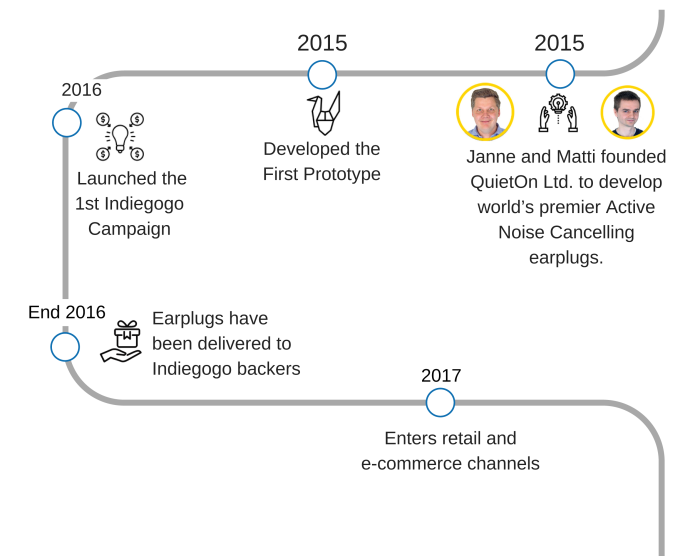 Early 2015 - Janne and Matti - Nokia engineers founded QuietOn Ltd. to develop world's premier Active Noise Cancelling earplugs.
March 2015 – Development of the first prototype of QuietOn active noise cancelling earplugs
2016 – Launch of the first Indiegogo campaign which was backed by 1.3 million USD for the manufacturing of QuietOn earplugs
End of 2016 – Thousands of pairs of QuietOn earplugs were successfully delivered to backers
2017 - rapid market expansion with more than 15,000 units having been shipped to 120 countries through various sales channels from B2B and Retail to E-commerce.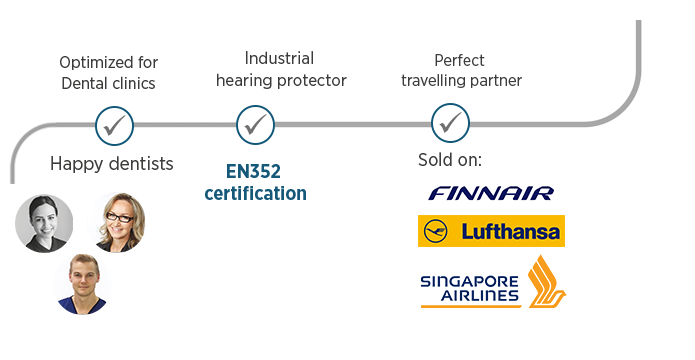 QuietOn earplugs are delivered to various retail channels and start gaining foothold on the market. QuietOn receives overwhelmingly good response from several different types of user bases, including aviation, industrial and dental users.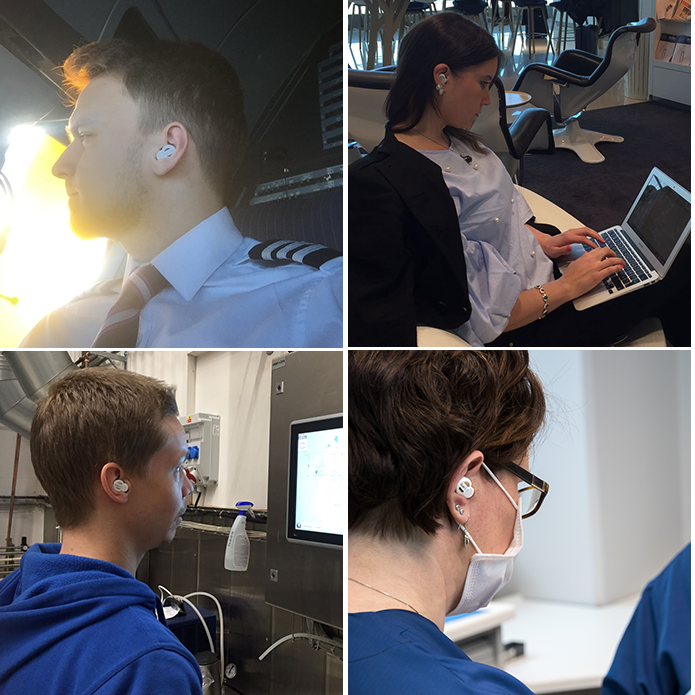 End of 2017 – Development of the next QuietOn starts
While QuietOn earplugs receive great praise from many types of users, people willing to use them for sleeping have also discovered a few disadvantages. Some of them experience first generation of QuietOn slightly too big to wear while sleeping with your head on the pillow. 1st gen QuietOn can also trigger a beeping sound while pointing pressure at the plug while the head is placed on the pillow.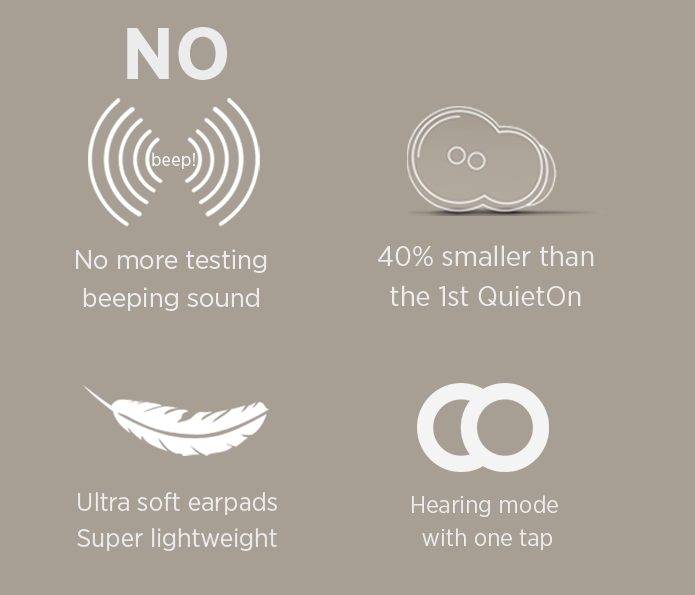 After analyzing the user feedback, QuietOn team defines the main development points. Sleeping earplug needs to be extremely small and comfortable to guarantee a good night's sleep. QuietOn team drafts a device 40% smaller and 50% lighter than 1st gen QuietOn. The device is covered by a soft cushion to make it feel nice and comfortable in the ear. The active noise cancelling performance is optimized for snoring frequencies and sounds coming through walls to make the device stand out from any other earplug on the market. The device is named QuietOn Sleep.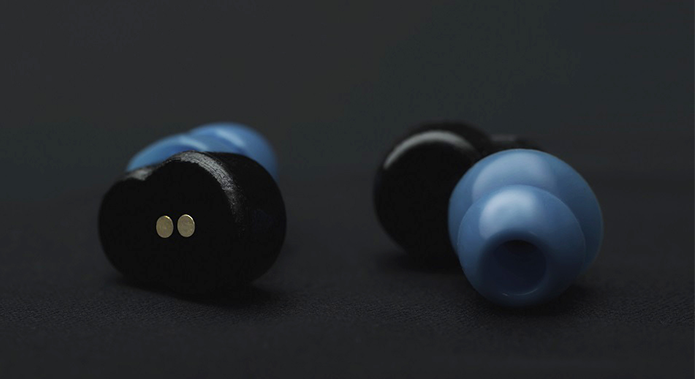 QuietOn has grown into a company employing people of six different nationalities. QuietOn team is a combination of the hardcore engineering knowledge and experience gained at Nokia and the youth and passion of fresh graduates.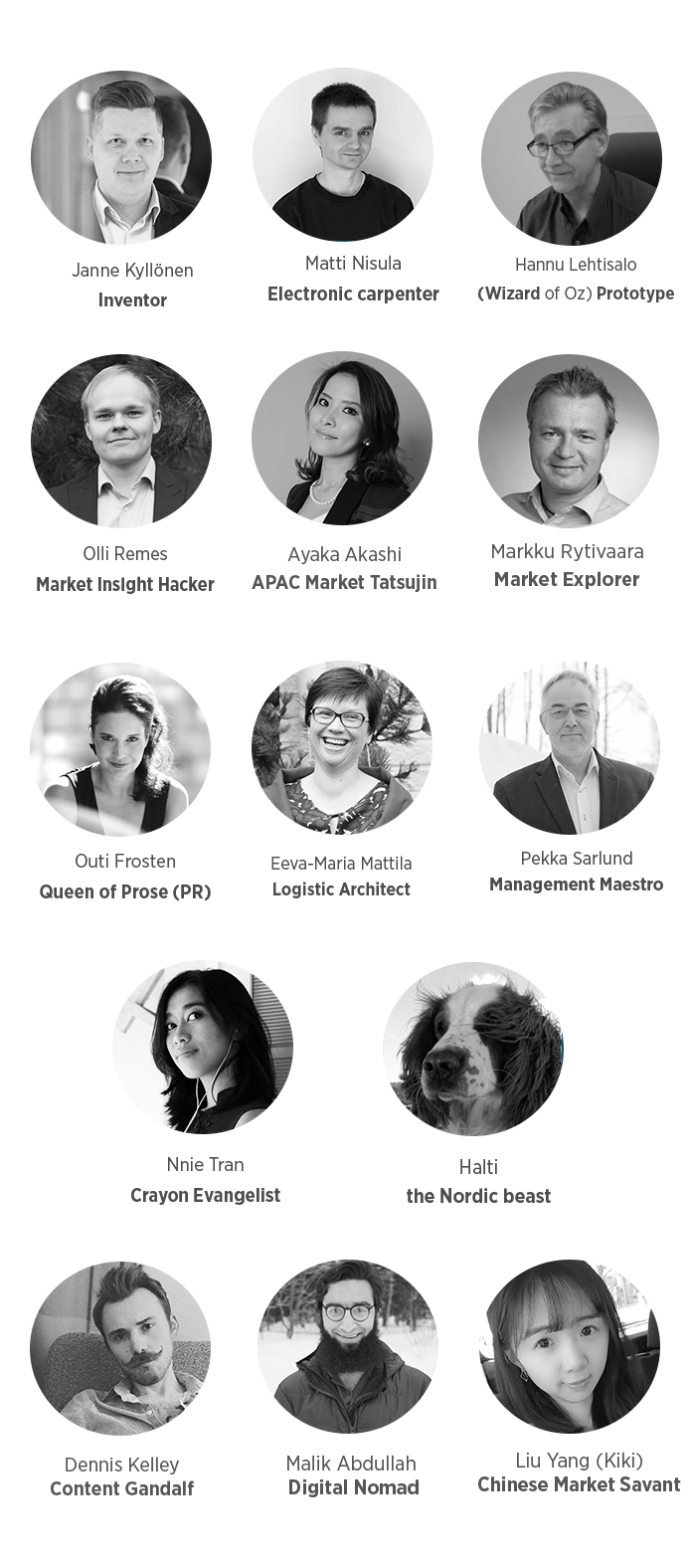 Q: How can we get in touch with your team?
A: We welcome you on our website www.quieton.com. If you have any questions regarding QuietOn or our Indiegogo campaign, please contact us via indiegogo@quieton.com.
Q: Does QuietOn Sleep cancel sound of snoring?
A: Yes. QuietOn Sleep has been optimized to reduce snoring sounds to the greatest possible extent.
Q: Can I hear the alarm clock while wearing QuietOn Sleep?
A. Yes. You just need to make sure to turn up the volume of your alarm tone to make sure you hear it. You can test this before going to bed.
Q: Can I sleep when I lie on the side?
A: Yes. QuietOn Sleep is 40% smaller than QuietOn Q1 and has soft cushion wrapped around it to maximize the sleeping comfort. There are different eartips of different sizes for you to pick the right fit and enjoy the best experience when sleeping.
Q: What is the benefit of QuietOn Sleep?
A: QuietOn Sleep is super small and soft, which makes it comfortable to wear while sleeping. The active noise cancellation has been optimized for snoring and sounds coming through walls. These sounds can't be blocked by normal passive earplugs. In case you still want to hear surrounding sounds while wearing QuietOn Sleep you can easily switch to hearing mode.
Q: Can I connect QuietOn Sleep to my phone?
A: No, QuietOn Sleep is designed to bring you a better night's sleep. There is no Bluetooth or any kind of radio connection. Music playback is not supported.
Q: Does QuietOn Sleep make total silence?
A: No. No earplug or any other device can make total silence. However, it is still the most effective solution to cancel sounds of snoring and and other noises disturbing your sleep.
Q: How do I insert and use the QuietOn Sleep earplugs correctly?
A: QuietOn Sleep needs to be in the correct position and have a proper seal in the ear for it to work. You'll know they are properly inserted once you reach the 'under water' kind of sound experience. Please check the guide video: (add link)
Q: What is the difference compared to the first generation QuietOn?
A: QuietOn Sleep is designed for sleeping. It is smaller and softer than the first gen QuietOn. QuietOn Sleep's active noise cancellation has been optimized for snoring and noises coming through walls. QuietOn Sleep does not include the testing sound ('beep') of first gen QuietOn. QuietOn Sleep also includes the option to switch to hearing mode.
Q: Does QuietOn Sleep have the testing sound of the first generation QuietOn?
A: No, QuietOn Sleep does not have the testing sound ('beep') of the first gen QuietOn. There will not be any additional sounds that could affect your sleep.
Q: What are the differences between different ear tips included in the box?
A: QuietOn Sleep comes with one pair of black Comply Foam tips and two pairs of silicone tips. Silicone tips have two different sizes - green ones are smaller and blue ones are larger. Silicone tips are also more durable, while the Comply Foam tips wear out after a while. Comply foam tips that are made of proprietary memory foam material and have been specifically designed for QuietOn and bring around 5dB extra attenuation. QuietOn comes with size M Comply foam tips.
Q: Is QuietOn Sleep safe?
A: QuietOn Sleep is totally safe. QuietOn has FCC and CE certificates and the device is compliant with UL/CSA/IEC/EN 60065-1. QuietOn Sleep has been thoroughly safety tested from electronics and health points of view.
Q: What is QuietOn Sleep made of?
A: Plastic (Polyamide and Polycarbonate), Silicone, Polyurethane Rubber, Stainless Steel and Gold. The product does not contain latex.
Q: How long does it take to charge QuietOn Sleep?
A: Charging takes around an hour. Blue indicator lights turn off when charging is completed.
Q: How long is the battery life?
A: QuietOn Sleep's battery life is around 20 hours on single charge.
Q: What's the battery lifetime? Can I switch the battery?
A: According to the battery manufacturer, the battery will last for thousands of charging cycles. In normal use this would mean several decades. The battery is rechargeable and can't be switched.
Q: What comes in the box?
A: The QuietOn Sleep retail kit will include the QuietOn Sleep earplugs, charging case, charging cable, several sized ear tips for different sized ears and user guide. In other words, everything you need to enjoy your good night's sleep.
Q: Are the shipping fees included?
A: Shipping is included. However, please note that QuietOn is not responsible for customs, taxes, import duties, brokerage or any additional charges by your local government. These are the responsibility of the recipient.
Q: When will I get my device?
A: The target for starting the shipments is October 2018.
Q: How confident are you with your shipping target?
A: We have done this before and QuietOn Sleep will be assembled on our existing manufacturing lines. We will do our very best to reach the target of starting shipments in October 2018. The unexpected can always happen, but you can count on us being ready to walk the extra miles to ship your device.