Options Available
Here are the colours available: (From left to right) Sunbeam Orange, Violet Purple, Glacier White, Metallic Charcoal, Iceberg Blue, Keylime Green. Also choose between 20 fl oz (591ml) and 12 fl oz ( 355ml).
We all want easy access to hydration anywhere anytime, yet no one likes to carry around a bulky water bottle that fits nowhere and only adds unnecessary weight. Plastic bottled water is convenient but does so much permanent damage to our planet.
So we created que Bottle, the only collapsible bottle that can travel with you and looks absolutely awesome. Unique spiral design shrinks que bottle to half of its size without sacrificing its stylish appeal.
Featured on: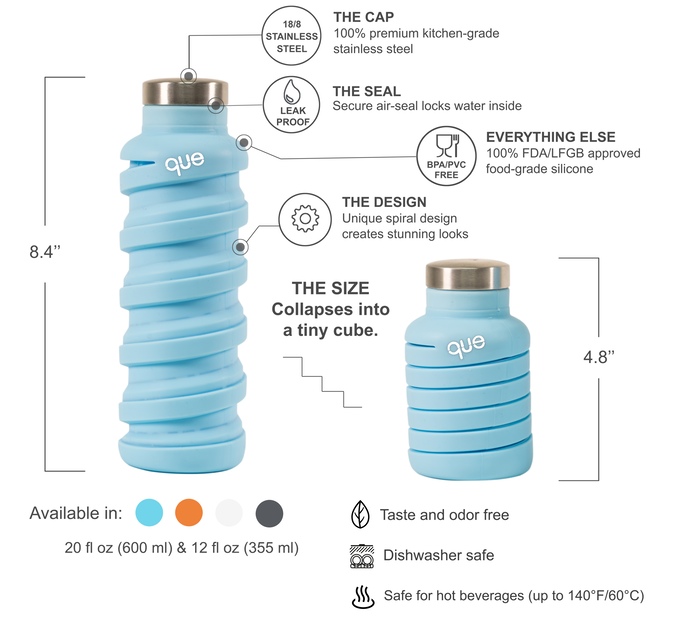 Made of 100% BPA-free food-grade silicone, que Bottle is 100% plastic-free, making it safe for people and the planet. It's lightweight and compact, taste and odor free, stain and bacteria resistant, dishwasher safe, and safe to use for both hot (up to 140F) and cold beverages. Plus, we are offering two size: high-capacity 20 fl oz for everyday use and 12 fl oz bottle for travelers and kids. Collapsed que bottle can be used as a small-sized bottle, making it even more versatile.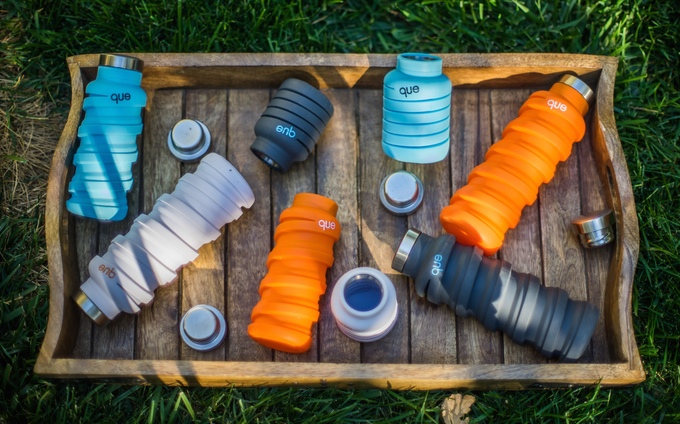 The Silicone Material
Why did we choose to use silicone to make que Bottle?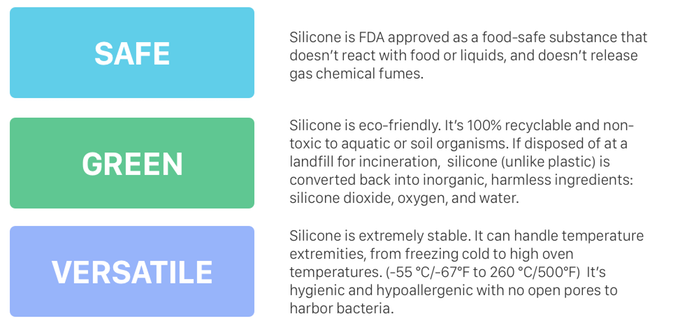 The que Bottle is tested for its high and pure grade silicone quality because we understand that the container that holds your water should be safe. Unlike metal or plastic containers, silicone WILL NOT change the taste of your water. It's the water bottle that has the best qualities of glass and metal, with the added benefit of being flexible, light, and shatter resistant.
The Functions
Collapsible: shrinks to half its size to fit anywhere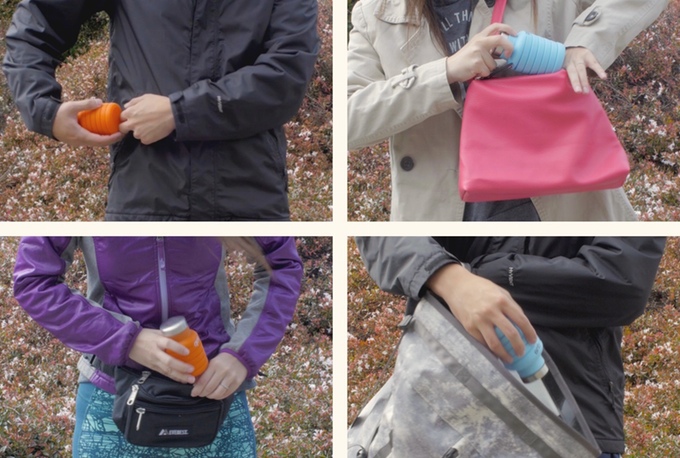 Wide mouth: fits ice cubes
Safe for hot beverages: up to 140°F (60°C). Safe to use for hot coffee, tea, and cleaning with boiling water.
Easy to clean: dishwasher safe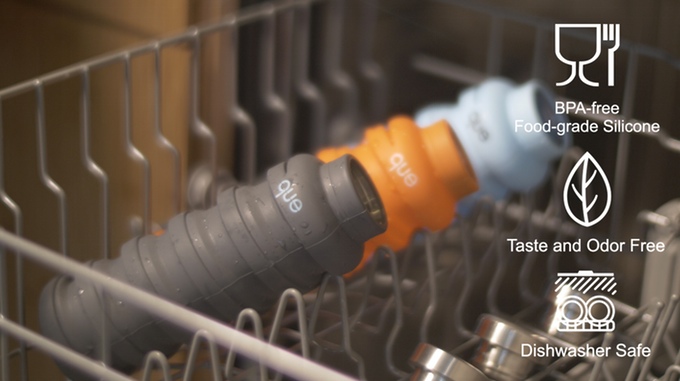 Durable: Collapse and expand over and over again
Leakproof: airtight secure seals. Leakproof que Bottle makes sure your bag stays dry
Shockproof: shock resistant. No damages caused if dropped by accident.
100% food-grade silicone: FDA/LFGB approved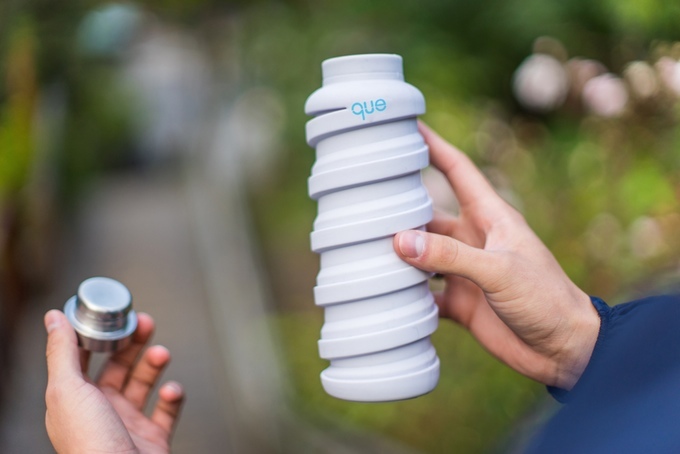 18/8 stainless steel cap: top kitchenware grade stainless steel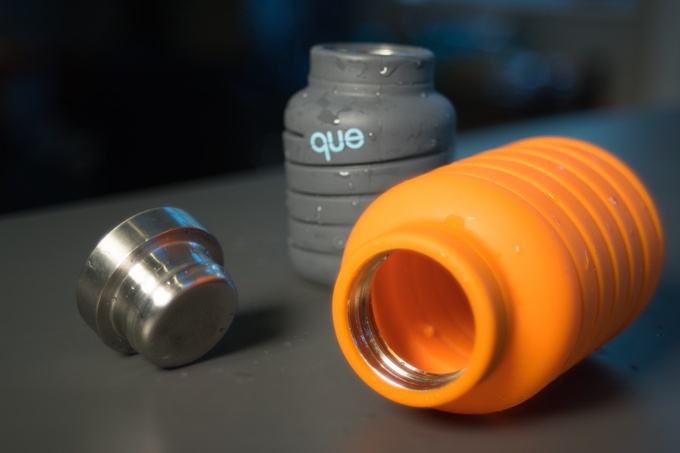 100% plastic-free: NO plastic material used for que bottle, 100% GREEN!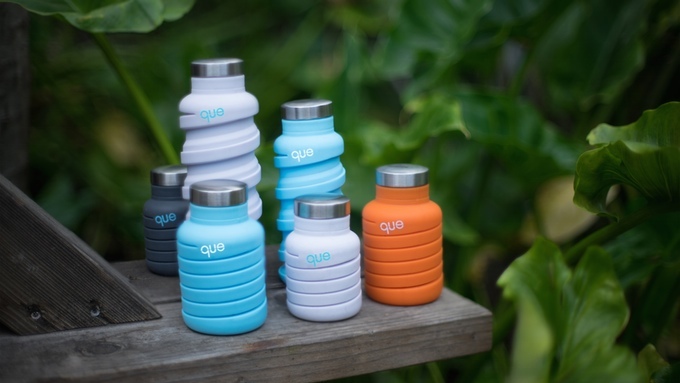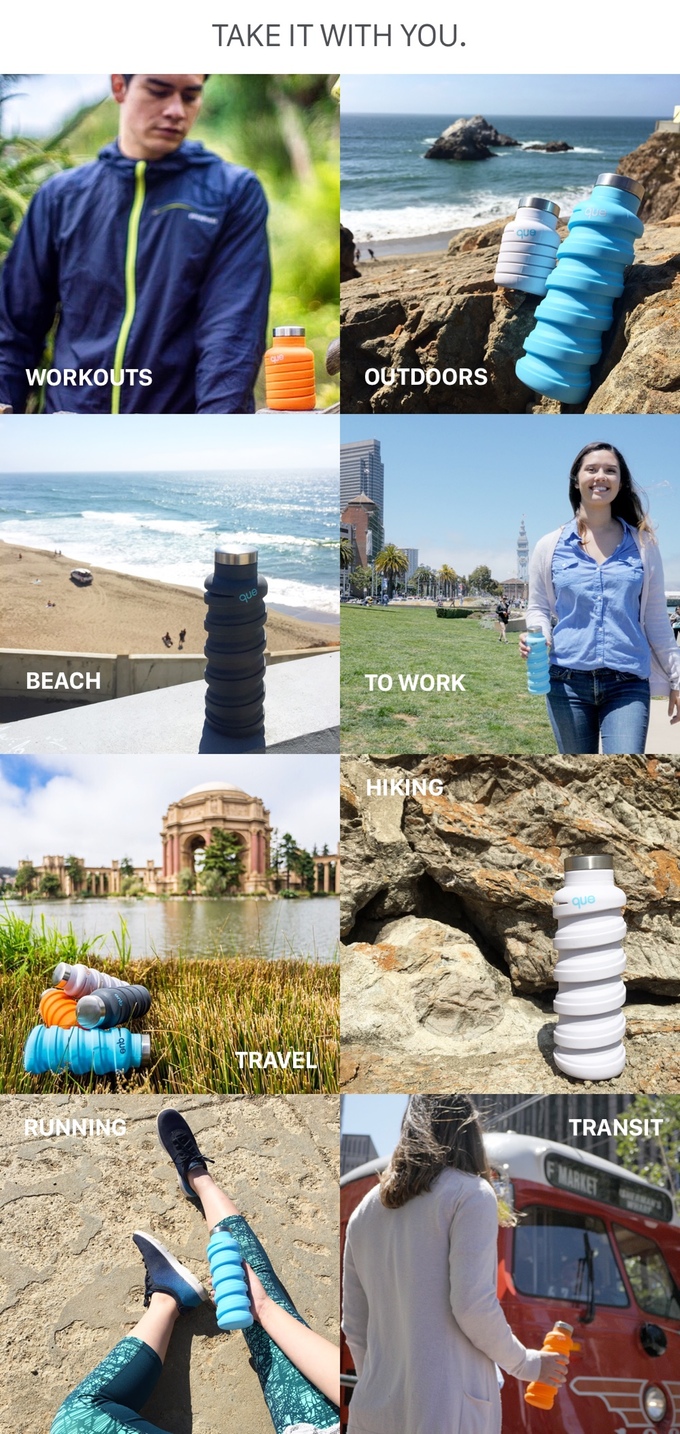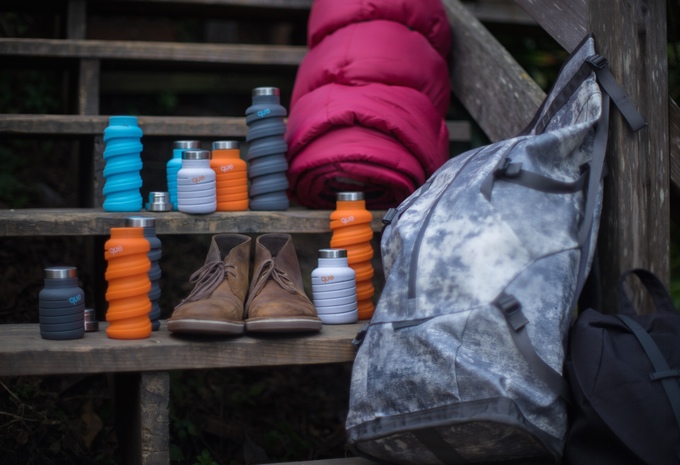 The new travel essential, the bottle that travels with you everywhere.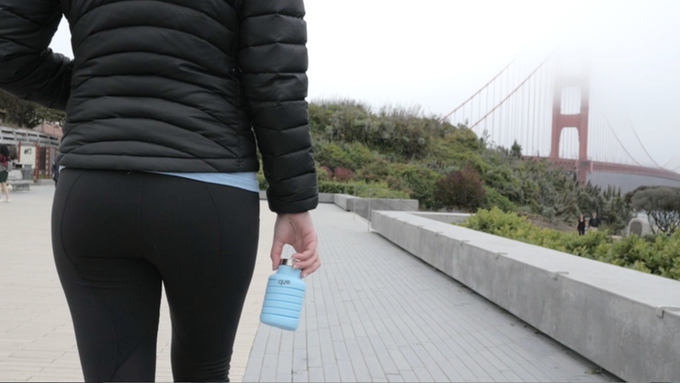 Never without a bottle again!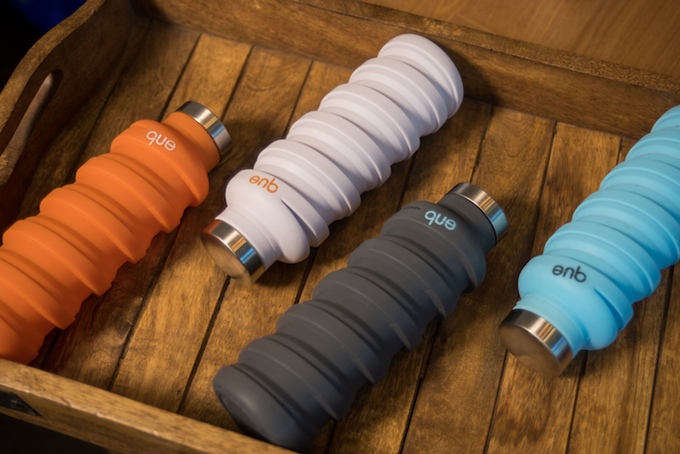 It's more than just a water bottle, beautifully crafted que Bottle is also a fashion accessory!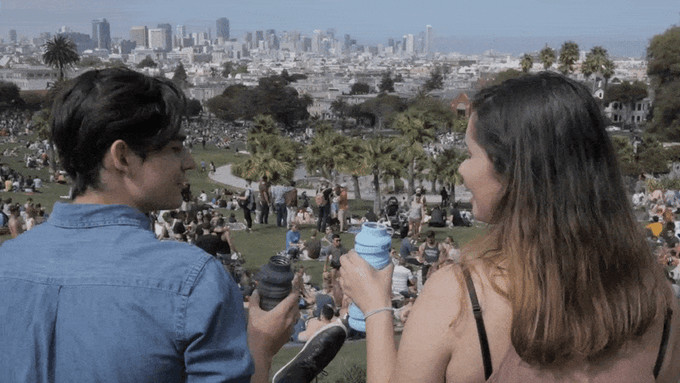 Help save the environment in the most stylish way possible!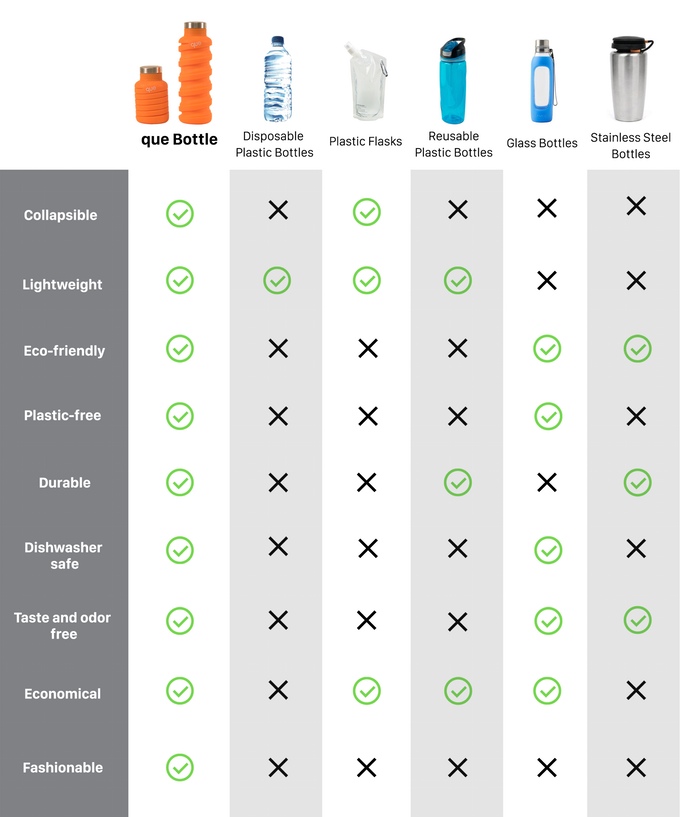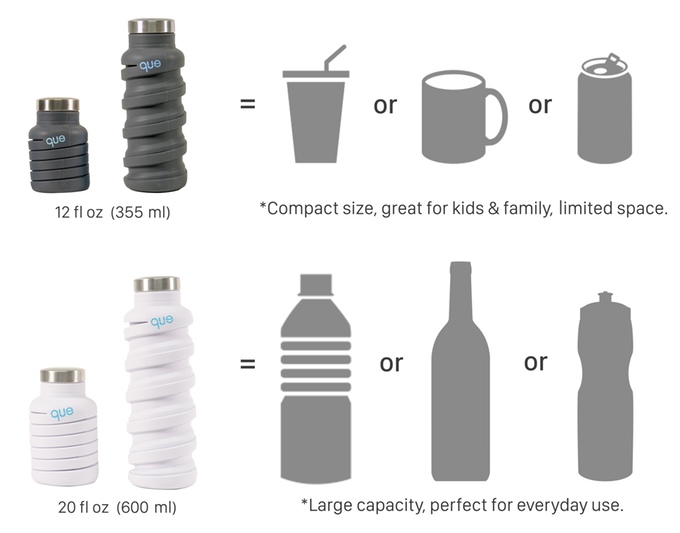 FAQ
How do I pick the color and size when I order?
We will be sending out a survey to ask your about the color and size after the campaign ends.
Can I put hot liquid in the bottle?
Yes, silicone is safe for hot liquid up to 350F + . But we do not recommend using it for hot liquid temperature higher than 140F.
What are que Bottle's dimensions and weight?
The dimensions for the 20 fl oz size bottle is: 4.8'' x 2.8''x 2.8'' collapsed and 8.4''x2.8''x2.8'' expanded. It weighs about 6 oz.
The dimensions for the 12 fl oz size bottle is: 4.0'' x 2.6''x 2.6'' collapsed and 6.8''x2.6''x2.6'' expanded. It weighs about 5 oz.
What is the capacity of the bottles?
We currently offer two sizes: 12 fl oz (355 ml) expanded, 5 fl oz (150ml) collapsed and 20oz (600 ml) expanded, 8 fl oz (235 ml) collapsed.
Can I put it in the freezer?
The que Bottle is made from silicone, which is a material rated for very low and very high temperatures. That said, water expands when frozen, and we recommend you not fill the bottle completely when you place your bottle in the freezer.
What is BPA?
BPA is a harmful toxin that is found in certain plastics and epoxy resins used by some disposable and reusable water bottle manufacturers. Those bottles actually leach BPA from the bottle into your water.For all the facts on BPA click here: http://www.fda.gov/NewsEvents/PublicHealthFocus...)
To make sure you can drink water with no concerns of BPA, get an que Bottle!
What is que Bottle made of? Are they safe?
The que bottle is 100% safe to use. The body of the bottle is made of FDA/LFGB approved food grade silicone, which is non-toxic and BPA free. The cap is made of 18/8 kitchen grade stainless steel.
How do I clean que Bottle?
que Bottle is dishwasher safe, so you can easily clean it using a dishwasher. You can also clean it using boiling water.
Does it keep hot and cold for a long time?
que Bottles are not designed to keep the liquid cold or hot for a very long time, but it does slow down the change in temperature.
Is there any damage to the bottle if I collapse it too many times?
No, there won't be any damage caused by frequent collapsing and expanding because silicone is an extremely flexible material. Although we haven't done any test to get the exact number of times, we get a pretty good feel that it's going to be in the million range.
Why is it called que Bottle?
que Bottles were so named because there are cute and collapse into a cube size.
Is the bottle hygienic?
Silicone as a material does not have any open pores that can harbor bacteria. On top of that, you can also wash your bottle in the dishwasher. It's completely safe!