Please note this is a
Crowdfunding Hunt
. While Grouphunt does not guarantee the promises as advertised by the creator, what we promise is to redistribute the goods to you as soon as we receive them, similar to if you placed the pledge on your own.
GET IN SHAPE WITH PRACTIX!
Tired of waiting for your turn at the gym? Your gym is too far away?
With Practix, you never have to worry anymore. Work out with the comfort of your home and yet not have to deal with the storage of all your weights.
Compact nature of the Practix sets means you can store it anywhere you like
So mobile you can bring it to the park for an outdoor exercise
Never worry about buying another set of weights when you become stronger
Grouphunt Deal includes ONE M25 or M45.
We need 30 orders for this hunt to go through so grab your kakis and have fun!
HUNT TIME EXTENDED! LET'S DO IT TOGETHER
Note: Hunt time extension

WILL NOT

affect estimated delivery date :)
---
So you decided you want to buy some weights and workout at home, Great! But where do you begin? Should you buy dumbbells or kettlebells? What is the right weight for you? What if you'll need to level up? You'll need to buy new weights, and who has space for it? No worries, We got you!
Practix is a fitness product designed to solve exactly these problems.
By combining an adjustable kettlebell and dumbbell into one product, Practix allows you to have versatile workouts at your own home without any space limitations.
Kettlebell, dumbbell or single plate training are all possible with one Practix set. The unique locking mechanism of Practix allows you to adjust the weight fast and easy with the "Click&Turn" release.
We are offering two products for you to choose from. Both M25 and M45 emphasize the core values and benefits of Practix. They are highly compact, adjustable and beautifully designed to increase your swag ;)
What will you get when ordering M25: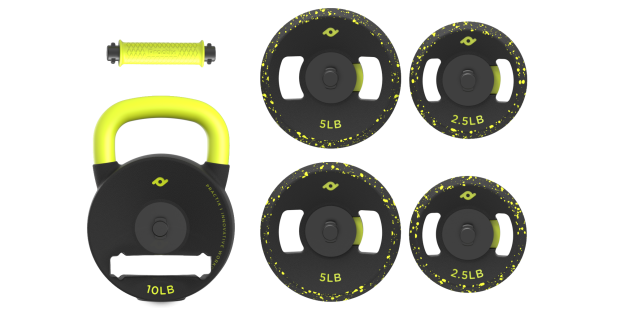 Smaller in size, greater in mobility. The M25 is Ideal if you want to work out in the park or wish to have some weights with you in the back of your trunk. The M25 replaces 4 kettlebells and 3 dumbbells.
What will you get when ordering M45: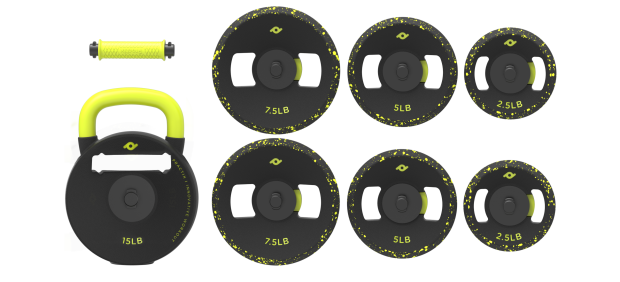 Larger in size, greater in versatility. The M45 is Ideal for personal trainers, who carry their gear to customer's houses, and for those who lack the floor space and like to grow muscles. The M45 replaces 7 kettlebells and 6 dumbbells.
You can really store it anywhere! We managed to shrink an entire rack to half the size of a basketball.
Practix fitness product comes in different colors, that will fit your everyday style. Take a look at the color options and choose your style.
You workout to look and feel good, We think your gear should look and feel as good as you.
We designed Practix with this notion in mind, no more hiding your bulky weights in the closet. Display it! be proud of it!
When ordering on Kickstarter you'll receive two-years warranty on weight plates and locking mechanisms. The weights come with impact resistant rubber finish to prevent damage to floors and equipment. Durable rubber coated handles and waterproof materials, ideal for outdoor training. For more information visit our website.
Changing weights can be a hustle, especially when performing high-intensity workouts. That's why we created Click&Turn. A unique locking mechanism, safe, fast and easy to use, making it Ideal for rapid weight change. This allowed us to use shorter bars without limiting the addition of more plates. For you, it means easier setup, less adjusting time and minimal storage space.
Safety was our main focus when designing the locking mechanism. We combined two steps locking systems, the first is a butterfly screw and the second is a strong bolt, similar to a key and a lock. With ¼ of a turn the butterfly interlocks the plates to each other and the strong bolt automatically locks it in place. The plates won't turn counter clockwise until the user releases the bolt.
Removing weights is just as easy as adding them. You can remove each plate individually or few of them at once. Just press the button of the weight you want to remove and turn the plate counter clockwise.
Another huge benefit derived from the design of Practix is the ability to add extra weight to your original device. How does it work? If you have a double set, click out the relevant plates from your second set and click it in easily to your dumbbell / kettlebell of use (As shown in the GIF below). There are no restrictions regarding plates attachments, you can add a 7.5lb plate on top of a 2.5lb plate and vice versa. This option is currently available only to those who purchased a double set.
What is the maximum weight (combining two sets)?
M45: Kettlebell - 75lb Dumbbell – 60lb
M25: Kettlebell – 40lb Dumbbell – 30lb