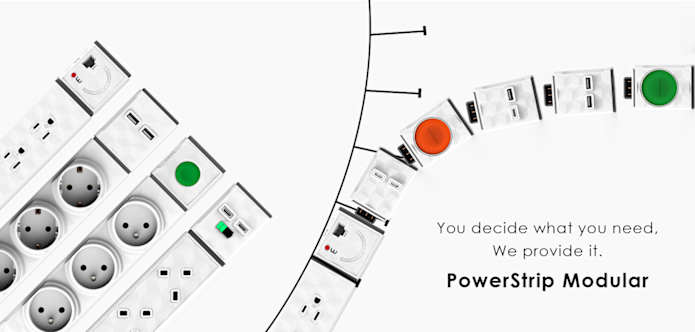 Click on, click off! It's as easy as that. Simply add or remove a module to personalize your PowerStrip!
With PowerStrip Modular we want to put an end to the continuous search for adapters, wifi extenders, remotes, switches and whatnots. By providing you with a modular solution for every current and future technological requirement, we want to make an end to incompatibility issues.



Find Lewis' full video HERE (Skip to 4:08)



Some examples of how PowerStrip Modular can improve your life:

This one is great if you have a weak signal or have no wifi at all! Just plug it in to the PowerStrip Modular base and extend the range of your existing wifi or create a new wifi hub altogether by connecting an internet cable!

The Powerbank Module is great for on the go! Just pop it in the base module to charge it and pop it back out to take it with you to use as a portable powerbank! On top of that, it will still charge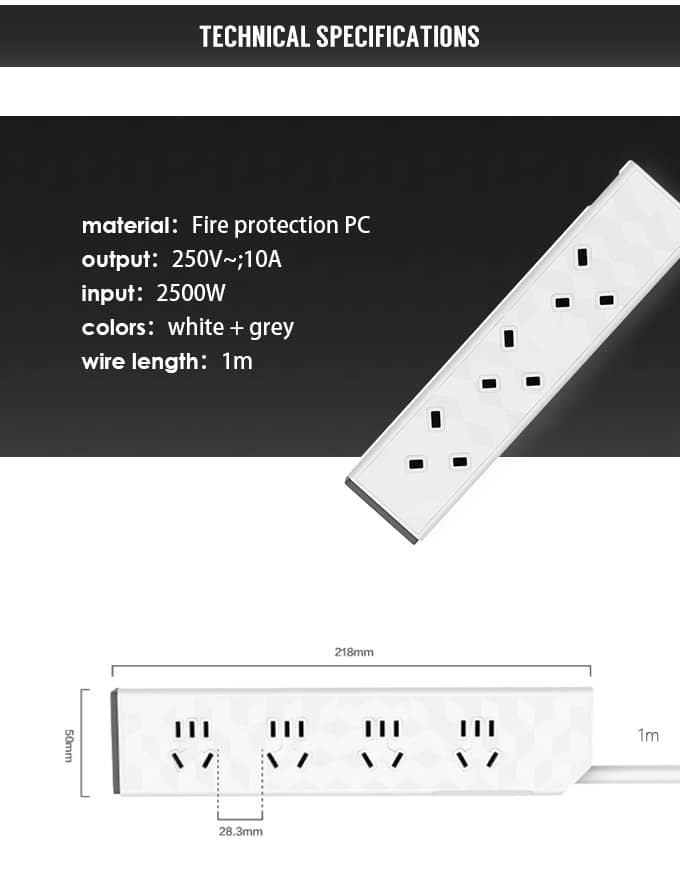 What makes us tick, is helping others, and PowerStrip is just one of many examples of the products and projects we became passionate about. As a small but dedicated team located in the US, Netherlands and China we look for designers who have an aspiration for something but lack the knowhow to make their dream come true.
We came a cross the PowerStrip Modular idea when meeting with a Chinese designer called Dominic. He was keen on doing something about the piles of thrown away adaptors, chargers and other e-tech waste that was lying around in some cities in China.
He came up with the idea of creating a PowerStrip that would include modules that provide universal solutions for day to day necessities.

By making them modular, he could at least contribute partially to the reduction of the piles of e-waste since with this solution, people wouldn't have to throw away the parts they didn't need anymore since they could easily resell them or give them away to people who could still have use for them. After creating his first designs, he needed help getting his product to market...

We at DesignNest loved the idea and our contacts at Allocacoc (That company that creates powercubes) made this a match made in heaven, why? Because we discussed with Allocacoc if the ideas Dominic had were physically possible to produce... and they said yes, loved it and promised to provide us with any technical support we would need on a global level!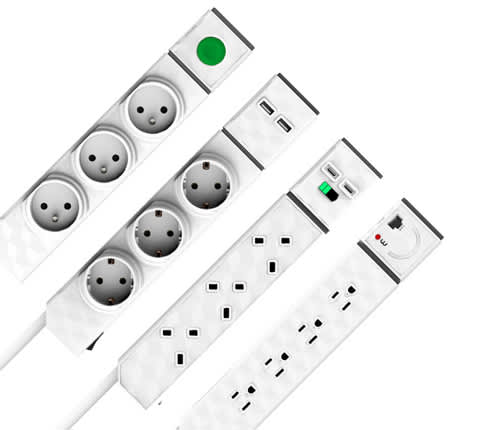 So we have the idea, the goal, the design, the technical know-how and a team of people that will help bring Dominic's idea to life. Now all that rests is you! The people who will make this dream a reality by supporting us. Not only will you make your life more convenient and future-proof by introducing modular tech into your home, but you will also be a part of a movement that will reduce e-waste throughout the world!

We need $15.000. This is calculated according to our past experience with other products for what it takes to cover the moulding costs, the raw material costs and sourcing.

Our team, doesn't charge anything to designers as our business model starts by ensuring the continuation of sales after funding, therefore ensuring a crowdfunding projects keeps on living well after it was funded.

As a backer, we can guarantee to you, that we will deliver after being funded. We already have the technical know-how and experience and distribution network to provide the PowerStrip Modular.
What you get is this:
You are the first to receive the PowerStrip
You will pay less than you would in the store
You are joining a community of people who help reduce e-waste
We are throwing in perks that you couldn't get in stores

Projects we have supported in the past:
Heng Balance Lamp
MAG Wallet
Aubergine Pillow
DAX
Notebook Modular
Lightcube
earBeans
And for this project, we are once again working with the technical support of Allocacoc.

By supporting PowerStrip Modular you will contribute to a community of people that is keen on reducing e-waste. On top of that, by spreading the PowerStrip Modular into the world, we ensure an end to outdated tech as you can always give, sell or send back modules you don't need anymore and we will make sure they find a second home!


That which we have in our hands, we can control. Though with every project, there are always things that are out of your control. Here's what we think could face some bumps in the road:
Timing. Even with the best of estimates, there are always unforseen circumstances that can occur that delay certain processes in manufacturing, distribution, quality control, ... which cause delays.
What we can do about it? Provide a buffer that allows for some delays without you noticing it. All that can come from it is that in the best case scenario, we can deliver things earlier than reported!
Communication. Even though we are hard at work communicating with everyone and answering everyones concern, when a project gets really big, we found that there's a hard time answering every message or mail since a lot of the requests are very time consuming and we have limited resources to deal with those painpoints.
What can we do about it? We are thinking of a solution to provide better support to everyone by better working with the FAQ section and with automated email responses but we still need to figure out the best and most natural way to make sure everyone gets helped in a timely fashion. We know that with the Heng Balance Lamp this is a real challenge for us since we have more than 5000 people reaching out to us but we are working on improving this!
Technical challenges. Creating tech is hard, creating modular tech is even harder. There are many bits and pieces, new functions and modular solutions that have to harmoniously work together in order to ensure a successful PowerStrip Modular.
What can we do about it? Work with the best in the field of PowerStrips. For us that meant working with Allocacoc, their designer experience and know-how of how each and every individual function works for the modules we need, will help us achieve our technologic goals.

Q: Will you have plugs available for my country?
A: We will have plugs available for all countries!
Q: How many mAh output will the USB modules have?
A: Each individual USB port will be able to output 2.4mAh