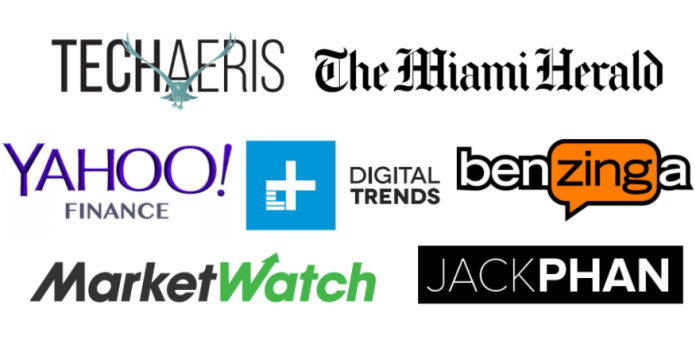 "Jackery's PowerBar is the portable charger for all of your mobile devices."
- DIGITAL TRENDS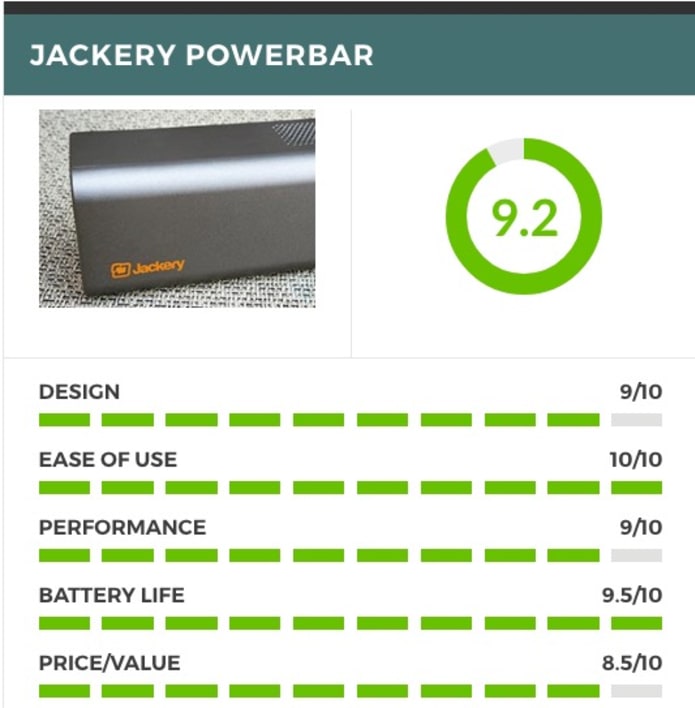 "Multi-purpose portable power!" - TECHAERIS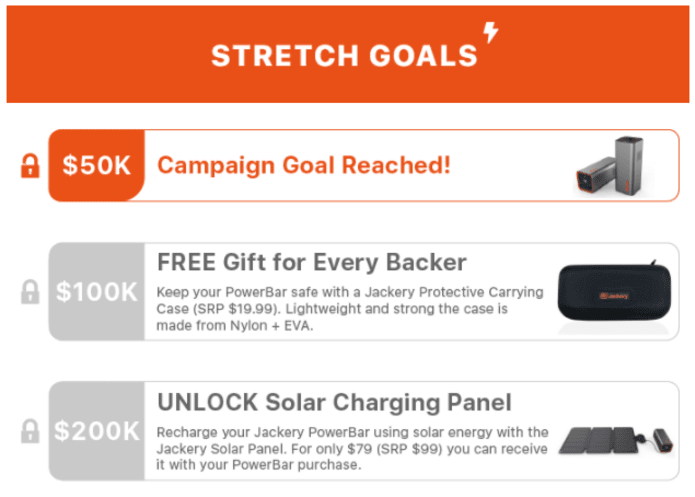 The PowerBar gives you peace of mind that your mobile devices will stay connected on-the-go. It is the must-have all-in-one accessory to power up smartphones, laptops, drones, tablets, gaming consoles, speakers, lights, digital cameras, mini fridges and much more!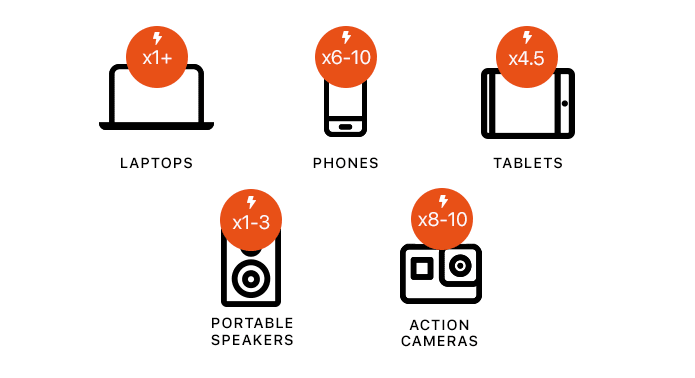 The 20,800mAh / 77Wh ultra high capacity PowerBar can power almost anything with a USB, USB-C and even an AC outlet. It can also charge four devices at once.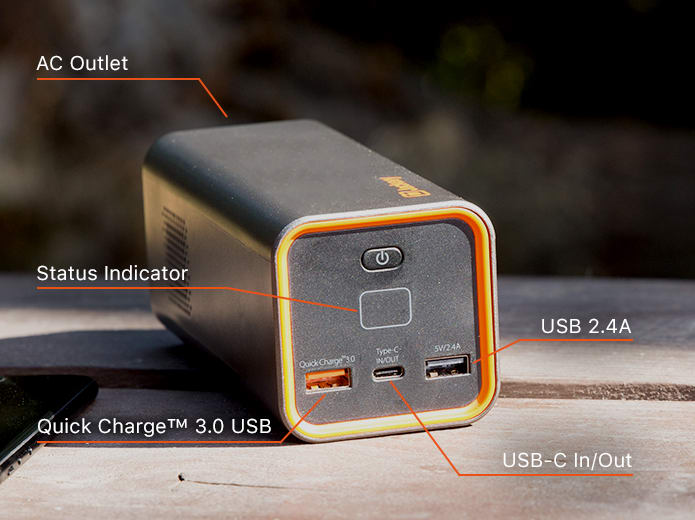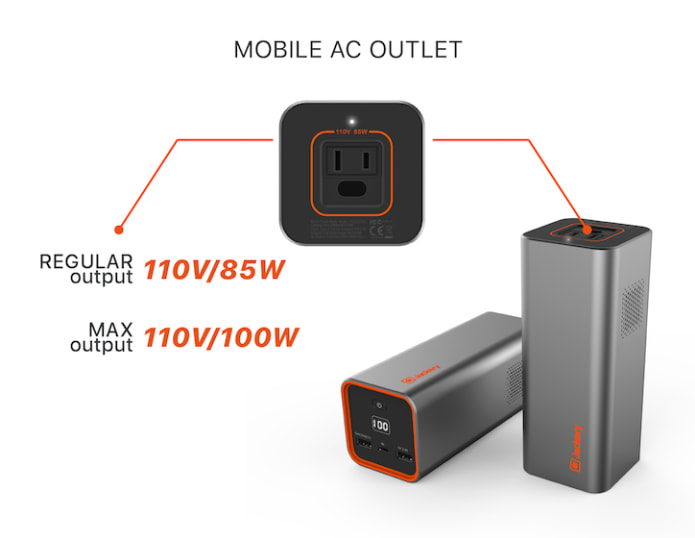 The highly versatile Jackery PowerBar even has a built-in AC outlet. Typically devices with a higher capacity require an AC wall outlet to recharge, but when away from home this is not always possible. The PowerBar's built-in AC outlet means you can fire up laptops and other devices on the move easily. It can power any device with AC input under 100W.
​
With the Jackery PowerBar's USB-C output, you can easily keep your MacBook, Pixel, Nintendo Switch and Samsung Galaxy going all day long.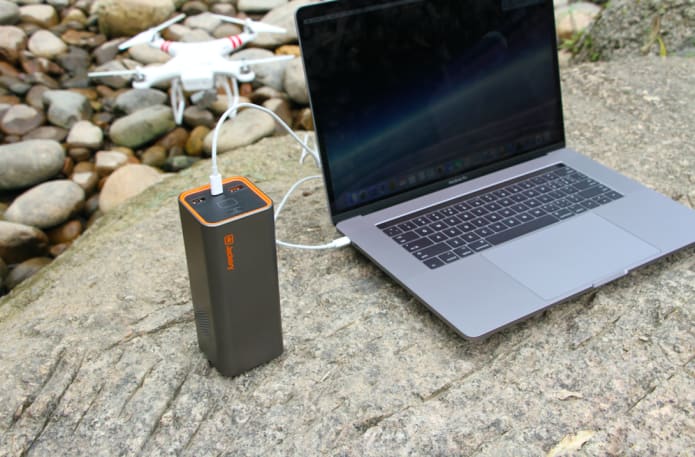 Powered by Qualcomm® Quick Charge™ 3.0 it allows you to charge compatible items up to four times faster than typical chargers. That's less time waiting and more doing.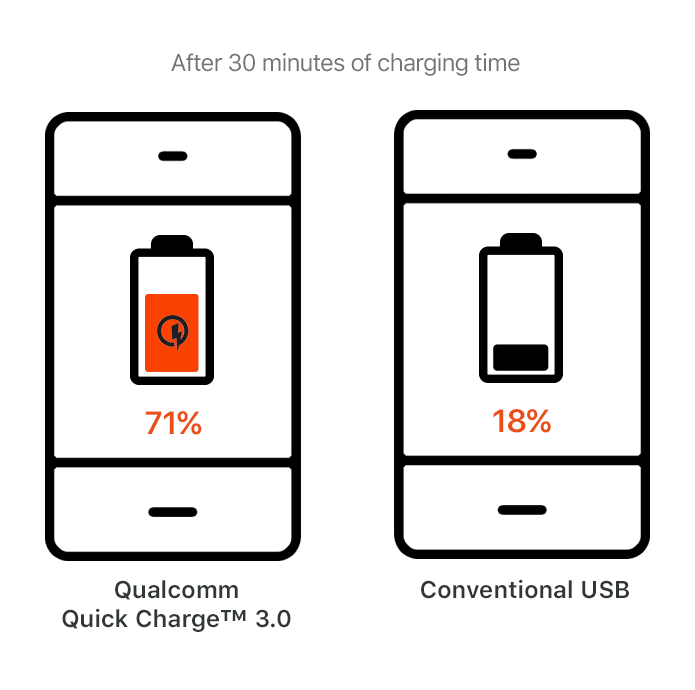 The USB outlet ensures the majority of smart devices can be charged with ease. For those which are not compatible with Qualcomm® Quick Charge™ 3.0, this is the ideal choice.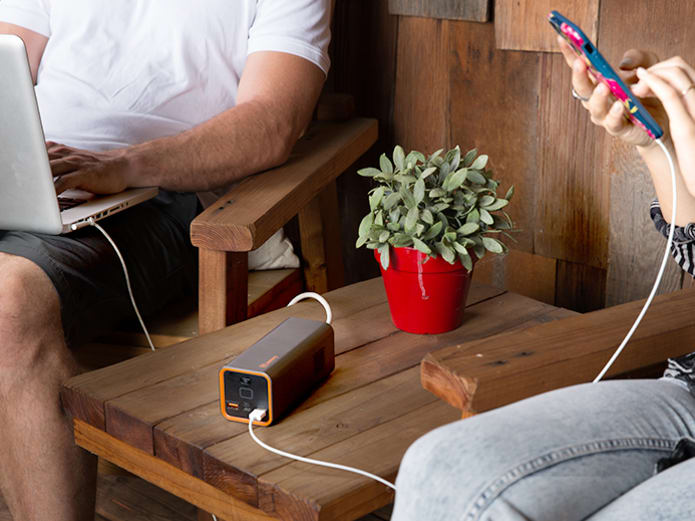 With its own battery management system, the PowerBar adapts to optimal voltage levels for each device when powering. It continuously manages inflow and outflow to ensure that both your device and your PowerBar are operating in the most efficient way.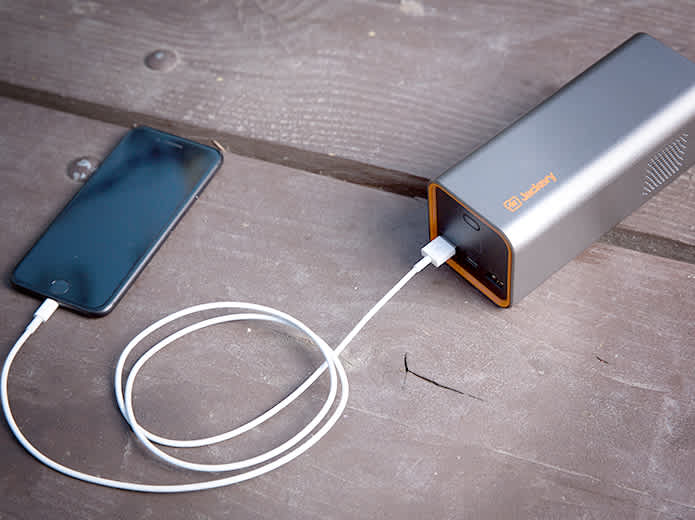 The compact and lightweight design means the PowerBar can easily fit in bags and suitcases.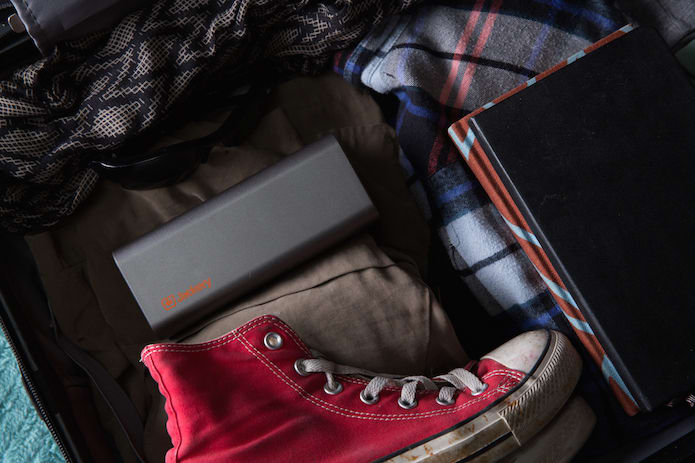 Get power whenever and wherever with this nifty all-in-one device. Whether on the beach, out hiking or camping, or enjoying a music festival, never fear losing power. Worrying about conserving power can mean that beautiful shot on holiday is missed - don't let that be you. It is even safe to take on planes.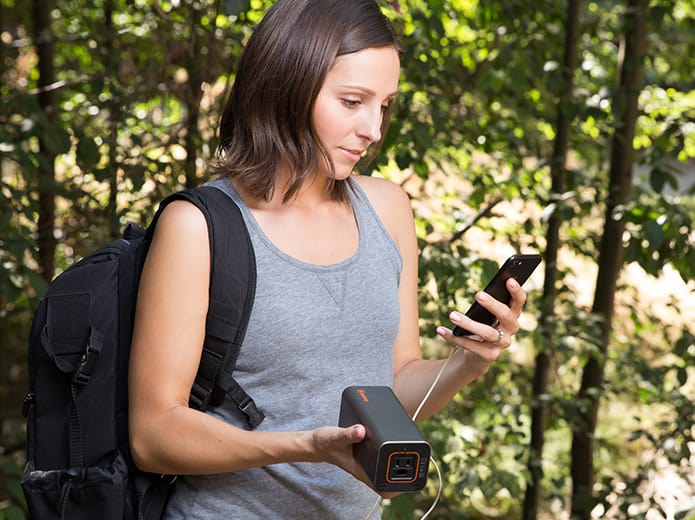 Make sure you never miss that all-important email or phone call when out of the office. If you need to make that deadline when out and about, don't let battery power hold you up.

If you're off the grid for days at a time on a long camping trip, this is the power source for you. Simply plug in the attachable solar panel (sold separately) and recharge the PowerBar for continued use.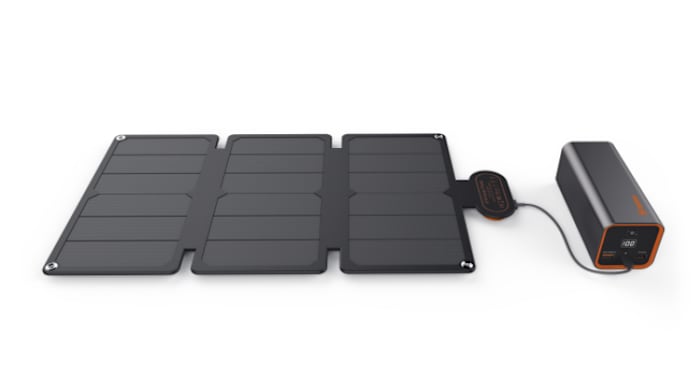 Easily recharge your PowerBar by plugging into your car power source.
Once back at home, or near an AC outlet simply plug into the wall to recharge in 6-7 hours.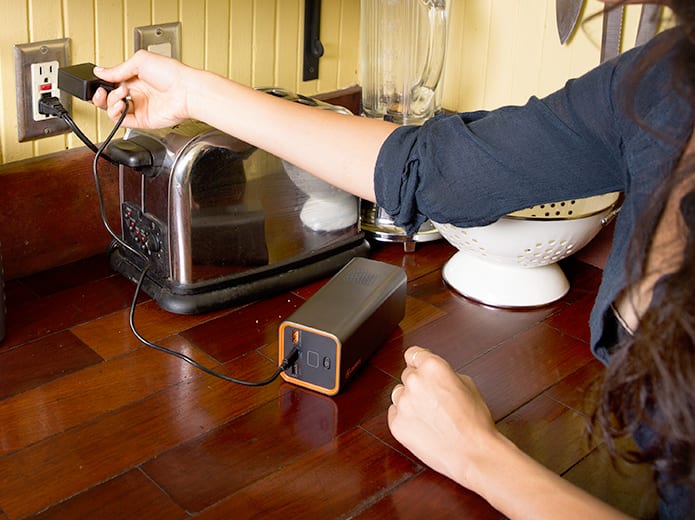 The Jackery PowerBar is made from a strong thermoplastic material which is fireproof and able to withstand daily wear and tear. Each PowerBar has been designed to the highest safety and quality standards, ensuring reliability and performance.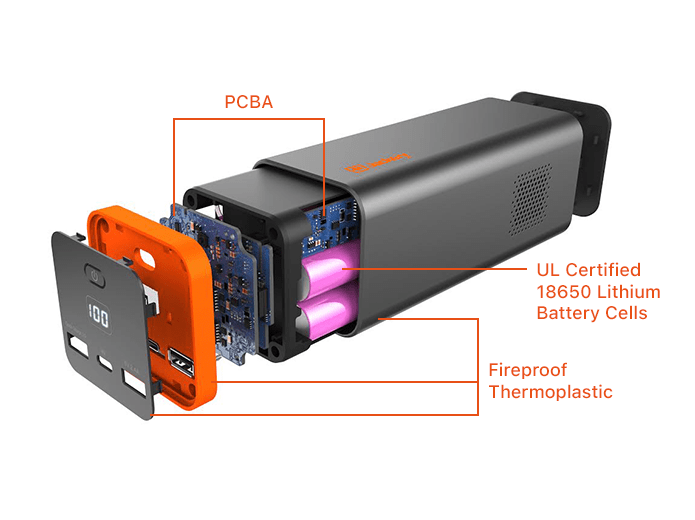 The Jackery PowerBar has been through 20 levels of product testing to ensure it is safe to use. The built-in battery management system protects the PowerBar, as well as the devices and people using it.
Please make sure to use the multiple use power bank with best quality and safety to charge your high value devices.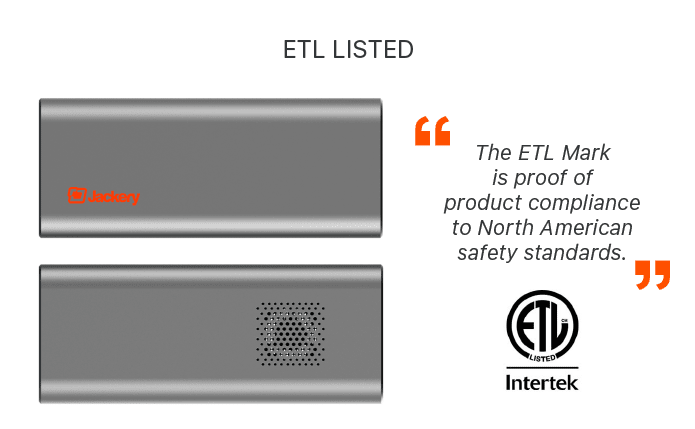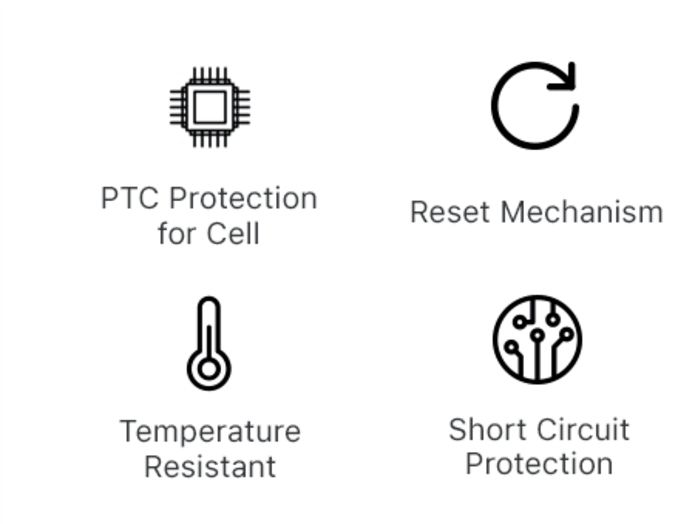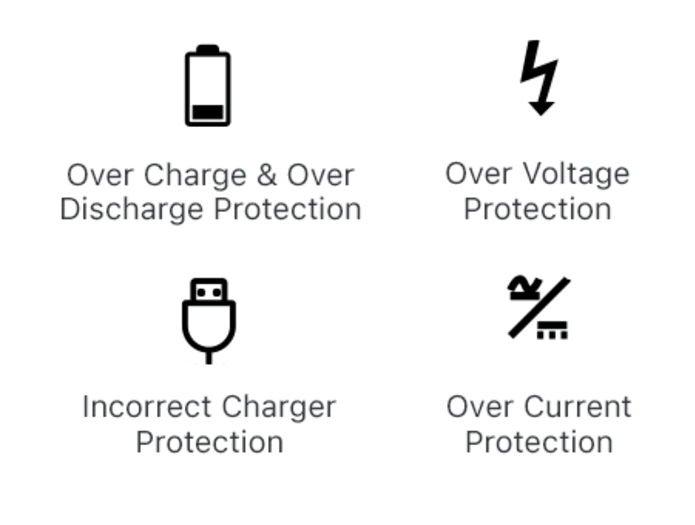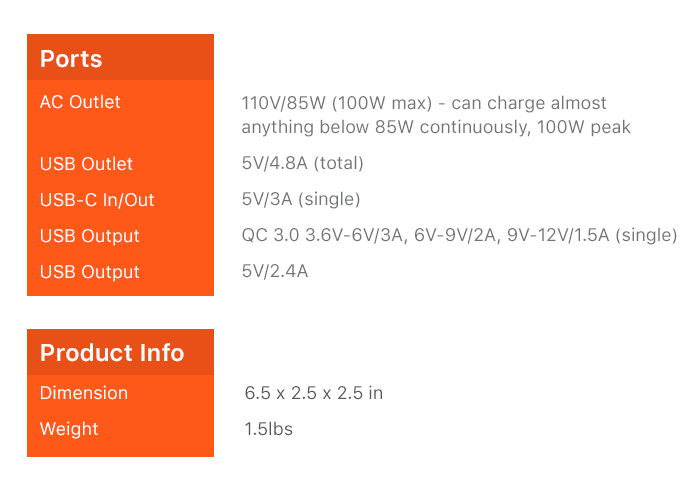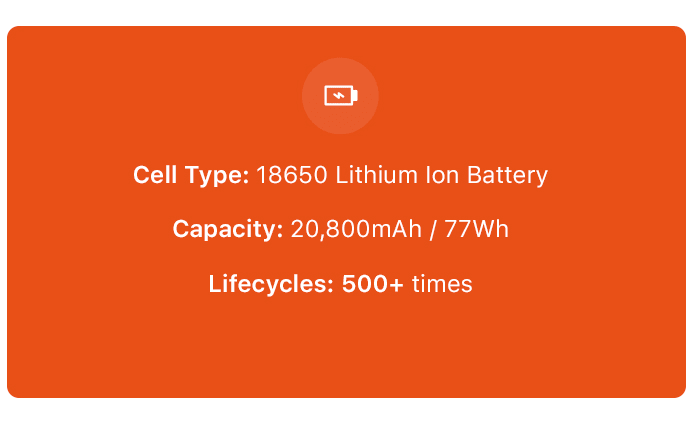 We are a driven and ambitious team dedicated to being the power source for mobility. We developed the PowerBar concept to meet the practical needs of the mobile lifestyle for both work and play. Established in 2011, Jackery is a proven and trusted brand with complete design-to-manufacturing capabilities. We certainly have the ability to deliver the Jackery PowerBar to our backers on time if we reach our campaign goal.


Q: Can it power up my laptop?
A: Yes, most laptops' power consumption is under 65W. The Jackery Power bar is 85W (Max 100W). Please refer to your adapter power requirements.
Q: Can I directly charge a MacBook through USB-C?
A: Yes, but only MacBook 12''.
Q: How long will it will take to charge my phone?
A: It depends on your phone battery capacity and which output it has. Generally it takes less than 2 hours to fully charge an iPhone 7 from any USB port. With Qualcomm® Quick Charge™ 3.0 it will take approximately 35 minutes to charge to 80%.
Q: Can it power a TV or projector?
A: Yes, using the AC outlet the PowerBar can power a TV under 43 inches and under 100W. It can power projectors under 100W.
Q: How many times can it charge my phone?
A: It depends on your phone's battery capacity. Based on our testing, it will charge smart phones approximately 6 times and a 12inch MacBook 1.1 times, and power a 5W LED light for around 10 hours.
Q: Can it power up my Nintendo switch?
A: Yes, you can use the USB-C port to charge it or use the AC port with your own adapter.
Q: How do I use the AC outlet?
A: To activate the AC outlet, press the power button for 2 seconds until you see the LED indicator turn on. The USB output port is automatically turned on once you insert the cable.
Q:Can it be used outside of the USA?
A:It has to work with international converter plug for other places outside of USA since the original plug just meets US standard.
Q: How do you recharge the PowerBar?
A: Connect the PowerBar to a USB-C charger via the USB-C cable. The LCD screen will show the status of the battery.
Q: How long will it take to fully charge?
A: With the provided 5V 3A USB-C charger, it will take about 6-7 hours to charge fully.
Q: Does it support Qualcomm® Quick Charge™ 3.0​?
A: Yes, it has Qualcomm® Quick Charge™ 3.0, which means it will charge all compatible devices rapidly.
Q: Can I take it on a flight?
A: Yes, you can, the capacity of Jackery PowerBar is 20,800mAh / 77Wh so it falls within the Federal Aviation Administration's safety limit of 100Wh and is safe to take on planes.
Q: Can I charge it with a solar charger?
A: Yes, but you will need a USB-A to USB-C cable which is not included in the box.
Q: Does it support pass-through charging?
A: No.
Q: What is the lifespan of the battery?
A: It has a lifespan of 500 cycles. After 500 cycles the PowerBar will retain 80% of its previous power.
Q: Which battery is used in the PowerBar?
A: The PowerBar has built-in UL certified 18650 lithium battery.
Q: How do I know the battery status?
A: Press the power button once. You can track the battery level from the LCD screen.
Q: What is the warranty period?
A: The warranty is two years.
Q: Does this product have any protection from damage?
A: The Power Bar has passed strict quality control tests outlined below.
Over Voltage Test
Over Current Test
Over Charge Test
Over Discharge Test
Short Circuit
Temperature Protection Test
High & Low Temperature Test
Vibration Test
Salt Spray Test
Wear-resistance testing
ESD testing
Thermal Shock Test; 6 times -25℃~70℃
Constant Moisture Test: 48 Hours at 45℃ 95RH% Container
Acoustic Noise Test: 1M <60db
Plug & Unplug Test; 5000 times
Bending Test: 3000 times
Key Test: 10000 Times
Drop Test: 09M UL 2743 Standard
Aging Test: 300 times
Matching Test: Compatible with 99.9% devices
Q: What do I do if I have any problems with my PowerBar?
A: For your own safety please do not disassemble the product. Contact our support team for help.