When something is "totally dialed," that means that every last bit of it does its job perfectly and fits together flawlessly. This bag is totally, indubitably, unequivocally dialed.
It adapts to your gear and lifestyle.
---
Now, let's dive into the features.
The Everyday Messenger
Feel prepared for the most unpredictable days with Peak Design?s Everyday Messenger. Its adjustable latching system allows you to add last-minute necessities, expanding room within the bag to carry a full-frame DSLR camera, 3 lenses, and a 13-15" laptop, without compromising its shape. Origami-inspired touch-fastening padded dividers form to your gear, while color-coded stitching favors an organized workflow. A top zippered opening and two dedicated Capture clip attachment points allow for quick camera access.
A dedicated rear compartment stores a tablet and documents alongside your laptop. Extra batteries, memory cards, smartphone, and more fit in the front expandable access panel, zippered pockets, and dual side slip pockets. Lengthen the seat-belt style strap to carry as a messenger while utilizing the stabilizer strap, or shorten the strap to wear under one shoulder when you?re boarding a crowded train or walking down a busy sidewalk. For extended travel, couple your bag with a rolling suitcase utilizing the stabilizer as a trolley strap. Sudden changes in weather are not to be feared, thanks to the weatherproof, waxed 500D Kodra canvas shell.
FlexFold dividers: instantly customize them to organize your gear and maximize your space for everything else. Fold 'em over and stack gear on top. Note that the final divider color is the same as the rest of the inner bag.
Like we said before, The Everyday Messenger is not just a camera bag, it's an everyday bag. And since no two days are quite the same, we designed a shell that expands greatly to accommodate the perpetual ?one last thing,? and also lets the bag maintain its shapely figure when your load is light.
FlexFold dividers allow the bag to expand and contract depending on load. Typical camera bag dividers are about 3x the thickness and designed to have a fixed width. Note: final divider color will be the same as the rest of the bag interior. The semi-rigid shell expands from a capacity of 13.5L to 20.5L without the need for slack material. "I like a floppy messenger bag," said no one, ever.
Carrying a tripod? We've got you covered. Slip your tripod leg through the sleeve in the main flap, fold the flap over, and place the silicone band (included) around your tripod legs. Carry a tripod will full access to the rest of your bag.
and tons more features...
---
Plus, The Field Pouch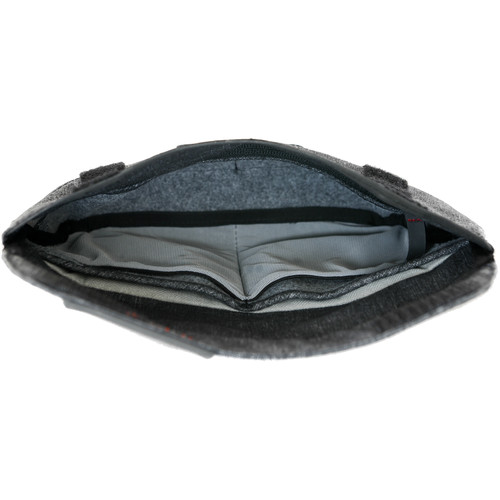 Every good bag needs a wing-bag. The Field Pouch is an expanding pouch for cords, accessories, batteries, hard drives, and even mirrorless cameras and lenses. Keep it in your bag, wear it on your belt or attach any Peak Design strap to turn The Field Pouch into an ultralight sling bag. With an expandable roll-top design, a waxed outer shell and felt inner padding, The Field Pouch can safely hold and organize all of your odds and ends. It also includes an attachment point for Capture, making it an ideal bag for carrying mirrorless setups. The best part? You're getting all these features and this bag thrown in for absolutely free. Enjoy!