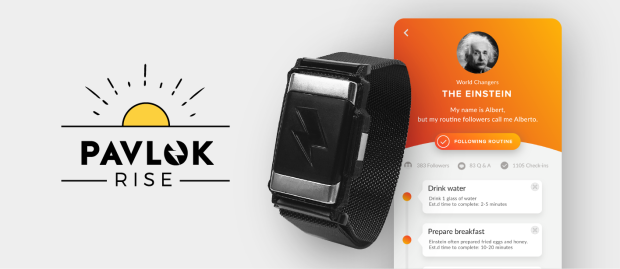 Meet Pavlok Rise - Your Morning Routine Trainer
Pavlok Rise doesn't just track what you do. It helps change your behavior. It makes sure you get to bed on time, wakes you up at just the right time, and helps you form a productive morning routine all through the use of our heavily upgraded hardware, meticulously designed software and the coming integrated coaching and community components.
Pavlok Rise Morning Routine Formula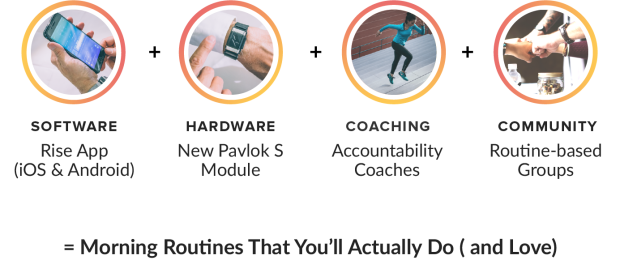 We're Pavlok - We Make Award Winning Stuff

We've delivered on our past two crowdfunding campaigns and learned a ton from our hands on behavior science research working with users of our products. We want your help again to ramp up delivery this summer through the fall on our next big thing that's going to make major improvements on our previous products and add something the world has never seen before.
Pavlok Rise is Designed To Help You Do 4 Things: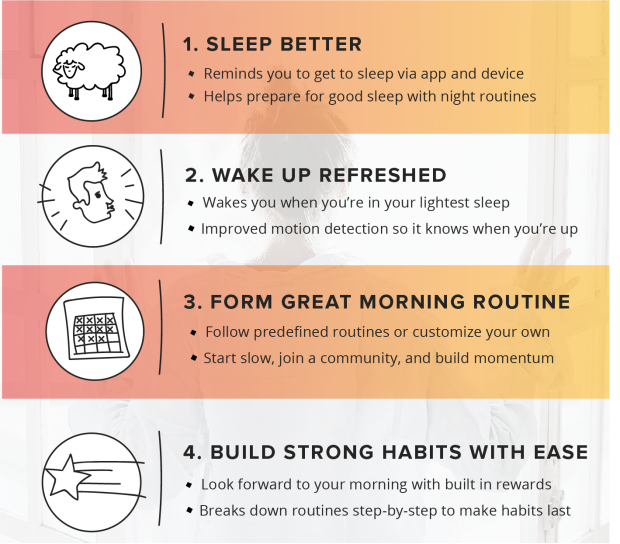 Why We Chose the Morning
The average person hits "snooze" 2 to 3 times before starting their day — it feels nice for a few moments, but usually leaves you rushed and anxious.
The most successful people batch their best habits in the morning, start their mornings with healthy habits, and do them consistently everyday.
The Hardware Has Been Seriously Upgraded
After tens of thousands of hours of user research, experimentation, R&D, and prototyping, we are excited to introduce the Pavlok S Module.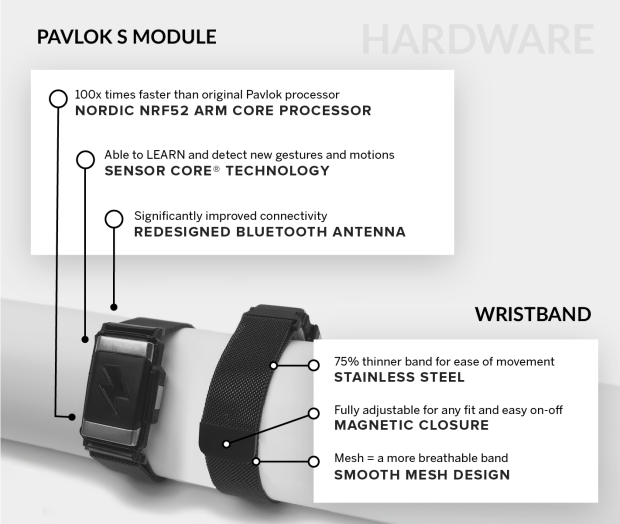 Pavlok S has been decked out. Goodbye bluetooth pairing issues, slow processing speeds, and mere 3 axis accelerometer making for un-intended motion detection issues. We've moved up to 9 axis, ultra-fast, better connecting tech and fit it in the same device module encasement.
Customizable Accessories
Wear Rise however you want. We've created multiple different ways to wear it, so you can choose the perfect way to integrate it into your life.
New for this campaign are the Perimeter Wristband and Pavlok Watch Clip.
The New Watch Clip lets you safely attach your Pavlok to any wristband.
The New Perimeter Case Wristband is 75% thinner than the Previous Pavlok device.

The Pavlok Silicone Band is back with all the original Pavlok wristband colors (blue, grey, black, red, pink). We've also introduced our newest color: White.
Check out some of our press

See How Our Users Have Been Using Pavlok in the Morning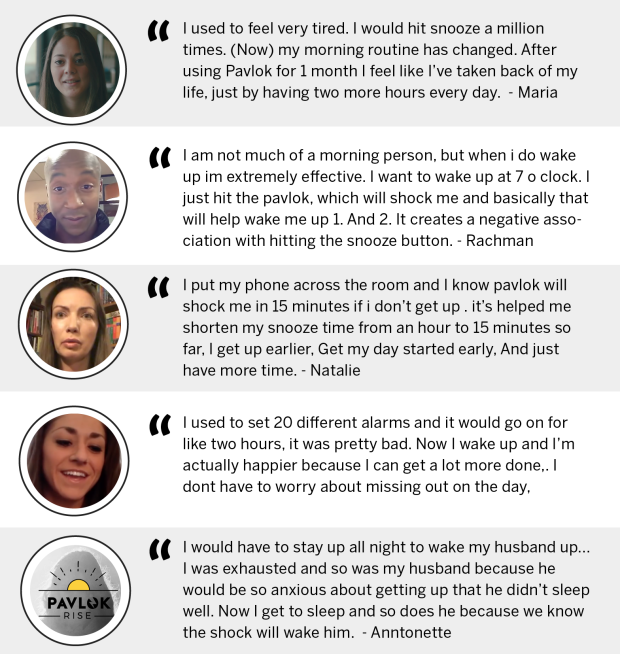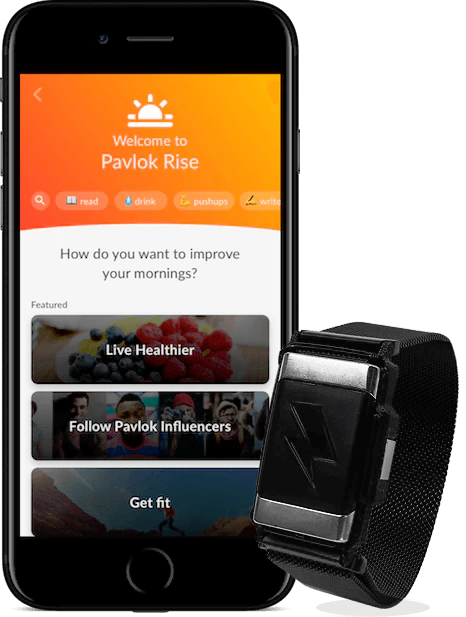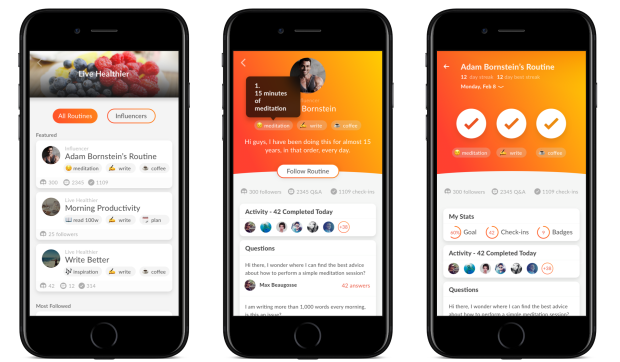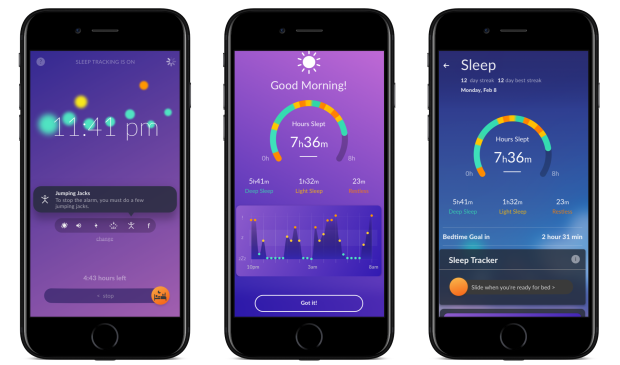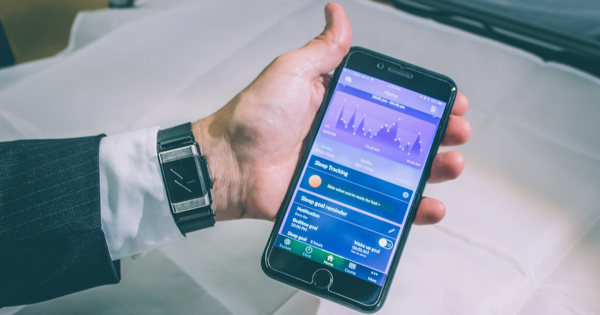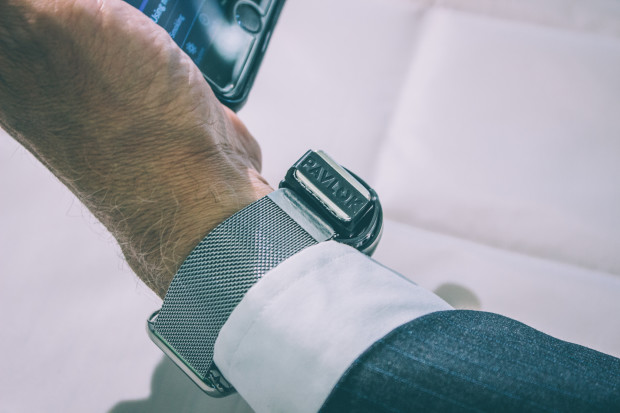 Software: The Rise App (iOS & Android)
We are building a brand new iOS and Android app (shipping in September) that takes the guesswork out of forming morning routines. Here's how it works.
First, download the app.
Choose a preloaded routine or customize your own.
Wear the Rise wearable to sleep.
Rise will wake you up on time, and the app will walk you through your chosen morning routine.
Types of Morning Routines
1) Preloaded habit formulas
We've put together powerful routines, inspired by world-class performers, to achieve a variety of goals. Each formula will help you install powerful habits into your day.
Want more routines? Vote for the routines you want to see!
2) Follow Routines of Habit Experts And Influencers
We've assembled some amazing online influencers. Join along with some of the most successful people today. Or even follow the Pavlok team!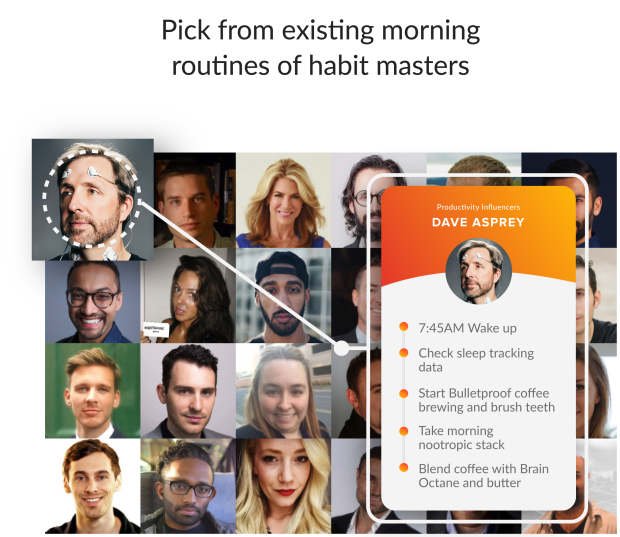 Click here to see the list (continuously updating)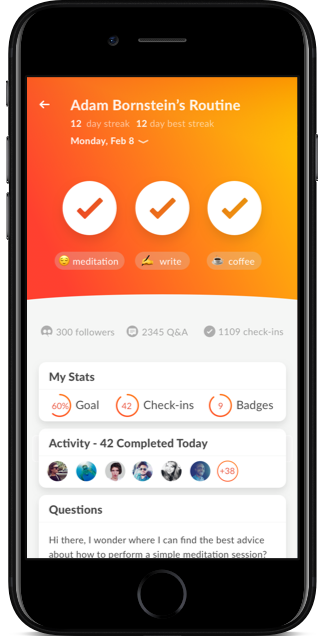 3) Create your own Custom Routine
Want to build your own routine? Rise is fully programmable and customizable through the application. Just choose the habits that you want to build, and watch the system work.
In the morning, the Rise app and hardware will notify you that it's time to start your routine. During each step, check in via the hardware or app to confirm that you did the activity.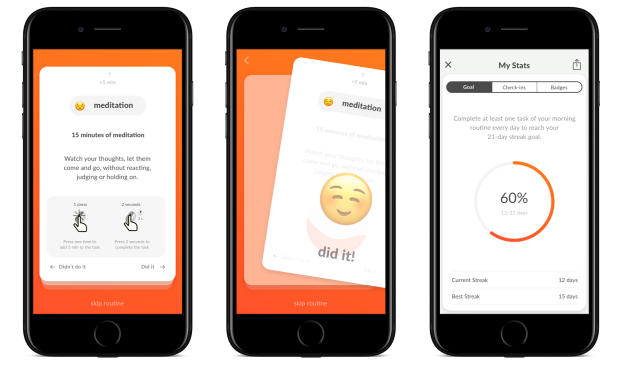 Custom habits can be anything. Here are just a few suggestion for your routine.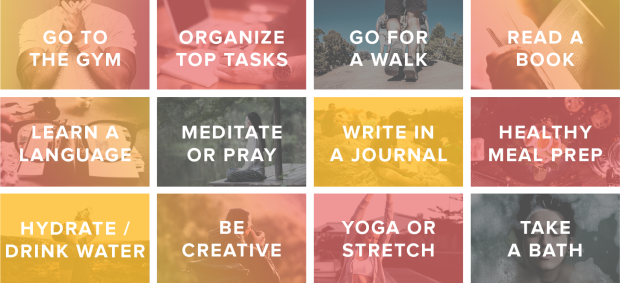 How Does Rise Know That You're Sticking To My Routine?
Currently, Pavlok Rise has the capability to track your light stages of sleep and make sure that you get out bed (and do jumping jacks!). But that's just the beginning.
We are continuously adding new integrations so that Rise can help track and change your habits effortlessly.
Over the next year, we plan to add integrations that help track and encourage you to get out of the house on time (GPS), walk enough steps (HealthKit/Fitbit/Pavlok itself), and even learn a language (DuoLingo.) Best yet, if you choose the special DNA perk, you can be part of the motion sensor development process.
Have an idea for which habits we should track first? Vote for your top choice in our Pavlok Rise Facebook Group.
Coaching: Stay Accountable
Need a little extra help? In addition to our app and hardware, we've partnered with Coach.me to offer accountability on demand for your habits and routines. Coach.me helps you reach your goals through coaching, community, and data, so you can make daily progress on the things that matter. Best yet, you have an actual real life coach to help you stay on track through text, email, and phone.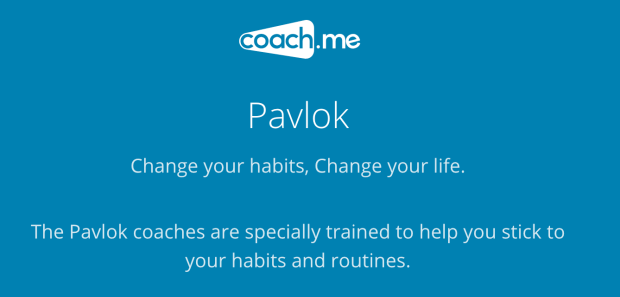 All backers of this campaign will receive a free week of accountability coaching, which you can continue for an additional cost through Coach.Me
Community: Join the Pavlok Family
By supporting this campaign, you aren't just buying a product. You are becoming a part of an exclusive group of Pavlokians. We're a group of people who believe that we can become a better version of ourselves.
First, the amazing Pavlok community is the foundation of the app. You can join in with other people and follow routines together, encouraging each other along the way. Ask questions, record your stories, and help others achieve their goals. You can even look for accountability partners and challenge buddies.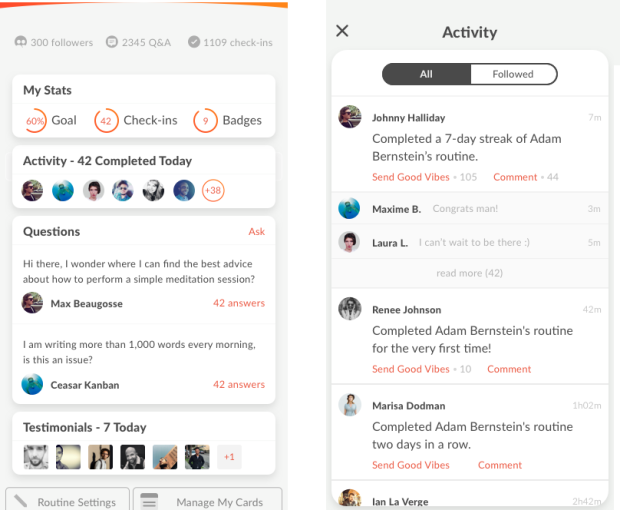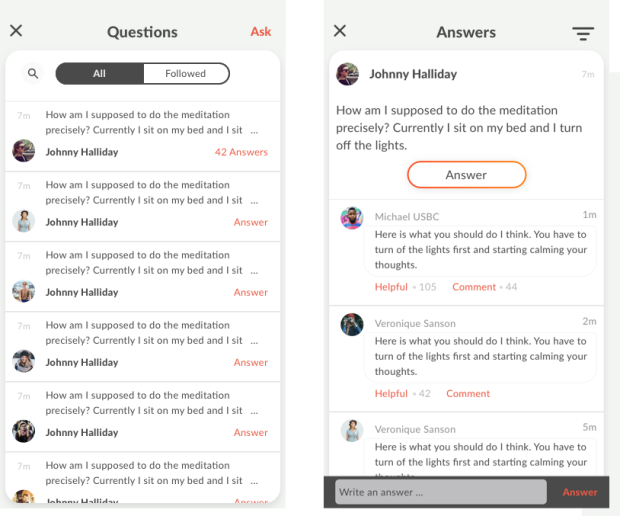 In the Official Pavlok Group, you can read stories and ask questions with other Pavlok users. Many people have found their accountability partners, hosted challenges, and video taped their stories.
I'm excited to invite you into our Pavlok Rise Facebook Group, where you can ask questions, vote on goals and perks for this campaign, and get early access to features and apps.
The Power Of The Morning Hour
Contrary to popular belief, you don't need to wake up hours earlier (4 am is really dark) to get the benefit of a morning routine.
Even just 10 to 20 minutes will have a profound impact on your day.
Imagine what you could accomplish with just a little extra uninterrupted time to work on yourself every single day.
You could write 500 words a day and publish a book.
You could do pushups every morning and finally lose those five extra pounds.
You could take an online class in a subject that interests you.
You could meditate/pray.
You could even learn a new language.
Or you could just go for a walk around the block to clear your head. The list goes on forever.
We were so inspired by the transformations of our users, we wanted to create something that would give anybody the ability to form good morning habits.