Naptime utilizes EEG sensors and Machine Learning Technology to analyze your brainwave activity. Nap better at home, in the train, airport, or office etc. Just 10-20 minutes of naps can boost your alertness, productivity, mood, creativity, and cognitive abilities, while lowering stress hormones in your body.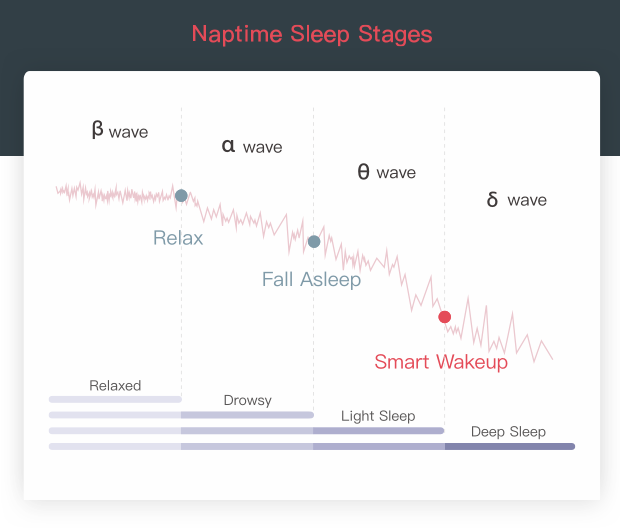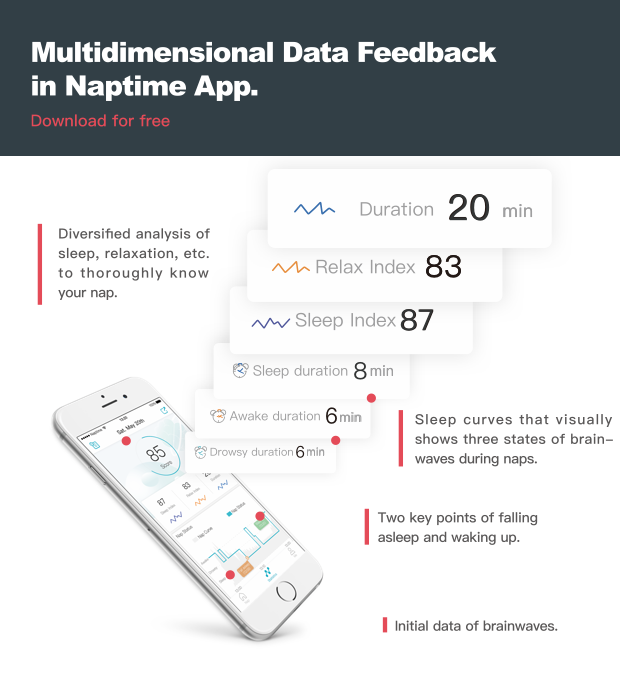 How it Works
Your brainwaves are monitored all the time by Naptime's EEG sensors at the moment you wear it correctly. Even a minor fluctuation in brainwaves will be recorded and analyzed. The intelligent "Seahorse" Smart Music Recommendation System will evolve over time as it discovers which audio works best to relax you. The more you use it, the more accurately it reads your minds.
We have more than a thousand music from multi-style channels available for your choice. Your preference combines with the calculated index of relaxation and sleep to customize your personal music library.
Whatever you listen to, it'll be Hi-Fi, lossless digital audio quality, thanks to the special headphones that connect to your devices with Apple Lightning/USB Type C connector technology.
Naptime uses "dry" EEG electrodes, which are safe and easy to use. They're more comfortable than the older "wet" electrode sensors -- the way they're designed, you won't even feel them when you're wearing the eyeshade.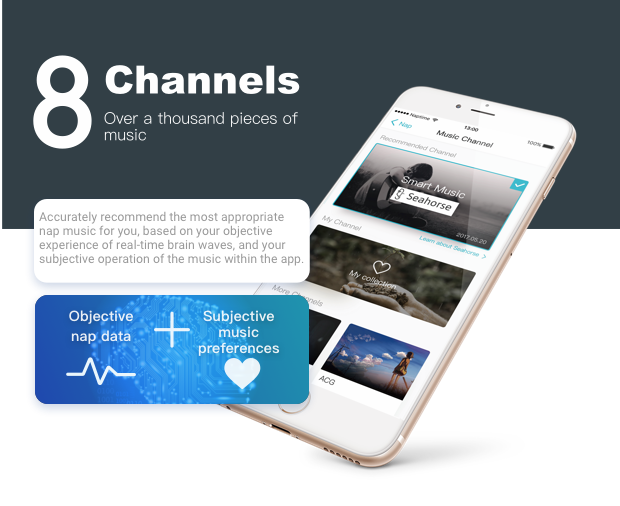 Features
Premium protein leather as soft as baby's skin
Extra-large space of orbital part that allows you to nap with no pressure.
3D cutting to perfectly fit the contour of your eyes and noise. 99% of light shading helps you nap better in the train, airport, or office.
Peep the outside from pinholes in the eyeshades, free from the anxiety of invisibility in public space.
Have a power nap with comfortableness and sense of security wherever you are.
Half in-ear earphones with an ergonomic design to fit tightly and comfortably, so a closed chamber is formed to both block out sound and avoid quality loss of music.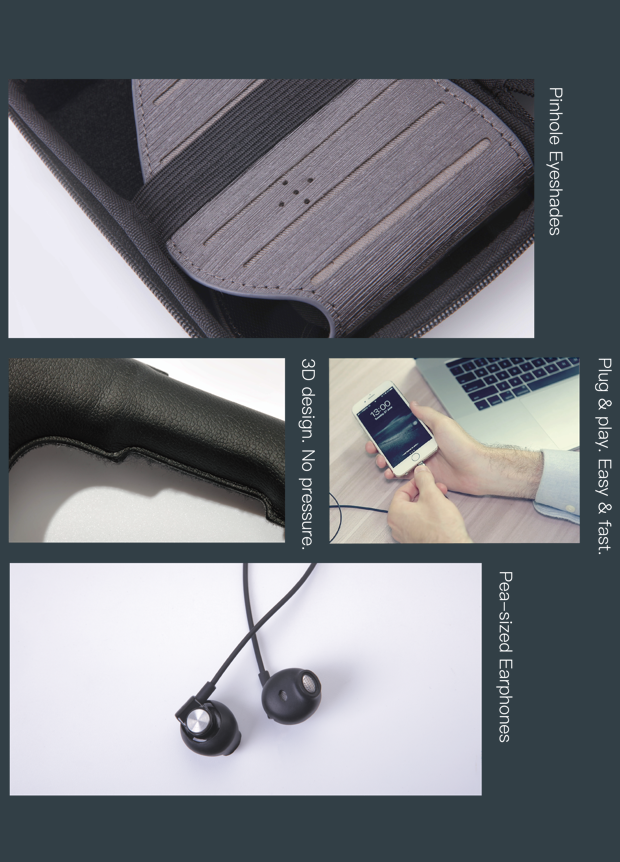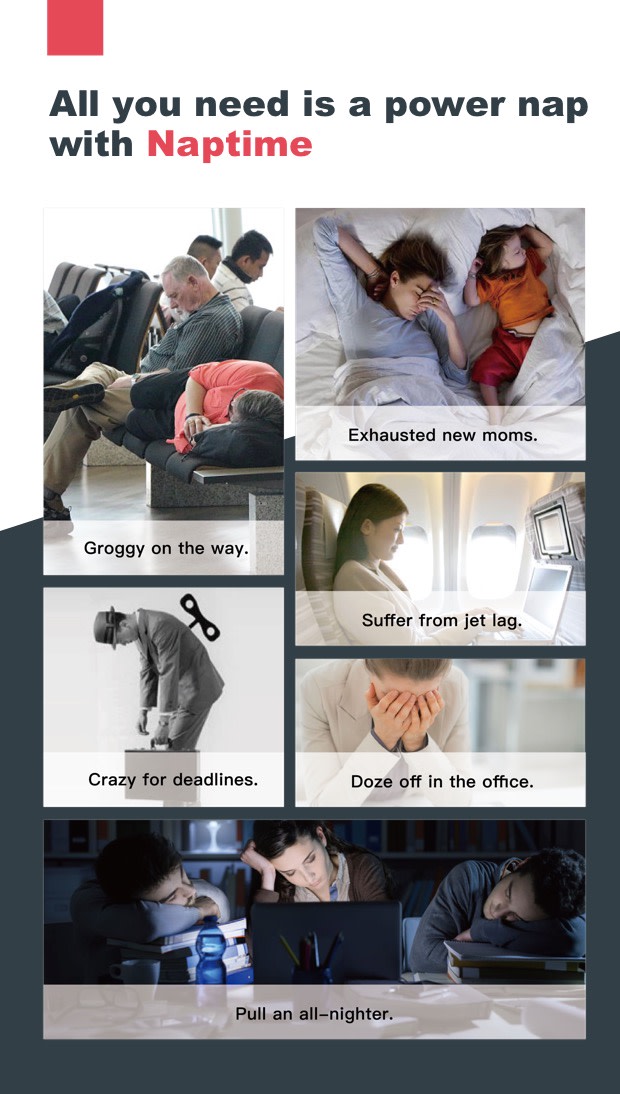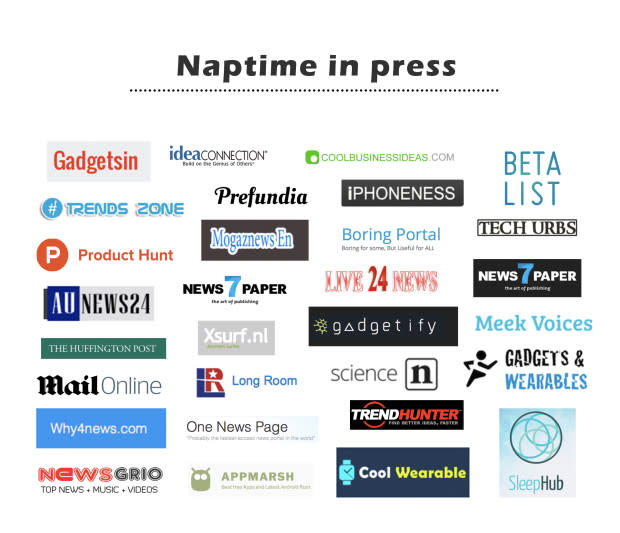 FAQ's
Q: What are the benefits of using Naptime for power naps?
A: Naptime gives you ultimate power nap experience. Effectively replenish the lack of sleep, reduce fatigue, rapid recovery of energy, to achieve a more efficient quality of life.

Q: Can I use it for nighttime sleep?
A: Naptime is designed to maximize your nap.(in 10-20mins), the smart alarm will wake you up before falling into deep sleep. To avoid sleep inertia. for a better experience, we do not recommend using it for nighttime. but if you prefer to try at night please do turn off the Smart Wakeup.

Q: Is Naptime safe?
A: Naptime has been tested and certified in accordance USA and European regulatory standards (FCC, CE, RoHS ).

Q: How do I download the Naptime app?
A: you can scan the QR code on the packaging, or download the app from the Apple App Store, Google Play Store.

Q: What devices are compatible with Naptime?
Answer: Our current version of Naptime is compatible with a wide range of Apple and Android devices.
Apple
iPhone 5, iPhone 5c, iPhone 5s,
iPhone 6, iPhone 6s, iphone 6plus,
iPhone 7, iphone 7plus, iphone SE
iPad 4, ipad mini, ipad Air series, iPad Pro series.
Android
Naptime works best with high-end devices which have Android 5.0+.

Q: Can I download and use Naptime on multiple devices?
A: Naptime supports multiple devices. When you use different devices to log in, the app will automatically synchronize your data.