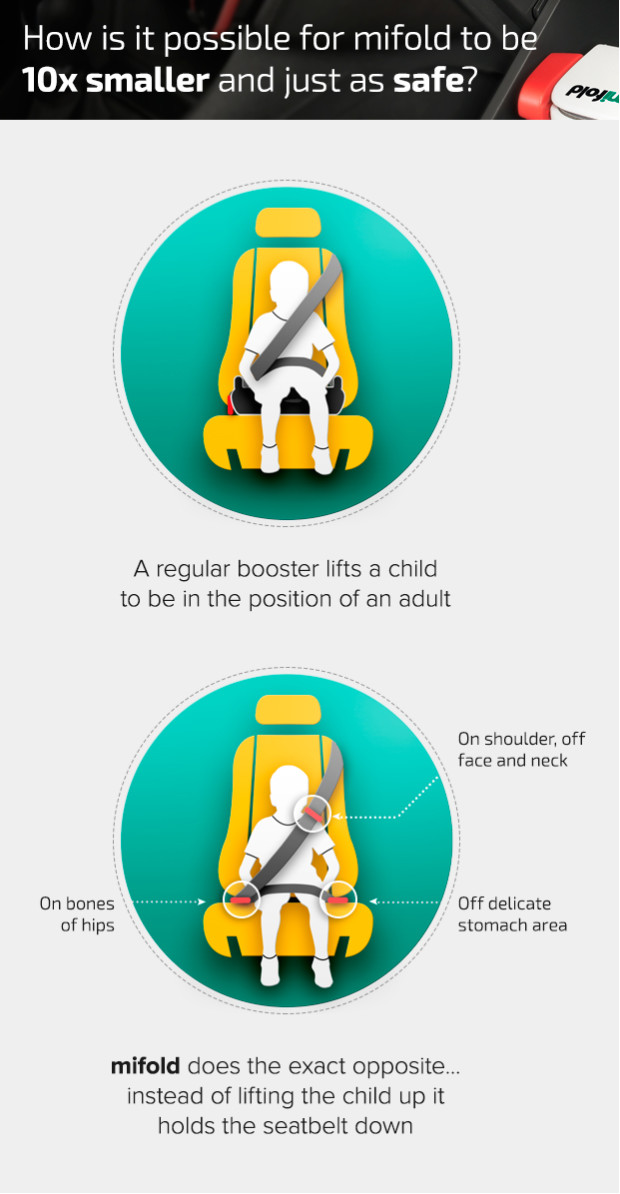 Grouphunt Deal
We're excited to bring the Mifold to the Grouphunt community! We require 12 orders for this hunt to succeed so share this with your friends and join the hunt! And oh, almost forgot! Enjoy free delivery on this hunt ;)
mifold - the most advanced, compact, and portable booster seat ever invented.

How is it possible for mifold to be 10x smaller and just as safe?
A regular booster lifts a child to be in a position of an adult
mifold does exact the opposite... instead of lifting the child up, it holds the seatbelt down
SMALLER -So small it can fit in your glove box or backpack
AGE 4-12 YEARS - For use on children age 4 to 12
PORTABLE - Easily fits into backpack so your child always has mifold with them
BIG KIDS - No more fighting! Older kids won't feel "babyish" to taller friends
THREE IN A ROW - Fits perfectly three-in-a-row even in the smallest cars
FOLDABLE - Compactly folds up to 10in x 5in
CARPOOLING - always have a booster for every kid in your car
TAXIS - taxis never have booster seats, and that is not safe!
TRAVELING - so compact it's easy to fit in your hand luggage
CAR RENTAL - cheaper than renting a booster seat, and you get to keep it
Kids & Parents Love mifold
mifold is comfortable, safe, and easy to use...
"Reminds me of an iPad. Most children love this."
It exceeds my expectations. Had no idea it was going to look like this...
I can see this going global. It's got a futuristic design.
Choose from the following colours - Slate Grey, Pink and Blue.
There's more! Get a designer bag to keep your mifold for only $20! (MSRP $25)
A stylish custom-fit padded Slate Grey case with red easy-clip strap. Protect it, keep it clean, and carry it around wherever you go.