To Order a PowerWatch, please visit powerwatch.com

Unlike today's smartwatches which need to be recharged every day or two, the MATRIX PowerWatch never needs to be removed from your wrist for charging.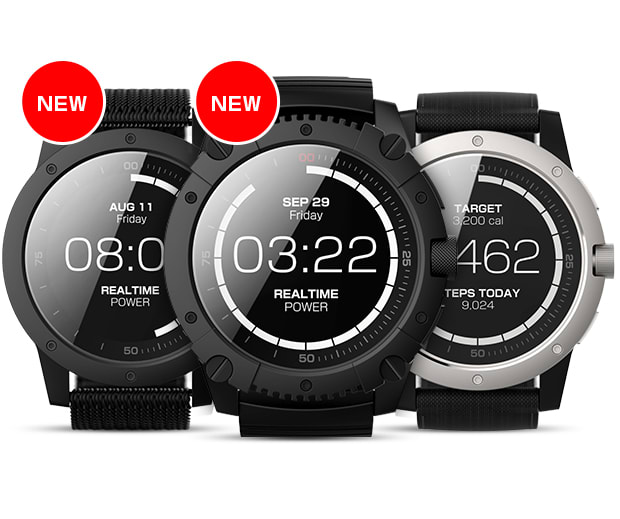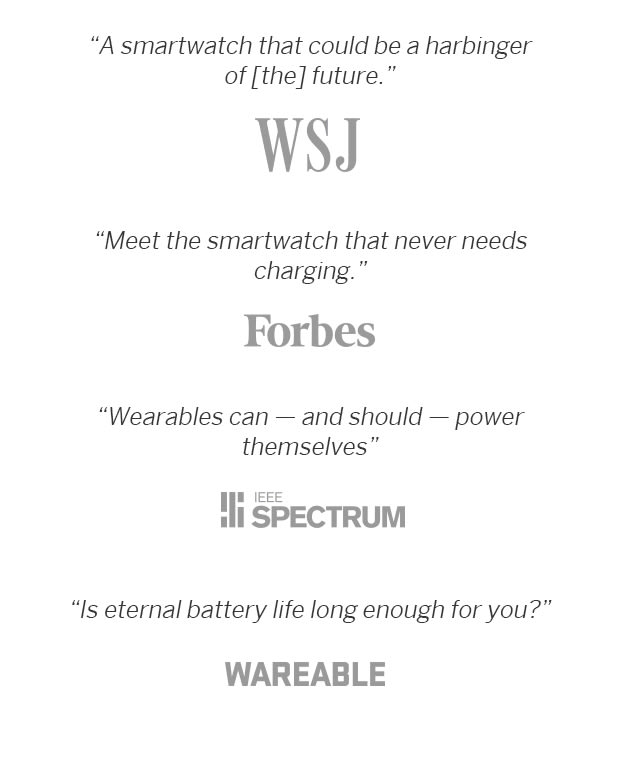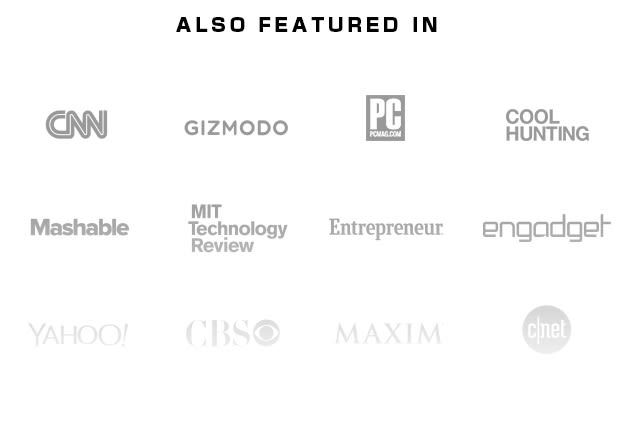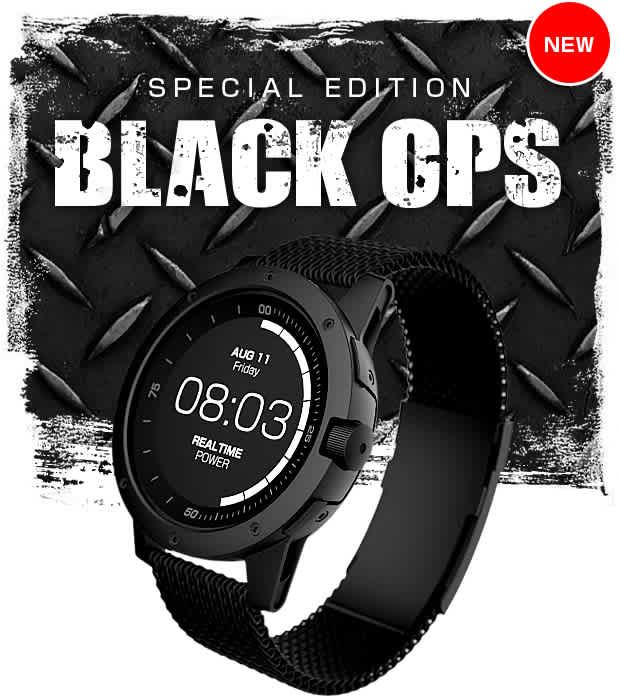 After you showed us your overwhelming support on Day One of this campaign, we knew we just had to do something special to thank you. We're introducing the Black Ops Special Edition. Matte black from top to bottom. The watch bezel has a completely different surface treatment, with a specialty black anodization. It comes with a matching 22mm Milanese strap, woven from stainless steel, and specially treated to develop a deep black finish.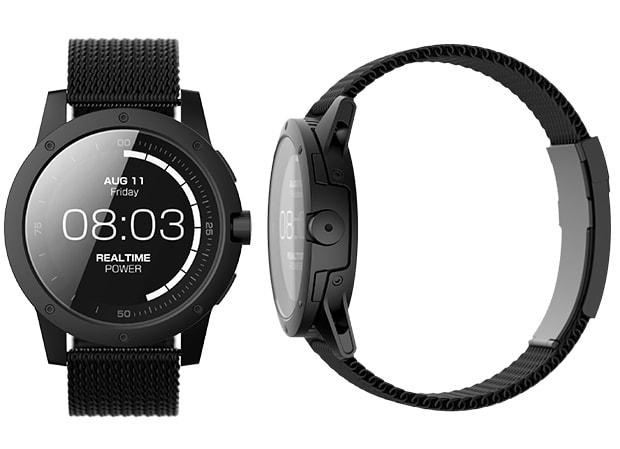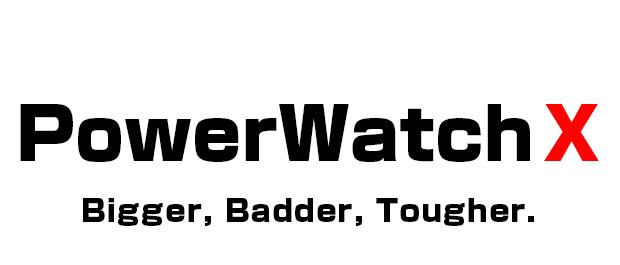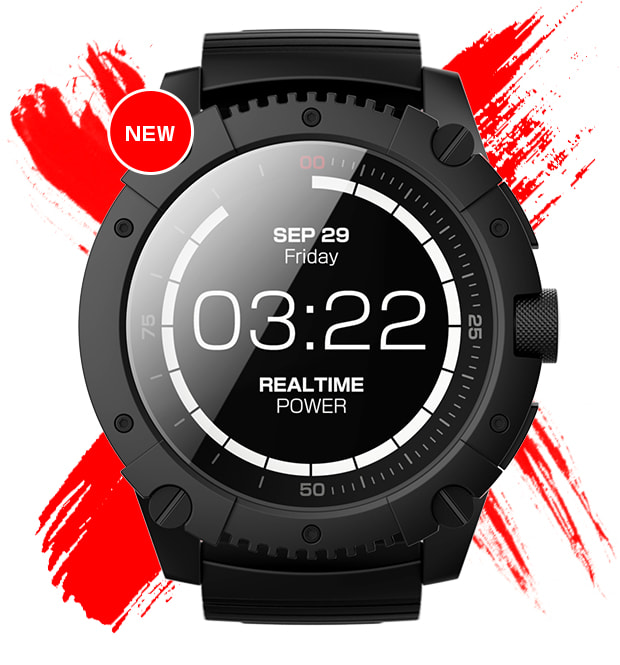 Introducing the Matrix PowerWatch X. It's the biggest, baddest, toughest smartwatch out there. It'll go four times deeper, with water resistance to 200m. Tough enough for the roughest of situations. Because it's bigger, it generates more power, so we've added a vibe and notifications.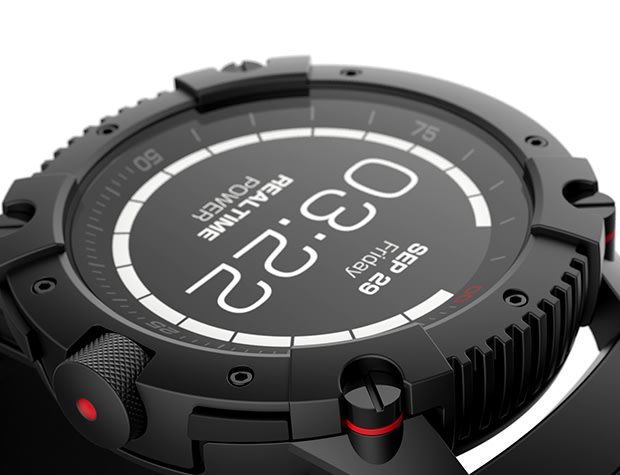 Never Recharge
The PowerWatch runs off your body heat and when you take it off, your data is stored in memory and it goes to sleep; put it back on and the watch turns back on right where you left it. It's got a power meter that tells you how much electricity your body heat is producing.

Accurate Calorie Count
Your body turns the calories you consume into heat. The PowerWatch accurately measures the calories you burn using our advanced thermoelectric technology.

A Versatile Smartwatch
The PowerWatch is a rugged aircraft-grade aluminum smartwatch that wirelessly syncs with your smartphone, automatically adjusts to the current time zone, and has changeable watch faces. The PowerWatch tracks your activity and sleep and is water resistant to 50 meters so it's great for swimming.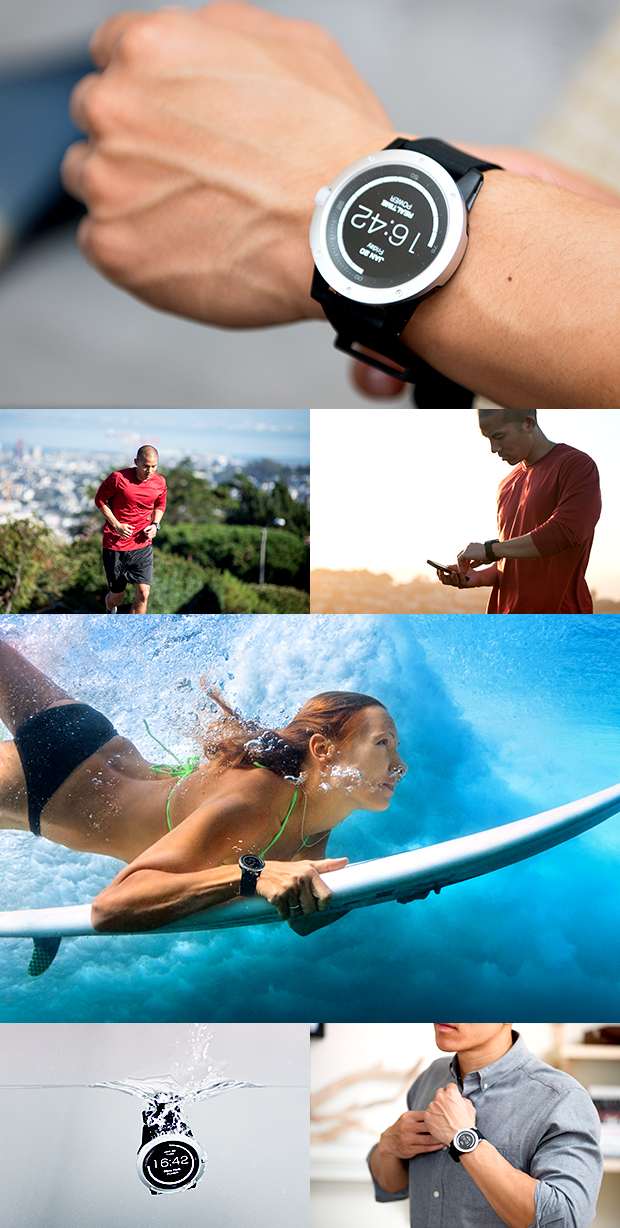 Activity Tracking
Monitor your calories burned, steps taken and sleep quality at a glance. A button press will take you to micro-applications like a timer and stopwatch.

Customizable Watch Faces
Change the watch face to suit your mood.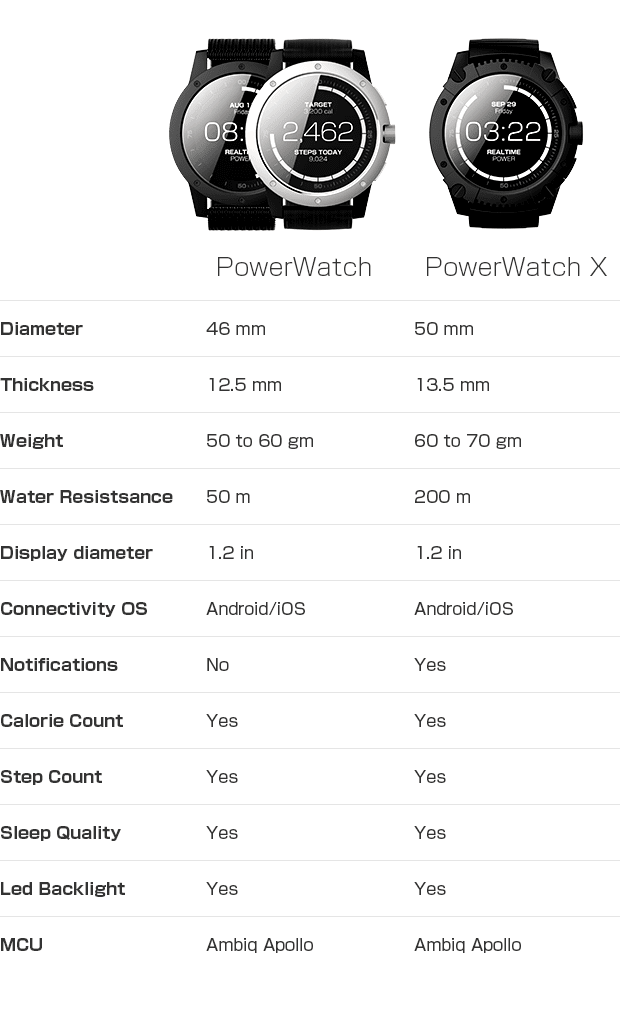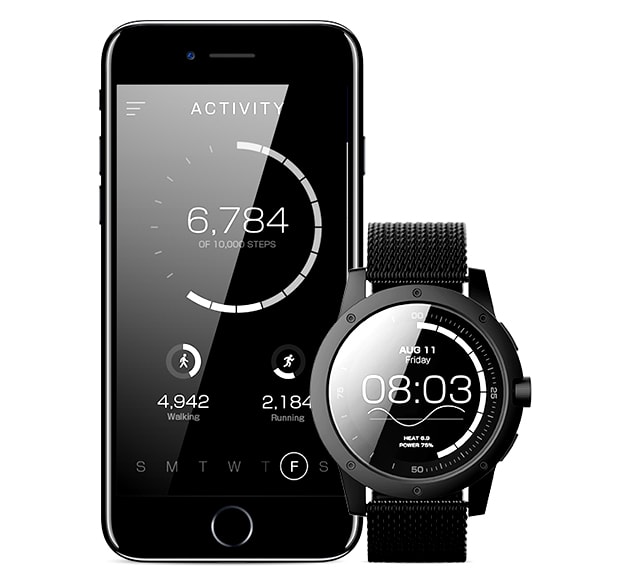 The MATRIX PowerWatch wirelessly syncs with the MATRIX iOS and Android apps. The apps will show you how many calories you've burned, steps you've taken, and whether you're getting a good night's rest. It will even show you how much electric power you've produced during the day, weekly trends, all-time records, and will support Apple Healthkit and Google Fit. Share this data with your friends and setup competitions to see who can burn the most calories or generate the most power.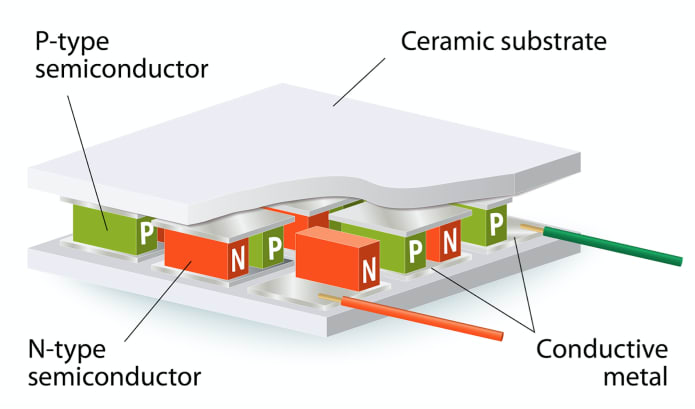 Our thermoelectric technology converts heat to electric power. It is based on the Seebeck effect discovered in 1821. In the absence of an applied voltage gradient V, electric current, J, can still be generated if there is a temperature gradient, T:

. A thermoelectric material must have a low thermal conductivity and high electrical conductivity to function efficiently. NASA has used this technology to power the Voyager spacecraft and Curiosity, the mars rover.
A thermoelectric module is composed of many tiny semiconductor "legs" that when added together create a large voltage.



After five years and numerous prototypes, the Matrix team is close to the finish line. Your funds will go to the production tooling necessary to manufacture the watch. We have already completed the design for manufacturing and all that remains is the production runs necessary to get the watch into your hands.

To reduce risk, we are working with a Hong Kong-based product development and manufacturing partner who has an excellent track record shipping millions of units of products, including some of the most successful wearable products on the market.


Matrix's team is composed of experts in thermoelectric material science, thermal engineering, and consumer product development and manufacturing. The core team consist of PhD graduates from Caltech, MIT, Harvard, and UCSD. Our manufacturing director has over 25 years of experience and has shipped millions of units for leading technology companies.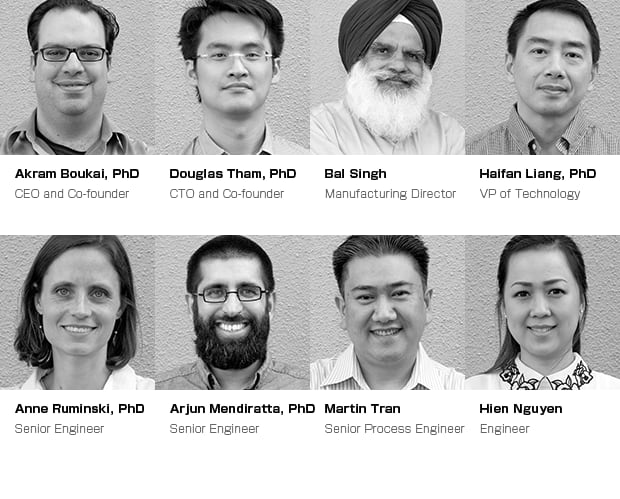 Q: How does the PowerWatch accurately measure calories burned?
A: A calorie is defined as the amount of heat energy required to raise 1 gram of water by 1 degree Celsius. Scientists measure calories burned by measuring the amount of heat the body produces. This is the most accurate way of measuring calorie loss. The PowerWatch's thermoelectric technology measures calories burned in a similar fashion by measuring the amount of heat you produce.
Q: What happens when I take off the PowerWatch?
A: The PowerWatch goes to sleep and runs off battery power where it draws a tiny amount of current. Put it back on and it turns on with the correct time.
Q: How come I've never heard of thermoelectrics before?
A: Thermoelectric technology has been around for decades, but only in limited niche applications like NASA built spacecraft. With the recent advent of low-power electronics, we felt it was the right time to use our thermoelectric technology for a consumer product.