For long time, expats and travelers who live abroad have been struggling to keep up with what's happening back home, as most of the streaming content are Geo-Restricted while they abroad. Sites like Netflix, Hulu, Amazon Instant Video, HBO Go, SlingTV, iPlayer, even Gmail and Facebook are seemingly more important than food and water sometimes, and yet are inaccessible in popular worldwide destinations.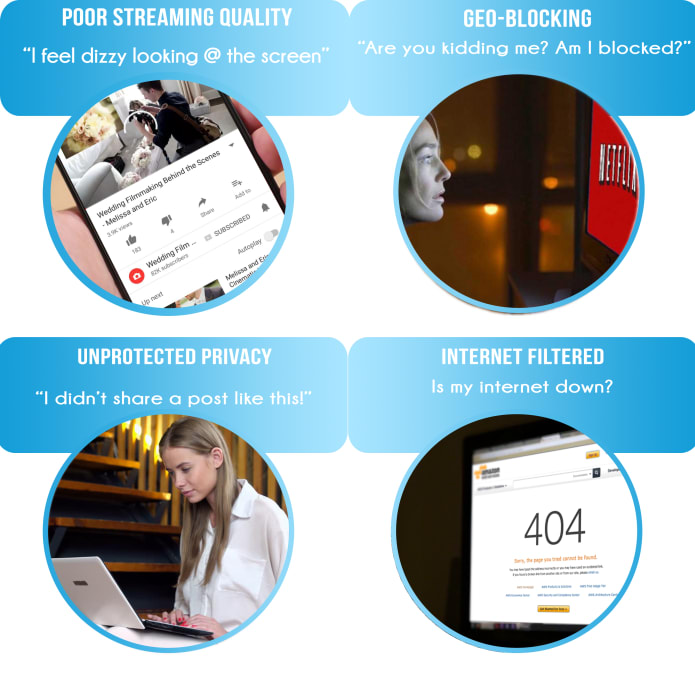 For years, people have been using VPN or Smart DNS to bypass the geo-blocking. In the past it worked, but now, VPNs and Smart DNS are turning INEFFECTIVE since they use shared servers that can be easily identified and black listed by the streaming service providers. Even your VPN or Smart DNS works now, it probably won't last long. Also, streaming content are becoming more and more bandwidth intensive for higher quality to which VPNs are not fast enough anymore.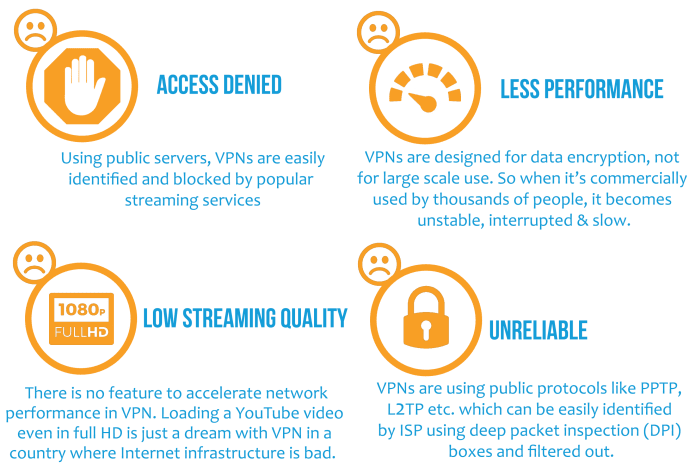 AlwaysHome easily solve the remote access problem by letting you have your own proxy server right at your home. Your access to internet will go through this proxy. It's like having your own VPN dedicated for your own use. Since your access to website will come from your home, to all the streaming services, it is you sitting in the living room, even you are actually browsing internet thousand miles away. So it can not be blocked. Problem solved. Even better, the proxy device can be your used phone, tablet, streaming boxes like Amazon Fire TV that you already have or our especially designed AlwaysHome dongle.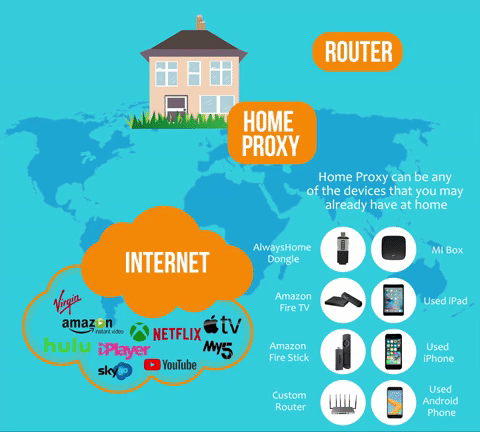 AlwaysHome is supersonic when it comes to speed. When accessing streaming services from remote, it's 3-10 times faster than VPN enabling you to view your favorite content in full HD quality regardless of where you live. For curious hearts, the technology we implemented is called WAN optimization which is used by large company to connect their global offices and branches.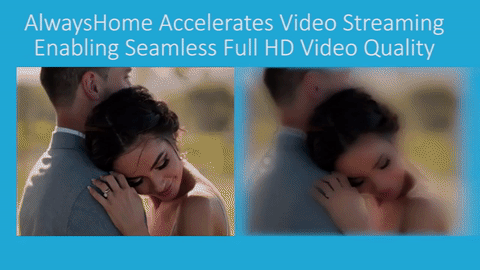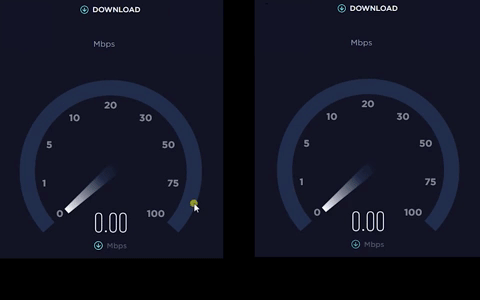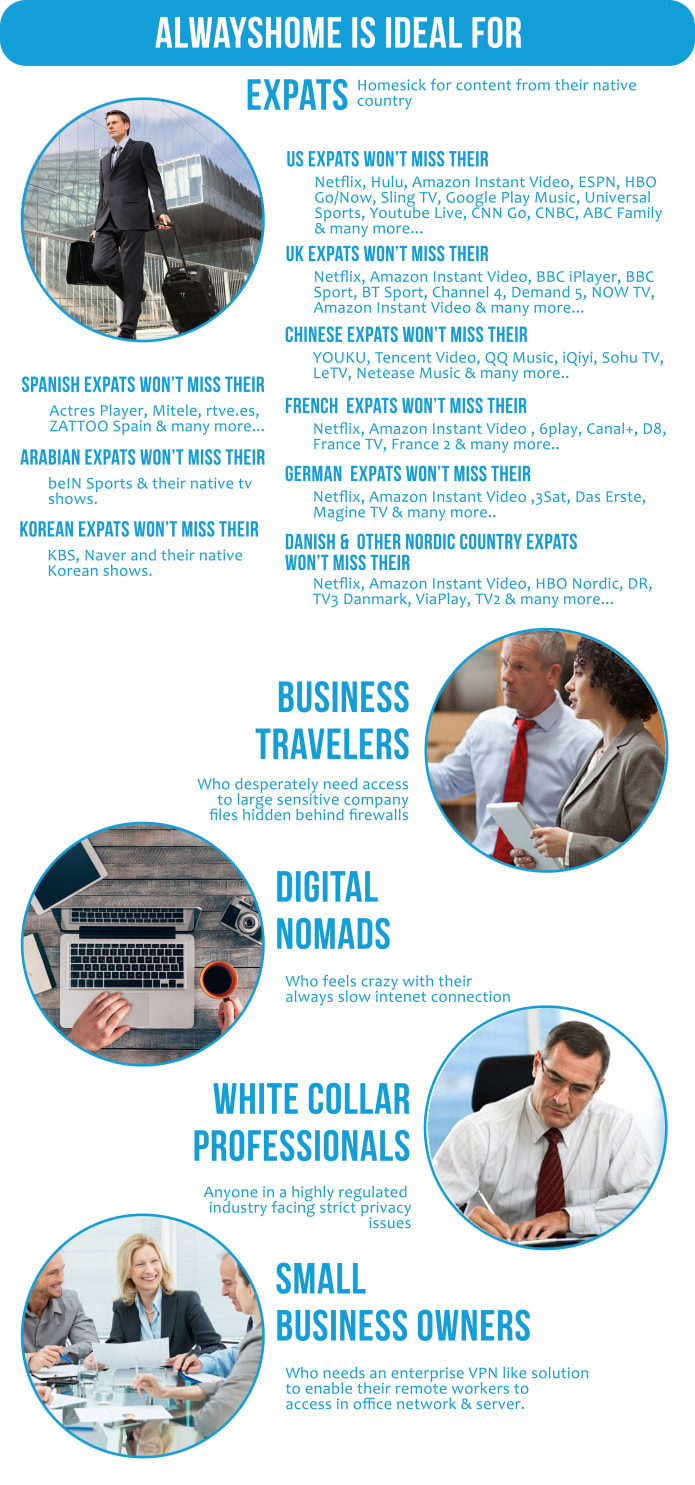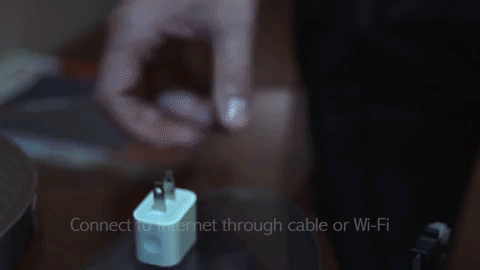 Faster email, faster research, faster collaboration and faster everything, AlwaysHome is armed with a technology called WAN Optimization which allows you to be 3-10 times faster accessing remote online content.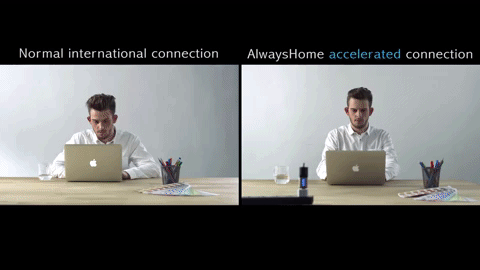 Joe lives in Pennsylvania. He loves using Comcast Xfinity Stream App in his house for all live channels but hates to see the "OUT OF HOME" error message when he is out of home. Now, with AlwaysHome, he can go anywhere without missing his favorite shows.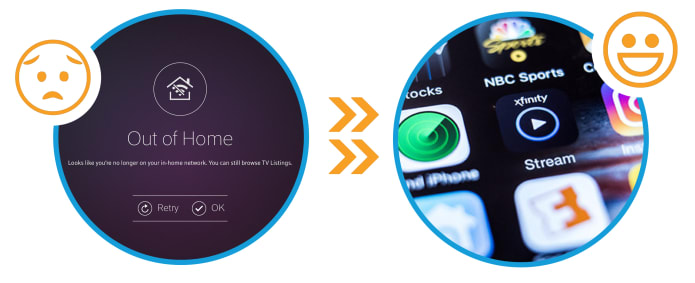 David often travels to Egypt for business and family purposes. He finds internet access in Egypt is quite slow and none of his favorite streaming services are available in Egypt. With AlwaysHome, he not only gets all the streaming shows through the home proxy in his Florida home, but also is happy to see an astonishing 8 times boost in the speed test compared to his regular Internet speed.

For over 20 years, Patrick has been struggling to use Google, Gmail and Facebook while living Shanghai as they are fully blocked in China. He switched from one VPN service to another until he started using AlwaysHome two years ago. Through the home proxy at his brother's house in Texas, he not only gets an unrestricted Internet access, but also is able to stream Hulu in HD to his TV through Chromecast. He also can use Zwift on his bike trainer now. Zwift never worked reliably with all the VPNs he tried.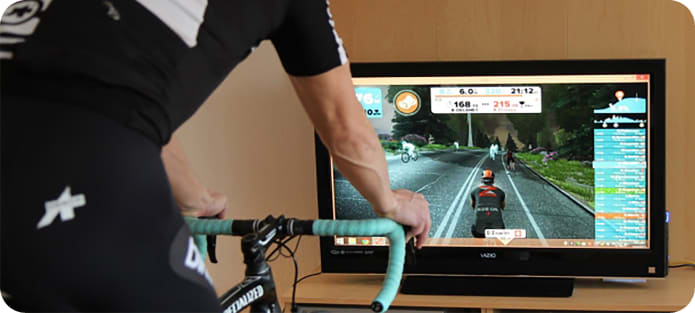 Joo-won is a Korean engineering manager who travels around Asia for management tasks in international branches of his company. Sometimes he has to stay for a year or two in one particular location. He likes to use AlwaysHome to connect back to his Korean home and watch Korean shows from KBS Video and Naver.com on his big screen TV.

Xiao Zhang moved to US from China in 2014 to complete his higher education. Every time his parents pay a visit to US, they don't usually stay long as they don't speak English and have not much Chinese shows here. Xiao started to use AlwaysHome to connect his Xiao Mi box to Chinese streaming and music sites. Now, his parents enjoy staying in US with their favorite Chinese shows on TV.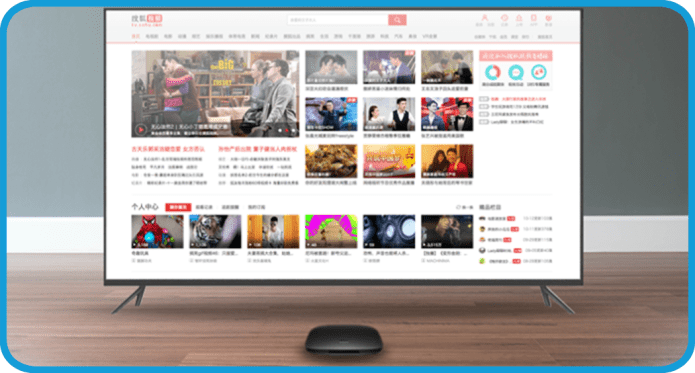 Scott owns a small consulting firm in New York. Recently he setup an office in Sydney. He uses AlwaysHome between New York and Sydney office so that his Sydney employees can access servers in New York office and share files. He is happy with the ease and convenience in using AlwaysHome, even he is not tech savvy.

Philip is based in UK and his company provides phone parts to repair shops in Europe. He also has a lab in China to test and source parts from manufactures. He uses Dropbox and Google Drive to share large reports and design specs with his China lab. With AlwaysHome, syncing 200mb file is just 20 minutes job in China. The same task used to take a few hours or overnight without AlwaysHome. Philip loves AlwaysHome's blazing speed.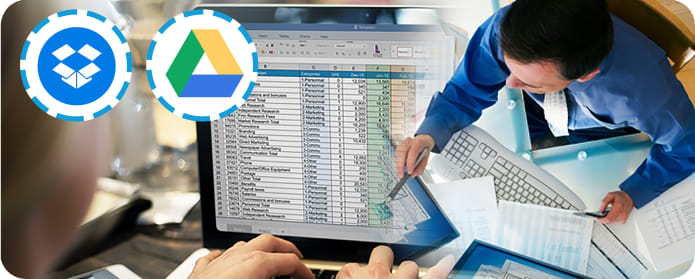 You can download the AlwaysHome App from Google Play, Google Play for TV, Apple App Store, Mac Store. Android App can also be downloaded from our website https://mobile.homingsystems.com/
Once downloaded, you are just 3 steps behind to enjoy AlwaysHome. First log in to your device using the Email & password you've already set. Click big blue play button to get it connected. Once the blue play button turned into an orange "pause" button, it is connected to your home proxy and you are good to go. If your login is for home proxy, then this device you logged in and connected become a working home proxy immediately.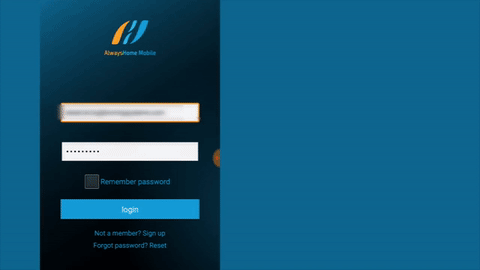 HOW TO MANAGE YOUR AlwaysHome
Update: this web portal is not released yet. We are looking to release it before 12/20/2017.
Managing your AlwaysHome assets is just as simple as logging into a phone app. First you have to sign in our website by using your email registered at Indiegogo order. You can use "reset password" function to get your password reset.
Then you can manage your devices (dongles) and App account (identified by email) and specify which one to be the home proxy. App accounts can be used on devices that has AlwaysHome App installed, such as iPhone/iPad/Mac/Android phone/Android TV etc. When App is logged in and connected, the device it runs is turned into an AlwaysHome enabled device. This is how it looks like when you log into your AlwaysHome account in your browser.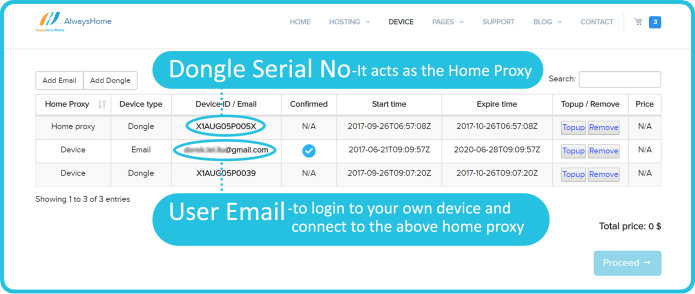 In above example, the AlwaysHome user has a dongle (identified by the unique serial number) as home proxy, and an App account for remote devices and a dongle at remote. People can define (create), remove, top up, change home proxy, etc all through this portal.

The right plan for you depends on your requirements. Whether you are a single user or a small business owner who needs several licenses, we can offer you the best plan that fits right for your needs.
You can buy monthly, yearly or lifetime subscription plans to use our service (lifetime plan only available on Indiegogo campaign). One subscription can be used on multiple devices (just like your Gmail or Facebook), but only one device can be connected at a time. Home proxy is free of license charge. If you use an AlwaysHome dongle to access your home proxy remotely, it's always counted as one user license regardless it is online or not.
Seems little bit confused? Don't worry, see following for some real case scenarios. You can also ask us about your unique needs and see how it can be easily fulfilled with using this flexible scheme. Also see FAQ for related questions.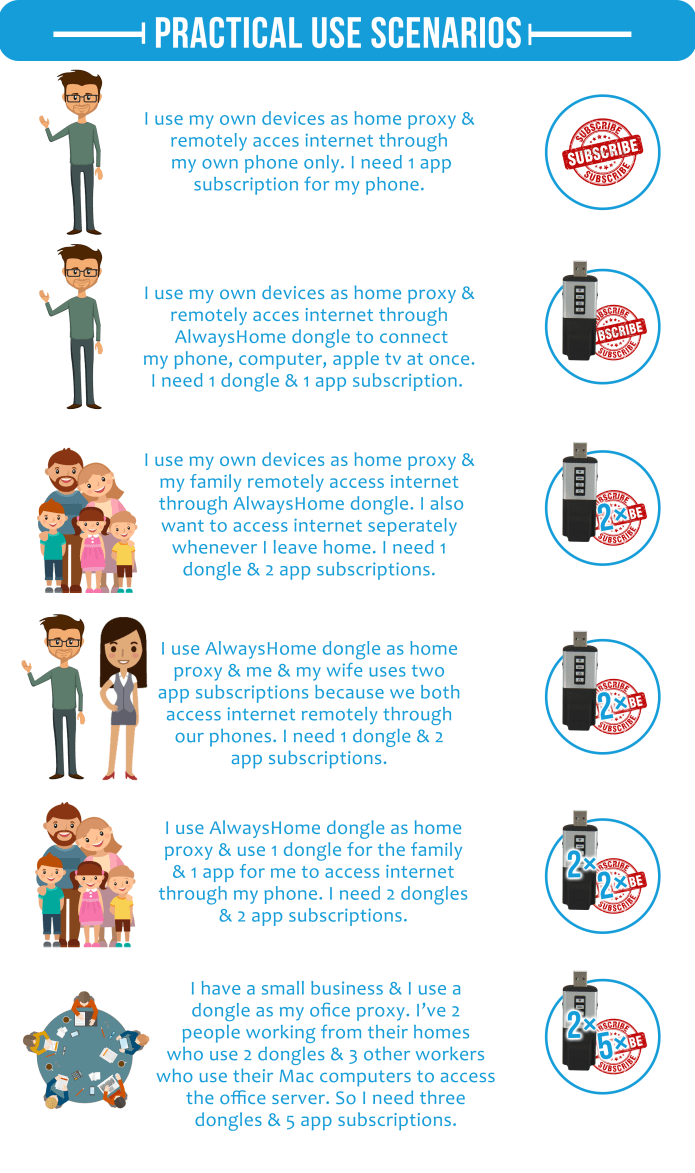 Campaign
1) None of the perks meet my needs, I need a customized configuration. So what should I do?
You can claim multiple perks from our campaign. Order dongle and user license separately from different perks and combine them to meet your need. If duplicate shipping cost occur when combining multiple perks, we will convert that to service time & send you a detailed email once shipping is done.
2) Can you ship on time? I want it as a holiday gift for my family, it's important for it to get it before the holidays.
Yes. Please note our campaign is a 20 days campaign, unlike most of the campaigns. Our product has been for sale from two years ago. Our focus in this version is mainly the App on devices and App does not need "shipping". We also have some dongles in stock. So, once the campaign is over by mid November, worldwide shipping will be started and there will be no delay.
3) 3-10 times faster internet, multiple device connectivity, space shifting revolution; seems too good to believe! Is this for real?
We have come to the 3rd major release of our product and thousands of users have been using it ever since its advent in 2015 for the first time. Along the way, we solved quite some challenging problems so our stuff is not just an idea that just sprouted out of the box.
Although every user is different with the internet infrastructure he is using, 3-10 times faster is a norm and observed by our customers especially those in Asia, Africa and Mid East.
We are not cheap. We offer the best price with the features untouched yet. That's why we brought a software update which allows you to use your phone, tablet or streaming box as a space shifted streaming device even without the dongle. Yes, it is real. Time to believe.
4) It seems AlwaysHome pricing is a bit higher than normal VPN, what's the reason behind?
Some VPNs, if include a pre-configured router, cost much more than AlwaysHome package. Our 12 months subscription plan without the dongle is more economical than a similar VPN plan. Added with our hardware component, the dongle which is a portable Wi-Fi router, making it easier to use, to carry around and shared by multiple devices/people. The price is little higher than a normal VPN due to the hardware component already included.
5) I know networking, could you elaborate how you measured network performance to support your acceleration claim?
Measuring real time network acceleration is just a piece of cake. We use mainly speedtest.netfor this task. You can go to the platform and start to measure the download and upload speed of your network connection and compare it after connecting to the network with AlwaysHome. And the results will look as just as ours. We have proven results from our customers around the world.
Note: the performance is subjected to ISP policy regarding bandwidth shaping, physical network bandwidth limit etc. Those are physical factors that AlwaysHome may not solve. However, almost all the ISP's networks, we've tested have rendered the 3-10 network acceleration.
Features
1) If the home proxy is down, can my remote devices fall to a server and access the blocked websites?
Yes. You log in to the web portal with your account and configure your devices or dongle to use our servers deployed in US/UK/Korea/German etc. Or you can email us and let us know the home proxy is down and we will manually switch your App/dongle to connect to our servers within a few hours. Connecting to our server will NOT get Netflix, Hulu, Amazon Instant Video who are aggressively blocking access from public servers, including many VPNs and our servers as well. Connecting to our server will get you to Google, Facebook, YouTube etc which are blocked in some countries.
2) How many users can the dongle support simultaneously?
When using dongle as home proxy, we suggest to limit the CONCURRENT remote devices up to 3. When using dongle as a remote device, technically there is no limit of devices that can be connected to it simultaneously. But we suggest not to surpass the number more than 10. Please keep in mind that the bandwidth will be shared among all users.
3) I have an old phone, can I turned it into a home proxy?
Yes, it needs to be Android 4.4 or above, or iOS 10 or above. We will work out a special version for iOS that can run on iOS 9 and 8. Normally, if you have purchased the a branded phone not more than 3 years before, most probably it will work.
4) Between remote device and home proxy, is the communication going via the Homing cloud or directly between them? If it's the latter, how do communications traverse firewalls without port forwarding being set up?
It is mostly the latter. Remote device and home proxy all connect to Homing Cloud and they will be instructed to start a process called NAT traversal which enables a direct communication without port forwarding. In most of the cases, NAT traversal can work successfully. From then on, user data will be exchanged between these two directly. In some rare cases, NAT traversal does not work and a direct link is not possible. Then a middle server doing the piggyback will be utilized so the communication between the two dongles will go through our mid server.
5) What makes AlwaysHome stand out from the other VPNs in the market?
VPNs are good under certain conditions. But they typically become hard to manage when the user count goes up. VPNs are designed for data encryption. When the user count goes high with its popularity, they become slower & interrupted especially when user can choose which server to get on. AlwaysHome is a cloud based distributed server infrastructure that support fault tolerance and great scalability to handle large amount of concurrent users.
VPNs are using standard protocols like PPTP,L2TP,OpenVPN which can be easily identified by "middle boxes" such as firewall or proxy or routers with DPI (deep packet inspection) capabilities. Those boxes can easily block VPNs once identified. AlwaysHome, however, employs proprietary protocols that are not known to middle boxes. It means AlwaysHome does not suffer the blockage that VPNs are subject to.
VPNs were designed to be a security solution, never meant to accelerate network performance. AlwaysHome, on the other hand, has a technology called WAN optimization. This technology can significantly accelerate network speed over long distance on Internet.
So, if you are a VPN user and still think that it's one of the precious technologies in 21stcentury, you definitely want to check out AlwaysHome.
6) The dongle seems nicely designed. Can I use it at coffee shop or hotel where there is no cable around and sometimes the captive authentication is needed?
Yes, dongle support to use public Wi-Fi for Internet to connect itself to and at the same time provide downlink Wi-Fi to attached devices. You can attach a phone/computer to dongle and then login dongle's web management interface and configure the dongle to use a surrounding Wi-Fi hotspot. It also support those Wi-Fi hotspots using so called "captive authentication" that requires one to agree on terms, input a code etc. before using the Wi-Fi.
7) Does AlwaysHome support PPTP/L2TP or OpenVPN?
No. The data protocols are proprietary and developed by the AlwaysHome developers.
8) Technically, the dongle acts as VPN or proxy?
Technically speaking, AlwaysHome is not VPN but rather a TCP proxy service, with network acceleration capability. It is not HTTP proxy though.
9) I am worried that someone can access my home network through home proxy. How can you guarantee security?
That's a valid concern and we have addressed it deeply. All devices including home proxy are all behind firewall and do NOT require you to open a port on your home router for port forward function. So your home proxy and home network are still protected just like your other devices at home. Accessing home proxy can only be done through a valid and configured dongle or App that requires valid user login.
Accessing of in-home devices can be disabled if you want to share your home proxy with friends, so that they can access streaming websites, but not your home network devices, like your PC or NAS.
10) How stable is your system? Will there be network interruptions as other VPNs?
Our system is based on a cloud based distributed server infrastructure which has high fault tolerance and scalability. Unlike VPN, which is normally point to point, in our system, the finding and switching to a working server is done automatically against a pool of servers. So the whole system works more reliably than VPN.
11) If I have an Android TV, can I connect it to the dongle and access content from out of my home country?
Yes, you need to install the App in your TV. So, as long as the Android TV has access to Google Play TV (AlwaysHome App is in Google Play) or you know how to install an APK manually onto your TV, you can watch your home country shows without geo-restcition.