HEXAGON makes any bike a safer and smarter by seamlessly connecting with your smartphone. View the traffic behind you, live stream your ride, & signal to cars all through smartphone integration.



With our rear-facing camera, you can view traffic & stream your ride.

HEXAGON has Automatic Stop, Turn, and Motion signals.

iOS & Android app with activity tracker, navigation system, and more.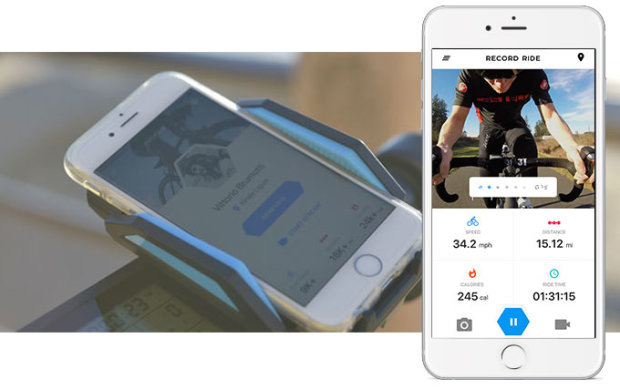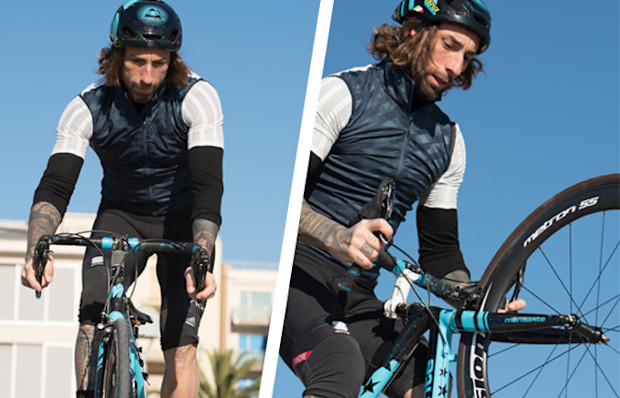 Award-winning cyclist, Vittorio Brumotti, loves HEXAGON. Check out the video below to hear Vittorio's stamp of approval!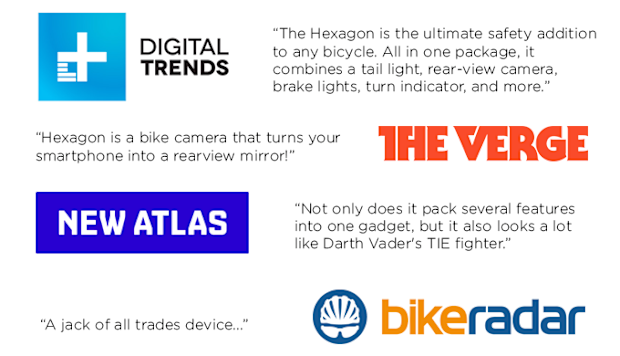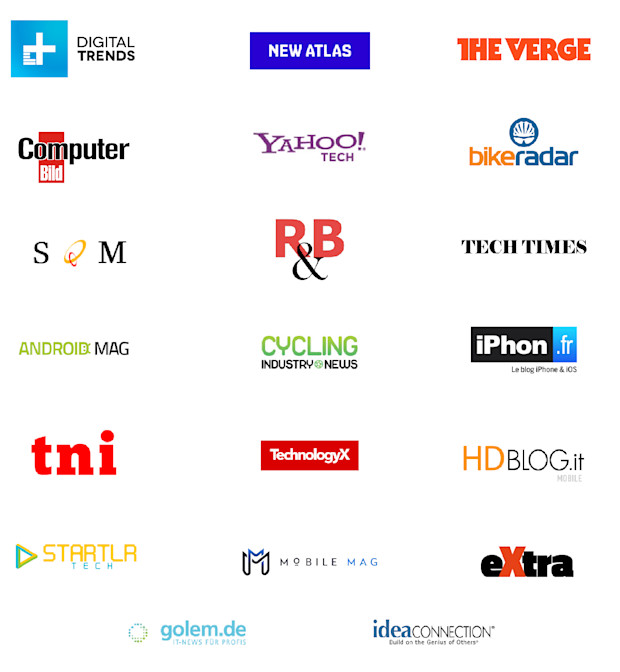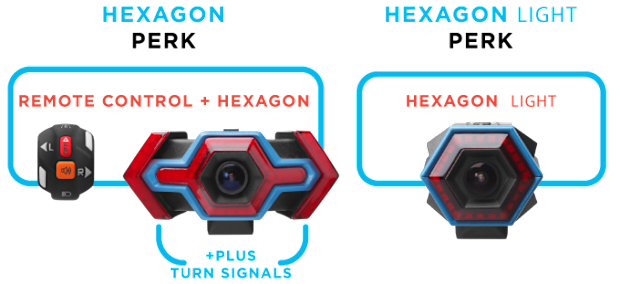 HEXAGON is equipped with a rear-facing HD camera, Automatic Stop, Turn, and Motion signals. To navigate the turn signals, HEXAGON comes with a wireless remote that securely attaches to your handle bars. HEXAGON's social and recording features can be managed through the HEXAGON app.
HEXAGON comes with two 18650 batteries and can easily be recharged with the complimentary Micro-USB cable.

HEXAGON Light has all the great features of HEXAGON, minus the turn signals and the Wireless Remote Control. This slimmed down model has the same rear-facing HD camera, Automatic Stop, and Motion signals. All of HEXAGON Light's features and settings can be managed through the HEXAGON app, so there's no need for the remote!
HEXAGON Light comes with two 18650 batteries and can easily be recharged with the complimentary Micro-USB cable.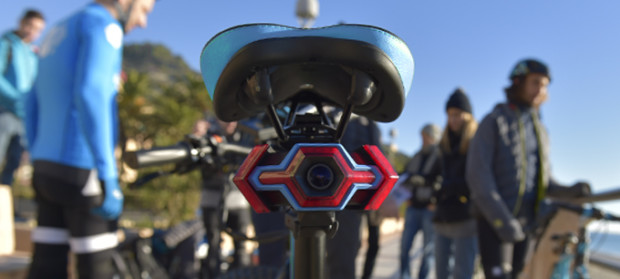 One of HEXAGON's most revolutionary features is its HD rear facing camera. With a rear facing camera, cyclists have the ability to view traffic via the smartphone app, making your ride safer and more connected.
You can live broadcast your ride to your social networks or record video in full HD-resolution! To extend your battery life, HEXAGON's camera can be turned off to maximize your battery's charge by 3-6 times. No need to worry - even with the camera off you're traffic signals will still work.

HEXAGON has Automatic Stop, Turn, and Motion signals enhancing the safety of your city or country ride. Distinguish yourself while biking day or night with HEXAGON's bright and reliable traffic signals.
Automatic Stop Signal: HEXAGON and HEXAGON Light's Automatic Stop Signal will automatically turn on whenever you brake leaving every driver aware of your stopped-status.
Motion Signal: HEXAGON and HEXAGON Light's motion signal continuously flashes when your bike is moving, increasing your visibility in traffic. This is an essential feature for night rides in the country side or city.
Turn Signals: HEXAGON has a left and right turn signal so you can easily distinguish your next move. Simply press the left or right button on the wireless remote control and your turn signals will ignite.
Smart Control Brightness: HEXAGON and HEXAGON Light can control the brightness of your traffic signals based on photocell data. It can sense if there's oncoming traffic and adjust HEXAGON's brightness accordingly.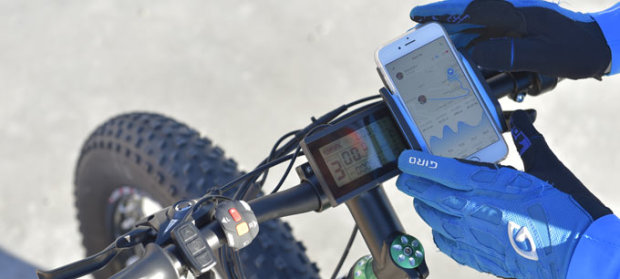 Our iOS and Android mobile app allows cyclists to view camera footage in real-time, track and navigate their ride, monitor fitness parameters, connect and share to social networks, and much more.

HEXAGON and HEXAGON Light can recharge your favorite gadget & is ideal for long rides when you need to recharge your smartphone. Connect your USB cable to HEXAGON and charge!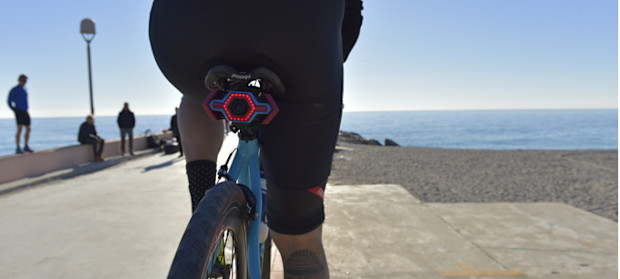 HEXAGON and HEXAGON Light connect seamlessly to our complimentary app, allowing you to see rear-view footage in real time. While viewing your live stream, you'll also see the main parameters of your ride including: average speed, ride time, and calories burned.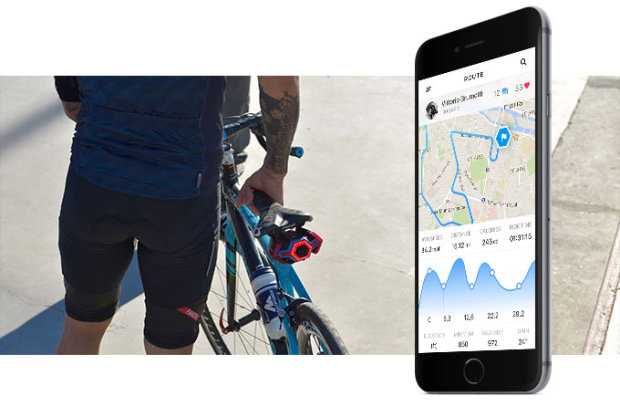 View the distance of your ride and number of calories burnt on the Live-Viewing and Navigation screens of the HEXAGON mobile app.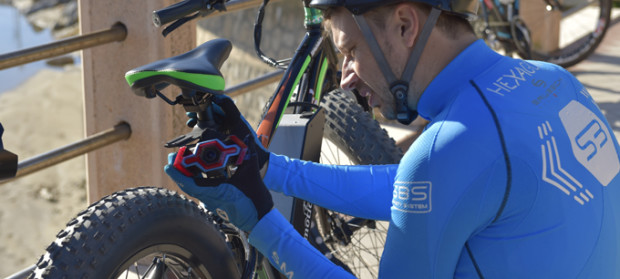 Setting up your HEXAGON is simple. Attach your device on the seat post binding underneath your saddle and then mount the Remote Control and your smartphone to your handlebars. Once your device is paired with the app you're ready to ride!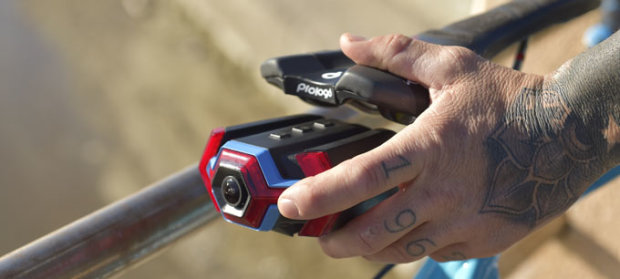 Afraid of getting your HEXAGON stolen? HEXAGON and HEXAGON Light can be easily detached for protection against theft. Effortlessly detach it from the mount and toss HEXAGON in your bag.


Imagine capturing your next race with the on-board SD Card to share with friends as you pass other cyclists! HEXAGON has a micro-SD slot that allows you to record up to 4 hours of video in full HD resolution.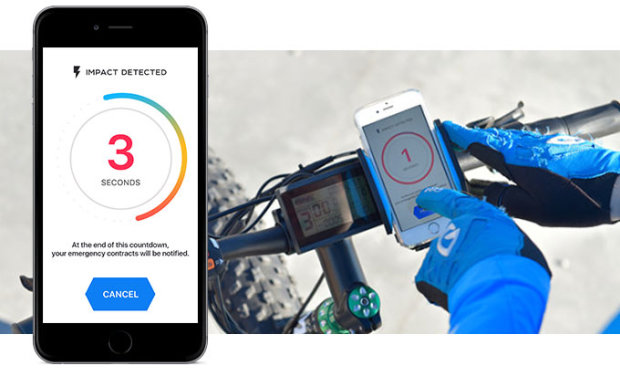 HEXAGON's sensors can detect a crash and automatically send an SMS text to designated emergency contacts in your smartphone. If it's a minor accident, you can cancel the message.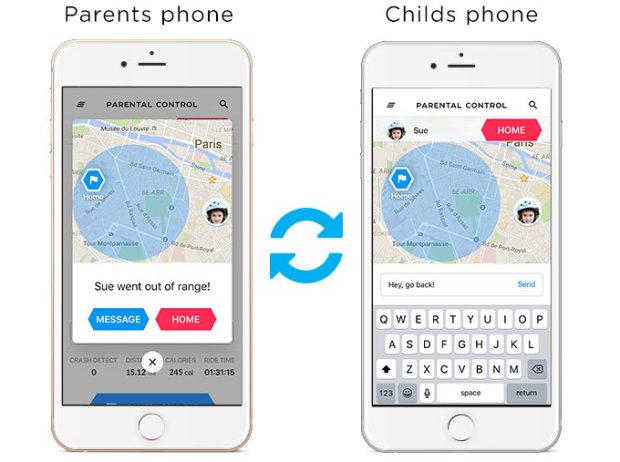 Monitor your child's biking activity via the HEXAGON app. Simply set up the Parental Control functions in the HEXAGON app on your child's smartphone and yours and begin tracking their location and speed. You'll also receive and SOS message if you child has an accident.


See HEXAGON in action.
We wanted to create a video that goes the extra mile to explain how you can use HEXAGON! Check the video out below to learn more:


Our power mount's herculean grip is a perfect match for your phone's genius design.
HEXAGON offers a smartphone mount accessory made by Abcotech that pairs perfectly with HEXAGON or HEXAGON Light! We test drove bikes just like yours to guarantee a surefire grip for your phone.
The Battery: the Abco power mount's lithium polymer battery power bank has a whopping 3.7 voltage/ 6000 mAh capacity, with Input 5v 1A and output 5v 1.5A for maximum roadside charging.
Easy Installation: We've included a simplified manual guide for super simple installation prior to your adventurous ride. You'll be amazed at how easy it is to be smarter than your smartphone.
Adjustable Clamp Wings: The sidebar clamp wings ensure a perfect grip which can be shaped to fit all smartphones with the iconic grip and traction which our mountain bike phone mount charger is known for.
Safety First: Never hit a bike trail without our mountain bike rechargeable power mount. With its secure harness and the ability to power charge while driving, the Abcotech bike mount is a mountain rider's necessity.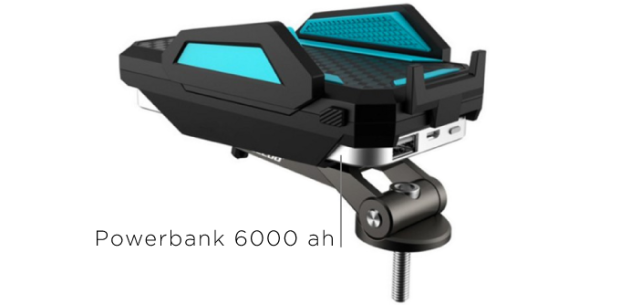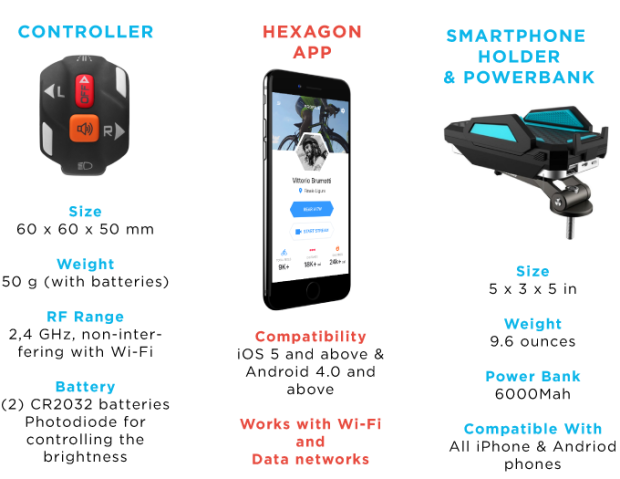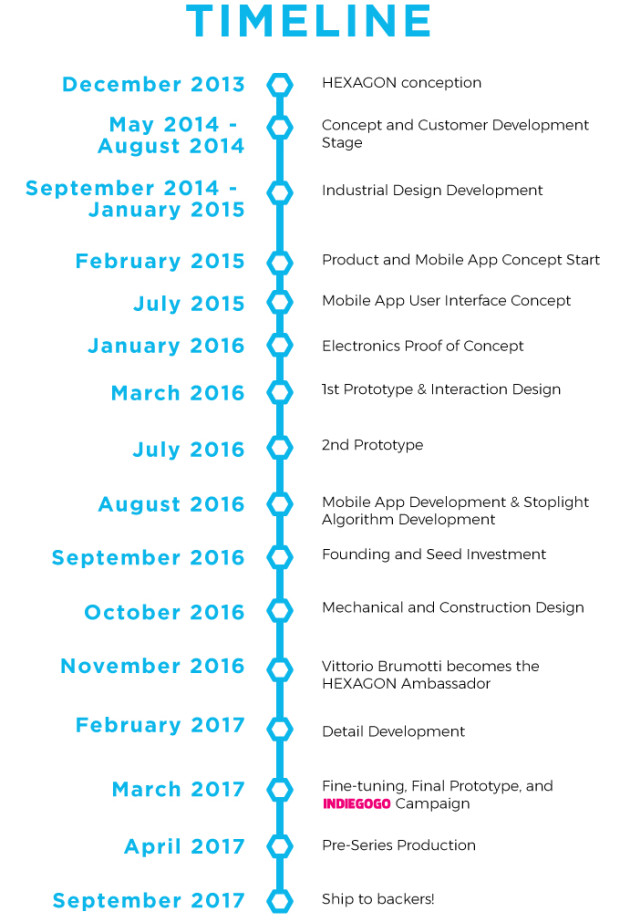 What is the difference between the HEXAGON and HEXAGON Light?

The main difference between HEXAGON and HEXAGON Light is HEXAGON is equipped with turn signals.

The second difference is that the HEXAGON Light doesn't come with the wireless remote control. Without the wireless remote, you will not be able to take photos during movement and manage the switching on/off the camera. However, HEXAGON Light can be navigated by the HEXAGON app.

The third difference is HEXAGON allows you to add two additional batteries to increase operation time. HEXAGON Light does not allow this.
What's the quality of HEXAGON and HEXAGON Light's camera and video footage?

Both models of HEXAGON have a full HD camera with a quality of 1920x1080 or 1080x720 (you set your preferred quality in the camera settings. For smartphone display footage is shown at 640x480 and for live streaming footage is 432x230.
Is it possible to take photos while I'm riding with HEXAGON and HEXAGON Light's rear-view camera? If so, how do I take still photos?

You can take still photos with HEXAGON, however you cannot with HEXAGON Light.
HEXAGON's wireless remote has a special button that allows you to capture high-resolution photos. If you take a photo while you're live streaming your high-quality photo will be posted to social networks!
What quality are the photos taken with the HEXAGON / HEXAGON Light rear-view camera?

The quality of photos are 5MP.
I saw you can record straight to an SD card. How long can I record my ride to a 32GB SD card and how does it work?

The maximum file size is 32GB and it will be sufficient for about 3 hours of continuous video recording. This approximately corresponds to the time of operation of the base battery pack.

With increasing operating time, the camera with the same SD card, such as used during a long bike tour, the oldest video files are automatically deleted and new ones are recorded on their place (in a circle), as in a car video recorder.

Approximately 10 minutes before the exhaustion of the working space on the SD card, the system will warn you about this and you can either replace the card and save all videos on your computer, or suspend the camera operation, or allow the system to delete the oldest files and continue recording video files at the vacant place.
How can I copy video files to my computer?

There are three ways to upload your HEXAGON video footage:
1) Physically transfer the SD card from HEXAGON into your computer and copy the video files to your desktop or laptop
2) Connect the HEXAGON micro-USB connector to your desktop or laptop using the cable provided.
3) Connect HEXAGON to a computer via a Wi-Fi network.
In the latter two cases, Hexagon is connected to a computer as an external disk.

Are HEXAGON and HEXAGON Light's traffic signals visible on a bright sunny day? And how far will my lights be visible?

Yes, they are! The motion, turn, and emergency signals are perfectly visible even on a sunny day from a distance of more than 100 meters.
Will the motion signal still be visible if a car has its brights on or if the sun is setting?

HEXAGON's remote control has a smart sensor that control the brightness of HEXAGON's lights. They continuously monitor the natural illumination of the environment and the brightness of the oncoming traffic. Correspondingly, in a bright counter current flow light, it immediately and proportionally increases the brightness of the corresponding light-emitting diodes.
Can I change Motion light to steady light? In Germany a blinking light is not allowed.
Yes, you can change and customize the the Motion light function in the "Settings" section of HEXAGON's mobile app.
Will the bright light from HEXAGON's turn signal and stop signal not illuminate the camera and effect my footage?

Nope! HEXAGON is specifically designed for simultaneous and independent operation of the camera and the signals.
How long does the battery last for HEXAGON, HEXAGON Light, and the wireless remote?

You can charge HEXAGON and HEXAGON Light's batteries through the device's micro-USB socket by connecting a 5V/1A power supply unit via the supplied micro-USB/USB cable.
On a full charge, HEXAGON and HEXAGON Light's will last 3 hours with the camera operating or 12 hours without the camera operating.
HEXAGON's remote is powered by a CR2032 battery. A CR2032 battery typically lasts one year.
Is the battery in Hexagon's remote replaceable?
Yes, HEXAGON's Remote Control has on the board most commonly used battery CR2032 that can be simply and easily replaced as necessary.
Is the battery in Hexagon replaceable?
Initially installed rechargeable 18650 batteries (2 pieces) in HEXAGON and HEXAGON Light are not replaceable by ordinary user, but qualified personnel can easily replace it. At the same time, two additional batteries in HEXAGON can be simply and easily installed or replaced as necessary.
Can I extend the operating time of Hexagon/Hexagon Light after a single charge?

You can 2-fold increase the operating time of Hexagon by purchasing and installing 2 additional Hexagon batteries of the 18650 form factor (of the recommended by us types and manufacturers). In this case, the charging time for 4 batteries will be 2-fold increased.

It is impossible to increase the capacity of the battery for the Hexagon Light version.
Can I use my HEXAGON and HEXAGON Light as a Power Bank?

Yes, you can use HEXAGON and HEXAGON Light as a Power Bank! Using a standard USB cable, you can charge your smartphone or other gadgets when at a halt. Simply detach HEXAGON from its mount and connect your gadget to HEXAGON or HEXAGON Light.
How easy is it to detach HEXAGON and HEXAGON Light?
Both models can be easily removed with one hand.
What if my HEXAGON / HEXAGON Light stops functioning in the middle of my ride?

First of all, when battery's charge will be less than 25% from full charge value, you will be informed by special beep sound and message in your Smartphone screen. And you can decide to switch rear camera OFF. In this case, leaving battery's charge will be able to supply signal lights more than 3 hours of continuous operation.
How do I know, especially in absence of a Smartphone, when the battery charge ends up?

The device will beep!
How will I know if I left my turn or alarm signals enabled?

The device will also beep in these cases.
Will Hexagon use my phone's data if it can't connect to WiFi?
Yes, HEXAGON and HEXAGON Light will operate using your phone's data network if permitted.
Is there a mobile app? What are its functions?
Yes, you can download HEXAGON mobile app for iOS (5 and above) and Android (4 and above). Here are main functions of mobile app:

Rear View Camera Footage Viewing
Tracking and Navigation
Fitness parameters monitoring
Alert message sending or aborting
Parental control (speed/location/crash or SOS signal)
Social media and other settings
Does HEXAGON / HEXAGON Light track me? Where does this data go?
The HEXAGON mobile app sends your location data to the HEXAGON server and displays the parameters and trajectory of your movement on the map on the screen of your Smartphone.

If you have installed HEXAGON on the bike of your child and if you installed the HEXAGON mobile app, you can set up Parental Control functions on his/her Smartphone and on yours. After this is done, you can track the driving style, the trajectory, and motion parameters of your child on your Smartphone.
Can I connect to other cyclists who are using the HEXAGON app?

Only if an emergency happens. If it is needed, you can press special button on the wireless remote and your SOS message will be sent to appropriate phones, i.e. other cyclists from your Smartphone.

Additionally, you can receive the SOS message from other cyclist if your phone number was entered in appropriate setup menu in his HEXAGON mobile app.
Can I use HEXAGON / HEXAGON Light without my Smartphone?

Yes, you can. In this case, you can use two functions of HEXAGON: switch on and off turn indicators or alarm (parking lights) using buttons of Remote Control, mounted on the handlebars of your bike, and make video recording with the rear view camera on the SD card of HEXAGON by pressing the REC button on a device (you need to set in advance the SD-card into the appropriate slot of devise). In addition, stop and motion signals are working automatically in HEXAGON.

Even if you do not have Remote Control, or it does not work, switched HEXAGON will automatically work out the stop and motion signals and can lead the video recording from the rear view camera with turned on REC button. In addition, in the absence of a Smartphone, we are recommending you to turn off Wi-Fi button on the HEXAGON, to conserve its battery.
I saw HEXAGON has different "modes." How do HEXAGON's different modes work exactly (i.e. city or highway)?
By using its own telemetry's data from embedded gyroscope and accelerometer, HEXAGON clearly controls the Stop and Moving signal lights automatically regardless of the type of track (i.e. city, country or highway).
What is photocell data? I see Hexagon uses this to decide the brightness of my traffic signals.
Photodiode installed on the front of Remote Control generate the photocell data. The micro controller of Remote Control is in watchdog mode and when photocell data will exceed/downgrade the threshold level, micro controller will wake up and send appropriate telemetry to HEXAGON to increase/decrease the brightness of traffic signals.
Does HEXAGON's motion signal automatically turn on as soon as my bike starts moving?
HEXAGON's Moving signal is working permanently. But when you are braking, the Stop signal turns on for 3 seconds. Hereupon the Stop signal turns off and the Moving signal turns on again.
For the Motion Signal, how does HEXAGON know I'm moving?
HEXAGON knows you're moving on the base its own telemetry data from embedded gyroscope and accelerometer.
How does HEXAGON / HEXAGON Light mount to my bike?
HEXAGON and HEXAGON Light both attach to your bike with a complimentary mount-to- frame. The mount is designed so you can easily remove and install HEXAGON!
Will HEXAGON / HEXAGON Light damage my bike?
Nope – not at all! Fastening to the frame is so simple and designed so mindfully that there's no way to damage your bike's frame.
What is the warranty for HEXAGON and HEXAGON Light?
We provide a one (1) year limited warranty.
What's your return policy?
At observance of operating conditions of HEXAGON, in the case of its failure, you need to send it to our US office with all the other components of the kit (Remote Control, mount, etc.) and we will send you exchange within 2 weeks provided that HEXAGON and other components have no mechanical damages. These warranty conditions apply throughout the world for 12 months from the date of purchase of your device.
When will HEXAGON and HEXAGON Light be delivered?
We will deliver our product in September 2017!