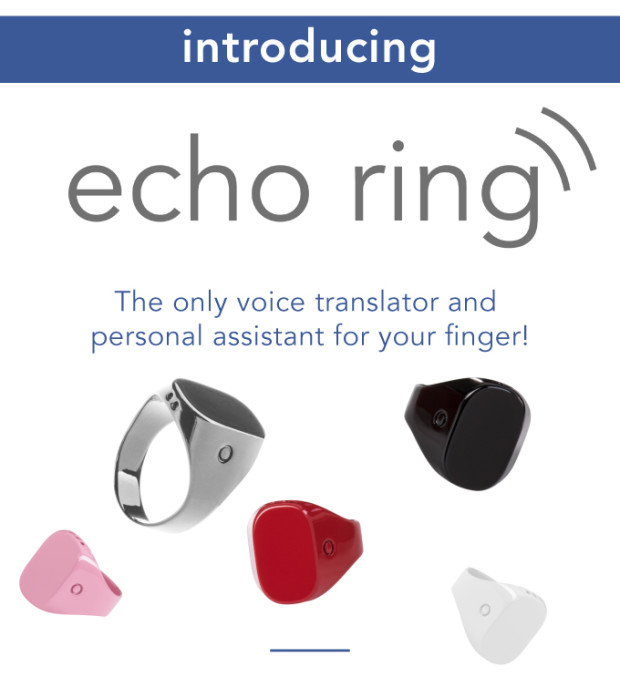 Echo Ring is a voice translator and personal assistant that puts the world at your fingertips, literally. With Echo Ring, you can translate 24 languages. Just speak into the built in microphone - and the ring will play back the translation. You can also use voice commands and gestures to make phone calls, control music, and even send emails. This piece of technology will open up so many doors for you, whether you are traveling in another country, or you want to make your everyday life easier, or you just want to feel like James Bond.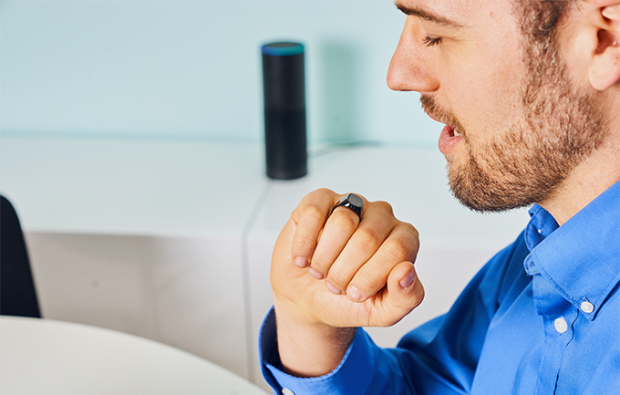 They say the best way to connect with people in another culture is through their language. Are you someone who loves to travel to other places, but find yourself bumping up against frustrating language barriers? Forget about the clumsy translation apps and the thick books - with Echo Ring you can easily communicate with anybody. You will be a modern language master!

Whether you are a studying abroad, learning a new language in your home country, or just slacking in high school Spanish class - Echo Ring is the perfect tool for you.

As the world of business becomes more connected, Echo Ring is the perfect option for your meetings and interactions with new people.

Living abroad can be difficult when you have a constant language barrier. With Echo Ring you will finally break it! You now have the freedom to communicate with the locals, and have the bartender make you your favorite drink - just the way you like it.

Do you have family members or relatives from other countries? Make sure you don't miss out on bonding with them by using this effortless translation device.

Few things in life will make you feel as cool as when you swipe your hand to the right to accept a call and having the call by talking in the ring (more about gesture and voice controls below). Wearing Echo Ring is the closest you will get to feeling like a secret spy, unless you are actually James Bond.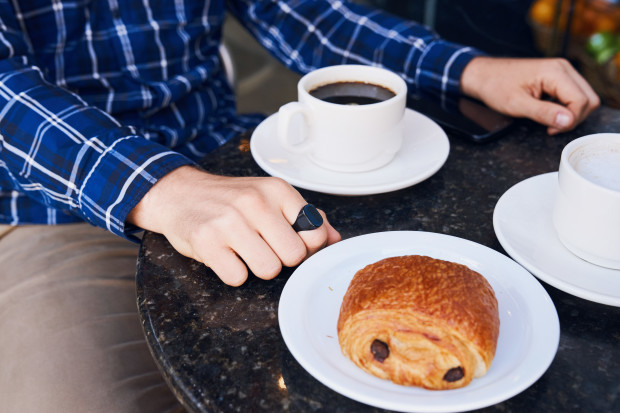 Echo Ring is equipped with the latest technology and features that make it an ideal day to day accessory fit for any lifestyle.
With Echo Ring, you have a personal language translator that can speak and understand 24 languages.
With Echo Ring use your voice to answer, reject and make calls. If you'd prefer gestures simply swipe right to accept a call, left to reject, and down to send to voicemail.
The Bluetooth enabled gesture control feature allows you to send emails, take calls, and post on your favorite social media platforms.
Echo Ring doubles as a voice assistant that is compatible with Amazon Alexa giving you options for verbally controlling cell phone features and many smart products.
In times of emergency, Echo Ring will alert emergency services while tracking your location in real-time.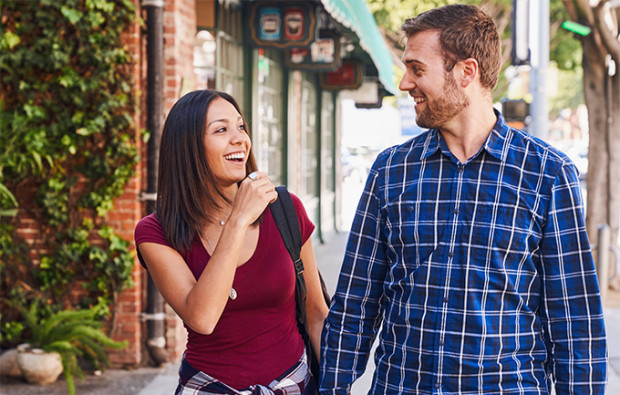 Echo Ring uses speech auto detection and voice synthesis technology to directly translate spoken word. Speak and understand 24 different languages seamlessly including English, Spanish, German, French, Japanese, and much more.
Many voice translation apps require wifi access but with Echo Ring's 3-second response time, you can translate on the go without being connected to wifi. Equipped with a compact microchip packed with the latest technology, you can finally put down the bulky translation books and devices.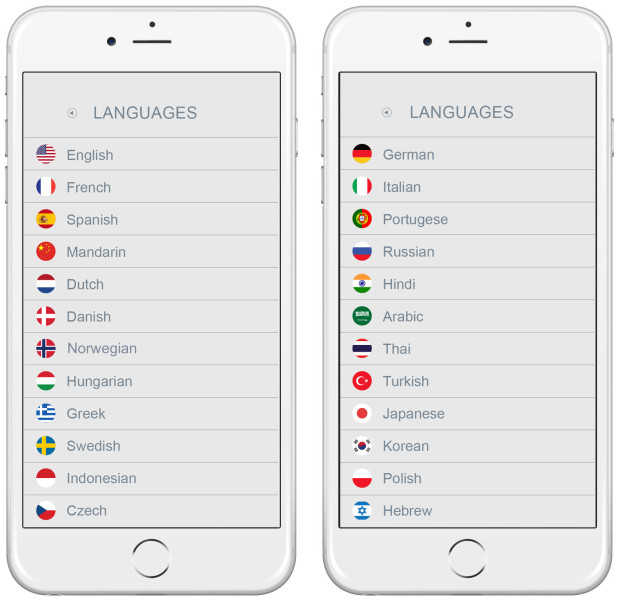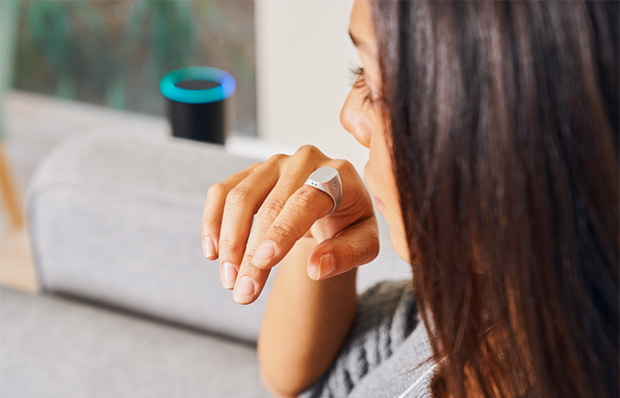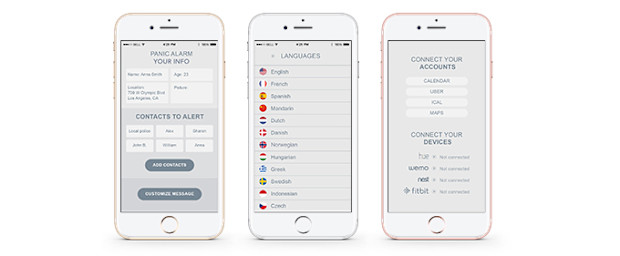 Echo Ring serves as your own AI voice controlled assistant that seamlessly connects to services, such as Google calendar, Google Maps, iCal, Uber and more. Echo Ring's brain is built into the cloud and gets smarter every day by learning your preferences.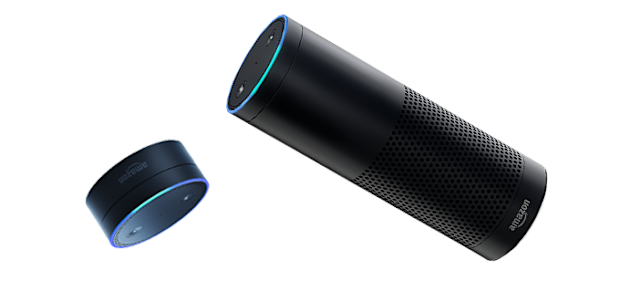 With Amazon Alexa, your voice, and Echo Ring comfortably around your finger, you can control and have access to a wide range of Amazon Alexa compatible devices that will make your life easier.
Using the noise cancelling MEMS microphone with high SNR and flat wide band frequency response, you can tell Echo Ring to answer calls, send to voicemail and reject calls with your voice.
Echo Ring allows you to control your home surroundings with compatible smart home products such as Nest, Caseta Dimmer, and Smart Things allowing you to control environment temperature, lighting, cameras, and security systems. You say "echo" and it starts to record. When you say "Goodnight Echo", it will check that the doors are locked.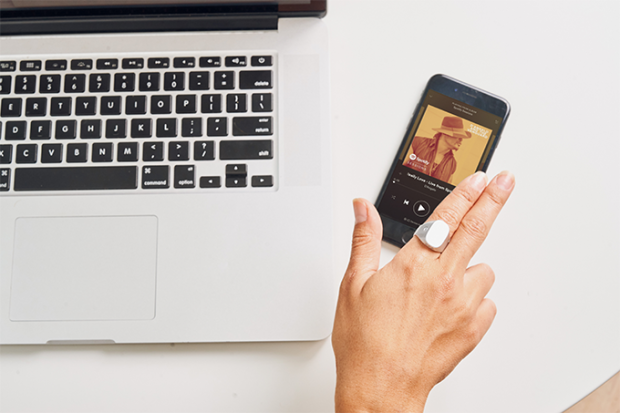 With Echo Ring and a flick of your finger you can accept or reject incoming phone calls without reaching for your cell phone. Use simple finger gestures, swipe right to accept call, left to reject and down to send to voicemail.
When playing music on your phone, Echo Ring allows you to change songs and control volume by simple finger movements. To skip a song, simply swipe right. You can increase or decrease volume by moving your finger up or down.
If you're trying to take the perfect picture but can't find the button on your phone, simply swipe your finger to take all the photos you'd like.
For busy people on the go, easily send emails with customized gesture controls.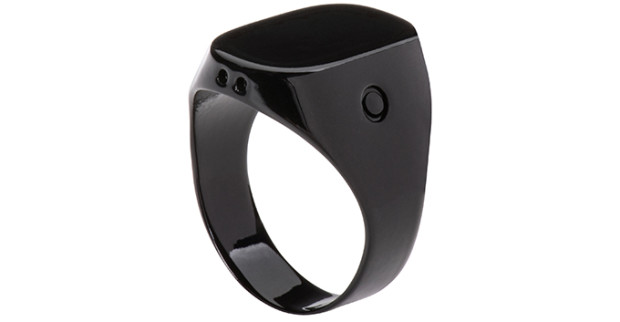 With only one press of a single button, quickly unlock the many features of Echo Ring, including voice assisted emergency features.
With Echo Ring, Say "HELP" 3 times and a predetermined message will be sent to whoever you like, police and emergency services, friends and family, or private security services.
For added security, an "Alert card" with your information (picture, location, time, voice recording) is sent out.
As long as you are wearing Echo Ring it shares and tracks your location after your emergency voice alert has been sent.
After an emergency alert has been sent, Echo Ring discreetly lets you know help is on the way
We understand that false alarms do happen, if this happens simply enter your custom password into the Echo Ring app to cancel emergency alerts.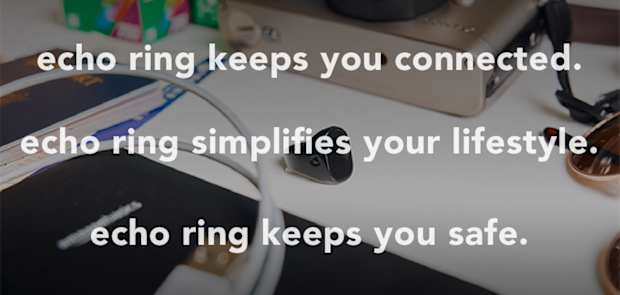 Noise canceling MEMS microphone with high SNR and flat wide band frequency response
ARM Cortex Processor
9 – axis Inertial Measurement Unit with: 3 – axis accelerometer, 3 – axis gyroscope and 3 – axis geomagnetic sensor
Tracking latency: 2ms
Mylar® speaker with Neodymium Iron Boron magnets
Weight: 16g (0.56 oz)
Bluetooth® Low Energy, class 2
Li – ion battery
Battery time: up to 2 days, or 5 hours talk time. Charging time: 90 min
Waterproof up to 1 meter (3 feet), IP X7
Material: Zirconia Ceramics
Anti-allergenic materials
App is compatible with iOS (9+) and Android (4.3+)
End of speech auto detection technology
Speech recognition, machine translation, voice synthesis, voice biometrics
Available colors: Paris Black, Miami White, Limited Edition Silver, Pink Ribbon Edition, Rome Red, Sydney Silver (matte), Tokyo Black (matte)