The most affordable way in history to own an electric bike. EAZY Bike is a simple kit that has a battery and a motor. You easily attach it to your bike in under 2 minutes.
With EAZY Bike, you have a powerful ebike bike that rides up to 20 mph (32 km/h). You can go anywhere you want with minimal effort. All this for the incredible price of $159.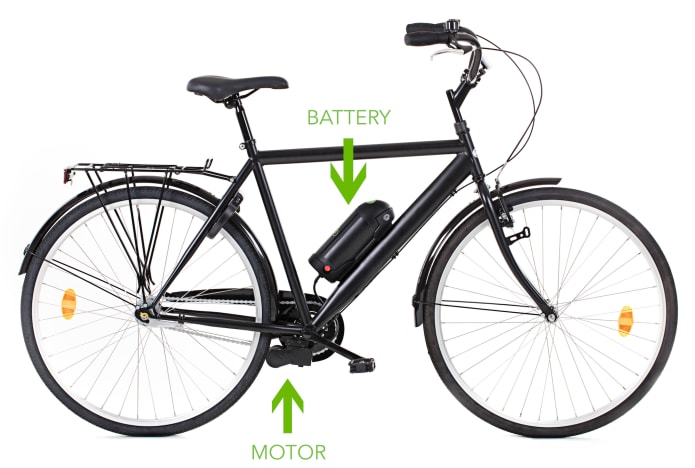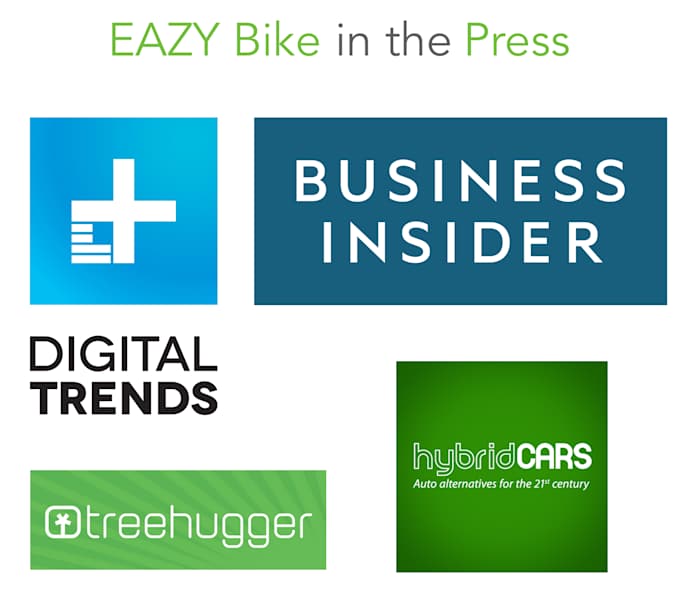 Instead of sitting in traffic jams, struggling to find parking or paying for expensive fuel, biking gives us the freedom to ride anywhere we want.

The problem? Biking is hard work! Nobody wants to get sweaty, tired or out of breath. An electric bike would make biking easy, fast and convenient, but you don't want to pay a fortune for a super expensive e-bike.

You save thousands compared to buying an electric bike. EAZY Bike makes your ride so much easier. Forget about hard work!

Every bike owner's dream has come true.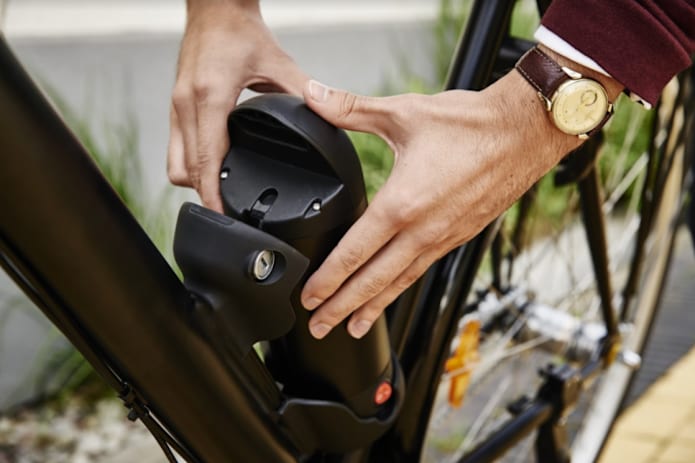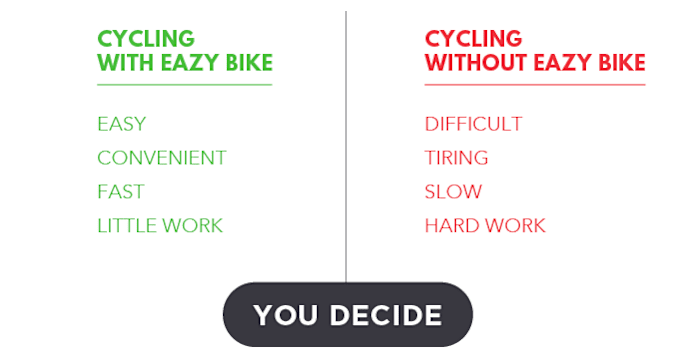 Traditional e-bikes are expensive and heavy. EAZY Bike gives you the same performance as a high-quality e-bike at 1/10 of the cost. Compatible with almost any bike, EAZY Bike combines a powerful motor with a long battery life to give you the best ride of your life.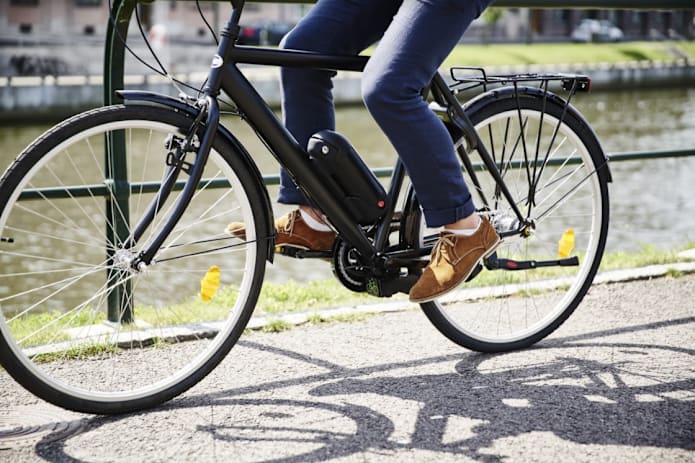 Don't do the hard work yourself, just lean back and let EAZY Bike do the work for you! Biking doesn't get any easier than this.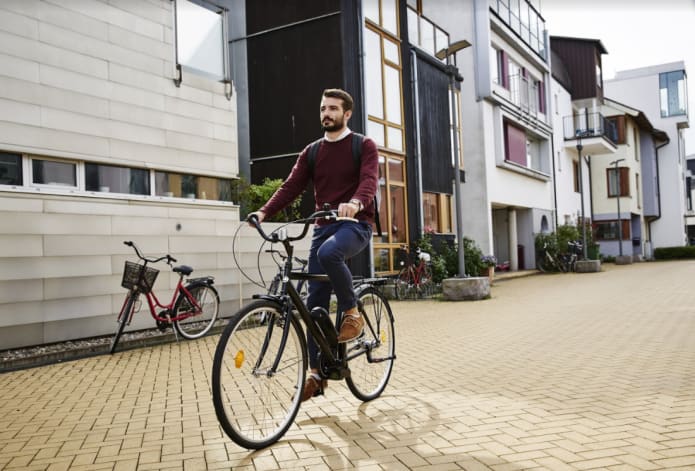 Once you start pedaling and reach a speed of at least 3 mph (5 km/h), the motor activates to power your ride. Once you stop pedaling, the motor rises off of the tire and stops powering your bike. It's as simple as that!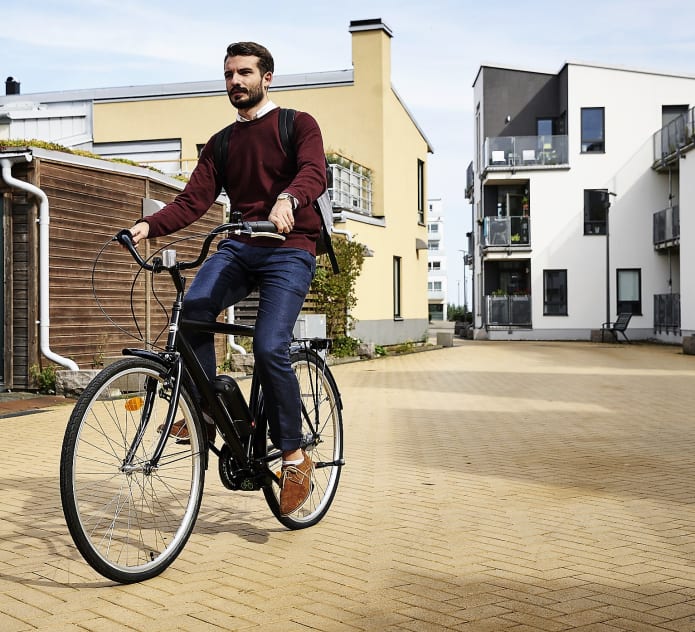 Be the smartest cyclist and transform your regular bike into an electric bike for 1/10 of the cost of an ebike.

The motor is made of high-quality, durable aluminium and the battery has high-power 18650 cells.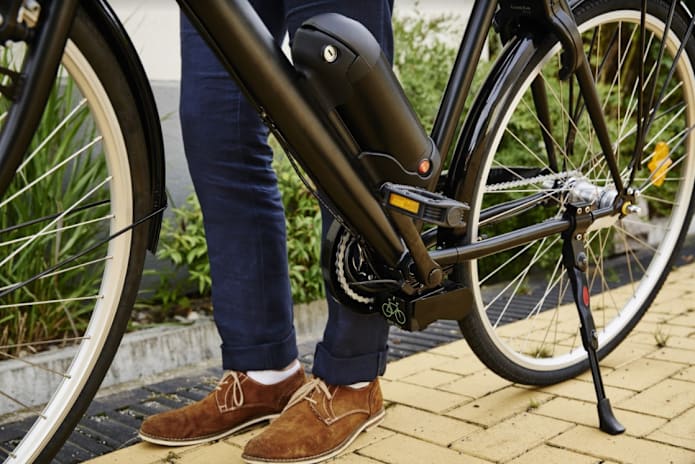 Two minutes is all you need to install EAZY Bike's two parts - that's enough time to pop some popcorn. Attach the battery to the frame and attach the motor between the pedal and back wheel and you're ready to go!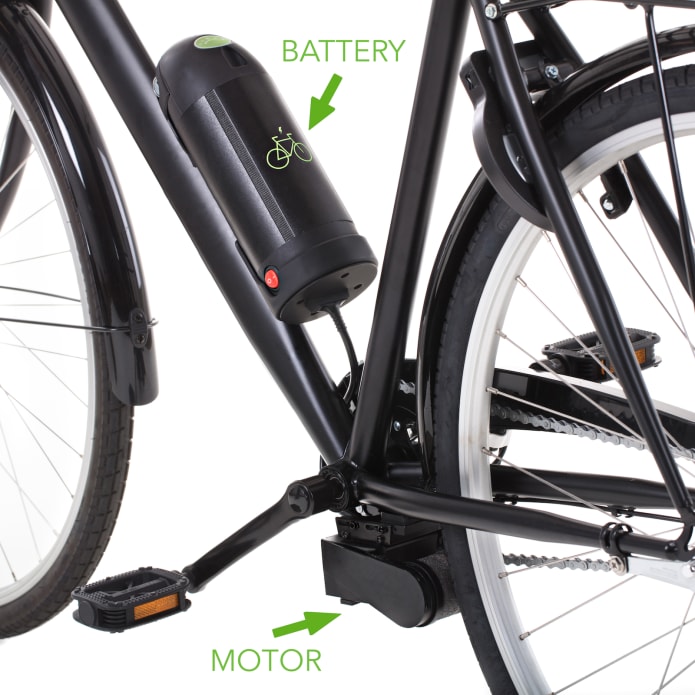 Made of lightweight, durable aluminum, the total kit weighs less than 5 lbs (2 kg). Designed by expert engineers, your ride incredibly enjoyable thanks to our kit's lightweight, low-point-of-gravity weight distribution.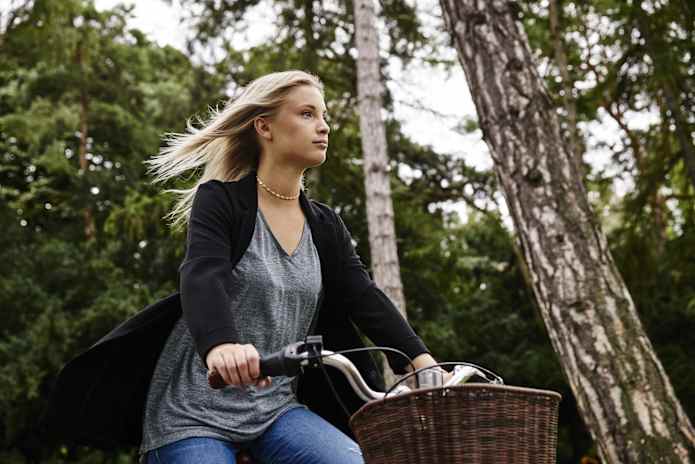 Have peace of mind by knowing that your EAZY Bike is theft proof.

EAZY Bike's high-quality, lithium-ion battery connects to your bike's frame and has an incredible range of up to 30 miles (50 km) on a single charge.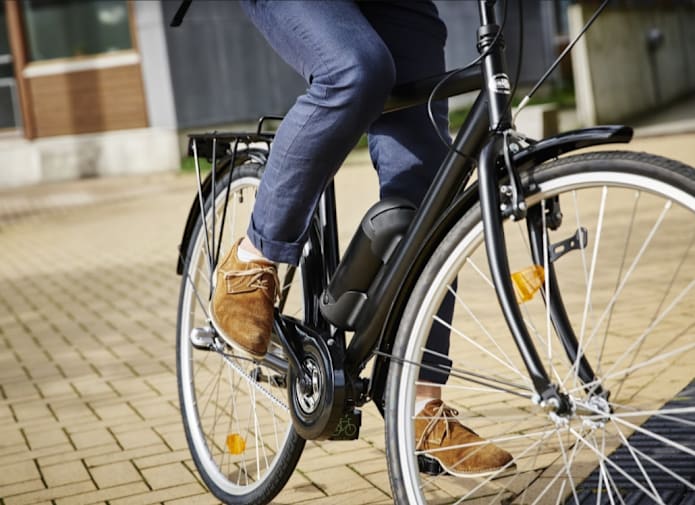 EAZY Bike has a unique friction motor with a higher power-to-weight ratio, lower overall weight and better weight distribution than traditional e-bikes. There are two motor options: 20 mph with 350 W (Legal in US) and 16 mph with 250 W (Legal in EU).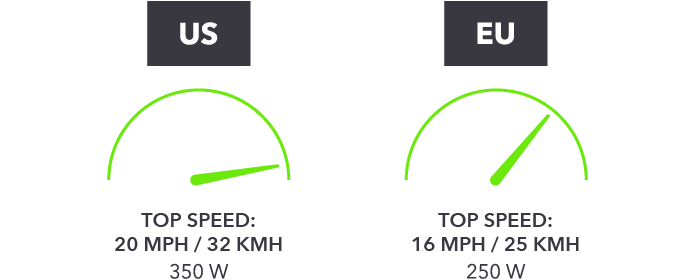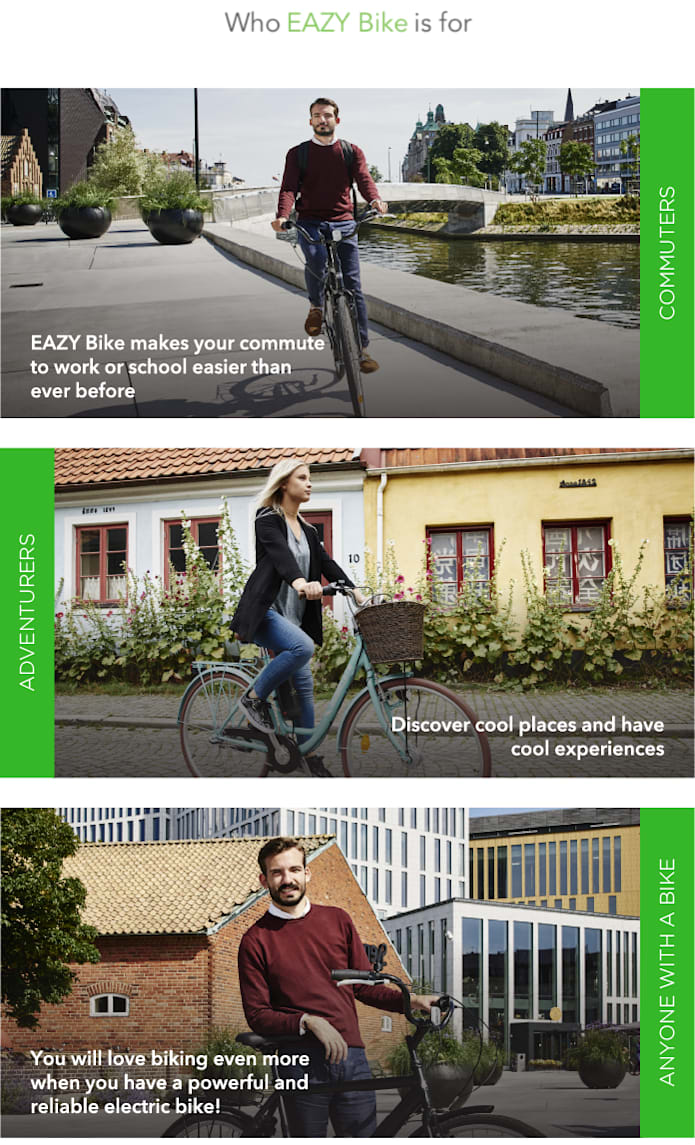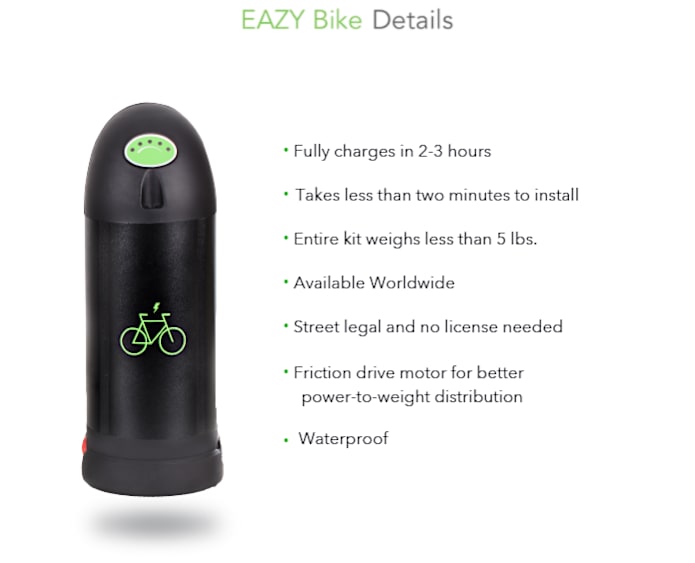 1. EAZY Bike has two parts: a battery and a motor: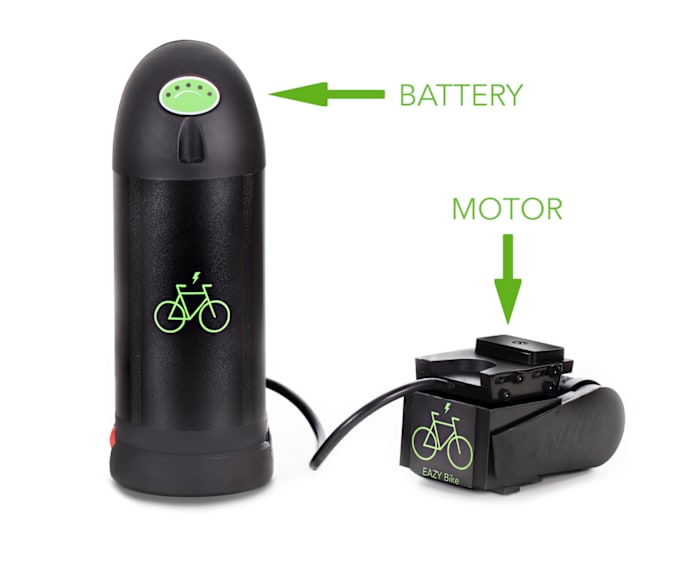 2. Attach the battery on your frame. Attach the motor behind your rear wheel. This takes under 2 minutes.
Start to pedal and the motor activates and gives you power.
Your EAZY Bike is waterproof, theft proof and street legal.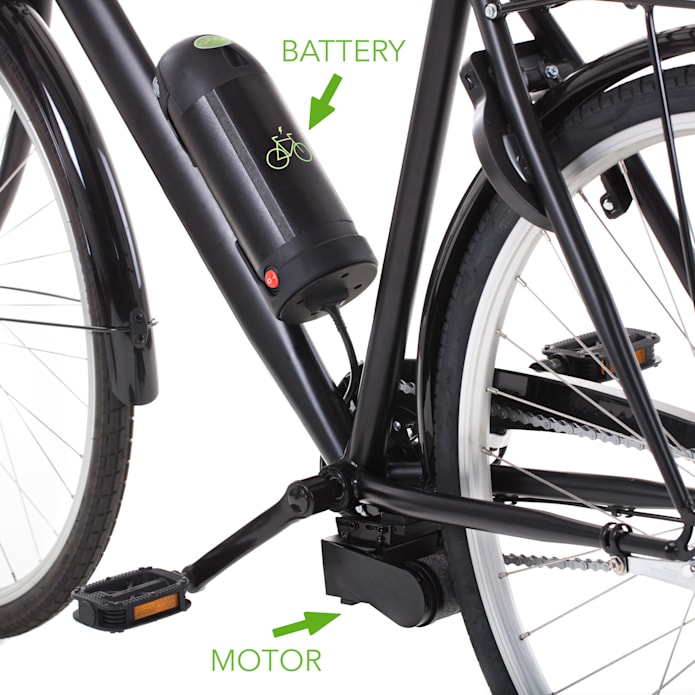 (3.) Attach the optional thumb throttle to your handlebar. Press it to go full electric. Only street legal in US: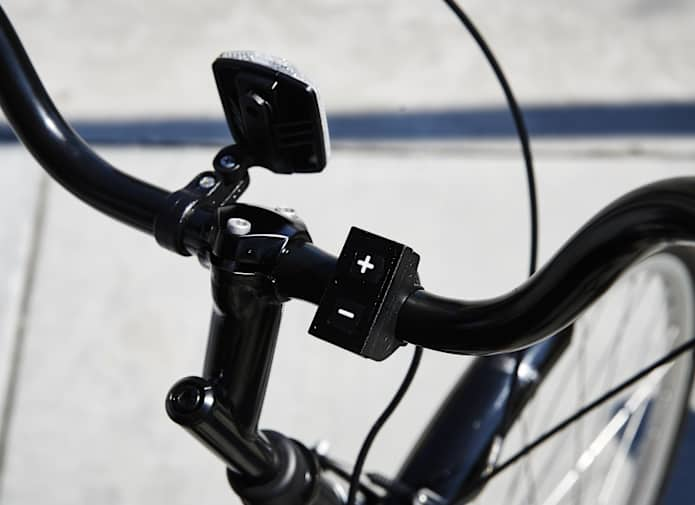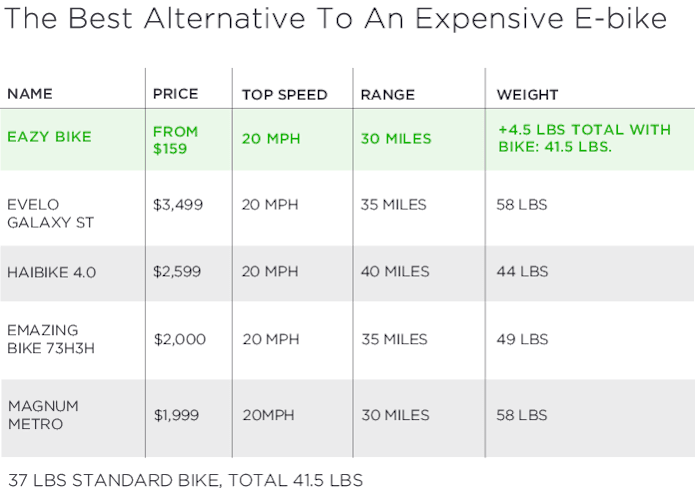 Electric bike companies want you to believe that you have to spend a fortune to get a quality electric bike. Who said you even need to get a new bike? Be smart and get the same performance as the expensive e-bikes but for only 1/10 of the cost.

"It basically did everything"
"The engine gave me a lot of power"
"I was going really fast with little work"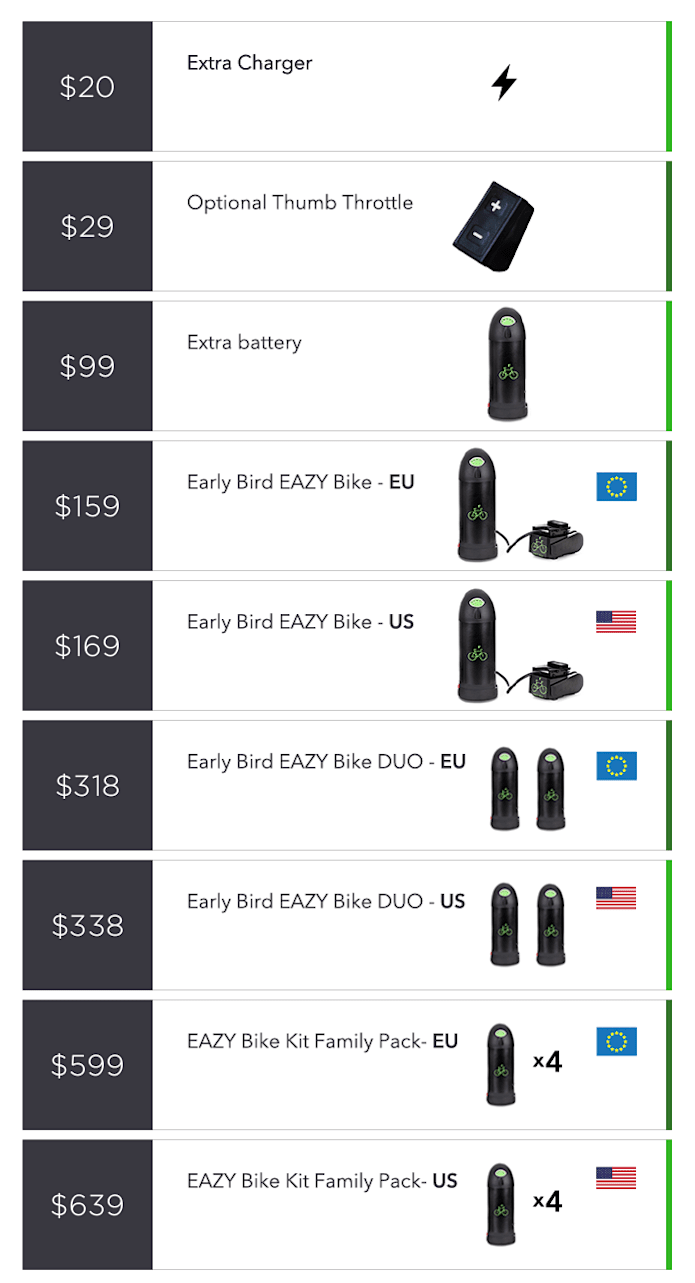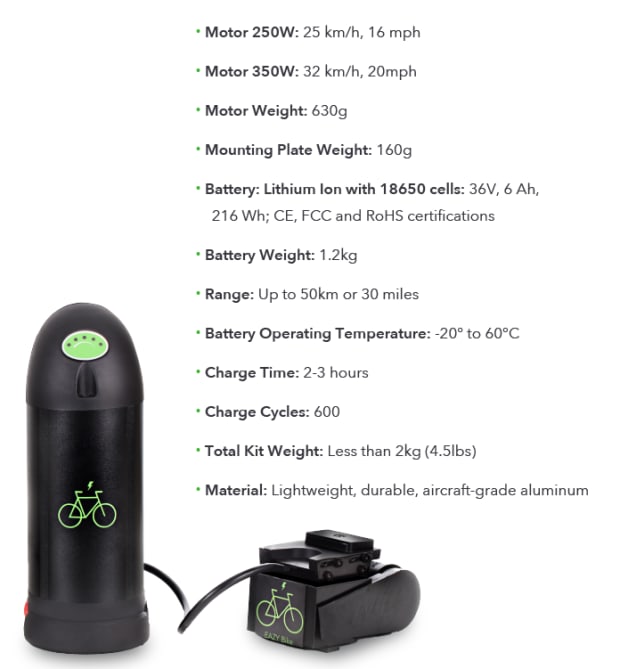 Any bike?

You can easily install EAZY Bike to over 99% of bikes. The kit does not work on folding bikes.
How easy is EAZY Bike to install?

EAZY Bike is super easy to install! Attach the motor behind your back wheel and attach the battery on your frame. Attach the optional power button (only available in US) to your handlebar. You now have a powerful ebike!
Do I need a license?

No you don't! EAZY Bike is completely street legal. You do not need any license or permit to use it. The 250W version is legal in Europe and the 350W version is legal in the US.


Tire wear?

The coating of the friction engine is optimized to minimize the tire wear. The increase in tire wear is minimum.

Does the engine work when it is wet?

Yes, we have optimized the friction engine for maximum power transfer to work even when it is soaking wet. EAZY Bike is water resistant.