With its mighty twin-turbocharged in-line six-cylinder engine. the RED Turbo is the perfect high-perfomance allround racer. The speed limiter wont kick in until you reach 8.500rpm. You also get the finest turbo sound with all the extras. Color: Europium Red
DR!FT is the world's first model car that performs with the same driving dynamics as a real race car. Until now miniature model cars behave in a non-realistic way and can be difficult to control, but DR!FT simulates the complete physics of a real race car.
The DR!FT-Racer accelerates and handles 100% like the real thing – on the kitchen table, living room floor, in the office or on your self built racetrack.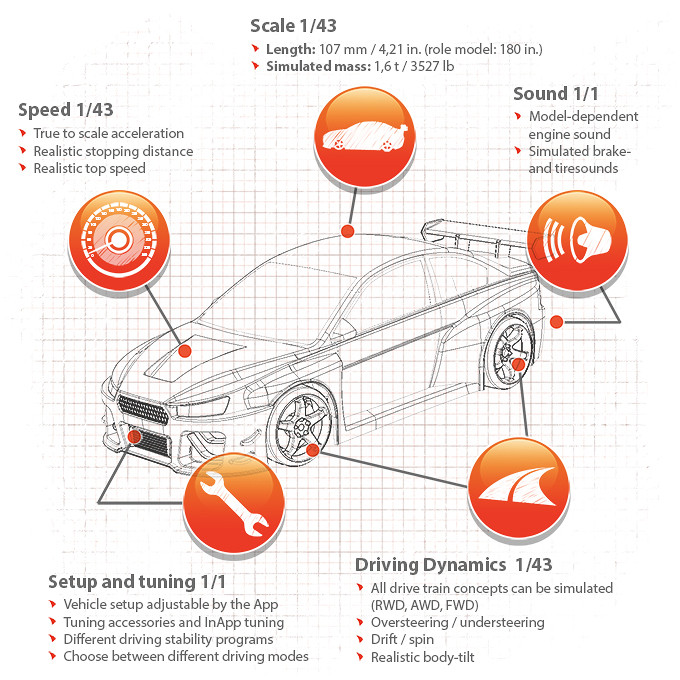 \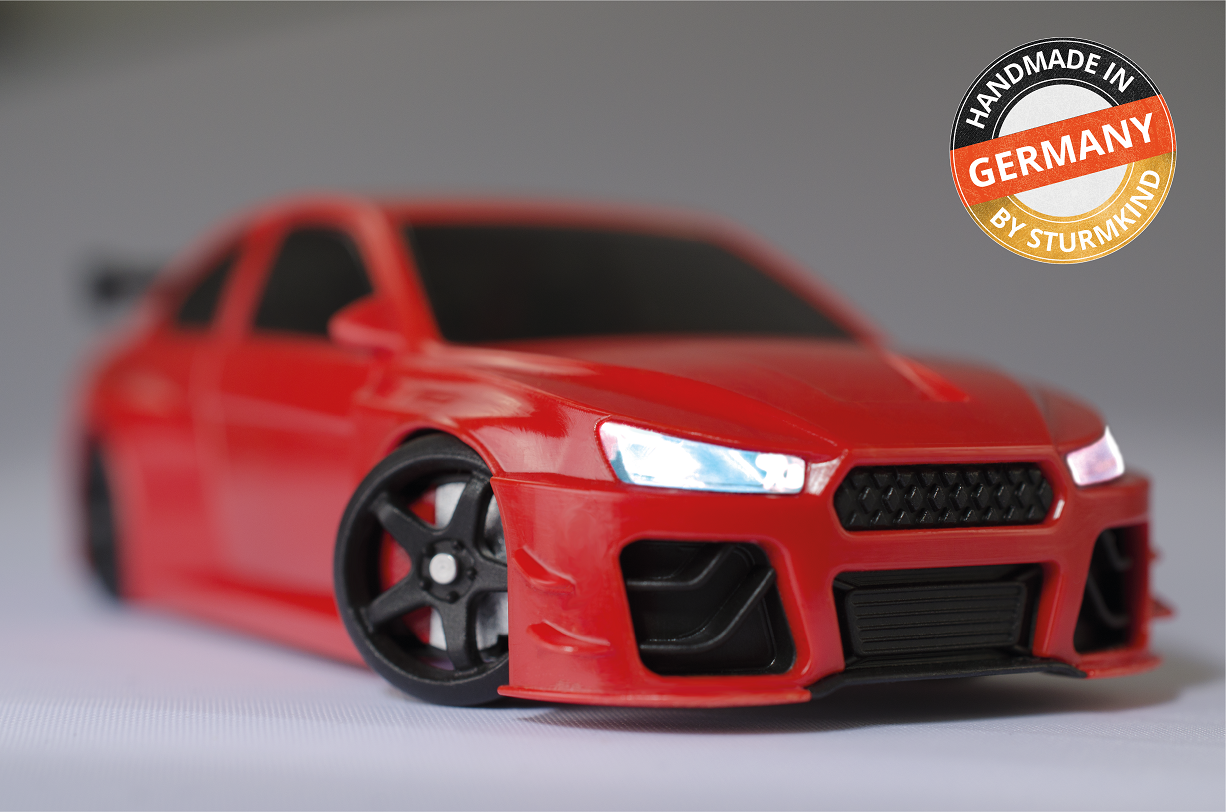 | | |
| --- | --- |
| Color: | Europium Red |
| Motor (simuliert): | R6 - Twin Turbo |
| Hubraum (simuliert): | 3,4 l |
| Leistung (simuliert): | 565 PS |
| Drehmoment (simuliert): | 570 Nm |
| Antriebskonzept (simuliert): | Frontmotor mit Hinterradantrieb |
| Größe Vorbild (L x B x H in m): | 4,60 x 1,98 x 1,50 |
| weight (simulated): | 1,6 t / 3527 lb |
| Größe Modell (L x B x H in mm): | 107 x 46 x 35 |
| Kostenfreie App für: | Android (ab 4.4) / iOS (ab 9) |
| Funksystem: | Bluetooth Smart |
| Fahrzeit: | 30 min |
| Ladezeit (vollständige Aufladung): | 30 min |
| Aufladen über: | included USB cable |
| Updatefähigkeit: | over the air |
FAQ
What is so special about DR!FT?
You will not get an ordinary RC car with DR!FT. You'll get a racing simulation for your smartphone, which sets standards by itself. The DR!FT-Racer themselves are the "output medium" of this driving-simulation and they can reproduce any real driving behavior, calculated by the app with the highest precision. This includes for example realistic acceleration, braking distance, spinns and, of course the most difficult state: controlled drifting. With DR!FT the realistic simulation is taken out of the computer and released in reality. This is completely new, worldwide unique and only possible due to the patented drive concept of the DR!FT-Racer.
Can I play with friends?
Because the vehicles are linked to your smartphone via Bluetooth-smart, you can also drive with your friends. Anything else would be boring.;)
Why does DR!FT cost more than many other RC-cars of similar size?
With DR!FT you will not get an ordinary RC-car. You get a high-quality racing simulation for your smartphone and a DR!FT-Racer, which is, so to speak, the "output" of this app game. We want you to have fun with this high-tech product for a long time. Every DR!FT-Racer is therefore produced here in Germany under high quality requirements. In addition, we offer you a comprehensive customer service and ensure that you have long-lasting pleasure in our products. This also includes the fact that the DR!FT-Racer are fully updateable, so you will have a product up-to-date for a long time.
Which functions can be used to control the DR!FT-Racer?
There is throttle, foot brake, hand brake and steering. There are additional functions such as light, starting and stopping the engine or a launch control.
Which underground is required for DR!FT?
DR!FT can be driven on any smooth surface. On the desk, on a glass plate and even on most wood and tile floors.
Do I need a fixed track for my DR!FT-Racer?
No, thanks to its unique concept, DR!FT can be controlled so precisely and easily that, even without a track control system, exciting races are almost everywhere possible. Of course you can also ride on existing tracks, like slotcar tracks with the DR!FT-Racer. Or you will become a model builder and build your own racetrack!
Are there extra batteries needed?
No, the DR!FT-Racer are equipped with a rechargeable built-in lithium-polymer battery. If really necessary, the battery is replaceable.
What is the run time with one charge?
The running time is more than 30 minutes.
How long does charging take?
The complete charging takes about 30 minutes.
How fast do the wheels wear?
The wheels, in the form of the mechanical parts on your DR!FT-Racer, do not wear and therefore they do not have to be replaced under normal use. However, DR!FT is supposed to be realistic. Therefor the conditions of the wheels are simulated in your app. The driving behavior changes, like a real car, with increasing tire wear. You can then simply change the tires in your simulation free of charge.
How fast can the DR!FT-Racer drive?
In most of our videos, scale speeds of 60-100 km / h are demonstrated. The racers can reach speeds of more than 1.5 m / s, which is far beyond the 200 km / h mark. The top speed depends on how fast the respective car can go in real.
If I have technical problems with my DR!FT-Racer, is there anybody I can contact?
info@sturmkind.com In addition to product development, we will set up a service center in Speyer, Germany. You can then contact us at any time. It is our demand to develop products that offer extraordinary gaming-fun. So it is very important to us that these products are capable of intensive and long-term use. Should there ever be a problem, we will take care of it. "Made in Germany" means for us that you always have a contact person and many years of fun with our products.