Grouphunt X SANL to bring you on an adventure filled Sunrise-chasing weekend trip to Broga, Malaysia!
(5 reserved slots for Grouphunt members, so act fast!)
Perfect for Adventure-seekers & Sunrise-Chasers !
What's the plan ?
Are you game for a short weekend packed with non-stop action-packed adventures ! Only for the adventurous soul. Let the pictures & our video speak to you for this event ! Broga Sunrise + 4 activities that challenge your mind : yet safe & no annual leave required. Those of you who have been with TS to any of his M'sian trips will know he chose only those activities that it's interesting & worth doing.
--------- > Sunrise Trek @ Broga Hill, 400 m
The beauty of this hill is the tall and dense weed, and the spectacular Sunrise view. As the hill has 4-peaks, it gives climbers the option to climb to a higher peak for a wider view of the surrounding area. The dense weeds seem to look like they're dancing when the wind blows.
Drone video of Broga Hill 03/02/2015. Credit to Ahmad Fashiry Abu Hanifah. Awesome view - well done !
The 4 action-pack adventures : Via Ferrata, Waterfall Abseil, Flying Fox, Wall Climbing
--------- > [Via-Ferrata]
The essence of a modern via ferrata is a steel cable which runs along a pre-set route fixed to the rock. Using a via ferrata kit which climbers secure themselves to the cable, limiting any falls. The cable can also be used as aid to climbing, and additional climbing aids, such as iron rungs (stemples), pegs, carved steps and even ladders and bridges are often provided. Thus via ferratas allow otherwise dangerous routes to be undertaken without the risks associated with unprotected scrambling and climbing or the need for climbing equipment such as ropes. They offer the relatively inexperienced a means of enjoying dramatic positions and accessing difficult peaks & stunning views.
Source :
https://en.wikipedia.org/wiki/Via_ferrata
--------- > [Wall Climbing]
--------- > [Flying fox]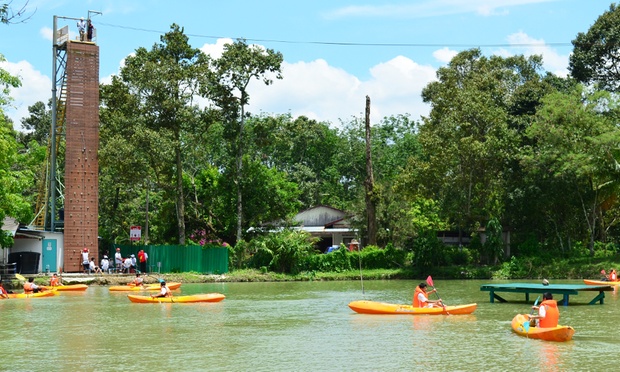 --------- > [Broga Waterfall Abseiling]
Our Campsite
is a camp that strives to serve the community by providing affordable camp experience that is safe and healthy with the support by trained staffs. Its rustic & simple accommodation facilities (air-conditioned dormitory made from container) can accommodate up to 200 pax with a total of 30 rooms made up by 4 zones.
Note: Facilities are provided for own usage WITHOUT the guidance of a sports coach or instructor.
● Basketball
● Beach Volleyball
● Football
● Frisbee
● Ping Pong
● Badminton (RM5 per shuttle with RM10/racket deposit)
● Fishing (RM10/ 2hour, search around for bait)
● Mountain Bike (RM10 per hour with RM10 deposit)
--------- > Campfire show & self-cook BBQ dinner
A special edition SANL & our Broga Partner dri-fit Tees
Cost To pay & Includes :
**Please note that when you pay through Grouphunt, you have already secured yourself a slot on the trip. A follow up email containing further instructions will be sent to you within 24 hours upon payment.**
30 pax - SGD 178
31< Pax - SGD 168
(In the event that the number of people going exceeds 31 Pax, $10 will be refunded to you since the cost of the trip will become $168.)
-> 2-ways transport SIN - Broga - SIN in AC coach
-> 1 Nights Accommodation in AC dormitories : 4,6,8 and 10 bedded (lady & man separated - no single, twin or double)
-> 3 meals (Lunch, Self-cook BBQ Dinner and 2nd day Breakfast)
-> Guided Broga Hill Sunrise hike
-> Via Ferrata, Flying Fox, Wall Climbing, Broga Waterfall Abseiling - instructors & equipment with safety gears (1 session per person only for Flyingfox & Wall Climb)
-> Transport & Entrance fees
-> Campfire show
-> Personal Insurance by Malaysia Operator (Passport and full name are needed for registration)
-> A Special Edition T-shirt of SANL & our Broga partner
-> Tonnes of fun & adventure !
Excludes
> Personal Travel Insurance (highly recommended)
> 3 Meals not included : Day 1 breakfast & Day 2 lunch & dinner
> Any other items not mentioned in *includes* list above
========== Suggested Itinerary ======
---> Day 0
Meet & greet & depart for CIQ
Overnight drive to Venue
---> Day 1
Reached Broga, breakfast @ Broga town (BYO)
Arrival & briefing by Camp Master
X activities : Via - Ferrata
Lunch [provided]
X activities: Abseiling
Stop all activities, Check-in/Wash up
Self-cooked BBQ
Campfire show and dance
Chillax / Sing under the sky
---> Day 2
Broga hill Sunrise hike @ 400 m
Breakfast [Provided]
X activities : Wall Climb & flying fox
Stop all activities, wash up & check out
Lunch in Broga/Semenyih town [BYO]
Drive back home
Free & Easy in Johor (if time allow)
Dinner (BYO)
Home Sweet Home
=======> FAQs
1) I am new to all the activities, is this suitable for me ?
As long you have some basic fitness & not suffering from any physical or medical conditions and most important an adventurous spirit always open to challenges. If still unsure, do consult your doctor. However; if there is heavy rain - climbing up Broga hill can be muddy tricky for beginners but its doable as the guide will be there.
2) Do we need any skills for this ? And what to pack ?
All required briefing & safety instructions will be provided on-site. Packing list & detailed briefing notes will be send to confirmed participants nearer to event date.
3) I have height phobia, can I skip those activities involving height ?
NO PROBLEM ! However you're encouraged to try - all safety equipment & instructors are there to help you. OR You can just follow the adventure without the need to do all those activities involving heights. Chill & Relax
==============================
NOTE : This is a pay-to-go event as upfront cost & advance deposits are required to reserve the operators services. After you have made payment organizer will move you into the GOING list. The meetup rsvp on the right will always show "No spots left" which is incorrect unless announced by organizer.
==============================
Travel Insurance from Singapore : highly recommended
Details briefing & packing list : will be email to confirm participants only.
--------------------------------------------------
Tour will be lead by Chua Tien Seng, certificated Professional Tour Leader & Certified First Aider, CPR + AED from St John Singapore
==================================
Organized jointly with :
Rockerfellas Adventure Pte. Ltd.
STB Travel Agents' License No. 02861
--------------------- DISCLAIMER -------------------
Singapore Adventurous Nature-Lovers Meetup is an amateur adventure platform that welcomes all outdoor adventure seekers. By joining the activities, all participants are deemed to have agreed to the terms and conditions contained in this disclaimer, and agreed to exonerate the activities leaders, the organizers and any other participants in the trips from any liabilities, claims, including but not limited to liabilities and claims as a result of any injuries or deaths or damages arising thereof.
**When you have made payment, it is understood that you have read, agreed and accepted the terms and conditions as stated below.**
The participant acknowledges that this is an adventure trip. The itinerary serves as a guide only and changes and flexibility may be required. The organizers cannot be held responsible for any changes, cancellations or delays caused by accidents, strikes, government regulations, weather conditions or natural calamities, etc.
The participant is advised to have comprehensive travel insurance against medical emergencies, personal accidents, natural calamities, etc. with the appropriate coverage of activities and geographical area.
Participants must know that there is a possibility that the activity will be rescheduled due to unfavorable weather conditions. There will be no refund: only re-scheduling.
The participant understands that during the course of the trip certain events may occur, including, but not limited to, accident or illness, political instability and the forces of nature. The participant agrees to assume all risks associated with the trip and indemnifies the organizers and hosts against all claims arising from his / her participation.