MEET AYO
AYO is a revolutionary product that helps you boost your overall energy levels, optimize your sleep and beat the jet lag during your travels!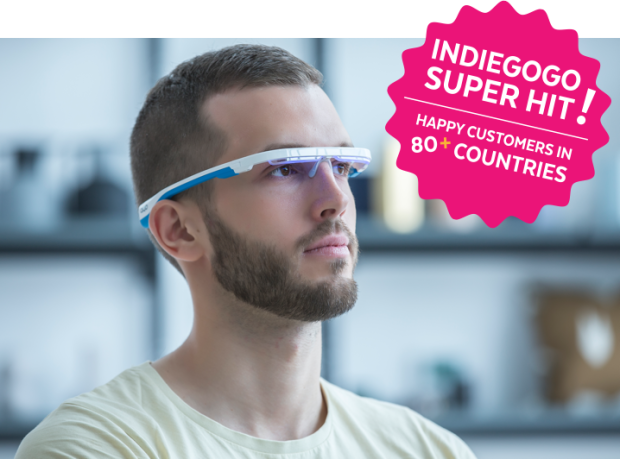 Technology based on more than 20 years of Chronobiology research in leading institutions, including Harvard, Oxford and NASA.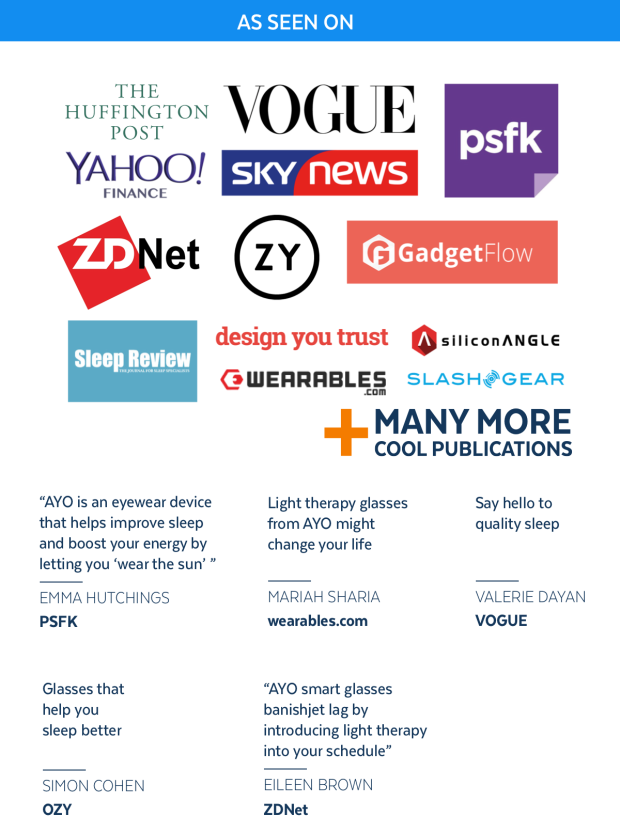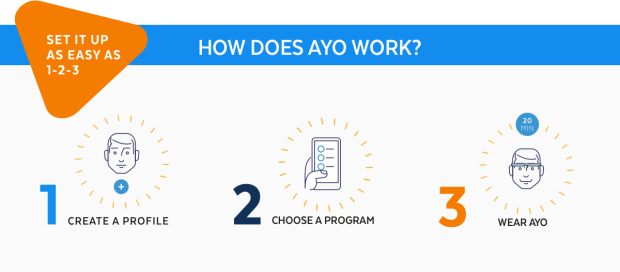 Our bodies are sensitive to light exposure, specifically light color, intensity and timing, releasing hormones that regulate many of our body functions like sleep, metabolism, mood and ultimately behavior.
By wearing AYO in as little as 20 minutes a day, the clinically-backed AYO light can help you wake up easier while feeling more energized as well as alleviate jet lag or make you more active in the dark and evening hours, depending on the program you choose.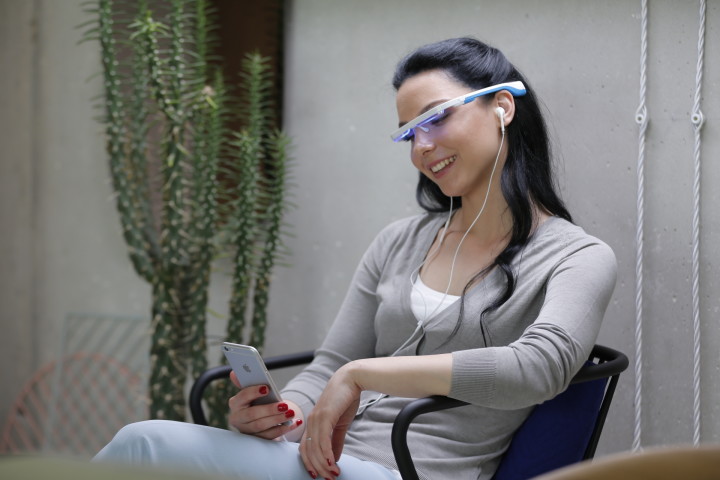 Due to the innovative and user-friendly design, you can use AYO while brushing your teeth, making breakfast, watching TV, reading the newspaper, checking your emails, etc. - it does not distract your eyesight in any way.
Most of our 2000+ customers experience positive effects of AYO immediately or shortly after a session and are able reach their energy goals in three to seven days.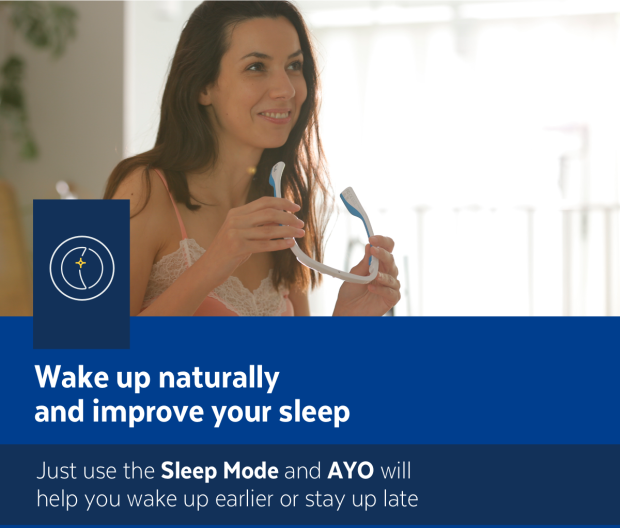 Do you keep snoozing the alarm? AYO can help you wake up naturally with a smile on your face.

AYO sets your "biological alarm clock" so your body is "fully charged" at the start of a new day. AYO optimizes and adjusts your melatonin onset and offset to help you experience newfound energy and a natural & easy wake-up routine.

AYO accomplishes this by finding out what your chronotype is (whether you are a morning person or an evening person) and helps you shift your body rhythm in the desired direction.

Forget about pesky alarms, snoozing or tumbling in bed. AYO helps you actively optimize your sleep quality and habits.

Find and set your natural sleep rhythm for brilliant, energizing sleep and a healthier, more productive time awake with AYO!

Traveling across 3 or more time zones? Then you are going to be jet lagged! As little as twenty minutes of "AYO" per day can help it go away!

Long-haul jet flights create jet lag: Tiredness and disorientation sometimes lasting for days after the flight, interfering with vacations or business trips.

AYO helps our customers who are long-haul travelers adapt better to a new time zone by assessing their flight itinerary and sleep habits, and then providing guidance on the AYO usage.
On each trip, AYO customizes your AYO-wearing schedule, telling you when to wear the glasses to best adjust your internal body clock to the new time zone.

No more sleepless nights, dozing off in meetings, stress or other jet lag symptoms.

AYO is the long-distance traveler's best friend and the technology behind AYO has been shown to help the long-distance travelers adapt to a new time zone 60% faster than usual.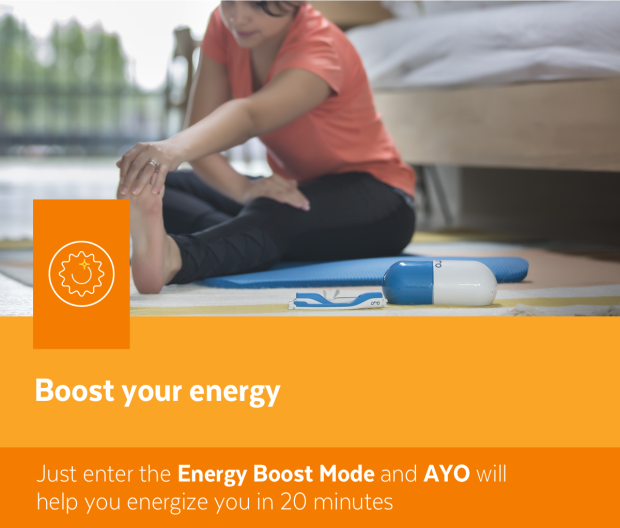 Forget the "power nap." Take a 20-minute "power boost" instead!

AYO boosts your energy and attention levels, enabling you to become more focused, rested and active. The unique blue light gently delivered by AYO to your eyes mimics the natural light of a sunny summer's day, delivering extra bolts of energy along the way.

When your energy dips anytime during the day or the night or winter season, take an "energy boost" with AYO. For most, it's a mood enhancer too!

Chronobiology is the study of everyday human activities and bodily processes related to the natural body rhythm. AYO uses Chronobiology insights to put you in charge of your own rhythm.
The AYO light gently enters your eyes, just like sunlight, and triggers retinal ganglion cells that send signals to your brain. These signals can order your brain to stimulate cortisol – energy producing hormone or suppress melatonin - the hormone that makes you sleepy.
The result: you're rapidly more awake and energized in a natural way, wherever in the world you may be!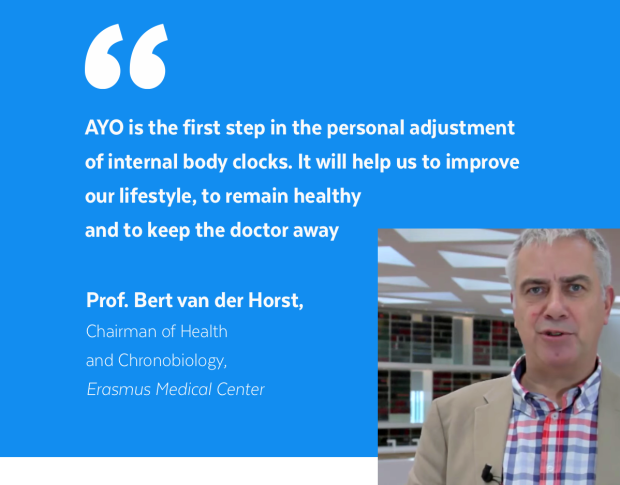 To learn more about the science behind AYO, make sure to visit the Science and Benefits page of our website: http://goayo.com/benefits.html