Please note this is a
Crowdfunding Hunt
. While Grouphunt does not guarantee the promises as advertised by the creator, what we promise is to redistribute the goods to you as soon as we receive them, similar to if you placed the pledge on your own.
Meet ASAP Connect. This revolutionary magnetic cable will allow you to connect your phone or USB devices to your cable quickly and seamlessly. The patent-pending magnetic technology coupled with superior materials including rare earth neodymium magnets, 18K gold plated connectors, aluminium shield and nylon braided cables, ASAP Connect will change the way you connect your phone forever!

Each order comes with one ASAP Cable (choose from 4 different colours, see below for pictures) and tip (Alpha for Apple devices or MicroUSB).
Extra tips are at $12.90 each
For this hunt to go through we require 10 orders so don't forget to share this with your friends and JOIN THE HUNT!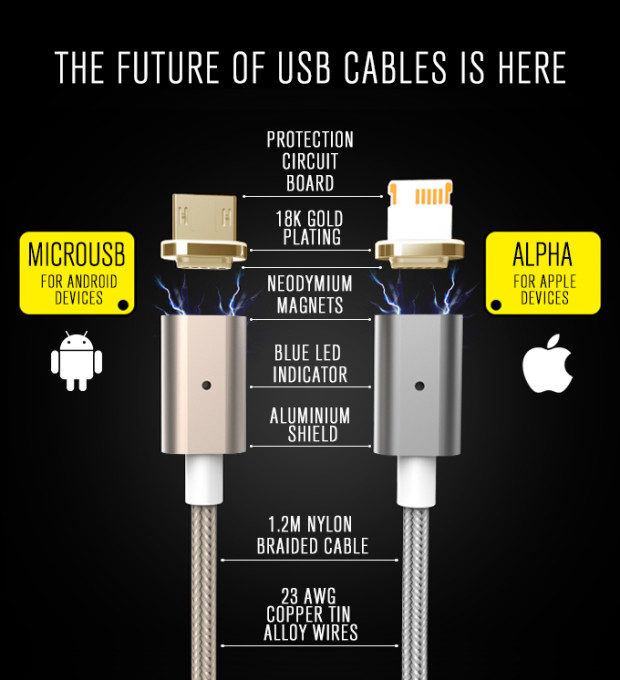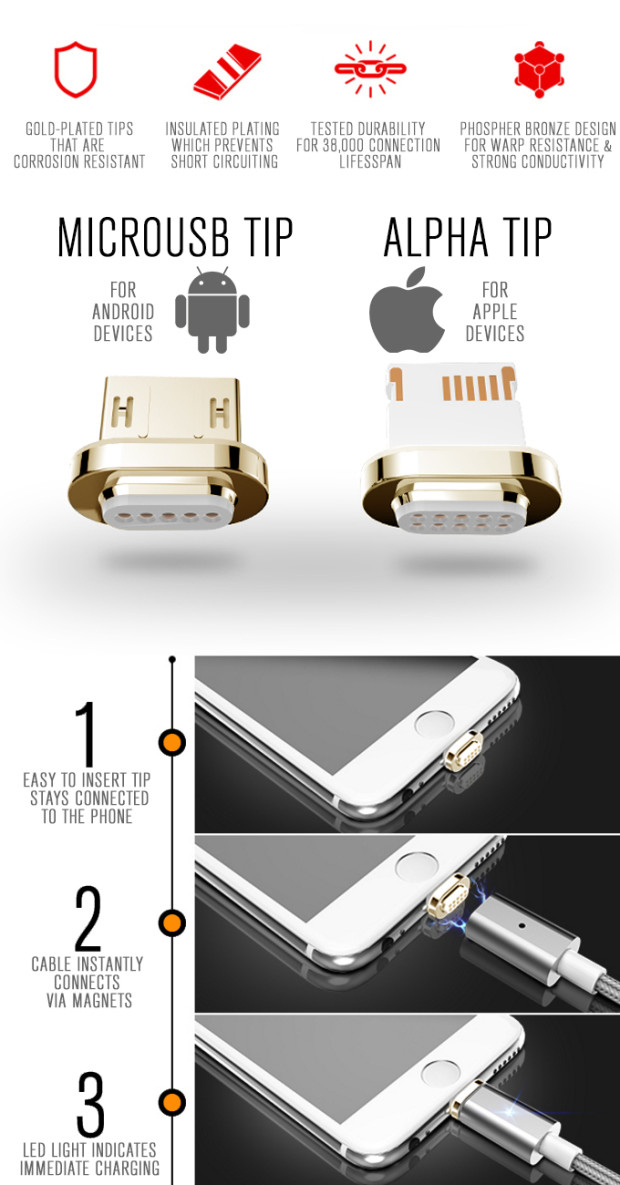 Sick and tired of flipping your cables back and forth to connect it on the right side? We were too, so we engineered ASAP Connect to have dual reversible connectors. This means first connection every time on both ends of the cable. Now you can connect your phone even in the dark! Check it out in action below.
Device/Phone (output end)
USB Type A (input end)

ASAP Connects features a reversible Type A connector that we hope to see become a standard for all USB devices one day. We've evolved it from the older reversible Type A connector which moves back and forth and tends to break over time rather than stay stationary. The result is a seamless instant connection every time.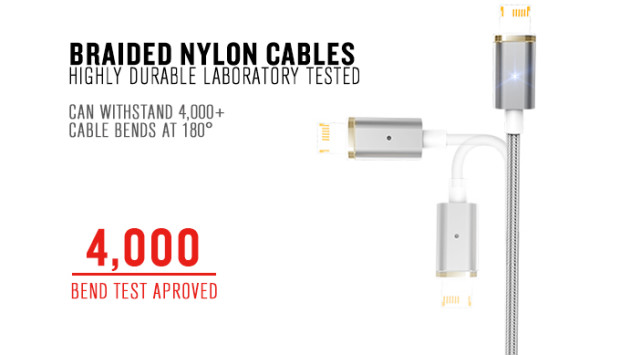 Through years of design and material testing, we've reduced the size of the ASAP Connect tip to only 10mm (0.39") wide which fits perfectly into all your Apple and Android devices. We've tested the tips on over 100 phone cases and found it fit on all of them. The only exception is for some phone cases which have a protective flap on the charging port which may not be able to close properly with the tip in place. This also the case for the Samsung S5 phone due to its inbuilt protective flap.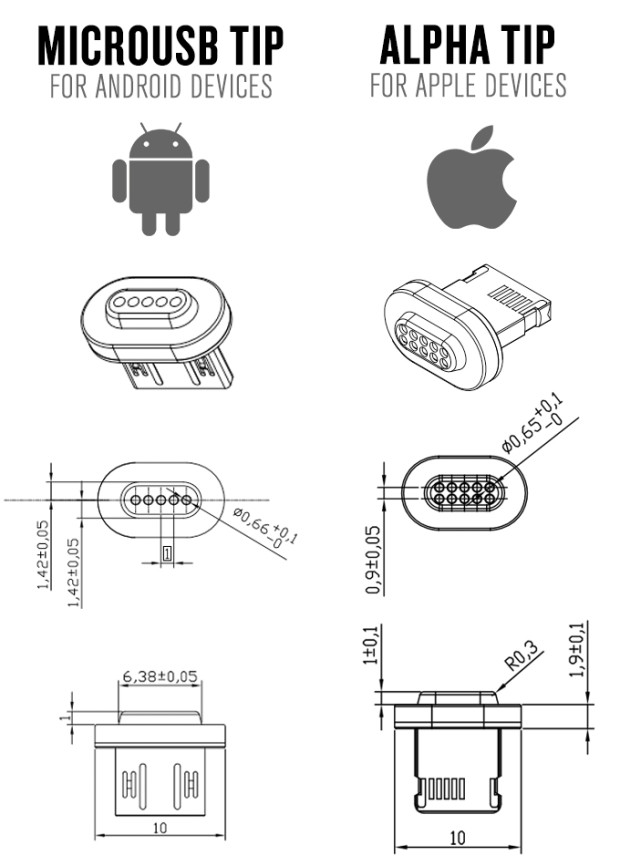 What truly sets ASAP Connect apart from other magnetic connectors is its unique bevelled and concave magnetic connector design on both the tip end and cable head end.
Through this careful 360° exterior positioning of 2 strong neodymium magnets on both ends, the tip only needs to be within the magnetic field of the cable end to be quickly attracted and connect seamlessly.
Competitor designs require the tips to be correctly aligned inside the cable head which requires guidance to be connected correctly if missed. Competitor designs also use weaker magnets and require a very perfect alignment of the cable and tip for a correct connection. See if you can guess which is ASAP Connect below.
Don't be fooled by the similar external look of competitor cables, ASAP Connect (on the right) will connect correctly even if the tip is flipped 180° due to both the strong neodymium magnets having their polarity perfectly positioned and the unique outward and concave magnetic connector design.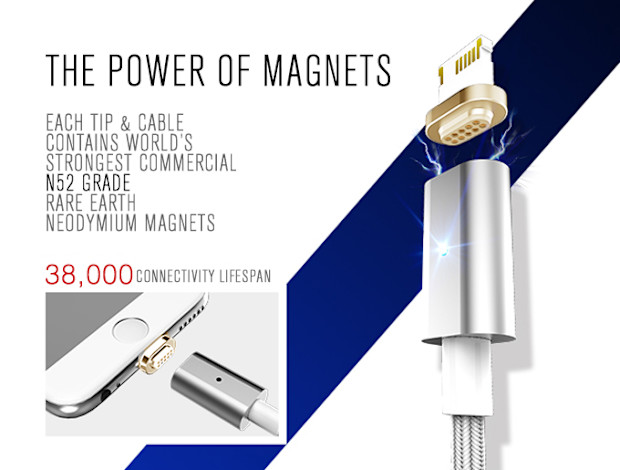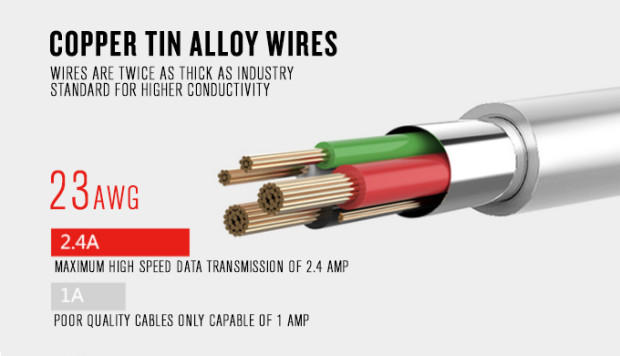 We've added an adapter perk which is based off the same technology as the cable. The advantage of the adapter is that you can swap between your existing cable and the magnetic cable by simply snapping on or off the adapter. Please note that we highly recommend the cable over the adapterdue to the adapter combined with your existing cable being heavier than just the ASAP Connect cable head on it's own. A heavier cable head means it is more likely for the magnets to disconnect during use.
So far we are offering the adapter in the colors silver and gunmetal. We may offer down the track the colors rose gold and gold if we see a good response for the adapters.
When the adapter is attached to your cable the LED light will stay on permanently when connected to a power source. This is different to the cable LED light which only turns on when connected to your phone.
Please note: you do not need to purchase the adapter to use the current ASAP Connect.



We've tested the cables on dozens of Apple and Android devices and have reported no compatibility issues. As long as you have any device that requires a Lightning connector (such as iPhone 6, iPhone 6 plus, iPad, iPad Mini etc.) or a MicroUSB connector (such as Android phones, mini speakers, headphones etc.) ASAP Connect will work every time.
ASAP Connect is 100% compatible with all data transfer technology and fast charge technology including QualComm 2.0, QualComm 3.0 and Samsung Adaptive Fast Charge.
Please note that our cables are not cross compatible which means Apple cables are not compatible with Android tips and vice versa due to their unique connector properties. More information is available in the design section below.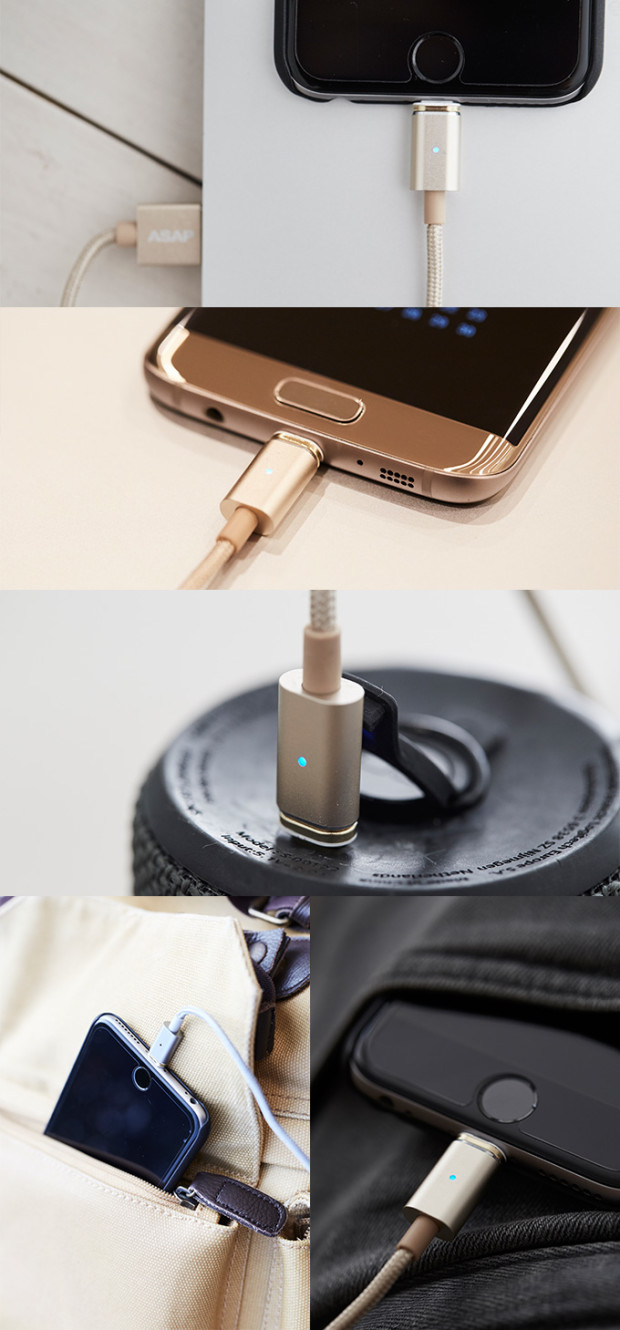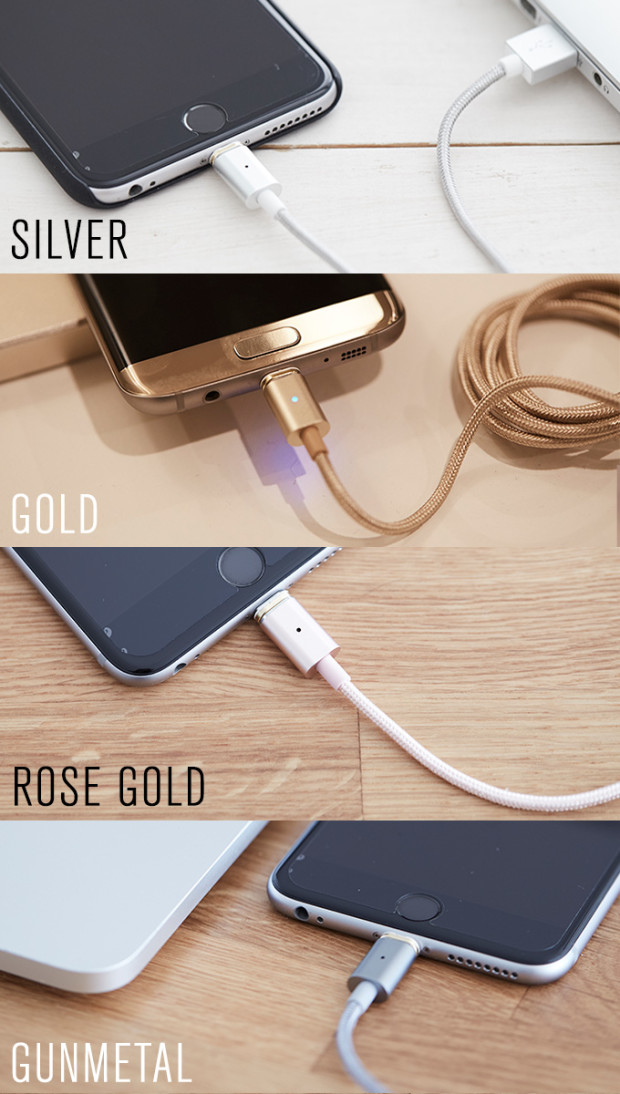 We have evolved away from the traditional Lightning tip for Apple devices to create what we call the "Alpha" tip for 2 main reasons:
REASON 1: Have you ever had your Lightning tip start wobbling and eventually break off? This happens because the tip and base are made of 2 different components which break apart over repeated use. The Alpha tip solves this problem by integrating both the tip and base into 1 piece.
REASON 2: As Apple has not currently released their own magnetic Lightning tips, anyone seeking MFi certification from Apple will be refused as they will need to purchase the tips from an Apple MFi certified magnetic Lightning tip manufacturer which does not currently exist as of April 2016.
Without MFi certification most major retailers will not sell a USB cable for Apple devices and leaves the brand potentially open to law suits from Apple. The integration of the Alpha tip bypasses this certification process by not using the Lightning tip and allowing ASAP Connect to be manufactured and sold in major retailers worldwide.