Captures more details of light changes in every beautiful moment. Mokacam packs Ultra-high Definition imaging technology into a tiny action cam.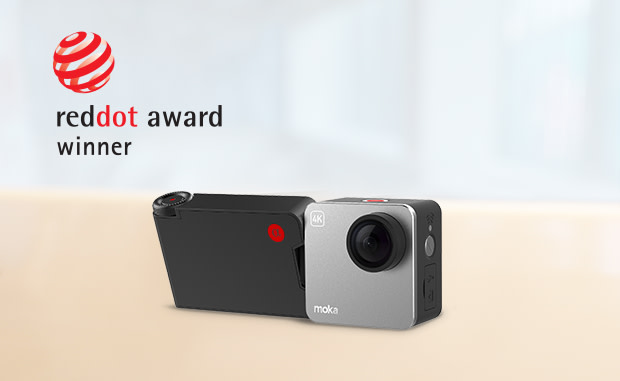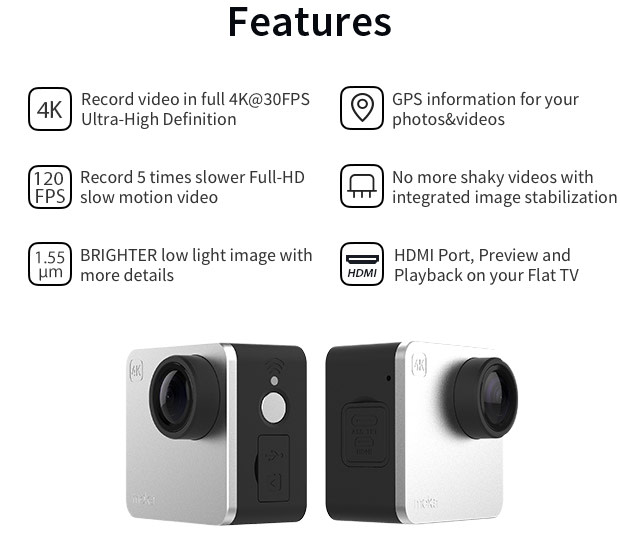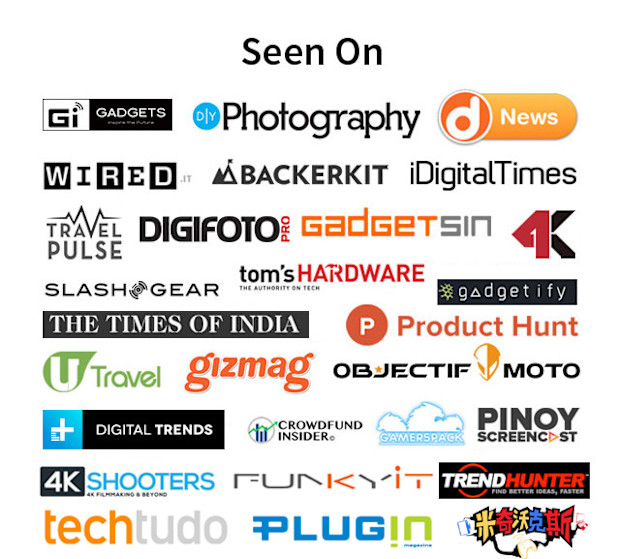 Mokacam Alpha captures brighter image with more details under low light environment. The Ambrella image processor and the 1.55μm Sony image sensor provides features of 4K Ultra-HD or Full-HD 1/5 Speed Slow Motion video with incredible image quality.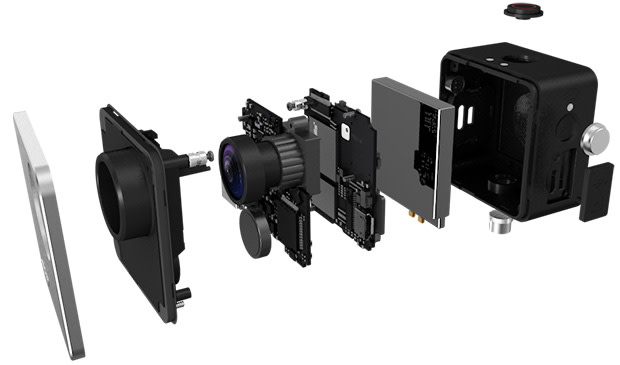 Mokacam Alpha compared to GoPro Hero 5 Black
New
Sample Video
Visit the Balboa Island (Los Angeles) to see which one is more realistic on color reproduction.
Visit the Getty Center (Los Angeles) to see which one is more realistic on color reproduction.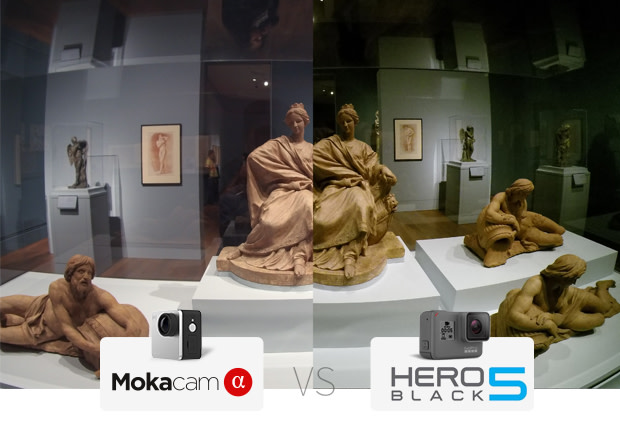 CLICK the pic to see the full size photo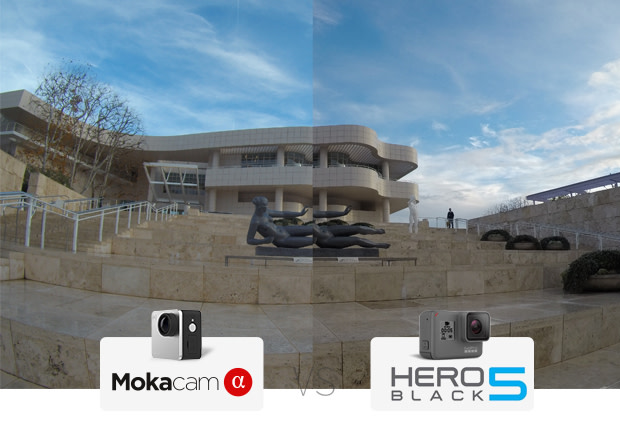 Download
the original sample photos
HERE
Compared to GoPro Hero5 Black
No Glass in the front of Lens=More Light, Better Image
No Reflection of Light by Glass=Better Color Reproduction
Smaller Size=Easier to Wear
1/4" Screw Mount=More Flexibility
Magnet Mount=More Creative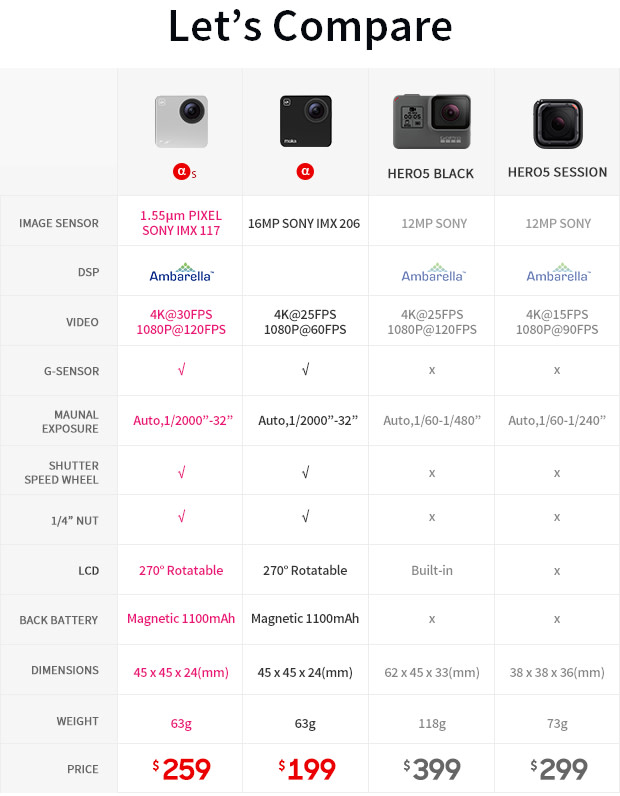 Seach #mokacam on instagram and YouTube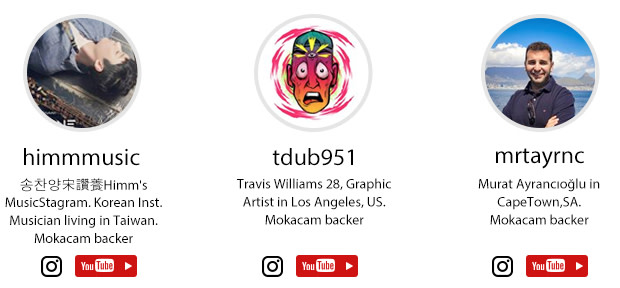 Click the link above to watch the videos they filmed with Mokacam
Testimonials
nicomeech (France): I was one that i bought the very first Mokacam and this product is amazing ! The moka camera is very good, so i trust in you and in your company. I support you again for this new project, because i was happy from the first one :)
kimvellore (California, US): I have been using the Mokacam and I love it. I am looking forward to this awesome new camera.
ticous78 (Paris, France):Thanks a lot for your awesome product ! Keep up the good work for your next camera!
Andrew M. Leslie (US): Customer support replied quickly (within 24 hours). The screen reliably flips with a press of the OK button. Once you get the hang of the buttons, you can reliably operate the camera without a screen. I can take great quality video and the 20MP photo quality is excellent!

Use Mokacam shooting long exposure night pics or even the stars! Comfortable and convenient operation with the shutter wheel and new designed buttons. In Manual mode, you can turn the shutter wheel to set the shutter speed freely from 1/2000" up to 32".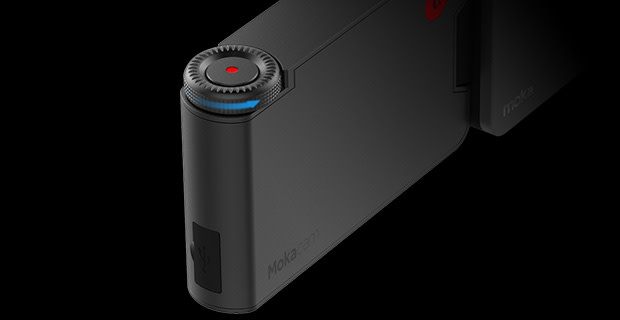 No worries for Low Battery! No need for power off to change battery!
With the built-in battery/battery in Screen Module/Back-up Battery, you can expect 4 hours continuous 1080P@30FPS video recording. With a few Magnetic Snap-on Batteries, you can even record FOREVER!




With the 1.55μm Pixel 1/2.3" Sony image sensor, Alpha-S captures brighter image with more details under low light environment.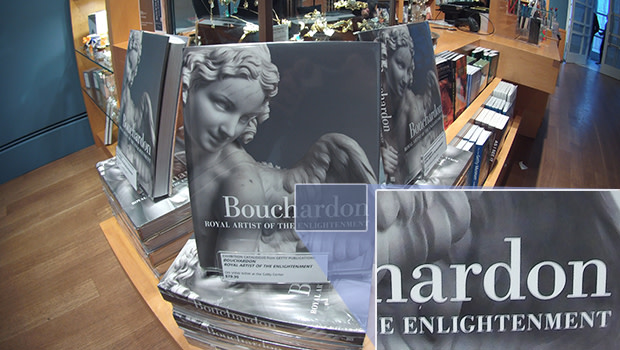 The Getty Center, Los Angeles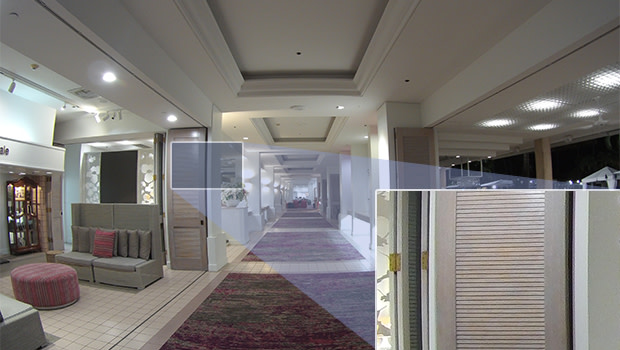 Sheraton Princess Kaiulani Hotel, Waikiki

Record 1/5 Super Slow Motion video in Full-HD size with Mokacam Alpha-S. It has an Ambrella image processor, provides 4K@30FPS Ultra-HD or 1080P@120FPS Full-HD video features, same to GoPro Hero5.
1080P@120FPS

Combining the clarity of 7-Layer Glass Lens, Alpha S delivers unparalleled colors, details and clarity.


Record every moment in full Retina with up to 4X more detail than HD video. Alpha's Digital Signal Processor giving you the highest image quality.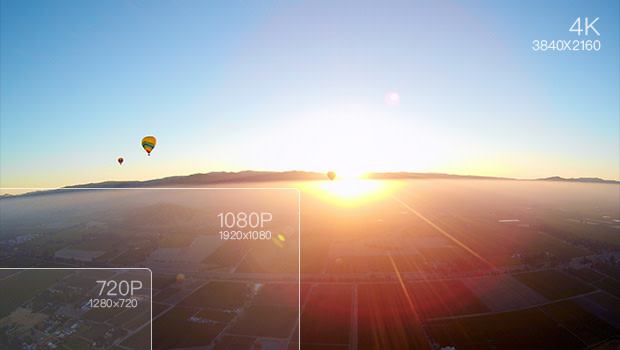 Alpha offers the best of Ultra-High Definition imaging technology but even smaller. Alpha is 20% smaller than the previous generation and 35% smaller than GoPro Hero5. Alpha is so small, you can easily take it with you everywhere.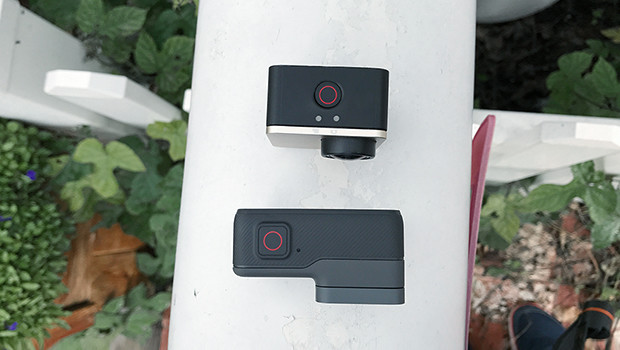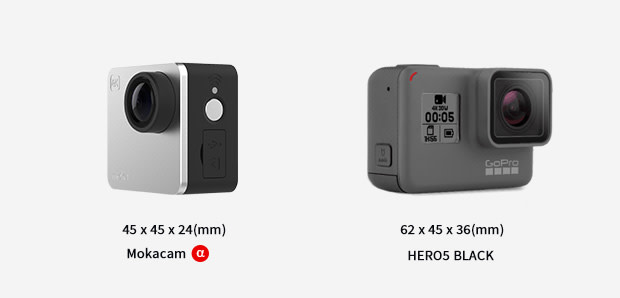 With WiFi connection, Alpha can live stream real time video to your iPhone/Android/Tablets and live service provider, share on your social media account.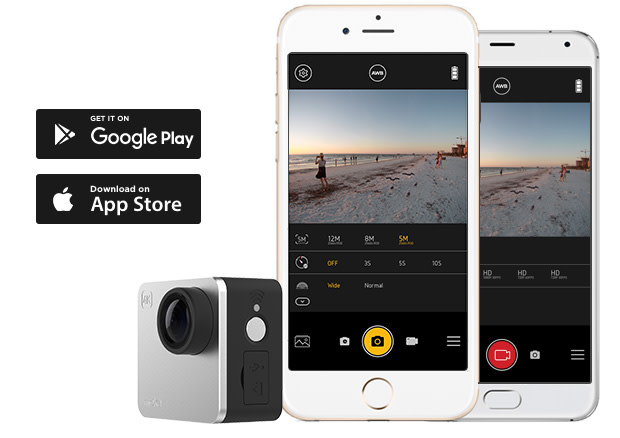 Bluetooth connection is more stable and consumes less power.It can turn your phone into a Bluetooth remote and get GPS information for Geo-tagging or show the trajectory.

With integrated 6 Axis Gyroscope image stabilization, the videos could be much more stable compared to common action cameras.
Preview and Playback on Your Flat TV
The Micro HDMI port provides a new preview and playback mode, it could live stream the video to the Flat TV in Full-HD size.

The Screen module has also been upgraded, it's all metal, brighter and more delicate,shows clearly even in the sun light. Alpha uses Type-C port to connect the camera and screen,which is much smaller than the 1st generation.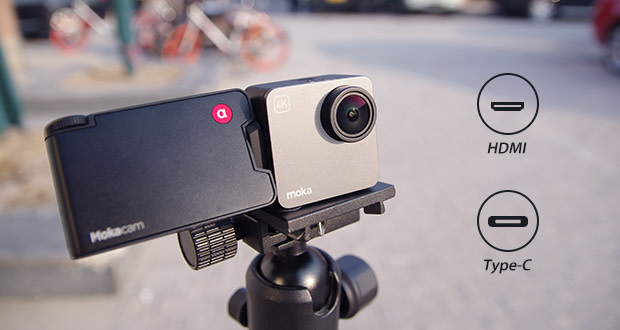 Alpha has 3 status LED lights, so even if there is no Screen module, it can show the camera status clearly. The Dual-mic system provides stereo recording capability.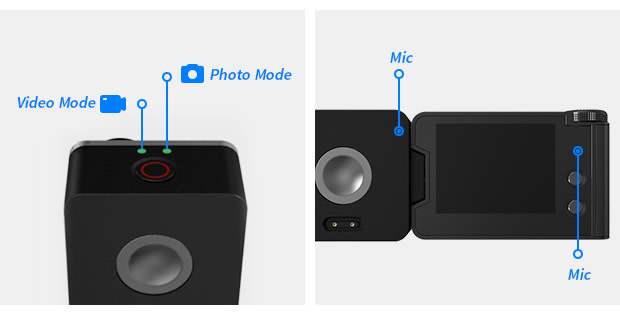 In Quik Mode, there is no need to turn on the camera first, one click is all you need to film video.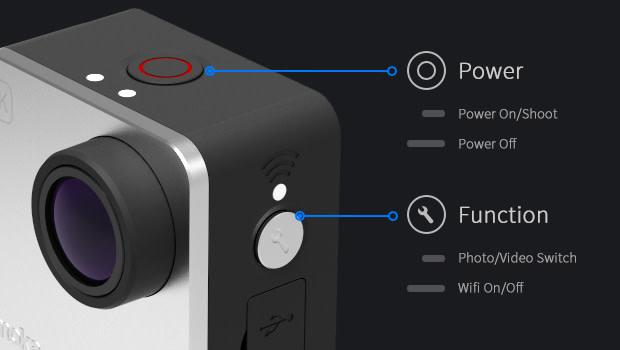 In addition to our custom designed mounts and accessories, Alpha also features a 1/4" nut and a base adapter to provide full compatibility with all your favorite GoPro selfie sticks and more .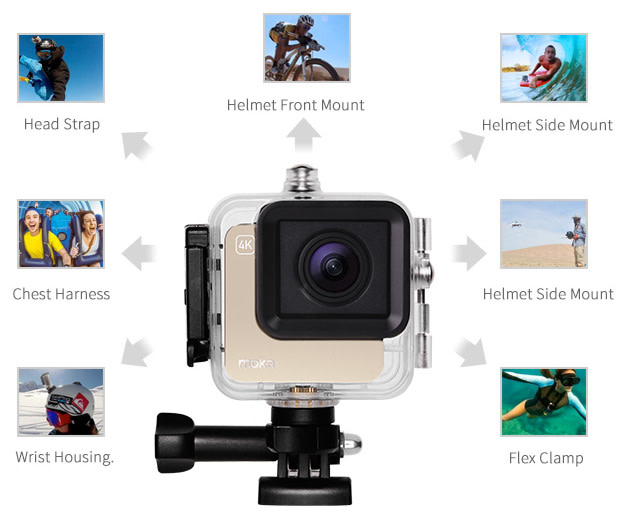 Handheld Gimbal for Mokacam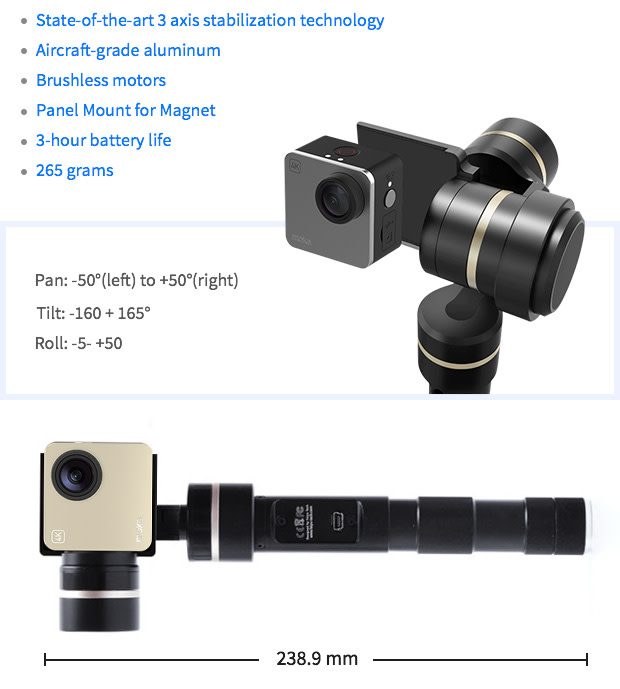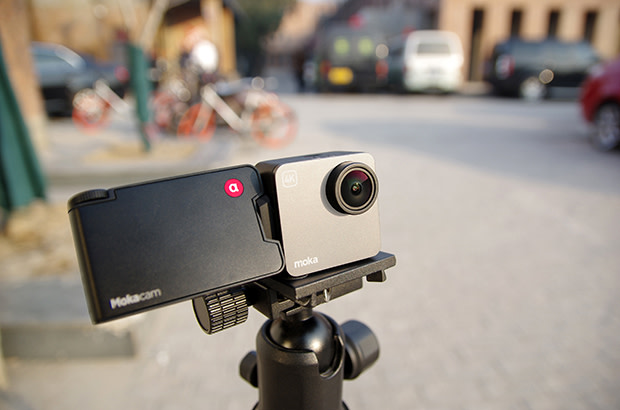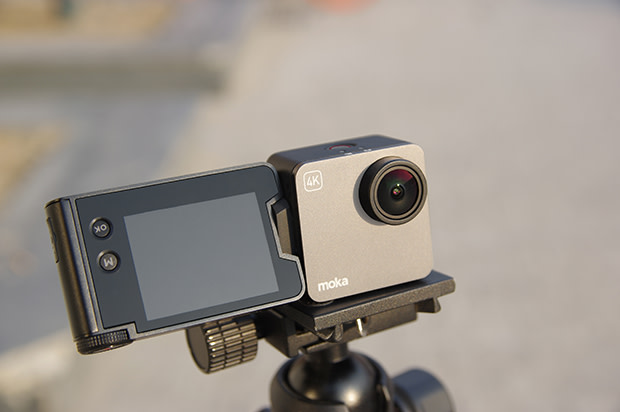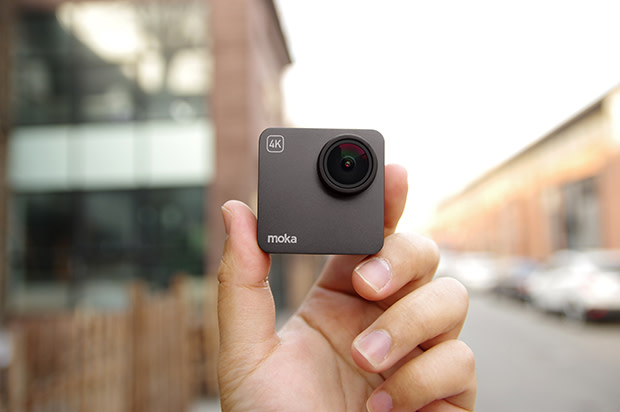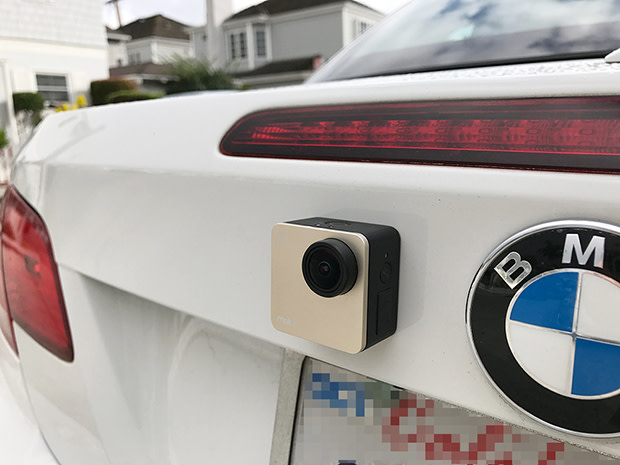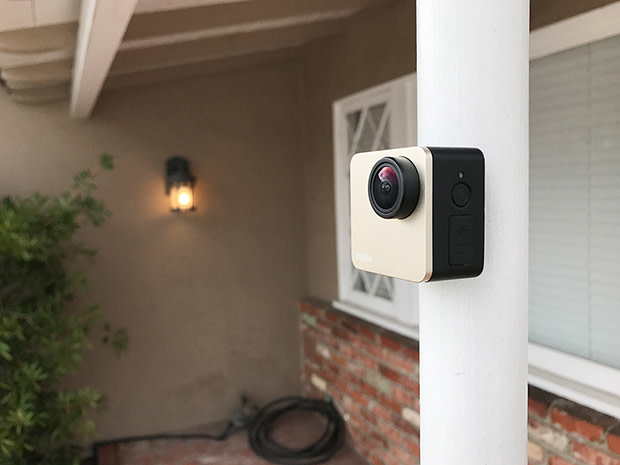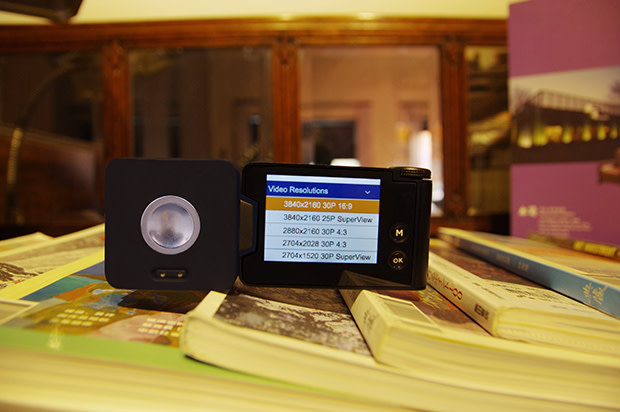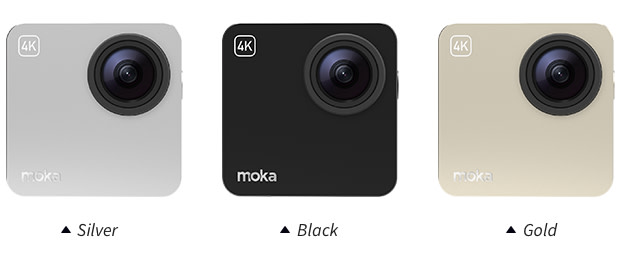 FAQ
What is the difference between Alpha and Alpha S?
Alpha S has an Ambarella image processor, which is the same vendor that GoPro works with. The video feature is 4K@30FPS and 1080P@120FPS, which is same to GoPro Hero 5 Black. Alpha applied the same image processor to Mokacam, the frame rate is similar to GoPro Hero4 and provides all the other features of Alpha-S.
What is the difference between 120FPS and 60FPS, what can I do with this feature?
Mokacam Alpha-S has an Ambrella image processor and provides 1080P120FPS video features; it means you can get 1/5 speed Full-HD slow motion video.
I have a back-up battery for Mokacam. Does it match Alpha?
No, the size of Alpha is 20% smaller than Mokacam but we still want the battery capacity keeps similar to Mokacam. So we made some changes on the design of the metal contact on the camera, and the former back-up battery won't match Alpha.
Does Alpha S have Normal Angle Mode?
Yes, and the Alpha S has features like 4K 2K or 1440P for 16:9/4:3/SuperView Mode, so you can expect almost all the video features of GoPro Hero 5 Black.
Will it have looped recording capability
Yes, you can change the settings in the screen module
What's the video recording duration for 1080P 60FPS and 64 Gig of memory?
At 60FPS, 64 Gigs will record 6 hours of footage. At 30FPS, 64 Gigs will record 12 hours.
What is the focus range?
The focus range is 15cm - 400cm
Can you stream live video using Mokacam?
Yes, you can stream live vide using the application. We'll also work on the Facebook Live support; we may finish it before the shipping.
Will there be an Android App?
Yes, there is an Android and iOS APP. The APPs are ready for operation and will be released before the shipping.
How do you know how much power is left in the batteries?
You can see the battery status on the screen, or in the App.
How do you know how much memory is remaining?
You can see the remaining storage status on the screen, or in the App.
Does Alpha come with a memory card?
No, we are not including a memory card with your order.
Will a charging cable come with Moka360?
Yes, each package will include a Micro USB for charging.
What are the ratings for the waterproof case?
135 feet/40 meters with waterproof case, could work with or without the back battery.
How many hours will Alpha last if only used for taking pictures?
There are many factors and conditions to calculate this, but generally the battery life should last you for more than 1 day.
Can Alpha connect to a microphone through a 3.5mm mic adapter?
Alpha does not have a 3.5mm port, but it could work with the Micro USB adapter to work with a microphone.
Can Alpha handle extreme temperatures?
Yes, Alpha has been tested to work at -20C degrees.
Is Alpha compatible with a standard tripod?
Yes, the base of Alpha includes a standard 1/4 inch screw slot.
How long will it take to completely charge the internal camera battery?
This depends on the type of charger you are using, but generally it will take 2 hours.
What is the Battery Life (estimated time) of Alpha?
Video recording is estimated at 1h 30m. The rotatable screen module can double the battery life and the spare battery that simply snap on magnetically can extend your battery life to 4 hours for video filming.
What is the WIFI range?
WIFI range is about 10m - 20m.
Is the focus automatic? Or is that done also through the screen?
Focus is automatic.
Alpha can charge on 100-220 volts right?
The Alpha should not be charged on 100-220 volt, it should be charged by a Micro-USB cable, which means it depends on the USB adapter in your region.
Is it possible to use a Bluetooth remote?
In addition to WiFi, Alpha provides Bluetooth connection, which is more stable and consumes less power. So we will provide a Bluetooth remote to control Alpha wirelessly.
Can Alpha be controlled with a 1st generation Mokacam's remote controller?
Alpha use Bluetooth connection for remote, but Mokacam use 2.4G for remote. So Alpha can only be controlled with the wireless Alpha remote controller.