Though we may have reached our initial financial goal on Indiegogo, our mission is far from over. Every penny will accelerate the development of a working prototype, accelerate the necessary testing we will need to do, and ultimately accelerate manufacturing. The more money we raise through this Indiegogo campaign, the more resources we can deploy to speed this technology into the hands of the people who need it.
For example, recently we were able to purchase a piece of equipment that will allow us to execute one portion of our micro-blower construction completely in-house. Read more about why this is so important.
Click here to read more.
We invite you to learn more below about the Airing technology and contribute what you can to make Airing happen. Informed and committed, we are all in this together!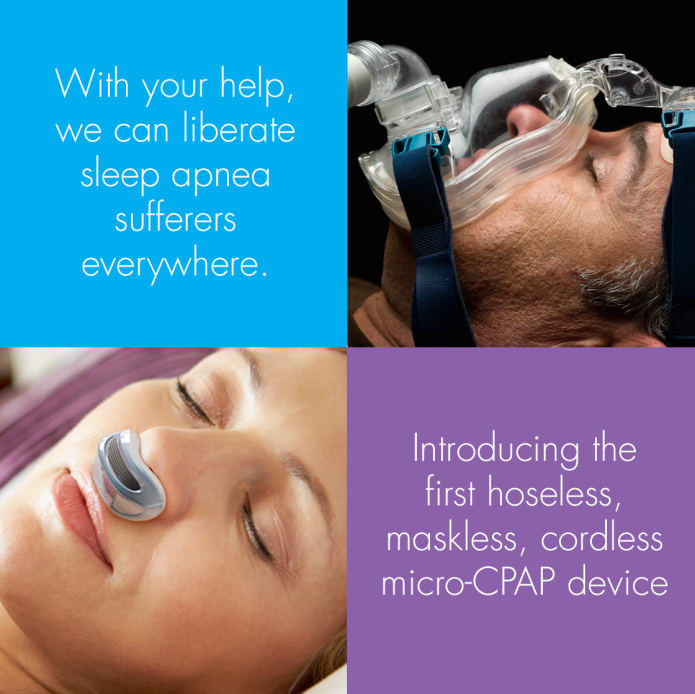 You read that right. We invented a micro-CPAP device that has no hoses, no cords, and no mask. We did it because too many people have sleep apnea, and too many of those don't wear their CPAP masks. Who can blame them with those masks and hoses? But we need your help to get it out of the lab and into your hands.
Obstructive Sleep Apnea (OSA) is typically caused by a blockage of the airway when the soft tissue in the rear of the throat collapses during sleep. Untreated, OSA causes a number of serious health problems, including high blood pressure, cardiovascular disease, memory impairment, weight gain, and headaches. The standard treatment for OSA is what is known as "Continuous Positive Airway Pressure," or CPAP.
CPAP machines can mitigate this problem, but their poor design causes sleep apnea sufferers to give up on it:
80% of CPAP users stop using it within one year
. Airing intends to change that with a revolutionary design that will work as well as any other CPAP machine, and patients won't have to deal with cumbersome, uncomfortable masks.


Another reason patients give up on the traditional CPAP masks is that they get dirty and need to be cleaned regularly. Not so with Airing. Each Airing device is designed for one night's use only and is recyclable. As a result, every night you get a clean device with no cleaning to do, ever. Airing also liberates you from the "mess" of uncomfortable straps and the noisy hum that both come with other CPAP machines.


Airing's design is a combination of several inventions, chief of which are the micro-blowers originally intended for heat regulation for chips in computers. These micro-blowers are entirely contained within the Airing device, so there is no need for external air hoses. Each Airing device is battery operated, so no need for any power wires. Just "plug" the comfortable buds into your nostrils and breathe all night long.


CPAP masks have a hard time maintaining a perfect seal onto your face as you move during sleep. The sound of rushing air will wake up not only you but also your partner. The hoses used by CPAP masks drag on the end table and on the bed, causing sleep disruptions. But Airing creates a tight fit inside your nostrils with no hoses to catch on anything. Better yet, snoring is eliminated.


Think about how liberated you could be with not just one good night's sleep, but hundreds of them. Think about health problems you will avoid. Think about the energy you will have. Think about how much more productive you will be at work, the potential car accidents you'll avoid, even your golf handicap decreasing by 3 shots. In short,
think about how liberated you will be
when you start using Airing to manage your sleep apnea.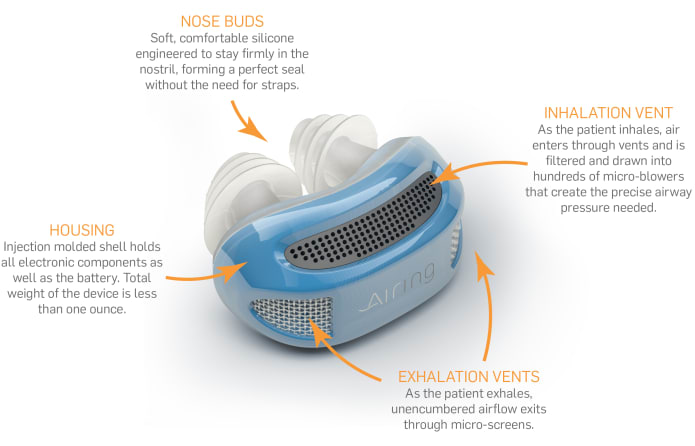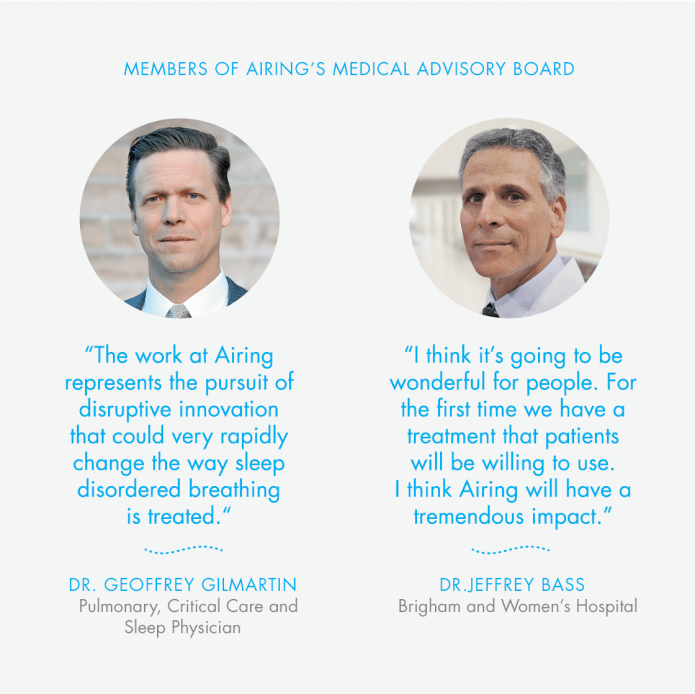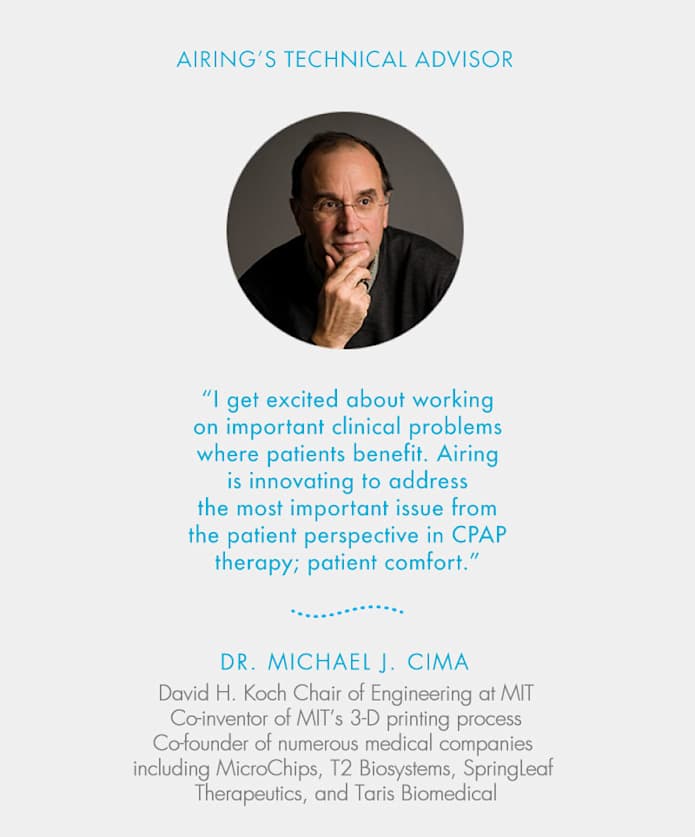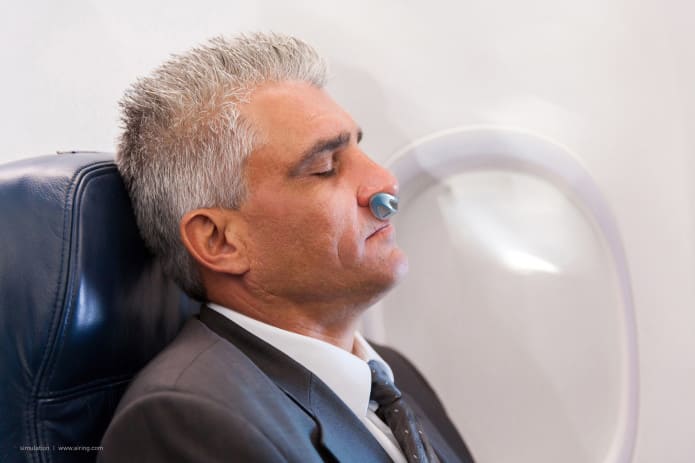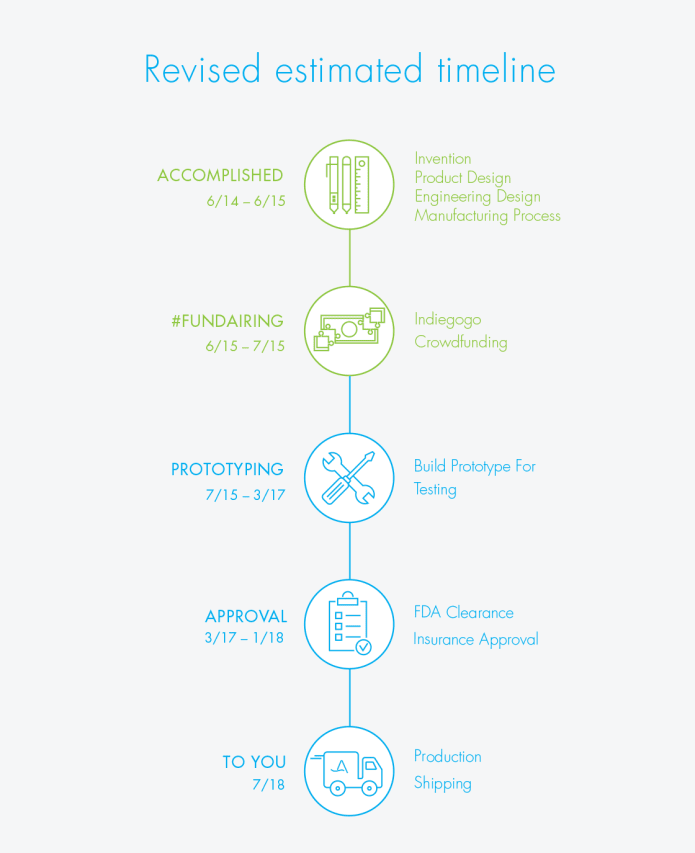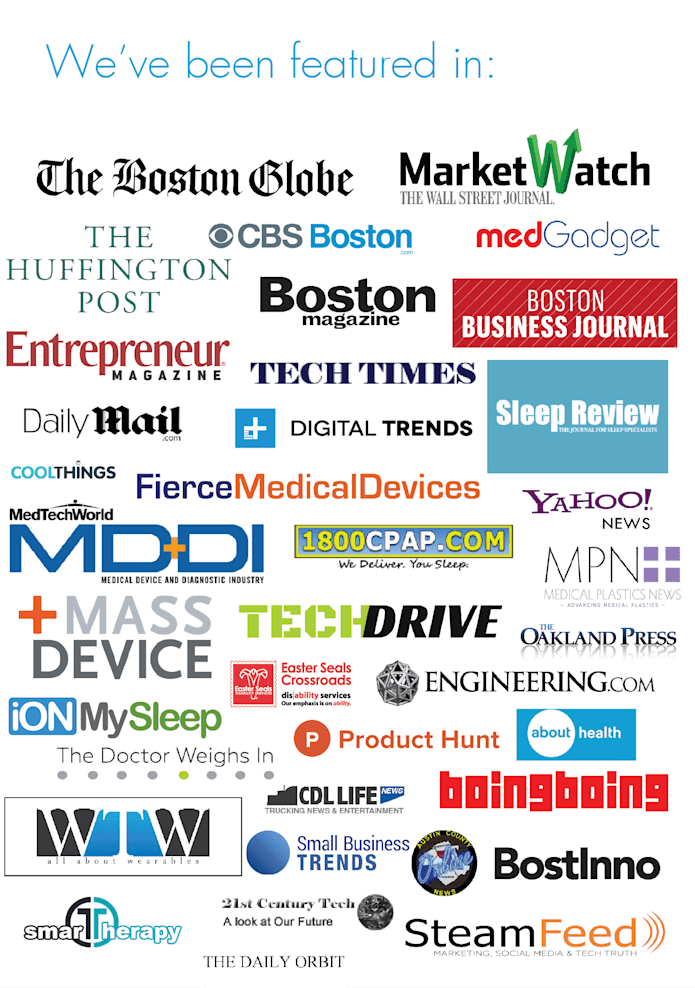 If you are interested in writing about Airing, feel free to contact us at contact@fundairing.com

Airing will use your money to accelerate the execution of our development plan. We will be able to expand our technical staff and get access to the equipment and materials critical to building a working prototype of our micro-blowers, which we can then test. The more we raise, the more resources we can deploy to speed this technology into the hands of the people who need it.
Technical Update 3/14/15:
We are very close to having the first fully-constructed micro-blower subassemblies completed. Once we have them, we will begin testing their functionality.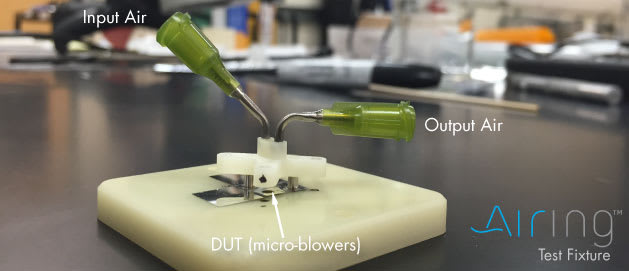 To prepare for this testing, we have just completed a key, customized component of our test system. This component, called a device under test (DUT) test fixture, will eventually allow us to test the operational performance of the micro-blower technology we have been building. Click to read more

We love the idea of involving the people directly and indirectly impacted by sleep apnea in a communal effort to bring about this revolutionary product. We know what we need to do, and we need your support to do it. This is your chance to contribute directly to dealing with a major health issue that affects tens of millions of people. But you have to exercise your vote to change the world of sleep apnea. One at a time, collectively your contributions can be a powerful force in enabling us to realize the awesome potential of this technology.






Will Airing be comfortable and stay in my nose?
A key component of Airing's micro-CPAP device is what we call the "nasal interface," a fancy way of saying nose buds. We have designed, built and tested this component while integrated to a test housing. This test housing allowed for normal breathing straight through with no micro-blowers and allowed us to simulate the size and weight of the proposed completed device. Various nose bud designs were evaluated. Click for full FAQ page >
Can Airing produce as much air pressure as a typical CPAP machine?
The pressure generated by the typical CPAP machine ranges from 1 to 20 centimeters of water (cmH20), known as the treatment number. A doctor or sleep technician tests the patient to determine the appropriate treatment number. The Airing device has been designed to generate the full range of treatment pressures up to and in excess of a treatment number of 20. Click for full FAQ page >
Will Airing require additional humidification?
The Airing device has been designed so as not to require active humidification. The human nose has evolved to filter the air it breathes in through a pathway with tiny hairs and to humidify this pathway with every exhalation. Click for full FAQ page >

How will Airing deal with mouth breathers?
Nature's design of the nose is outstanding. In normal circumstances, the default position of the mouth is closed. When nose breathing is diminished or obstructed, nature provides a backup: mouth breathing. Click for full FAQ page >

Is the Airing device FDA approved?
No, not yet. However, we do believe the process of getting FDA clearance may be abbreviated. Here's why. The Airing device does not provide a new treatment. The Continuous Positive Airway Pressure (CPAP) treatment has been around and used with FDA clearance for years. The Airing device merely miniaturizes existing machinery into a portable and comfortable format. We hope, although we obviously cannot guarantee, that the FDA would agree that the device is a constructive modification of an already cleared treatment and be willing to approve its use on a timely basis.

Sale of the Airing micro-CPAP is subject to FDA clearance. Airing will review FDA requirements as part of the development process. The following content is Airing's vision of the final design of the device. As a contributor to this Indiegogo crowdfunding campaign, you are supporting Airing's intent to develop the world's first micro-CPAP device. Click for full FAQ page >

Is Airing available internationally?
It is our intention make Airing available worldwide. As with all medical devices, Airing will be subject to local regulation and requirements.
What is your Refund Policy?
Indiegogo recently updated their refund policy. The Indiegogo policy states:
Effective Tuesday, September 1, 2015, contributors may request a refund from Indiegogo, before the end of a fixed or flexible funding campaign they have contributed to. For campaigns that have entered the InDemandprogram, contributors may request a refund from Indiegogo within 10 days of the contribution.
Contributions are eligible for a refund by Indiegogo, unless:
(a) the contribution funds have already been transferred to the Campaign Owner,
(b) the Perk associated with the contribution has been fulfilled, or
(c) Indiegogo determines that there has been an abuse of these Terms of Use, or the refund policy.
To request a refund, please contact the Customer Happiness team, and they will process your request within one business day. Refunds will be issued based on the payment method used to make the contribution, and may take three to five business days to appear on your statement.
Please be advised that contributions to Airing are not refundable beyond the policy stated above (within 10 days of contribution). After this period, Indiegogo takes out their fees, the remaining funds are transferred to us (without your credit card/payment information), and we begin putting those funds to good use. By making a contribution to this campaign, you acknowledge that you understand that you are contributing to fund the development of the Airing micro-CPAP device and not making a direct purchase. We appreciate your support, and we are hard at work developing the Airing prototype.
How can I contact Airing with questions?
Please email us any questions at contact@fundairing.com.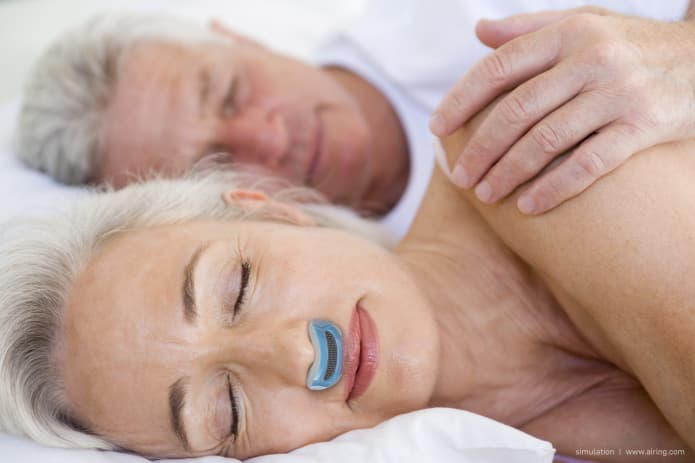 Thank you for your interest and, hopefully, support.